Your ongoing series The 7 Nightmares Girl - in a few words, what is it about?
The series is a mystery-horror-thriller. It starts with Amanda, a young actress who is kidnapped by a young crazy women, Annika, who forces Amanda's parents and sister to kill young women to save their daughter's life. Amanda's sister Angela discovers that Amanda is a member of a secet circle of witches who intend to take over politics and the big conglomerates. Politics and conglomerates however are already taken over by a secret circle of vampires and cannibals, who are even more interested in making money than in blood. The Pope who fights witches and vampires and cannibals has his own secret order of killer nuns who chase the vampires and witches, assisted by Brother Tetzel, the uncanny monk, who runs the business of the Vatican's banking systems, and mad scientist Dr. Morloff who plans to destroy Hollywood, the Capitol of Satan, by blowing it up with his atomic turtles from Hawaii Islands. It's absolutely impossible to determine who is telling the truth and who are the good guys and the bad ones as the story reveals new secrets again and again showing even fairy tales like Haensel and Gretel in a different light - or as Cole Porter once made the point: Good is bad today, black is white today,... anything goes!!!
Obvious question maybe: Why vampires vs witches, and why get the Catholic Church involved?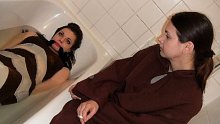 Fleur Muro (in the bathtub),
Dina Babajic
Our politics and big devilwhorshipping conglomerates ARE run by vampires. We left the period of capitalism and are now living in the period of legally approved VAMPIRISM . The world is run by people who tell you how good they are and that they fight for democracy but in fact they are vampires who suck blood and steal money. Take George Washington: We are told, this man fought for freedom. Well he did NOT. He set up a new kind of vampir-society with his brothers, and while he was talking about freedom, more than 300 SLAVES had to work for him. Today the world is run by thousands of little Washingtons, enslaving people to work for them for minimum wages while the managers and stock owners spend money they did not work for to buy yachts and Rolls Royces and chateaus. The witches on the other hand are the women who now start to move up in society and become Prime Ministers and Chair(wo)men of the Board and behave as evil as their male twins of Evil. The church, especially the Catholic Church itself, is interested in world leadership. The Vatican Bank is involved in all kinds of businesses and the Brotherhood of the Dark Side, represented by all kinds of secret societies like Bilderberger, The Order, Bohemian Grove, Royal Arch ;asons and Illuminati, and last not least the different kind of churches of Satan represented by LaVey's and Aquino's followers, are the biggest rivals of the church, financing and setting up and destroying political systems in Italy, Poland, France, US and Russia and all over the world and noone really takes any notice of all that, as all is handled quietly and in absolut silence. The dark side claims they are the light as their god Lucifer is the light itself, but in fact they do not pray to Lucifer but to Baal. The Pope, especially our current one, Benedetto, knows very well what is going on but he does not attack them in public as the lines are crossed all over at all times. The church however commited crimes all the time, absolutely horrible crimes, in fact the Holy Church itself is Evil, as the Church has been run for a long time by evil devilwhorshippers. Of course, I never mention this in The 7 Nightmares Girl. The series is just for fun, but for those who know what is going on the series is even more fun, because they know the truth is much crazier than you would believe.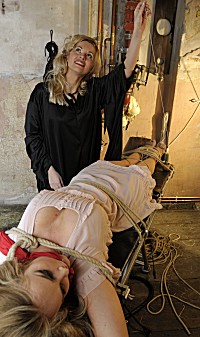 Ciara (tied up), Anja Meyer
Quite a few digs at the Catholic Church and Christianity in general might be considered controversial by some. Was this at all intended, did you already experience some kind of backlash, and your take on (organized) religion as such?
I have been raised catholic and I knew a lot of priests and nuns who did believe in Jesus and just were good people doing good deeds. But they never understood this system behind the religion that enslaves people. I also do not make a final statement, what I do is to show the Satanists, the nuns, the vampires and the witches and all claim to say the truth. I let them argue according to their bibles - the Christian one, the Masonic and the Satanic bible, and the audience may decide what to believe. If a witch says Jesus is a vampire AND a cannibal (!!!), you may believe this is true or not. But in fact it is written in the Holy Bible that Jesus asked his followers to drink his BLOOD and eat his FLESH and in EVERY catholic service, the priest asks his followers to drink the BLOOD of Jesus and to eat from his FLESH. As far as I know, vampires drink blood and cannibals eat human flesh, do you get the point? Millions of Catholics are told this and they don't get it! There is a secret fight going on in our society between Satanists and the Church. The church says the four Sundays before x-mas are special days to think about Jesus and in what you believe and you should meet on these Sundays with your friends and family celebrating your joy that Jesus is born. The Satanists, represented by some of the men who run politics and business in Berlin, intend to destroy this by opening the shops on Sundays and suggesting the people to not go to church but go shopping instead, this way destroying X-mas. The same people also demand the shops should be open on X-mas and Easter. The Church did sue them and the court decided to open the shops in Berlin on two Sundays and to keep the shops closed on the other two of the four Sundays before X-mas. Sounds fair, but in fact, the Satanists did win this battle as they succeeded in outsmarting the 10 commandments, one of them saying you should not work/shop etc on Sabbath (sunday). Another commandment is Thou shall not commit Adultry, but in fact one of the German Christian parties, the CSU, is led by a man who says he represents christian belief but he does not honour this commandment. In fact, he makes it very clear, this commandment is NOT for him. This is exactly the way LaVey, the Head of the Church of Satan, argued. Another example noone really understands: In Germany, May 1st is a labour holiday. Most people do not realize it's only labour holiday for ordinary people who are not on the level. Our leaders celebrate another holiday on this date, the Day of Baal, the devil himself, who emerges once a year to celebrate Walpurgisnacht with his followers.
The first handful of episodes of The 7 Nightmares Girl made no references to vampires, witches or the Catholic Church. Were these plot elements there from the beginning or added at a later date. And what can you tell us about the writing process of The 7 Nightmares Girl as such? Do you have the whole series already mapped out, or do you rather make it up as you go along?
First we planned a 90 minute movie but then realized there ist too much to be told and we should do a series. The idea with the vampires and witches was developed step by step. I wanted to start it a little bit like the Saw-movies, when the story then switches toward more fantasy and vampires and fairy tales instead of gore I used the technique of the 1950s B-movies like Them! or the fantastic The Fly starring Vincent Price [Vincent Price bio - click here]. Both movies start like an ordinary crime story and then switch to sci-fi and horror, I liked this very much. Tarantino used the same technique in From Dust 'till Dawn.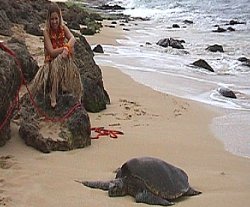 Anja Meyer and an atomic turtle
The atomic turtles in the most recent episode Dr. Morloff's Atomic Turtles - now where did that idea come from?
It's really amazing how those ideas develop. I and a photographer were cleaning a basement and to not get too dirty we put on white working clothes, so I looked like a mad scientist. The photographer had just been in Honolulu and she owned some small turles. She took some pictures of me and the turtles and then she and another artist made some - by this time - fake posters showing me as a mad scientist with a turtle and Hawaiian background. I thought a little bit and I thought, it would be a good idea to shoot in Honolulu and to add a mad scientist to The 7 Nightmares Girl. Several months later, when Anja Meyer lived in Vancouver, she wrote me she will fly to Hawaii for some weeks. We contacted a friend of a photographer who lives there and has a video productions, and so we shot there. At least the outdoor scenes. The indoor scenes were all shoot in Vancouver.
The atomic turtles seem to have big potential, but also pose major challenges concerning special effects and the like. So, will we ever see them again, and in what context?
I really do not know yet, as the next episodes will be shot in Australia.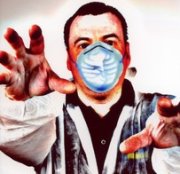 Michael Huck as Dr. Morloff
In Dr. Morloff's Atomic Turtles you make a rare appearance as an actor in one of your movies. What can you tell us about your character, about Michael Huck, the actor, and will you return to the series?
For me acting is just fun. Several directors asked me to do a cameo in their productions and I liked it, it's so much fun, especially if you shoot with someone like Dina or Lloyd Kaufman.
Anja Meyer, one of the leading ladies of the last few episodes of The 7 Nightmares Girl, is also credited as your co-director of the last two. What can you tell us about her, both as an actress and a director?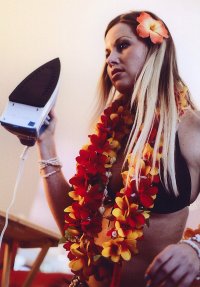 Anja Meyer
I saw some photos of Anja, she did some ads and was as an actress in a horror movie and a movie with Bud Spencer. I invited her to a meeting for The 7 Nightmares Girl 2 and 3 and I learned Anja does martial arts, kickboxing, things like that, and I thought we could use this, so we added a sword fight/kickboxing scene at the end of episode 3 with Carolin and Anja. I liked it and made up the part of Athena for Anja to play in episodes 4 and 5. At the same time I contaced Ciara, and Ciara and I wrote the torture scenes with the witch in the cellar and with Anja as Athena. We added more fight scenes with Ciara and Anja and later with Anja and Yvonne Woelke. When I did plan to shoot episode 6, Anja told me she will not be available, because she will leave Germany and go to Vancouver for a year. I thought, great, so we I gave her a Sony camcorder and told her to shoot some scenes in Vancouver. In Vancouver, Anja actually hired Lisa to play a witch and with the help of Golden Child Productions she set up new scenes in Vancouver. They shot with a Canon EOS 5 D Mark II, and later in Honolulu and Hawaii used the Sony only for the outdoor shots. Anja did produce and direct the shoots in Vancouver and Hawaii and will now set up shooting in Australia.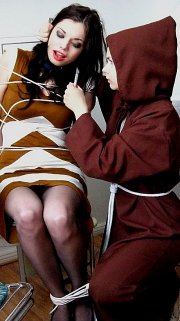 Fleur Muro (tied up),
Dina Babajic
A few words about the rest of your cast?
I already mentioned Lisa, who is an actress from Vancouver. Dina Babajic you certainly know, she did play the villainess in King Munsa's Cookery-Book, and she was already in The 7 Nightmares Girl 1, playing the blonde victim in the bathtube. As she looked totally different in episode 1, she could easilyplay the Hermine character now. Fleur Muro I found on a model site, she had already played a part in King Munsa, so Dina and Fleur did get along very well and wanted to act together in the new episodes.
Being as of yet 7 episodes into The 7 Nightmares Girl, the series has already taken an incredible number of twists and turns. Is there anything you can tell us about future developments yet, and is the series conceptualized for a certain number of episodes (however tentative) or will you just keep filming until you run out of ideas?

Feeling lucky ?
Want to
search
any of my partnershops yourself
for more, better results ?

The links below
will take you
just there!!!

Find Michael Huck
at the amazons ...

amazon.com

amazon.co.uk

amazon.de
Looking for imports ?
Find Michael Huck here ...
Something naughty ?
(Must be over 18 to go there !)

I have certain ideas how to go on, but actually I did not use at least two thirds of the ideas and scripts I wrote so far for the series. I have also written some scenes with a Edgar J. Hoover-like F.B.I. agent, but we did not use the character so far. I also want to shoot again with Ciara, Wenke, Carolin and Lloyd.
Any future plans besides the The 7 Nightmares Girl-series?
Yes, I want to shoot more episodes for Nightmare Follies, I have several very dark scripts.
Your website, Facebook, whatever else?
Anything else you are dying to mention and I have merely forgotten to ask?
Actually I think there should be a law saying there has to be a Kaiser Wilhelm Memorial in every German city, or better, in any city anywhere...
Thanks for the interview!