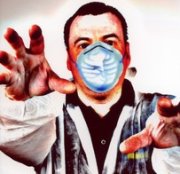 Michael Huck
Athena (Anja Meyer), head witchhunter of the Holy Inquisition, has just tortured the name of the 13 witches of Hawaii out of her latest victim (Lisa Ciniglio) and then murdered her, but she actually has bigger plans: She wants to destroy Los Angeles, the capitol of the witches. To that end, she had one of her underlings, sister Hermine (Dina Babajic), contact insane Dr Morloff (Michael Huck), who has trained two dozen of snapping turtles to swim from Hawaii to LA carrying atom bombs.
Hermine has made a mistake though, she has let her latest victim (Fleur Muro) escape. But Hermine might have made a much bigger mistake than that, because the last shots of the film show that Athena is actually a vampire ...
Now here is where the series gets (even more) silly - and that's a good thing. After all, this is a multi-episode story about the war between witches and (church-sanctioned) vampires that focuses on tied up women and tries to recreate the flair of old-fashioned serials (without being derivative). In other words, it's supposed to be fun, right? And what says fun better than atom-bomb carrying snapping turtles? I think I've made my point!