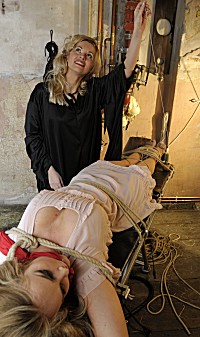 Ciara (tied up) and Anja Meyer
Please read my review of 7 Nightmares Girl 4 for the setup of this story!
Model Samantha (Ciara) still lies tied up in the hooded woman's (Anja Meyer) dungeon, who now lifts her hood and reveals herself to be a nun, Athena, who has gone on a mission to track down and erradicate witches - and she accuses Samantha to be a witch, and uses various forms of torture, many adapted from the Spanish inquisition (including one using an electric hotplate), to get a confession out of her - but Samantha remains stubborn, insisting she's not a witch - until she stumbles over the tale of Haensel and Grethel, whom she insists on being evil kids because they have burned an old woman. Athena is happy for having made another witch confess, so she ties a thread to a sword hanging over Samantha's head and puts a candle beneath the thread to burn it through - which would eventually cause the death of Samantha. Athena has however forgotten all about another woman (Yvonne Wölke) she has tied up in the next room and who has since freed herself, and who now fights and defeats Athena, then throws her into a cage before freeing Samantha. When the two of them want to get some information out of Athena though, she has mysteriously vanished ...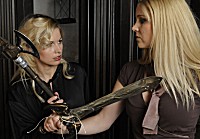 Anja Meyer vs Yvonne Wölke
On the surface, this film is about what almost all of director Michael Huck's films are about: Beautiful women tieing up and torturing other beautiful women. However, the plot to carry this has been wild throughout the whole 7 Nightmares Girl-series, and it gets crazier still: Essentially it's a war between good and evil, only the forces of the church are actually the villains (and thus the inquisition-parallels make perfect sense), while witches and Satan are the good guys here - and it all has to do with the fairy tale of Haensel and Grethel, too. Now admittedly, in writing all of this doesn't make too much sense, but it's good fun on the screen, and not half as silly as it seems to be - and I'm sure a certain silliness is purely intentional ...
This film will be available somewhen in December 2009. It can be ordered directly from the director via email - MichaelMHuck@aol.com (preferred) -, phone - +49 30 / 345 1338 - or the production company's website - http://www.gator-group.de.