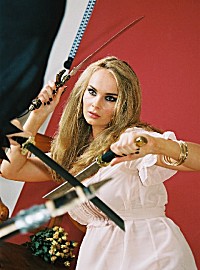 Ciara
The mysterious hooded woman (Anja Meyer) from 7 Nightmares Girl 3 lures a wannabe model (Yvonne Wölke) to her lair and tortures some informations out of her using a hammer, informations about the Scottish Seven Nightmares Castle, witches and the gate to hell. Then she kidnaps another model (Ciara), ties her up and makes her admit that she's a witch under torture ...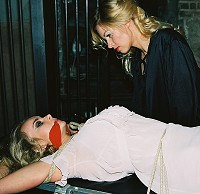 Ciara (tied up) and Anja Meyer
This is where the 7 Nightmares Girl-series goes crazy: The emphasis is no longer on the women tieing each other up and torturing each other-formula (though there's plenty of that as well), but a weird horror mystery starts unfolding - a mystery that promises the 7 Nightmares Girl-series to continue to be a fun ride. Just one thing, even though the photos of Ciara fighting look extremely good, her fight scene with Anja Meyer is less than perfectly staged. That said, the rest of the film easily makes up for it.
This film will be available somewhen in October 2009. It can be ordered directly from the director via email - MichaelMHuck@aol.com (preferred) -, phone - +49 30 / 345 1338 - or the production company's website - http://www.gator-group.de.