To save her sister Amanda (Wenke Baumgart) from bodily mutilation by the hand of Annika (Carolin Hasselmann), Angela (Barbara Ungerhofer) visits a certain address where she finds a woman (Maja Loom) tied up - and upon Annika's request she has to kill her by driving 100 nails into her body.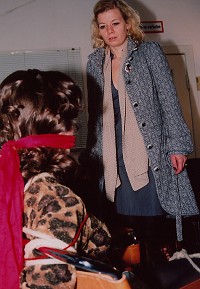 Maja Loom (tied up) and Barbara Ungerhofer
After having tortured Amanda for quite some time, Annika gives her not only a break but a chance to escape, because she has hidden some scissors inside her cell to cut her ropes through with - the only problem is to find them while being all tied up. Amanda succeeds in doing so though, but when she's about to make her getaway, she stumbles upon Annika again, tied to a chair. Amanda makes Annika talk, but refuses to believe Annika's claims that she, just like Amanda, was only lured here and tied up and tortured herself before she was forced to torture Amanda. Then though a mysterious hooded woman (Anja Meyer) shows up and hands Amanda a dagger to cut up and torture Annika to death with - which of course proves Annika has told the truth, and thus Amanda frees Annika and Annika goes after the mysterious hooded woman, and they soon engage in a sword fight - which Annika seems to lose ...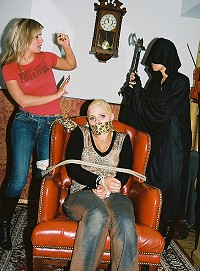 Wenke Baumgart, Carolin Hasselmann (tied up), Anja Meyer (hooded)
Fun episode of the 7 Nightmares Girl series that moves away from the survival plot formula into more action oriented terrain, at the same time broadening the mystery angle of the series. A warning for gorehounds though, as usual with director Michael Huck, the murders in this one are far not as explicit as the ideas his murder scenes are based on are gruesome. This makes the whole thing all the more entertaining for a more general audience though ...
This film will be available somewhen in September 2009. It can be ordered directly from the director via email - MichaelMHuck@aol.com (preferred) -, phone - +49 30 / 345 1338 - or the production company's website - http://www.gator-group.de.