Hot Picks

Ready for My Close Up


UK 2019
produced by
Stuart Morriss, Chuck Harding (executive), Linda Marlowe (executive) for Misty Moon, Robo Films
directed by Jason Read
starring Lynn Lowry, Charlotte Mounter, George Sweeney, Gary Shail, Dawn Perllman, Michael Haberfelner, Stuart Green, Alan Hoare, Stephen Last, Martin Rudman, Christopher Walker, Julian Woodfield, Stuart Morriss
written by Michael Haberfelner, based on an idea by Lynn Lowry, music, cinematography and editing by Jason Read, makeup by Maisie Palmer


short

review by
Mike Haberfelner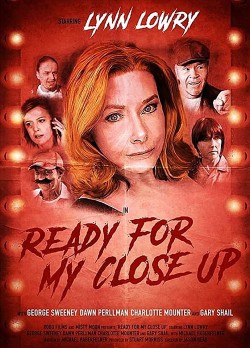 Once upon a time, Megs Topplethwaite (Lynn Lowry) was a big star - in the B-movie realm, carrying such films as "Gloves of the Strangler", "Wrath of the Tarantula", "Zombies, Italian Style", "The Seven Swords of Robin Hood", and of course "Karate Karl fights the Undead Ninjas" ... but that was ages ago, now she's withering away in her modest home, with her only company being nurse Rose (Dawn Perllman) looking after her on a daily basis, seeing to it that she takes all the drugs prescribed to her. But then, nurse Rose is taken out by faux nurese Becca (Charlotte Mounter), whose boyfriend/partner-in-(literal-)crime has sent her out to retrieve a certain piece of movie memorabilia that's worth a (very modest) fortune in collectors' cycles. But whatever that piece of memorabilia might be, Becca seems to be unable to find it, but she does find out about a disquieting fact about Megs - that she keeps food delivery guys (Gary Shail, George Sweeney, Michael Haberfelner) in her place who are all - quite dead. And the explanation that Megs has for this might be even more disquieting, given Becca wants to make it out of here alive ...
Since I'm personally involved with this project as writer and supporting actor, I saw it only fitting to invite a guest reviewer to give her two Cent in my stead ...
Guest review by Dawn Hills:
Ready for My Close Up is a dark comedy short centering on an eccentric mature woman that seems to have been in the film business a long time ago. A phony nurse has come to her house to look for a valuable item. Instead of finding what she needs all she keeps finding is dead delivery guys. To say this was a short there is plenty of story to keep the viewer interested. The short is well- written with some really great comedy lines. All the cast act their parts really well, even writer Michael Haberfelner in a cameo, and he's not a trained actor! Leading lady Lynn Lowry really gives her character the sinister feel, her facial expressions are outstanding. Charlotte Mounter playing the nurse was brilliant in the role. I also love the use of flashbacks to each delivery man meeting his doom!!
I really enjoyed this short, it's very funny in places. The opening scene switching the nurses set the tone of the film brilliantly, for example Charlotte Mounter making out Dawn Perllman's mum had died in an accident when Dawn had just spoken to her on the phone ... I'm not gonna say anymore as I've probably given away too much of the film already! I reccommend everyone escape their lives for half hour and watch this film, you will not regret it - well you might if you are a delivery man delivering to Lynn ;)