After mad Annika (Carolin Hasselmann) has forced Amanda's (Wenke Baumgart) mother to kill a girl and cut her own hand off in The 7 Nightmares Girl 1, she calls her sister Angela (Barbara Ungerhofer) in Vienna and lures her to an address, where Angela finds a tied up girl (Mascha). Annika now forces Angela to kill the girl by means of acid (which she has readily prepared right next to the girl), otherwise she threatens to kill Amanda, whom she still keeps in her dungeon, all tied-up and ready for all kinds of torture. After Angela has killed the girl, Annika sends her to the airport to leave for her enxt assignment ...
A photo of his tied up daughter leads Amanda's father (Lloyd Kaufman) to an appartment where he finds a tied-up woman (Micaela Schäfer), and if he wants to ever see his daughter alive again, he has to tickle the woman to death - really, because since there is a noose around her neck that's somehow tied to her feet, thus the harder she twists and turns, the tighter the noose will get, until ...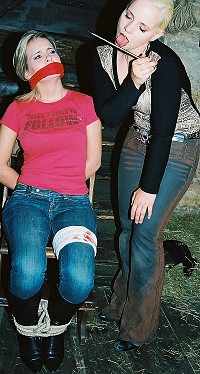 Wenke Baumgart (tied up) and Carolin Hasselmann
Once Amanda's father has done his duty in order to save his daughter, he finds a severed finger annika (via phone) claims is his daughter's (it isn't), and if he doesn't want her to lose all of her fingers, he has to give half of his - ouch ...
A perfect sequel to The 7 Nightmares Girl 1, since it doesn't just deliver more of the same - a madwoman torturing girls and forcing others to commit murders (though there's plenty of this here as well) -, but starts to build a mystery story on this premise, a mystery story that is to really unfold only in future episodes of the series - and judging from The Smile on Satan's Face, it definitely pays to stay on board!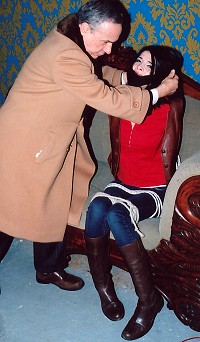 Lloyd Kaufman and
Micaela Schaefer
This film will be available somewhen in August 2009. It can be ordered directly from the director via email - MichaelMHuck@aol.com (preferred) -, phone - +49 30 / 345 1338 - or the production company's website - http://www.gator-group.de.