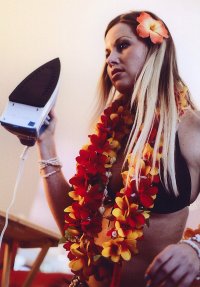 Anja Meyer
Witchhunter Athena (Anja Meyer) has been sent to Hawaii by the holy inquisition to track down the local Order of the Thirteen, and it doesn't take her long to capture the first witch, Jane (Lisa Ciniglio), tie her up and torture her, among other things with a flat iron.
Meanwhile back in Germany, Hermine (Dina Babajic), a nun working for the inquisition, has gotten hold of another witch (Fleur Muro) whom she questions - inquisition-style. However, she doesn't learn half as much about witches as she does about her own people - as in the catholic church - and their ties to vampirism ...
Does above synopsis sound a bit silly? Probably ... and why wouldn't it, after all this is a series about sexy women tieing up and torturing one another (in a subtle way) while trying to make sense of the war of vampires vs witches. And it's a series that has much more in common with good old-fashioned serials than with today's torture porn and survival horror. And most importantly, it's fun. Now true, this little film and the whole series probably won't change the world or change you - but almost certainly, it will at least entertain you!
For more information about this movie, feel free to visit the production company's website http://www.gatorgroup.de.