You have recently contributed the short Vampire's Lust to the film Treasure Chest of Horrors. In a few words, what is it about?
Vampire's Lust is a film about a boy who lives at home with his parents and is sent out one night to get milk and ends up getting bitten by a vampire bat - and from that point he starts to notice some changes. All this is going on at the same time he and his friend are working on a short film togther.
How did you get involved with the project in the first place?
Well, the short was acually made a few years back, and me and M. Kelley really wanted to start making our on films and that is kinda what got us started on that one.
What were your inspirations when writing Vampire's Lust?
Vampire's Lust was made very much like the 1980's shot-on-video style films. So that was the main look I was going for with the film.
Vampires ... favourite creatures of the night of yours, and your vampire favourites in film, television, books, ...?
I'd say my favorite vampire film is The Lost Boys. I have been a fan of the film since I was in around the 5th grade. I have never watched any of the vampire shows that are on TV now like True Blood.
How would you describe Vampire's Lust's brand of humour?
It's pretty much a silly over-the-top kind of humor.
What can you tell us about your directorial approach?
Just to try and have a fun time with the concept. I made the film a while back so I wasn't thinking about things the same way that I do now. And at the time neither me nor M. Kelley had done any feature films.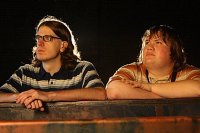 M. Kelley, Shawn C.Phillips in
A few words about your writing, directing and acting partner and longtime collaborator M. Kelley?
M. Kelley has been a friend of mine since the 6th grade. We got to work togther on a lot of really fun projects. M.J. is still living out in Maryland so hopefully at some point we will do another project togther.
The other segments of Treasure Chest of Horrors as well as the framing story were directed by Doug Waugh [Doug Waugh interview - click here]. What can you tell us about the collaboration between you two, or were you both pretty much doing your own thing?
In Volume 1 we pretty much did our own thing. But I do appear in one of Doug's segments.
A few words about Treasure Chest of Horrors's executive producers James Cullen Bressack [James Cullen Bressack interview - click here] and Jarret Cohen, and how did you hook up with them?
I met James through Facebook about a year ago. I found out about him and his film projects from a director friend that told me about his film My Pure Joy, and I really loved the trailer and then got in touch with him. And he told me about the anthology he was putting togther and I told him I had some shorts that I thought would be a great fit in the series.
You have recently also made a short, Lust for Blood, for another anthology movie produced by James Cullen Bressack and Jarret Cohen, Theatre of the Deranged. What can you tell us about that one?
That is another short I did a while back. Its about a kid that goes to the fair and goes to get his fortune told, and he drinks a potion the fortune teller tells him to drink - and turns into a monster and kills a lot of people.
In a few words, how do Vampire's Lust and Lust for Blood compare, and which was more fun/more interesting/more challenging to make?
Lust for Blood was a really tough one to make. The main issue was doing the special effects and trying to learn how to do them. Me and M.J. did everything ourselves in the film so it was a tough one.
According to my information, there will be both Treasure Chest of Horrors II and Theater of Derange II - will you be involved in any of these, and anything else you can reveal about them yet?
Treasure Chest of Horrors II is going to be awesome. I filmed a brand new segment for the film as well as 2 other segments from a few years back. I also appear in one of Doug's segment playing a killer baby. I plan to shoot another segment for Volume 3 of Treasure Chest as well.
Let's go to the beginnings of your career: You started out appearing in various self-created webseries. Why don't you talk about those for a bit, and what were your inspirations for them?
I started out doing a series with M. Kelley called The Don and Murph Show. It was a show about 2 wacky guys who go on crazy adventures and meet up with some crazy people. Throughout the years the show started to be more about movies and in the last few years I was doing the show it was about Don and Murph reviewing films, and we would do a parody of the respective film we were reviewing. And the current series I still do now is the My DVD Collection-series where I review and talk about the DVDs and Blu-rays that I have gotten. That series really gained a pretty big following online.
Eventually, you started to appear in quite a number of indie horror flicks. How did that come about, and what can you tell us about Shawn C.Phillips, the actor?
I really owe the entire start of my actor career to Synthetic Cinema. They are the guys that put me in the first 2 projects which were Banshee!! and Assault of the Sasquatch (which is on Netflix streaming). The producer at the company saw my DVD review show and asked me to come be in the films and I had such an amazing time and after that I never stopped again.
I'd like you to say a few words about a few new and upcoming films of yours, and your roles in them:
Creep Creepersin's Finger Bang [Creep Creepersin interview - click here]?
Finger Bang was a really fun shoot. I play the monster type character in the film. I had been a fan of Creep's films for awhile but wasn't able to work with him since I was out in Maryland - but was very happy to get to work with him when I moved out to the West Coast.
Travis Campbell's Mr. Bricks: A Heavy Metal Murder Musical [Travis Campbell interview - click here]?
A really cool film I did for Troma. I played a bartender in the film and had some great scenes with Tim Dax who plays Mr Bricks.
Chris LaMartina's Witch's Brew?
Chris is a great friend of mine and I loved getting to work with him, He is also one of the most talented directors I know. I first worked with him on President's Day had a great time. He wrote me a really fun role in Witch's Brew. This is one I really can't wait for everyone to see. But I play a really funny character throwing a big party in the film.
Charlie Vaughn's Bloody Mary 3D [Charlie Vaughn interview - click here]?
Bloody Mary 3D was a great time. I just learned its on cable-on-demand now for people to check out. I play a security guard in the film.
Cameron McCasland's The Lashman [Cameron McCasland interview - click here]?
This was a fun film to work on but a tough shoot at the time. It was tough for everyone involved, we worked 2 weeks straight on the film and it was super hot while we were filming it. Hopefully it will come out sometime this year.
Atom the Amazing Zombie Killer?
I filmed a little cameo in the film as a preacher.
Joseph McConnell's Kung Fu and Titties [Joseph McConnell interview - click here]?
I filmed a cameo in the film as a very mean character.
Christian Ackerman's Terror Vortex [Christian Ackerman interview - click here]?
Just shot a scene in the film as a news reporter for Christian.
Dustin Mills' Puppet Monster Massacre II [Dustin Mills interview - click here]?
I'm not sure if that project is still happening.
Brian Dorton's Crazy Fat Ethel [Brian Dorton interview - click here]?
Looking forward to that one. Should be shooting sometime this year.
The anthology movie Scream Queen Campfire?
Haven't filmed this one yet. Not sure on the status of it.
Andrew Jones' Manson Rising?
Should be shooting this year. But I will be playing the boss of Charles Manson.
Any other films of yours, past, present or future, you'd like to talk about?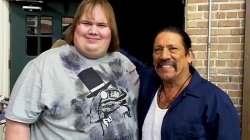 Shawn C.Phillips, Danny Trejo on the set of
Haunted High
I have a lot to talk about. Coming to DVD and Blu-ray later this year is a a really awesome project I acted in called Girls Gone Dead. The film starts Sal and Beetlejuice from The Howard Stern Show as well as Jerry the King Lawler from the WWE. I have such a fun role in that film and the film is directed by Micheal Hoffman who directed 2 films I really loved, Spring Break Massacre and Rot.
I also have a film that is one of the biggest film I have even done called Haunted High. I play one of the main characters in the film and got to act with the amazing Danny Trejo and M.C. Gainey. The film will be airing later this year on the SyFy channel. I had the most fun ever on that shoot and ca'nt wait for everyone to see it.

Also I know a few other films will be hitting DVD this year as well. This should be the year things I'm in come out.
Most of your films are of the horror variety. A genre dear to you, and why?
I have always been a big horror film. Pretty much whenever I got into a store the main section I go to is the horror section. I pretty much watch all the new horror films but the best are from the 70's and 80's.
I like acting in them cause they are some of the most fun to work on and Í love dying in the films. Lol
Filmmakers who inspire you?
That is tough I have so many directors I love. Never been great with that question.
Your favourite movies?

Feeling lucky ?
Want to
search
any of my partnershops yourself
for more, better results ?

The links below
will take you
just there!!!

Find Shawn C. Phillips
at the amazons ...

amazon.com

amazon.co.uk

amazon.de
Looking for imports ?
Find Shawn C. Phillips here ...
Something naughty ?
(Must be over 18 to go there !)

I have some many I love but some of the ones I can watch over and over are:
The Return of the Living Dead, Pee Wee's Big Adventure, the Bill and Ted-films.
... and of course, films you really deplore?
I really don't have any film I just hate. Well, maybe The Family Man. Lol
Your/your movies' websites, Facebooks, Youtube channels, whatever else?
- Youtube channel: http://www.youtube.com/coolduder
- Facebook: http://www.facebook.com/shawncphillipsactor
- Fan page: http://www.facebook.com/pages/Shawn-C-Phillips/205339310744
- Twitter: http://www.twitter.com/donandmurph
Anything else you are dying to mention and I have merely forgotten to ask?
Just keep checking out my Youtube channel and fan page for any updates on future projects and film release dates.
Thanks for the interview!