Your upcoming debut feature film is called The Lashman. What can you tell us about the movie?
Well, The Lashman is a movie that I wrote and directed last summer. Itís a tale of terror about five friends on a camping trip who find out that their campfire stories may be real.. We wanted to make a movie in the tradition of great cabin In the woods movies like Evil Dead or Friday the 13th.
Why did you choose a lash as your film's weapon of choice?
The Lashmanís bullwhip kind of plays to the character's origins, which of course will come out clearer to the audience when it arrives. The cracking of a whip is a pretty scary sound. I think people are going to love it.
Basically, The Lashman is a slasher film. Is that a genre you are really fond of, and your genre-favourites?
Yeah, I think the slasher genre has produced some wonderful movies. Carpenter's Halloween is probably still my favorite of the bunch, as it feels like a more real world than some of the stuff that came after it. In the last few years Iíve really enjoyed movies like All The Boys Love Mandy Lane and Baghead which kind of play on some of those classic conventions, while again trying to stay in a real world situation.
What were your main inspirations when thinking up/writing The Lashman?
Well, I had two stories that I was working on. One was a movie more about relationships, but I opted for the horror movie as I thought I would have a wider audience for it due to some other work I had done. I had some locations available to me and very much let that play into my writing, as we did produce this on a micro-budget.
How would you describe your directorial approach to the material?
I tried to spell out everything in the screenplay, and when casting made sure that my actors understood that I wanted them to stay on page, but would also be willing to give them the freedom to try things as the shoot progressed. I think every actor needs something different from a director, and if you can figure out the thing they need then your better off for it. Sometimes that means a pat on the back, and sometimes it means easing their fears. It can change daily. I think every actor who worked on The Lashman would be willing to work with me again, and I think that says a lot.
How far are you going in terms of gore and violence in The Lashman?
Well, I wouldnít categorize The Lashman as a gore-hound movie. I still believe that the mind can imagine far worse than what splatter effects can provide sometimes. It is however still a horror film, and a slasher. We deliver on the blood. Itís definitely not for the faint of heart.
A few words about your principal cast and crew?
I could go on for hours about each and every one of them. I had a lot of support from both the cast and crew. They trusted my vision for it, and worked through some pretty tough conditions. We slept on floors and barns during the shoot, and worked in the heat and a lot of time without running water. It is truly remarkable that no one dissented. We all learned from each other, and built some very lasting friendships out of our time together. Iím thankful for them all.
The film was shot in Western Kentucky. What can you tell us about the location as such, and why did you choose it in the first place?
At first I thought I was going to shoot a bit closer to Memphis, TN, as I had a friend who owned a cabin near the area. However, a few years ago, my friend Lee Vervoort had introduced me to Tim & Carole Emery. They own the Copper Canyon Ranch near Hopkinsville Kentucky. I had spent some time up there just enjoying the ranch and noticed that Hopkinsville is a bit of a time capsule in some areas. We found some great locations, and the people were all very inviting to us. The cabin itself is very secluded, and owned by a local farmer. We sat down one summer evening and discussed the movie and he welcomed us to use it. Itís a real beauty that he hand built himself.
The $64-question of course: When and where will The Lashman be released?
The plan is to release the movie later in 2011. Weíre still in our editing phase, and I have just a few more shots Iíd like to grab when the weather is right. The principal cast is finished, its just extra at this point. We are planning on hitting up the festivals as well as touring the movie. Weíd love to hit some indie theaters, but arenít opposed to playing bars and house parties. Hopefully we find an open door and welcome mat at some film festivals.
Before The Lashman, you directed quite a few shorts. Care to talk about those ones for a bit?
Sure. My last project was entitled The Dreadful Hallowgreen Special, which was a made for television movie that aired nationwide last Halloween. It stars TV horror hosts Dr. Gangrene, and Penny Dreadful. It is currently nominated for best short film at the Rondo Hatton Classic Horror Awards. We actually shot it after The Lashman. Both Shawn C. Phillips [Shawn C. Phillips interview - click here] and Jeremy Jones who were in The Lashman appear in it. Larry Underwood [Larry Underwood interview - click here], who plays Dr. Gangrene, has the role of Eustice in The Lashman. I had a weekend off in between shoots, as it had to be out for broadcast fairly quickly. It was a lot of fun, and a bit challenging as we were working on different sides of the country, as Penny Dreadfulís Schilling Shockers airs out of Massachusetts. Weíre all very proud of it.
Before that, I did a short documentary for the band Numerics called A Matter Of Combustion, which kind of follows them as they recorded their record Proud to be a Numerican. I directed two music videos for the album, and really have enjoyed that relationship. Itís pretty quirky, the documentary not the relationship.
And EZ-Chewie. EZ-Chewie is a short film that I made specifically for the Star Wars Fan Film challenge that Spike and Atom.com does every year. Itís a fun little movie that kind of pokes fun at all the merchandising they have done with Star Wars, and the fact that Luke and Leia have a romantic relationship in the first movie. I wanted to do a Star Wars fan film that wasnít fat guys running around the woods with light sabers. It played at Fright Night Film Fest and was nominated for best comedy. Itís one of those things where if your not a Star Wars fan you probably wonít get it. But these days, whoís not a Star Wars fan?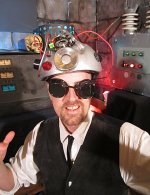 Larry Underwood as
Dr.Gangrene
You have also directed several episodes of Chiller Cinema. What can you tell us about the show, its concept, and its host Dr. Gangrene?
Dr. Gangrene has been on the air in Nashville since 1999. When my wife and I first married in 2003 we used to stay up late and watch TV, and thatís where I found it. At the time they were still doing cable access and I thought the show was a lot of fun. Dr. Gangrene was doing an appearance at a Haunted House, right down the street from the video store I was working for at the time. We decided to go out and say hello. I talked with Larry (The Doc) as well as Chuck Angell who was working on the show at the time. We became friends and I worked on some projects with Chuck. I kept seeing Larry around town and we would chat, and at some point he invited me out to see them tape the show. At this point Chuck had left the show for other projects and the show had moved to WNAB, which is the CW station here in town.. It was very LO-FI, which I liked a lot. I did a bit of writing and then started directing shows.
The concept is about a Mad Scientist who screens movies while conducting wild experiments for the viewers at home. Some of the movies are good, and some are very bad. We work on a budget of next to nothing, and I have learned so much about being able to improvise and build great things out of next to nothing. Weíll be heading into the 13th season of the show later this year. Iíve been working with Larry extensively for about four years now. He is by far my most frequent collaborator.
You have also made numerous music videos. Would you care to name some of them, and how does shooting a music video differ from making a proper film?
The two I did for Numerics were for the tracks Precious Time and Through The Cracks. They both did very well and won some awards.
I did one last year for the metal band, Stigmatic that is entitled Dawn Of A New Day. It was a bit out of my comfort zone, as Iím not really a metal head. What I knew is that they had some scare elements with the make up and such and we kind of ran with that. We shot it in an old church that had actually had a service that morning. It was pretty wild.
The first real directing job I did was for Quiet Company for Fashionabel It got regular rotation on MTV Canada and won several film festivals. It really set me up to do some good stuff down the line. I actually just recorded a commentary track for it thatís going to be on their upcoming DVD.
Music videos are so much fun to shoot. Iíd suggest the burgeoning filmmakers seek out bands to shoot for. You donít have to worry about audio (which is major part of any movie). Plus itís the perfect medium for the Internet, and if the band is good or has a fan base then you have an automatic audience. You can do a lot with them, as you can craft a linear story, or just do wacky stuff. Either way can work, and it gives you a lot of freedom to try thing with lights and just ideas in general. I defiantly cut my teeth doing it that way.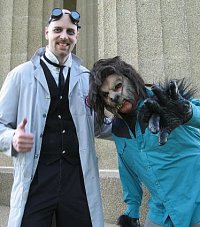 Go Green With Dr. Gangrene
Is it true that at one point in your life you made a series of PSAs about litter-conscious zombies?
Yes. They are most commonly referred to as the Go Green With Dr. Gangrene-series. Thatís actually one of the things that brought me to Dr. Gangrene in the first place. I wanted to take some classic horror elements and movie monsters and use them for good. We took Dr. Gangrene out of the lab and put him in some more scenic locations here in Nashville. We tackled issues like littering, seatbelts, and pet safety. We did a new batch each summer for the past three years, and are talking about making another run of it. Iím extremely proud of the work that we have done with those.
Any other movies you've been involved with you want to talk about, any future projects?
Well, I have been really lucky to be able to work with a lot of great people over the past few years. Iím a big supporter of Micro-Budget cinema and try to get involved with film-makers who I enjoy. I worked as a producer on Joe Francisí Texas Frightmare Massacre, which I think is very clever horror comedy, and Iím not a fan of many horror comedies. I would say that if you have any spare change lying around a good place to donate it is to the type of projects, as the ideas usually outweigh the budgets.
Somehow, almost all your work seems to have some kind of horror theme. Is horror a genre especially dear to you, and why?
You know, I never really planned it that way. But I donít run from it. I love genre movies, but I suspect that at some point in the future that I may want to tell some stories that arenít so terrifying. I have a movie about relationships that I would like to shoot, and really want to work in westerns. I actually just recently watched an interview with Tobe Hooper from Cannes the year that Texas Chainsaw came out. He pretty much stated the same thing, but ultimately ended up staying within the realm of horror, and it worked out for him so who knows.
What got you into filmmaking in the first place, and did you have any formal training?
Well my father was a television repairman and my mother was an actress. So the art and science of the movies was kind of always there. We always had access to a good home theater and I watched a lot of movies as a kid. Fantasy stuff like Willow, and Conan the Barbarian. As well as E.T., Star Wars, Batman, etc. My parents have always been very supportive of me and my sibling playing in the arts. My mother couldnít stand horror movies, and still doesnít for the most part. So I wasnít allowed to watch a lot of modern horror movies when they were out. I was however able to watch the classic Universal Monster movies which I adore, and was introduced to Hitchcock at a very young age. A combination of all of those things shaped me.
I took a few film classes in college, but dropped out and moved to Nashville after sophomore year. I credit most of my education to the DVD boom. I soaked it all up. Watching movies, and behind the scenes extras. I was listening to all the commentaries and reading a ton of books. Robert Rodriguez Rebel Without A Crew was an inspiration. The idea that you could just save a small amount and never be afraid to go big was amazing to me. I very much believe in education. You have to know where we have been before you can know where you are going.
Directors who inspire you?
As mentioned I really dig Robert Rodriguez. I think being able to go from Sin City to Sharkboy & Lava Girl in the same year shows how prolific he can be. Iím a mark for Scorsese, Hitchcock, Coppola, Tarantino, Kurosawa, Carpenter and John Ford. But ultimately the model I like to use is Roger Corman [Roger Corman bio - click here]. The man is a genius, and at some point has done just about every job you could want in film. He plays with low budgets, and has always been a good at balancing finance and art. His book How I Made A Hundred Movies In Hollywood And Never Lost A Dime should be the first thing they give you as a film maker.
Your favourite movies?

Feeling lucky ?
Want to
search
any of my partnershops yourself
for more, better results ?

The links below
will take you
just there!!!

Find Cameron McCasland
at the amazons ...

amazon.com

amazon.co.uk

amazon.de
Looking for imports ?
Find Cameron McCasland here ...
Something naughty ?
(Must be over 18 to go there !)

I always tell people that itís either the 1933 King Kong or The Good, The Bad, & The Ugly. Usually that is forwarded by the fact that Star Wars was more of a moment for me than an actual movie.
... and of course, films you really deplored?
You know, I try not to spend a lot of time thinking about movies I hate anymore. I applaud anyone who is able to actually get a movie made, as itís extremely hard. I can bash movies within the genres that I love, or even stuff that doesnít appeal to me but Iíd rather just watch stuff that I have loved again like House Of The Devil, Primer, or The Signal.
Your/your movie's website, Facebook, whatever else?
I do a lot of social networks, and I invite anyone who reads this to came say hello. You can find me at facebook.com/cameronmccasland, twitter.com/CamMcCasland and youtube.com/cameronmccasland. You can also check the Lashman out at facebook.com/LashmanMovie, twitter.com/LashmanFilm or www.LashmanMovie.com.
Anything else you are dying to mention and I have merely forgotten to ask?
I think weíve covered it pretty well. I really appreciate you taking the time to give me a listen, and for the support.
Thanks for the interview!
Thank you.