Your film The Puppet Monster Massacre - in a few words, what is it about?
The Puppet Monster Massacre is sort of a send up or homage to the films I grew up watching on cable late at night. Movies like Killer Klowns from Outer Space, Puppet Master, Aliens, Pumpkinhead, Ghoulies, Return of the Living Dead, Night of the Creeps, The Deadly Spawn, The Thing, Fright Night etc. Mostly 80's horror, but there are a few nods to classics like House on Haunted Hill and Night of the Living Dead. It's a basic horror premise with all the trimmings executed with a cast of Henson style puppets.
The first question that I think pops to pretty much everyone's mind even by only hearing the title of your movie: Why puppets?
Why not? I don't think anyone has really done a horror film quite this way before. Meet the Feebles is the closest thing, but I don't consider it a horror film. Doing a puppet film was just something that seemed fun and original.
What can you tell us about the creation of your puppets, and to what extent where you involved in that process, creatively?
The Rabbits and Mr. Squiggums were purchased online, but the rest of the puppets were made specifically for the film. The human puppets were created primarily by my mother, Kim Mills. She does a lot of sewing so we just purchased some patterns on the internet, bought some baby clothes from a thrift store and there you have it. She worked from my sketches and every puppet came out perfect. I made the monster in my living room out of foam, hot glue, Crayola Model Magic, clear nail polish, wire, and a bunch of other stuff. I just sort of slapped things together until it looked like a creature. I started with a rough sketch but I knew I wanted it to be cross between a gremlin, a xenomorph, and pumpkinhead. So, I just sort of worked toward that idea.
What can you tell us about the whole filmmaking process making a film starring puppets, what are the advantages and disadvantages as opposed to filming real people?
The advantages of using puppets are that they are never late, they never bitch, and they don't have "no nudity clauses" in their contracts. The disadvantages are that they have no legs, they have one facial expression, and they can't move their arms particularly well. We shot the film entirely in front of a greenscreen in my living room. We couldn't afford puppeteers, so I had to perform every puppet in the film. On a typical shooting day it was just me and my assistant director (Brandon Salkil) filming furiously into the night fueled by passion and dangerous amounts of Amp energy drink.
The Puppet Monster Massacre is an obvious hommage to/spoof of 1980's horror and monster movies. Why that, and some of your genre favourites from that era?
Simply because I love them. 80's horror films had a sort of magic and theatricality to them that we just don't see very often anymore. The films of Fred Dekker, Tom Holland, and Charles Band are huge influences on me. They understood how to have fun, and how to be self referential without overdoing it. Its hard to pick favorites but I would say Monster Squad, the Puppet Master-series, Night of the Creeps, and Pumpkinhead are on the top of my list.
Other inspirations when writing The Puppet Monster Massacre?
My biggest writing influences are probably Edgar Wright, Matt Stone, and Trey Parker. Edgar Wright has a knack for simultaneously pointing out how ridiculous something is, while at the same time showing a true love and understanding for it. That's something I wanted to do with The Puppet Monster Massacre. I didn't want to do cutaway humor (like Family Guy), or just big abstract gags, or just direct references with no real joke. Matt Stone and Trey Parker are geniuses. They somehow manage to be crass and clever at the same time. I don't know if I achieved their perfect balance, but I was definitely trying.
How would you describe your directorial approach?
I'm very hands-on when it comes to the artistic and technical aspects, but I'm pretty hands-off when it comes to my actors. I like the technical side of filmmaking. I like designing, doing special and visual effects, editing, and cinematography and things like that. Not that I don't like working with actors, I do. I just have a real "you know how to do your job, and I know how to do my job" approach with them. I like actors who bring something to the table, respond well to criticism, and can work well without me holding their hand. If I had an actor who fussed and held up my production for 3 hours because he didn't understand his motivation, I would flat out fire him. I don't care if he's Brad Pitt or Pauly Shore. When budgets are low and schedules are tight, I don't have time for that business. Everyone has a job and everyone is there to work and have fun. The actors who are most valuable to me aren't necessarily the best or most famous. The people I keep around are the ones who are dedicated and willing to work, because they love the project.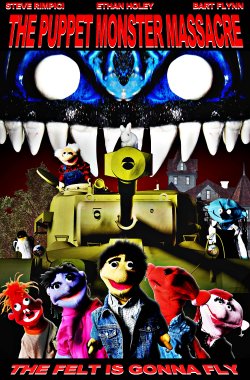 I'm pretty sure your film has been likened to Meet the Feebles and The Muppets Show quite a few times. Your thoughts about these comparisons, and do they at all bother you?
They don't bother me. I would like to think we are closer to The Muppet Show than Meet The Feebles, though. I love Meet The Feebles, but its really grimy and dark. I like to think that The Puppet Monster Massacre is a little lighter in tone. Its nice to be compared to successful projects.
Having made one puppet feature, could you ever be tempted to make another one? And are there any future projects you'd like to talk about (both with and without puppets)?
I think at this point we are definitely doing a sequel. People seem to like it and it's selling well. I have a million ideas for sequels so it won't be a cash-in. I love the world and characters we have created and I would like to visit them again several times. Currently we are working on a grindhouse style zombie/slasher film called Zombie A-Hole. I'ts live action and its chockfull of naked girls and blood. Its a smaller film than The Puppet Monster Massacre, but it will be a lot of fun. We are about halfway through production and are on hold at the moment. Our star had some medical issues and is off his feet for a few weeks.
How did you get into filmmaking in the first place, and did you receive any formal education on the subjects?
I have always wanted to be a filmmaker. I remember being very young and watching a special on TV about how King Kong was made at my grandma's house. I was hooked. I was growing up in the golden age of "behind the scenes". Amazing films like Terminator 2 and Jurassic Park were coming out and there were tons of specials about their productions and special effects. It all just sort of clicked in my head and made perfect sense to me. When I was 12 my dad bought my mother a VHS-C camera which I immediately confiscated. I started out making stop motion films with my action figures and silly putty. In high school I was lucky enough to be involved with a local access soap opera where Tony Howell taught me the basics of camera and lighting. After that I just learned from the internet. Shows like FilmRiot & Backyard FX have inspired me and taught me so much. I went to college for a year, hated it, and never went back. It was more valuable to me to learn by doing.
What can you tell us about your filmwork prior to The Puppet Monster Massacre?
The Puppet Monster Massacre is my first feature. I have done lots of shorts and tests, but this was my first big undertaking. It took a year of my life and a lot of literal blood, sweat, and tears. I am very proud of it.
Directors who inspire you?

Feeling lucky ?
Want to
search
any of my partnershops yourself
for more, better results ?

The links below
will take you
just there!!!

Find Dustin Mills
at the amazons ...

amazon.com

amazon.co.uk

amazon.de
Looking for imports ?
Find Dustin Mills here ...
Something naughty ?
(Must be over 18 to go there !)

Charles Band, Roger Corman [Roger Corman bio - click here], Robert Rodriguez, Guillermo Del Toro, Kevin Smith... that's the short-list.
Your favourite movies?
God, that's difficult. King Kong, The Princess Bride, A Fistful of Dollars, Pumpkinhead, Jurassic Park, Terminator 2, Django, Once Upon a Time in Mexico, Grindhouse, UHF, The Odd Couple, Monster Squad, Iron Monkey, Hellboy, Scott Pilgrim Vs. The World, Creepshow, Night of the Living Dead, The Changeling, House on Haunted Hill... the list goes on and on. I just love movies. I can generally find something to love in even the stupidest of films.
... and of course, movies you really deplore?
The Saw-series. I just don't understand the appeal.
Your/your film's website, Facebook, whatever else?
Website: www.puppetmonstermassacre.com
Twitter: @puppetmassacre
Anything else you are dying to tell us that I have merely forgotten to ask?
Pencil erasers make excellent puppet nipples.
Thanks for the interview!
No, no, no... thank you!