Your upcoming film Kung Fu and Titties - in a few words, what is it about (apart from the obvious)?
Kung Fu and Titties is about a Joe Everybody who wants to make money as an MMA fighter. He's a regular guy that gets whisked into an alternate dimension by a demigod who kidnaps earth girls in order to see their tits.
Where did the inspiration for the project come from in the first place, and in your eyes, what makes the combination of kung fu and titties quite so appealing?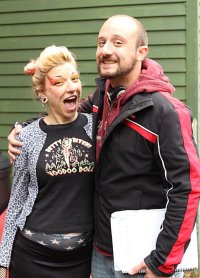 with Sophia Disgrace
The words just popped in my head and fit perfectly… kung fu… and titties. Since my higher concept stuff wasn't getting picked up I figured why not stop being pretentious, do something fun and low-brow, entertain a lot of people and have a good time doing it. Again, apart from the obvious, I wanted to make a film that would get my foot in the door and get my name known as a filmmaker. Selfish, I know. But something that began with selfish interests became a lot of fun because my father (who has since passed) and I worked on it together so it became a labor of love and a family bonding thing. Also… I love Big Trouble In Little China so… this is kind of a personal homage to that as well.
What can you tell us about your co-writers Melissa Libutti and Rob Cottignies, and what was your collaboration like?
I met Melissa through her boyfriend at the time who was a buddy of mine. She was always hysterical and very talented so I knew I needed her help and female voice in the re-writes. Rob is an old roommate of mine and also a very talented writer. After I had done about 7 re-writes on my own I brought Melissa on board. We went back and forth through the script and polished it off. Then we waited about 2 months and I got Rob on board. I went through 2-3 drafts with him and had the final draft ready to go. We made a great team and I wouldn't change a thing if/when there is a Kung Fu and Titties the sequel.
How would you describe your directorial approach to the subject(s) at hand?
Well… 3 days before production began my father and life-long film supporter passed away. So, final pre-production planning and shot lists kind of went out the window due to me needing to be with family. When production came I was directing actors and the camera team based on plans that were in my head, and it worked, but it was very stressful. I knew the script was great and the actors I had were great so I really just tried to stay on schedule and stick to the script. Sometimes we did good improv and had fun when there was extra time. Sometimes actors got a little rambunctious when improvising and I had to steer them back on course but overall we stayed true to the script.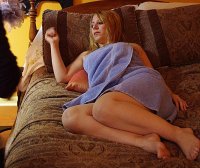 Raine Brown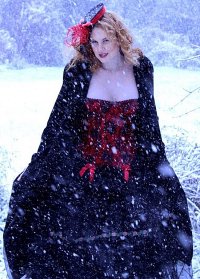 Seregon O'Dassey
A few words about Kung Fu and Titties' tagline "It's not Porn. It's just Great." - and how did that originate?
The question I'd always hear was, 'Is this a porn?' or I'd get, 'Hey I heard you're making a porno. Is that true?'. So this tagline came out of frustration. 'Hey!! It's not Porn. It's just Great!!'. After a while it stuck and was a good introduction to the film when I spoke to anyone about it.
Let's get to the martial arts section of your title: What can you tell us about the kung fu and stuntwork in Kung Fu and Titties?
We had a few really cool and fun stunt guys on the film. In 2007 I was into kickboxing and got ranked as an amateur. I got back in touch with my trainer Karl and he was the main coordinator. Also, my friend Chet who used to do amateur MMA choreographed some scenes. Then we had day players and some stunt performers choreographed their own scenes. We didn't have a big enough budget to achieve the huge stunts and fights that I wanted, so we modified it a bit. Some of our fight scenes are supposed to be goofy and some are cool. There's a good mix.
And to finally end the suspense for all my male readers: What does your film have to offer in the boob section, and what can you tell us about your leading ladies?
BOOBS!!! We have lots of boobs. As a kid I hated turning on a Jean Claude Van Damme movie and seeing only one set of boobs, maybe two. Sure the fights were cool (most of the time) but there weren't enough boobs. You will see lots of boobs when you see this movie. I believe you will see at least 10 sets of boobs in Kung Fu and Titties. As for the leading ladies… Raine Brown is a great friend and colleague. She's awesome. She plays the obsession of our bad guy Zeefros. Seregon O'Dassey [Seregon O'Dassey interview - click here] is great as well and did a really good job. She plays Cynthia, the tough as nails girlfriend of Richard (our lead).
What can you tell us about the rest of your cast?
Comedian Mike Marino co-stars as Gorilla, the jerk-off mentor character who guides our hero through the world. Sean Molnar plays Richard Titties, the regular guy who needs to transform in order to save his girlfriend and the world. Bronson Pinchot… come on, he's the man. He plays two supporting characters (The Indian and Winston) that help the hero in his quest. John Archer Lundgren, our lead bad guy, plays Zeefros the evil demigod. He is insanely amazing and steals the show. Kevin Kolack is hysterical as the dirtbag Frenchman, Army Bob. I won't go into everyone because we have over 50 actors in the film but we've got some really talented people in the film. All of them played their part, whether small or large, and did an amazing job.
How easy/difficult was it to find the right cast for a movie with a title as (enjoyably) blatant as Kung Fu and Titties?
Not too bad actually. When we first posted the title on IMDb, people got in touch with me months and months before auditions. The standard e-mail was, 'I HAVE to be in this movie. It's just my style. PLEASE consider me'. I found a few people that way. Some other people I'd worked with in the past and had them in mind already. Mike Marino I met in Hollywood years ago and we kept in touch. We had a talent agent and casting director for some of the roles. It was kind of tough finding the topless girls because either they liked it and knew it would be a fun movie to do, or they really weren't sure and thought it was sleazy or a porno.
Browsing through some set photos, I stumbled upon pictures of a man in a gorilla suit. Please tell me you have a kung fu-fighting gorilla in Kung Fu and Titties!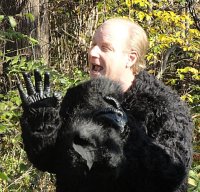 Mike Marino
Yes! Yes. We do have a kung fu-fighting Gorilla in the film. The character is called 'Gorilla' and is portrayed by Comedian Mike Marino and the stunt double for fights was Chet Hardaway.
I suppose, with you being a man, that you're into titties. But are you also into kung fu movies? And kung fu movies that have influenced the look and feel of your film?
Yes I love boobs. But actually I'm an ass man. Yeah, I love kung fu movies. I love Bruce Lee, Jackie Chan, Jet Li and of course the action movies of Van Damme, Lundgren, Schwarzenegger, Russell, Willis, Seagal, Lambert and any other A-B-C or D action movies out there. The main influence is Big Trouble in Little China. The kung fu was good in it but not great… and for some reason… you can't help but love the movie. There's just something about it that straddles that crappy movie/good movie line and it's just fun. That's the main influence. Other films... Drunken Master, Game of Death & The Last Dragon. And for cinematography we tried to use Hanna as a template for some of our shooting.
The $64-question of course: When and where will the film be out?
We're planning to have the premiere on March 22nd 2012 in New York. After the premiere we would begin a US East Coast college tour, festival screenings & select screenings in cities as well. If the tour does well, we may go overseas for the summer of 2012 and then do a full US fall college tour. But upon the initial release in March 2012 the DVD would be available for purchase on our website www.kungfuandtitties.com. All along we planned to self-distribute this film in the states. So if all goes well, the film will be available in late March 2012.
Let's go back to the beginnings of your career: What got you into filmmaking in the first place, and did you receive any formal education on the subject?
When I was about 8 I saw a student film that my close friend and film mentor John Migdal made in college. At that moment I was hooked. There was nothing else I wanted to do in life. So it was a life-long hobby and I always tried to steer my schoolwork towards art, photography and film when it was opportune. My dad let me use our crappy old VHS camcorder and then a HI8 camera. Years later I was lucky enough to get into Ramapo College to study film. I majored in Contemporary Arts with a Concentration in Film Studies. I also studied for 2 years at Writers Boot Camp Screenwriting School.
According to my information, your debut feature was a film called David. Want to talk about that one for a bit?
Sure. David was a project I made while I was at Ramapo College under the tutelage of Fred Strype. I didn't necessarily need to create a feature film for the course, but I wanted to. So I took it upon myself to film David over the summer of 2002 and made it my independent study in school the following year. David is the true story of my Uncle who was born ill, lived the hippie life in the 60's and died of kidney failure in the early 90's.
What can you tell us about Jumping Up and Down?
I made this experimental film in 2006. In hindsight I should have been doing more to immediately further my career, but I always liked doing my own thing and trying to push the envelope. So… we put some money into it and tried to create a feature film in 72 hours, and we did. It came out pretty good too. If it were made on a normal 3-4 week schedule… I think it would have done much better in festivals. But a very good film about college kids who are struggling with leaving behind their old life and moving into a new phase. It's kind of like The Big Chill but much younger.
A few words about The Formulation of Rectangles?
Again, an experimental film of mine. I wanted to make a film as a statement that a filmmaker could make a movie with no script, shot for shot, edited in camera with only minor editing done in post, that would be better than most Hollywood shit being produced. It came out really good. It's a weird film and super low-budget but I'm really proud of what I accomplished with it.
I would describe your award-winning short My Hammer, My Friend: The Musical as a trip to the weird side. Now how did this film come into being?
This actually wasn't my brain child. An old classmate of mine got in touch with me about directing a film with his team for a contest. He had made a movie the previous year in the same contest and wanted to go in another direction. So I stepped into the group and we made this experimental short for the 72 hour Filmerica Contest (which is no longer running I believe). The script and ideas were generated by the whole team, actors, cinematographer, editor, musician, myself etc. It was weird but it was a lot of fun and a great collaboration and we won Best Comedy and Most Creative in Filmerica that year. The film then went on to win Best Musical at the Bluegrass Film Festival and nominations for Best Musical at several other festivals.
On the other end of the spectrum is your critically acclaimed documentary The Lives and Times of the Star Children. You just have to talk about that one for a bit!
Well I don't know how critically acclaimed it was… I did get nominated at some overseas festivals though. I'll try to be brief because it's such a heavy film. My grandma died. My girlfriend left me. I hit rock bottom and got extremely depressed. I bought a ticket to Europe, brought my camera with me and had a 3 month cathartic experience while I traveled and I poured my heart and soul into the camera (my only friend at the time). As I was going through these feelings and the depression, I created the film and edited it in my mind and in journals. There was no plan, only an idea. 'Film it'. And when I came home after 3 months I had been healed. I made the film, edited it and looked at the person who I was and that shocked me because I had changed so much. Hence the name, 'The Transformation: The Life and Times of The Star Children'. I really can't credit myself for this film because it wouldn't have been made if it were not for my friend Nick Campos, who is a chiropractor in LA. He talked to me the week before I left and insisted many times that I take my camera and/or buy a new one that could fit on the plane. If not for him, maybe I'd still be a depressed guy wandering around Europe.
What can you tell us about your as of yet unfilmed award-winning screenplay In Love, In Death?
This is one of my scripts that I really hope gets made. I wrote the original version in 2005. It's a story about a Mafia hit-man who grows a conscience and wants to stop killing people. Since leaving the Mafia is an impossibility for him, he subconsciously starts making mistakes and gets tracked down and shot by a rival family. He wakes up wounded in Sicily, figuring that his own family exiled him. Thrust into this new life that is free from violence, he meets a young battered girl. He needs to search for peace in his new existence while letting go of the need to find out what happened to him.
Any other films of yours you'd like to talk about, any future projects?
Not especially thank you. I hope to make Kung Fu and Titties 2. My future plans are just to keep making good films that I'm proud of.
Besides movies, you have also shot quite a few music videos. What is it like working on these, and how does making a music video differ from making a feature film?
Music videos are a lot of fun because you can play around a bit more. You don't have to hire a sound team for one. Also, you can get a little more creative with it. There's no set vision except for what you and the band want. You're building a story, or sometimes just cool visuals of the band, in a few minutes.
A few words on your production company Nums Films?
Right. Well Nums Films is basically just me as the owner and various colleagues I've worked with over the years are a part of it at times. I came up with the name in High School. I thought of the word num or nums as an essence. Like someone's soul. So Nums Films is a true substance or essence inside of a film. It's my calling card to continually make something that is truthful and has a spirit. A film that isn't just fodder. Whether it be horror, comedy, action, drama, etc.
Directors who inspire you?
Number one on my list is Stanley Kubrick. He was a perfectionist. He was a hard worker. He had such a grand vision and his films, to me, are flawless. If Mother Theresa was the embodiment of love, Stanley Kubrick was the embodiment of film. He just had this complete intelligence about his film and his vision that no other person could even attempt to understand until the movie was screened. That is something spectacular.
Other directors that I really admire are Luc Besson, Ron Howard, Terry Gilliam, Clint Eastwood, Andrew Niccol, Peter Jackson, Sergio Leone, Orson Welles, Martin McDonagh & Edgar Wright.
Your favourite movies?

Feeling lucky ?
Want to
search
any of my partnershops yourself
for more, better results ?

The links below
will take you
just there!!!

Find Joseph McConnell
at the amazons ...

amazon.com

amazon.co.uk

amazon.de
Looking for imports ?
Find Joseph McConnell here ...
Something naughty ?
(Must be over 18 to go there !)

It's a Wonderful Life. The Good, The Bad and The Ugly. Gattaca. Willow. Jeremiah Johnson. Heat. True Romance.
... and of course, films you really deplore?
I know it's sacrilege, but almost anything made by Kevin Smith and Quentin Tarantino. Oh yeah, and unnecessary remakes of good films.
Your/your movie's website, Facebook, whatever else?
Kung Fu and Titties website - http://www.kungfuandtitties.com
Kung Fu and Titties Facebook page - http://www.facebook.com/kftmovie
Anything else you are dying to mention and I have merely forgotten to ask?
Yes. Just one thing. Kung Fu and Titties is dedicated to my father, E. Joseph McConnell. Without his endless support and love this film never would've been made and he is the one man who will not get to see it (with earthly eyes at least). So a big big thank you to my dad and to all the Kung Fu and Titties members involved who helped make this film great.
Thanks for the interview!