Your film Trashology - in a few words, what is it about?
Trash + Anthology = Trashology.
This film is about a film student that must write a paper on her favorite film genre, which is trashy exploitation type films from the 70's. In her search for material the student discovers a book called Trashology that tells 3 stories that all interweave.
Why did you choose the anthology format for your film, and were the seperate episodes actually shot with the feature in mind, or were they shot independently from one another? And what is so appealing about the anthology format to begin with?
The 3 stories have many connections so it was all very carefully planned. Most anthologies are horror films. I thought it would be different to make a comedy anthology. This film is a combination of many genres though.
Plotwise (not on a stylistic level though), the segments of Trashology remind me of classic short stories or TV-anthologies like Twilight Zone or Alfred Hitchcock Presents. Something you would at all agree to, and could you elaborate on that?
If John Waters had created The Twilight Zone, it may resemble this film. This is very much a tribute to John.
Other sources of inspiration when writing Trashology?
I knew from the beginning that I wanted to offend people. I said a number of times "If you can't offend everyone, don't offend anyone at all."
How would you describe the film's overall style and your directorial approach?
There really isn't much like this film coming out today. I wanted to create trashy characters that have no idea they are trashy.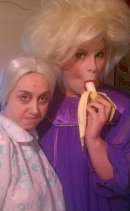 Jenny Coulter, Rodney Horn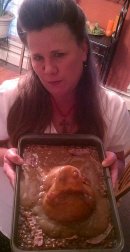 Angie Keeling
You have to talk about Rodney Horn for a bit, who appears in all three segments of your movie, and mostly in drag, and who leaves quite an impression. How did you get to know him, what kind of a guy is he in private life, and what was your collaboration like?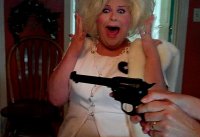 Rodney Horn
Rodney is hard to put into words. He is a very giving person. I recall in the script the Ms. Green character was just "strange woman" and I didn't have Rodney in mind for it. Rodney said let me create a character and if you like it, I'll play it. Otherwise you can get someone else. He went into a room for 20 minutes and the come out was something much more than I imagined. So I handed him the lines. The character became a favorite and we gave her a name on the set.
A few words about the rest of your cast, and how easy or difficult was it to get people to star in a film called "Trashology"?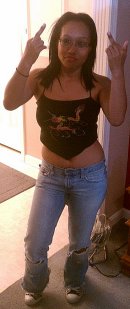 Rachel Stout
It was very difficult that's why Rodney plays 5 roles. Just kidding. It was a breeze. The cast had mostly worked with me on some of my past shorts. I think everyone trust Douglas Conner (actor, editor, camera) and myself to deliver on the final product. That is why they do it. Angie Keeling, Jenny Coulter, Rachel Stout, Tammy Shields, Fritz Dorton, Joe Slack and Kelli Ellis were all very dedicated to this.
Trashology looks as if it was a lot of fun to shoot. Is there any truth in that assumption, and what can you tell us about the onscreen atmosphere?
Mostly laid back unless we were losing the light or running behind. It has been fun for everyone I believe. For me it's been like birthing a child.
The $64-question of course: When and where will the film be released?
This summer is the plan.
Let's go back to the beginnings of your career: What got you into filmmaking to begin with, and did you receive any formal education on the subject?
When I was 13 my cousins and I toyed around with a video camera a lot. I knew then that it was what I wanted to do. Wasn't sure how I was going to do it. Later, about 7 years ago I met Douglas Conner and we immediately recognized each others love for film. We made nearly 40 short films over the past half decade before taking on the full features we have on our plate now. The 40 short films was our schooling in film. We learned more with each film and can easily see how they got better and better as we learned more and more.
What can you tell us about Doll Parts, your contribution to the anthology movie Theatre of the Deranged, and how did you get involved in that project to begin with?
James Cullen Bressack [James Cullen Bressack interview - click here] told me about it and asked if I'd like to contribute a horror short. So Douglas Conner, Dustin Ferguson and I came together and shot it. I wrote a 16 page script in a couple days. It was a very quick project. I would've liked to have fine tuned it more but we had a deadline.
As far as I know, you are at the moment busy with the pre-production of Crazy Fat Ethel, your remake of Nick Philips' cult fave Criminally Insane [Nick Philips interview - click here]. What can you tell us about that project yet?
I am very excited about this one. We really want to bring attention to the original film as well. So far my email has been flooded with people that want to be involved. My thing is, we need the right budget. I refuse to make this film till I feel I can make it right. This means certain special effects, a certain cast, and prime locations.
Any other films/future projects of yours you'd like to talk about?
Trashology and Crazy Fat Ethel is all I want on my plate right now. I will be seeking other things in about a year.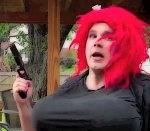 Brian Dorton in Trashology
How would you describe yourself as a director?
That is a good question. Rodney would say I'm a "bitch". Douglas would say "I know what I want and will stop at nothing to get it." Angie Keeling would say "I'm a protectionist and I need to lose the attitude." I will agree with all that.
You also do some acting every now and again in both your own films and those of others. A few words about Brian Dorton the actor?

Feeling lucky ?
Want to
search
any of my partnershops yourself
for more, better results ?

The links below
will take you
just there!!!

Find Brian Dorton
at the amazons ...

amazon.com

amazon.co.uk

amazon.de
Looking for imports ?
Find Brian Dorton here ...
Something naughty ?
(Must be over 18 to go there !)

I prefer to write and direct. I'd love to direct someone else's script. Acting is fun when it's comedy for me. I am a comedian in a lot of ways.
Directors who inspire you?
Martin Scorsese, Tim Burton, Woody Allen, Wes Craven, Alan Rowe Kelly [Alan Rowe Kelly interview - click here], and John Waters.
Your favourite movies?
Heathers, Beetlejuice, Goodfellas, Nightmare on Elm Street, Girls Will Be Girls, Serial Mom, ... too many to list.
... and of course, films you really deplore?
I don't like to down others work. I guess any piece of crap that looks thrown together and passionless.
Your website, Facebook, whatever else?
http://www.facebook.com/profile.php?id=100001310200891&ref=tn_tnmn
Thanks for the interview!
Thank you.