First of all, why don't you introduce yourself to all of us who don't already know you?
My name is Alan Rowe Kelly. I'm an actor, director and producer. I make Horror Movies!
What can you tell us about your upcoming anthology movie Gallery of Fear?
It's a piece I'm very proud of. I decided on the old school anthology approach featuring a wrap-around tale called Critic's Choice. It's about a maligned art critic (Debbie Rochon [Debbie Rochon interview - click here]) who is whisked away to a creepy mountain estate to report on a private art show for her weekly news column. What she discovers is a very surreal exhibit with only one covered easel that transports her into three virtual tales of terror.
The first tale is By Her Hand, She Draws You Down, based on the short story by Douglas Smith about a mysterious nomadic couple who make their living as boardwalk sketch artists and have a very deep need for completing portraits on some unfortunate patrons. Directed by the talented Anthony Sumner [Anthony G.Sumner interview - click here], I co-produced the piece and it stars Zoe Daelman Chlanda and Jerry Murdock in the leads. It has done wonderfully on the fest circuit so far and garnered about 8 awards!
The second tale is Down the Drain with Jerry Murdock playing lonely substitute high school teacher who's only friend is some 'thing' that lives in the local sewage drains and follows him from place to place. I think it's his best performance. This piece also stars Raine Brown in a GREAT character role and Mike Lane as the kind of principal we always love to hate!
The third tale is A Far Cry from Home, the most brutal of the three, about an urban gay couple (Myself & Don Money) that stop at a small rural junk shop off an old abandoned road and encounter a group of malicious, hate fueled zealots with only murder and redemption on their mind.
What made you choose the anthology format for Gallery of Fear?
With the economy drop and no immediate resources for funding features on the horizon, I wasn't ready to just stop what I was doing and not produce any material. So in 2009 I decided to do an anthology and use old school formulas from Night Gallery, From Beyond the Grave, Tales from the Crypt, etc. Since I had not worked in the short narrative format before I found it challenging to write stories within 20 pages or less and still bring the feel of feature, or mini-movie, to viewers. What I did discover these past 3 years while assembling Gallery of Fear was that I never lost any quality in production, story or visuals - I simply had to do it in half the time. This not only made me a more efficient writer, but also a much better editor. It's been a great education and enabled me to tell some really fun and creepy stories that were always in my head, but knew weren't full enough to expand into full features.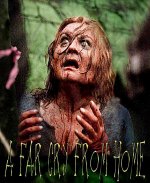 One segment of Gallery of Fear, A Far Cry from Home, has already drawn quite some critical acclaim as a standalone short. Would you like to elaborate on that?
Gladly! This was quite a personal piece to me and I was actually able to exorcise a few demons while filming it. The theme is simple enough; A couple traveling through the country take a wrong turn and end up at a roadside junk store owned by religious fanatics and killers. The only switch in this very familiar premise is that the couple is gay, so the material takes a new and very different twist. We shot the entire film in sequence for 5 days and I feel it is my best piece to date. Everyone in the cast and crew corralled around the story and gave their best. It is not an easy film to watch. But I wanted to do a serious piece of horror that would make people think and also show audiences that I could do more than just black comedy and camp.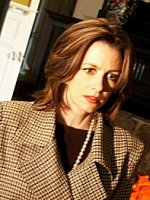 Debbie Rochon in
The credits of Gallery of Fear boast quite a few recognizable names. A few words about your film's stellar cast?
How lucky am I? Jerry Murdock, Katherine O'Sullivan and Zoe Daelman Chlanda have been my friends since 1999 when we started I'll Bury You Tomorrow. I never do a piece without them because they never repeat the same performance - EVER!! Terry M. West is such a fine talent as is my pal Susan Adriensen, who always brings great fun to every set she is on. Raine Brown and Debbie Rochon [Debbie Rochon interview - click here] I met through the convention circuit and I am very close with both. What a treat it has been to write something for each of them and also get to work with them on other films. Don Money was my saving grace by stepping in 4 days before shooting began on A Far Cry from Home when my original leading man backed out last minute. As serendipity will have it, the film only advanced with Don Money's appearance. The rest of the cast includes the fabulous Mike Lane who played my brother Hubcap in The Blood Shed, newcomer David Marancik who is really taking on steam with great upcoming roles, the always amazing 'Benzy', and New York actors Miguel Lopez, Keith Fraser, Shane Kulman, Jessie Mae Laumann, Joshua Nelson, Terry Shane, Tom Lanier, Robb Leigh Davis and Robert Norman. Behind the scenes were the masterful talents of cinematographers Bart Mastronardi, Anthony Sumner [Anthony G.Sumner interview - click here] and Dominick Sivilli along with composers Gene Hodsdon (By Her Hand, She Draws You Down) and the incredible Tom Burns to score the entire film. And last but not least the Special FX headed by Benzy, Anthony Sumner, Michael Todd Schneider, Nikki McIntyre, and Brian Spears. I certainly lucked out with this Who's Who of talent!
The $64-question of course: When and where will Gallery of Fear be released?
After 3.5 years in the making Gallery of Fear will FINALLY be ready by summer's end. Then it's off to screenings and conventions to promote it. I haven't approached any distributors with it until it is completely finished and I can look at it and say 'DONE'. Hopefully a decent release awaits in the future!
Only recently, you have also co-written the anthology movie Slices of Life with your Gallery of Fear-collaborator Anthony G.Sumner [Anthony G.Sumner interview - click here]. What can you tell us about that movie?
Slices of Life is Anthony's first feature and he has done amazing things with it - it is now available everywhere and he has cut through so much distribution red tape to get exactly what he wants! I have a fun, disturbing cameo role in the first story of the anthology titled W.O.R.M. and was thrilled when Anthony asked me to write the second segment Amber Alert! This is the first time I ever wrote something for someone else to produce and have nothing to do with it's production - I'm very proud with the results. Anthony Sumner's future in film is sealed as far as I'm concerned and I will work with him ANYTIME!
What can you tell us about your critically acclaimed The Blood Shed - and is it true you gained 50 lbs. to play the lead in that film?
Oh yes! Lol! I actually gained more than that and nearly barreled up over 300 lbs. Since we couldn't get a plus-sized actress to play Beefteena (and who could blame them!), my cohorts convinced me to play the role myself. So I began a magnificent 3-month eating frenzy of 5 meals a day! By the time we started shooting I was almost too big for the costumes. The effect definitely worked for the character to the point of me being almost unrecognizable. But in retrospect it was a huge mistake. I was in my mid forties at the time and you simply don't put on 50+ lbs for a role. My energy is always very high, but with all that extra padding I found myself exhausted and out of breath most of the time. It wasn't a healthy decision and I would not recommend this to any actor. The downside was appearing in many films scheduled right after Blood Shed and begging cinematographers to 'be kind' in regards to how they would shoot me and what lenses to use so I would not appear so huge. It has taken me 4 years to get it off. But I must say, playing Beefteena and putting myself 'out there' in regards to making myself look awful all the time has offered me a great array of characters to play and I love it. But I admit, I no longer wish to play roles where the main requirement for the part is described simply as FAT - lol!! One Shelley Winters or Divine is enough and I'd have a long way to go if I ever thought of attempting to fill those shoes. I'd rather just wear my own.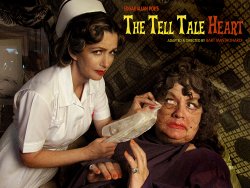 Any other movies you want to talk about? Any future projects?
Oh YES! I am currently in production on Bart Mastronardi's anthology Tales of Poe. It has been one of the most creative experiences I have had to date. Bart has already wrapped his first segment, The Tell Tale Heart with the gorgeous Debbie Rochon [Debbie Rochon interview - click here], Lelsleh Donaldson, David Marancik, Joe Quick, myself, and a truly amazing performance by Desiree Gould. The beauty of Poe is that his tales are so open to reinterpretation. Bart has brilliantly readapted the story by placing it in the 1950s and switching the genders of the main characters to female. It's a great twist and with Dominick Sivilli's fantastic cinematography, they have brought a unique new storyline to this ageless tale.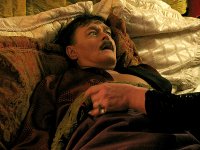 The Casque
The segment we are now working on is The Casque, based on The Cask of Amontillado. Bart gave me the green light to write and direct a new version of this classic and we put quite a new stamp on the theme; gay marriage, gone very, very wrong!
It stars Randy Jones (he's magnificent!), Brewster McCall (what a hearthrob!) and myself in a deadly love triangle of greed, deception, murder and revenge. Bart is lensing the entire production and with great help from producers Robert Kuiper, Amy Lynn Best, Mike Watt and David Marancik, it has become its own animal in the vein of a 70's Italian Giallo / Film Noir à la Double Indemnity. It's been too much fun to shoot! In addition, I have the remarkable talents of Jerry Murdock, Zoe Daelman Chlanda, Douglas Rowan, Susan Adriensen, Amy Lynn Best and Carl Burrows. Bart also has some more great surprises in store for his third segment. He is collaborating with the uber-talented Michael Varrati and has an amazing cast lined up of classic Final Girls whose names I can't release just yet! But oh man, will I be a total gushing fan on this set, for sure!
Pretty much all your films are of the horror variety. Why is that, and is horror a genre especially dear to you?
It's what I know best. My love of the genre has been in my blood since childhood. And to have made such a drastic career change in mid-life and follow my lifelong dream was really the best decision I ever made. I'm home now.
Besides being a director, you also have quite an extensive resume as an actor, and one should point out here that you are cast in male as well as in female roles. A few words about that aspect of your career, and your approach to acting as such?
I'm simply a character actor and will take on any role that is challenging and attached to a great script. The fact that I play both genders may tend to confuse folks, but when they see the films they seem to accept my role-playing and invest in the character, not the actor behind the part. It is an odd niche and keeps me on my toes! As an actor I'm very fortunate to get so many opportunities to step into a new skin. And the best part about the acting aspect is if there is a role I really want to try - I'll simply write it and produce it. In a way I've become my own casting agent.
Apart from that you are also a writer, right?
Yes, that is what got me started in this crazy business in the first place. I write all my own screenplays and and it is an arduous process that takes a lot of time and a lot of self editing because I tend to go on, and on... and on! Lol! Writing shorter tales and becoming a film editor has been a great discipline for me and has also enabled me to go back and condense and tighten all my feature scripts. I'm constantly learning and have an automatic splicing tool in my head. When I do table readings with the cast before filming, I get to hear how the words translate and remove all the exposition and endless babble. And even once filming begins, everything changes again because the actors will bring so much more to the table and ask me about lines, changes, condensing and interpretation. I'm never glued to my words on paper. My scripts merely act as a template for the day's shooting and I'm always open to any suggestion that makes the day move more efficiently.
A few words about your production company Southpaw Pictures?
I developed SouthPaw Pictures when I made my second film The Blood Shed. I'm based in Paterson, New Jersey.
How did you get into filmmaking in the first place, and did you recieve any formal training on the subject?
I never went to film school. But working as a make up artist and hair stylist on films, television and in the fashion industry for over 20 years was the best hands-on training I could have ever received. I always kept my eyes and ears open to everything happening on a set and absorbed everything that the crew was doing. It was excellent training. So when the opportunity arrived to actually make I'll Bury You Tomorrow in 1999, I jumped at the chance and took on every responsibility I could from production, locations, casting, writing, directing, editing, sound, acting and distribution. Through that film I encountered every obstacle that could happen on a set. It was a great experience that really opened my eyes and taught me many valuable lessons. That the film itself was actually accepted into the indie horror community was the biggest bonus I could have ever hoped for.
Directors who influence you?
John Lwellyn Moxey, Curtis Harrington, Val Lewton, Roger Corman [Roger Corman bio - click here], Ida Lupino, Bart Mastronardi, Anthony Sumner [Anthony G.Sumner interview - click here] & Alfred Hitchcock.
Actors and actresses who inspire you?
I'm so old school on this one Mike; Humphrey Bogart, Ruth Roman, Bette Davis, Barbara Stanwyck, Joan Crawford, Edward Arnold, Ava Gardner, Rosalind Russell, Beverly Garland, Richard Widmark and my all time favorite - Vincent Price [Vincent Price bio - click here]! If they're on TV, I stop everything I'm doing and watch them - even if I've seen the film 50 times.
But there are particular actors in my circle who really inspire me - Jerry Murdock, Katherine O'Sullivan, Zoe Daelman Chlanda, Raine Brown and Debbie Rochon [Debbie Rochon interview - click here]. I've done many films with these great talents and they never cease to amaze me. Acting opposite them makes me strive to better myself as an actor and I learn something new every time.
Your favourite movies?
Too many to even mention, and my list changes weekly! But my top all timers are Horror Hotel, Hush Hush Sweet Charlotte, On the Beach, All About Eve, The Poseidon Adventure (original), The Uninvited, Games, Night of the Living Dead, William Castle's House on Haunted Hill, Double Indemnity & Female Trouble.
... and of course, movies you really deplore?
Well there are some films I truly detest but, being a filmmaker, I feel that's so uncool to point out one particular flick just because it doesn't fit my taste or mood. And there's a lot of folks out there who think my work stinks and they have no problem verbalizing it. I was raised better than that. Nobody sets out to make a 'bad' film. They're someone's baby and I respect anyone who can finish a film. It's a lot of work and a real accomplishment. I am not a fan of 'Hollywood' horror because I know they are just 'cashing in' on the genre to the lowest common denominator. But I will say that lately I'm very concerned about the growing amount of lazy 'independents' out there who are nothing more than excessive, ego-driven dilettantes concerned more with 'being known' than actually producing a single work of quality.

Feeling lucky ?
Want to
search
any of my partnershops yourself
for more, better results ?

The links below
will take you
just there!!!

Find Alan Rowe Kelly
at the amazons ...

amazon.com

amazon.co.uk

amazon.de
Looking for imports ?
Find Alan Rowe Kelly here ...
Something naughty ?
(Must be over 18 to go there !)

I have busted my ass for well over a decade and I give it my all, as have many other filmmakers I truly respect like Anthony Sumner [Anthony G.Sumner interview - click here], Bart Mastronardi, Eric Stanze [Eric Stanze interview - click here], Mel House, Joshua Grannell, Mike Watt [Mike Watt interview - click here], Justin Alvarez, Jeremiah Kipp [Jeremiah Kipp interview - click here], Abel Berry, Richard Griffin and many, many others. There's passion there and a drive to nothing else. What I seriously cannot understand are filmmakers who will release a 'finished' film that looks and sounds like a roughly edited First Cut . To them, it's good enough and perfect and they have no care about their audience. Makes no sense to me. If I did that everyone who works with me would have my head! I depend on them for honest criticism while I'm in post because sometimes you're just 'too into it' to see past it. I'm in this for the long haul. One should hope that you'd eventually be known for a decent body of work that improves with each film instead of a scrapbook full of news clippings with your name plastered all over it. It's very short-lived. C'est la vie!
Your website, Facebook, whatever else?
http://www.facebook.com/alanrowekelly
http://www.facebook.com/pages/GALLERY-OF-FEAR/115175081850017?ref=ts
Anything else you are dying to tell us and I have merely forgotten to ask?
Look for Gallery of Fear later this year! Also just wrapped on Happy Cloud Pictures' Razor Days, due out in late 2011/2012, and have a real cool cameo in Abel Berry's new feature Kodie, which I believe is due out in late 2011! Thanks so much for the interview Michael!
Thanks for the interview!