You are in the process of releasing your movie III Slices of Life. In a few words, what is it about?
III Slices of Life is an old-school low budget anthology much like Creepshow, Tales from the Crypt, The House that Dripped Blood, Asylum and Torture Garden. I absolutely loved anthologies as a kid and I think they have the capacity to be more relevant today. Today, we consume media in much smaller bites and through so many different channels of delivery, that I believe the anthology is a perfect format for our changing aesthetic. Sexual Parasites, Disembowelment, Zombies, Serial Killers, Demon Children, Violent Vixens, Rabid Office Workers and Angry Embryos all spring to life from the flesh covered sketch books featured in III Slices of Life.
The wrap around story follows Mira (Kaylee Williams [Kaylee Williams interview - click here]) as she awakens in front of a seedy roadside motel with amnesia. She searches for clues to her identity in the pages of three bound sketchbooks; each book represents a different aspect of everyday life.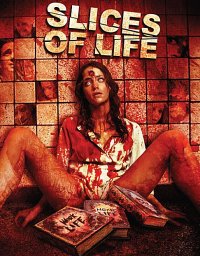 a. WORK LIFE: A lowly clerk at a nano technology firm unleashes a deadly virus at the office headquarters, giving new meaning to the term corporate zombie.
b. HOME LIFE: As local girls begin to disappear, a young pregnant woman is haunted by visions of evil demonic children hell bent on stealing her unborn fetus.
c. SEX LIFE: A young brother and sister on the run from a sexually abusive home life, take refuge in a countryside Victorian manor - only to discover the monsters hidden in this house have been looking for a new home.
Convinced that the characters from these books are roaming around the motel, Mira's reality begins to crumble. Are these visions real or is she going insane? Desperate, Mira turns to the motel caretaker (Helene Alter-Dyche), only to discover the true evil bound in the flesh covered books and the destiny they hold for her
Of all the episodes contained in III Slices of Life - any favourites, and why?
I certainly have elements that I love from every segment, for me it is impossible to put this much work into something and find a passion for each aspect. Naturally there also many things you dislike or would change if possible, but you try to find a balance and then let it go. So I think each segment means a lot to me in different ways and for different reasons. Now looking at them from purely the perspective of a splatter horror fan, I would have to say that PINK SNAPPER is my favorite. I think that I had lived with the story for so long that when I finally had the resources to really let loose on the gore and effects it was REALLY thrilling - so as a fan of that kind of gothic/splatter/body/monster genre, that story really appeals to me. I think AMBER ALERT was the most challenging for me, because it relied so much on mood and atmosphere (which I love, but my nature is to be spectacle) - so we had to work really differently to build scares through atmosphere and performance. I think W.O.R.M. has some truly outrageous and disturbing moments that you donít expect (the online sex in particular) and I am really happy with how fully realized and unsettling those scenes came out.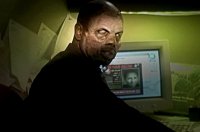 What were your inspirations for the individual stories?
Each story was drawn from many different inspirations and often from real life situations. One of our goals in creating each story was to switch up our styles and really try something a little different with each segment. It was a way to sharpen our skills with different sub-genres of horror and try to reach a slightly broader audience. Each segment was developed with this intent, to create three disparate stories in three varied styles, all inspired by classic low-budget horror sub-genres. As the reviews have rolled out, it has been exciting to see that some liked WORM the best, others liked AMBER ALERT the Best and then some preferred PINK SNAPPER - so that really has made us happy, because it means that we were able to wrap different styles that appeal to different people into one film.
What can you tell us about the overall reception of III Slices of Life so far?
So far it has been very good. Our first reviews with some of the bigger sites were FANTASTIC and our film was being talked about and compared with theatrical releases like Monsters and Paranormal Activity! So that was thrilling, and since that point we have had almost all positive reviews. As with anything, we have had some bloggers or viewers who HATED the film and I think that is to be expected with anything that gets penetration into 14 million homes. This is a Micro budget film that was made for about the price of a used car, (that includes marketing) and it is really gory and outrageous - it is not for everyone. I really try to make films that I love to sit and watch. Then I just cross my fingers and hope that other people are a bit like me and will like it also.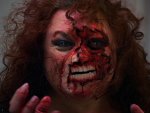 III Slices of Life was co-written by Alan Rowe Kelly [Alan Rowe Kelly interview - click here], who also makes a special appearance in the film and with whom you have collaborated quite a few times in the past and seem to continue to do so in the future. What can you tell us about him?
Well I could go on and on about Alan Rowe Kelly, but back in 2005 I rented Iíll Bury You Tomorrow from the video store and was really floored by this great low budget movie. As I researched the project afterwards, I realized that one person wrote, directed, starred and produced this amazingly creepy little picture and that was Alan Rowe Kelly. Later that year it, Eric Richter and I were in NYC premiering our short Jitters at the NYC Horror Film Festival and by pure serendipity we ran into Alan. We have been good friends ever since. Alan is one of those rare artists who is literally good at everything and has no pretensions what-so-ever. He will take on twenty or fifty different production responsibilities in order to get the job done and he is always the first to support all indie film makers at any level. For him it is about the work, the final product - it is never about being a star or getting attention. He loves the craft of filmmaking as a device to tell stories. I think we are very similar in this way and that is why I enjoy working together so much. Therefore every chance that I have to work with Alan, I do - because he makes everything better no matter what is involvement is, as a writer, producer, actor, production designer, casting, make-up artist, editor or directorÖhe excels.
The other co-writer (and whatever else) on III Slices of Life was Eric Richter, who has worked in various capacities on most of your movies. A few words about him?
I have been working with Eric Richter for about 7 years now and I can honestly say that III Slices of Life would not exist if not for the talent, drive and skills of Eric. I had been working in new media for many years and wanting to return to my first love of making horror movies. It wasnít until I meet Eric and he presented the challenge that we COULD do this and he has been fully dedicated to all our projects from day one as a writer, DP, editor and producer. In addition to shooting and writing, he is a fantastic director as well, which is evident in all the music videos he has put out over the last couple year that landed on MTV, SPIKE TV, ESPN and other large broadcasters : The Scenic UH OH (http://vimeo.com/15066530), The Sleeping YOUNG VIBES (http://vimeo.com/15028689, Taproot FRACTURED (http://vimeo.com/12244615). Just like Alan, I cannot imagine doing any project without Eric involved, we work really well together and he is never afraid to jump in and try anything.
What can you tell us about the rest of your cast and crew?
I was so lucky to get such an amazing team working on III Slices of Life. Many of the actors are local Chicago performers who have become very familiar faces in the Indie Film Scene.
Helene Alter-Dyche plays Irma in the Sketcher wrap around segment and was an absolute joy to work with. She has been doing theater and opera all over the world for years and I was fortunate enough to meet her after a play and ask her to participate in the movie. I think she brings so much to project that is beyond what I could have hoped for that character.
Kaylee Williams plays Mira and it was a difficult role because the character is actually not fully developed or aware of her own identity, I think Kaylee really brought an innocence and vulnerability to the role that was much needed. She has continued to grow and has done a considerable amount of independent film work since the release of III Slices of Life.
Jack Guasta, Debbie DiVerde and Alan Rowe Kelly are part of the ensemble cast in W.O.R.M. Alan of course was the most veteran of the cast, but I think Jack and Debbie really brought a lot of humor to story and they both can be seen other film projects and commercial campaigns.
Toya Turner and Thurston Hill are the two actors who star in AMBER ALERT. Toya has done a considerable amount of film work and was absolutely amazing in role as Vonda Johnson - I cannot wait to work with her again, since she just brings her A++ game to everything. Thurston was also incredible and has been really building up his resume since the release of III Slices of Life and I am so glad to see these performers getting the attention they deserve.
PINK SNAPPER starred Deneen Melody [Deneen Melody interview - click here], Galen Schloming, Judith Lesser and Bruce Varner. I have been lucky enough to work with Deneen and Bruce on previous projects and knew that they would be great for this segment, all the characters have such an arc that I knew everyone of this performers had the chops to really sell the story. Without giving to much away, no one is what they seem or ends up the same at the end of PS. The level of gore and violence is really over the top and extreme and Deneen, Judith, Galen and Bruce were absolute troopers and pros from beginning to end.
As far as crew, our composer Gene Hodsdon, literally created a different musical theme for each of the four stories and really helped to define each segment. Jeremy Selenfriend from Monster in My Closet did the creature effect for the PINK SNAPPER segment. Chad Norris and Paul Mackey pulled off some incredibly seamless VFX that go by unnoticed (unless you watch the extras on the DVD) and of course Keith Ehrenberg and Jill Young who did a great job of just managing production and the marketing.
With Alan Rowe Kelly, you also made (are in the process of making?) another anthology movie, Gallery of Fear? What can you tell us about that one?
Gallery of Fear is an amazing anthology with an incredible cast/crew of genre favorites. It will be coming out this summer and features and features Jerry Murdock, ZoŽ Daelman Chlanda, Debbie Rochon [Debbie Rochon interview - click here], Raine Brown, Terry West, Susan Williams-Adriensen, Terry Shane, Joshua Nelson, and many more. Again, this is three segments tied together by a wrap-around story. Other than BY HER HAND... all the other storys are written and directed by Alan Rowe Kelly, each one is so different and yet so amazing. The incredible Jerry Murdock is in all three stories and I think people will be amazed at his diversity as well as Alanís - it is a showcase piece for everyone involved. The film is complete; it is just having the final touches done on the sound mix.
Be sure to follow the progress of film on its Facebook page at: http://www.facebook.com/pages/GALLERY-OF-FEAR/
115175081850017. So that will be our second film coming out in 2011.
One of your segments of Gallery of Fear is called By Her Hand, She Draws You Down. Now how did you come up with this absolutely wonderful title?
BY HER HAND, SHE DRAWS YOU DOWN (www.byherhandmovie.com) is based on the short story of the same title by award winning genre author Douglas Smith. it is the haunting tale of a boardwalk portrait artist who struggles with a powerful dark hunger, and the man who, through loving her, must come to grips with his own inner demons. It is really a haunting piece and I am so proud of this project. It has done incredibly well at the festivals this season, bringing home multple Best Picture, Best Actress, Best Actor, Best Cinematography and best original score awards. The Official Movie Companion eBook which contains the story, storyboards, interviews, photos from the shoot, and more, can be ordered at Amazon for only $2.99: http://www.amazon.com/exec/obidos/ASIN/
B004XW6NAC/researmytras-20.
What can you tell us yet about the yet-to-be-filmed Don't Look in the Basement, which will be another collaboration with Alan Rowe Kelly and which will in a way be your feature debut?
HAHA, well III Slices of Life is our feature film debut, all the stories and the project where conceived as an anthology piece from the beginning. So I guess this would be my first single narrative feature. But I doubt Don't Look in the Basement will be our next project out of the gate. Alan is already working on another feature and so am I- so there will probably be a couple more films in stores prior to Don't Look in the Basement.
Don't Look in the Basement is of course based on the 1973 film The Forgotten/Don't Look in the Basement. How true are you planning to be to your source material, and how much do grindhouse horror flicks from the 1970's influence your work as a director?
Grindhouse films of the 70ís are a HUGE influence on my work, they are the films that inspired and cultivated my love of cinema. We do absolutely want to remain true to the structure and feel of Don't Look in the Basement , but it will be reimagined for a new audience. Jerry Murdock and I approached Alan in 2007 and said, "We have to remake this film. It will be a crossover project that could eventually lead to some higher budgets in the future". All three of us had always loved this classic by S.F. Brownrigg.
So Alan and I decided to co-produce/direct it together through our companies SouthPaw Pictures and TinyCore Pictures. Alan rewrote the script, updated it, added new characters and came out with a very incredible storyline that retains all the charm of the original with some new twists on the original themes. We were set to shoot in 2008, but the recession killed us - as it did everyone - and our backers backed out, which happened to many projects. So we continued with our own smaller self-financed films while building new investor interest the remake. It has always been important to us to make this film at a certain budget (still VERY LOW) and retain ALL of the shocks that are in Alanís new script - so until all funding is locked down we donít want to jump into production.
With this in mind, all pre-production is basically done and we have an amazing cast that includes Jerry Murdock, Zoe Daelman Chlanda, Debbie Rochon [Debbie Rochon interview - click here], Caroline Williams, Jeff Dylan Graham, Raine Brown, Katherine O'Sullivan, Susan Adriensen, Douglas Rowan, Terry M. West, Carl Burrows, Alan Rowe Kelly, and the lovely Deneen Melody [Deneen Melody interview - click here]. Plus behind the camera we will have the incredible skills of Bart Mastronardi and Eric Richter. The film deserves a new life and I truly believe we have the right combination of talent to give it its worth. The proof will be in the finished product, so let's wait and see then. We have so many projects in production and pr- production right now that we actually have to wait and see when will be the proper time, this year or next, to make this film a 'reality'.
What got you into filmmaking in the first place, and did you have any formal education on the subject?
I grew up on horror movies and started watching them religiously at a very young age. I had such a passion for the genre that I started making my own movies in 6th grade with a super 8 film camera. This ultimately lead to film school and then a career in advertising and new media. I never lost my desire to revisit making low-budget horror films. By 2004, technology had reached a point of affordability and higher image quality that it seemed insane not to do a feature. I was already working in the media and owned all the necessary equipment - so producing partner Eric Richter and myself decided to maintain our regular commercial clients, but reinvest the profits back into a feature - and from that III Slices of Life came to fruition.
Your films all seem to be horror movies at least to some degree. Why is that, and is horror a genre especially dear to you?
I feel that horror really includes every other genre: drama, comedy, romance, suspense, fantasy - all of these elements are in a good horror film. So I honestly view horror to have a broader scope of possibilities, and I prefer that as a viewer and a filmmaker. I like the immediate response you can get from a horror film and I like that the horror community is so open to a much broader range of product than youíll find from fans of other genres. You donít see a lot of successful low budget Romantic Comedies get made with no name actors and limited distribution. Horror fans are renegade, insatiable and loyal customers - they donít care where the next thrill comes from as long as it comes. I appreciate that sensibility.
Directors who inspire you?
Alan Rowe Kelly [Alan Rowe Kelly interview - click here], Bart Mastronardi, David Cronenberg. Frank Henenlotter, Greg Lamberson, Sean Tretta, George Romero, John Carpenter, Radley Metzger, Jen Soska, Sylvia Soska [Soska-twins interview - click here], Brandon Slagle [Brandon Slagle interview - click here], Paul Solet, Ti West, Lars Von Trier, John Waters, Dario Argento, Kenneth Anger, Todd Haynes, Atom Egoyan, William Girdler, Federico Fellini, Pier Paolo Pasolini, and many MANY more.
Your favourite movies?

Feeling lucky ?
Want to
search
any of my partnershops yourself
for more, better results ?

The links below
will take you
just there!!!

Find Anthony G. Sumner
at the amazons ...

amazon.com

amazon.co.uk

amazon.de
Looking for imports ?
Find Anthony G. Sumner here ...
Something naughty ?
(Must be over 18 to go there !)

The ones that inspire me the most are the ones that really have a rogue ďanything could happenĒ feel to them. I love Basket Case, The Beyond, Rabid, Re-Animator, Brain Damage, Dead Alive, Inside, Audition, They Came from Within, Demons, Suspiria, The House that Dripped Blood, Don't Look Now, Possession (Zulawski), Santa SangreÖ
... and of course, some movies you have really deplored?
There are very few movies I deplore, because I can usually find some moment or idea that I think is really brilliant. I am very unforgiving of Hollywood movies that spend millions of dollars with every resource at their disposal and still fail to make an emotionally impactful movie. I did find the remake of A Nightmare On Elm Street to be deplorable, and Terminator Salvation and Friday the 13th remake. Look at the original of all these films, each made for a very low budget and with so much heart and passion that they have continued on for decades - yet with all the money and effects and spectacle, these new/follow-up versions lacked the heart of the originalsÖ at least in my opinion there was something very unauthentic about those three films.
Your website, Facebook, MySpace, whatever else?
PLEASE follow our movies on facebook and twitter - it is the best way for us to keep people updated on distribution news, screenings, new projects etc.
http://www.facebook.com/3SLICESOFLIFE
http://www.slicesoflifemovie.com
http://twitter.com/#!/slicesoflife666
http://www.facebook.com/pages/GALLERY-OF-FEAR/115175081850017
http://www.midnightreleasing.com/slicesoflife.php
http://www.amazon.com/exec/obidos/ASIN/B004QSQMKY/researmytras-20
Anything else you are dying to mention and I have merely forgotten to ask?
No, just thank you so much for being so persistent and waiting so long for the interview. One of the hard parts of Indie film making is finding the time to do everything - so I do appreciate that you asked me to do this and waited until we got through distribution process to dedicate some time to it. Thank you.
Thanks for the interview!