First of all, why don't you introduce yourself to all of those who don't already know you?
Well... I'd say that I am an Austin, Texas born, New York City-bred actor who with a long track record of mostly B horror films, who is doing more writing and producing in order to take things to the next level. One must take control of his own fate.
What can you tell us about your upcoming horror/sci-fi thriller 15 Till Midnight?
This is a film that goes back about 22 years or so. When I was a kid I obviously daydreamed quite a bit. One day - and I remember this so vividly - I had a thought what if there ARE aliens but instead of being grotesque creatures or alien greys, what if they are actually HUMANS... and to top it off, what if - on their planet - the same thing is happening at the same time to the same people as it is on ours?
Of course, I had no idea that this was almost verbatim the many worlds theory of quantum mechanics (string theory).
I kept this story and filed it away for many many years and finally around 2005 or so I developed a vague concept based on it. It was about a young couple - the male being from a poor upbringing and the female coming from money. One day the male wakes up to find her disappeared - he is soon tracked by men in suits throughout the city, subway system, etc. Finally she shows back up, having been lost in another world, just like hers, but set fifteen minutes in the future.
By the end of this particular version, time collapses upon itself due to an imbalance (something about the world's elite snatching loved ones up from other worlds should they pass away in their world).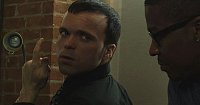 15 Till Midnight
When I finally wrote the first draft of the screenplay, I put the ending aside the ending and decided to focus on the main storyline - the "love story" I guess you would call it. For awhile I was going to keep the motif that each world was identical, but decided to sway from that as the actual many worlds theory is based on probabilities, essentially different versions of each existence. From that point, I had the lead character crossover into another world, where he had married someone else (whom he meets in his "main" world). (This plot point actually brings us to a later question in the interview...)
I'm sure people are getting a massive headache from reading this by now. I'll cut to the chase - eventually the men in suits turn out to be part of a group of individuals referred to as "Knowers" who are aware of the parallel worlds imbalance and do what they can to keep everything unknown to the general public. From then on out... well... you will just have to see the film...
You don't only star in that film, you have also produced and written it. What were your main inspirations?
A lot of the inspiration for the final product came from the Alex Proyas MASTERPIECE Dark City... as well as bits and pieces from various literary works from author Phillip K. Dick as well as Fritz Lang's Metropolis and the Bourne Trilogy. There are also unintentional references to Eternal Sunshine of the Spotless Mind and Vanilla Sky. My character in it is definitely a Phillip K. Dick-inspired reluctant hero.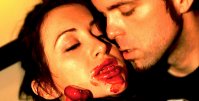 with Devanny Pinn in
Song of the Shattered
Apart from 15 Till Midnight, you have also starred in/written/produced the upcoming Song of the Shattered. A few words about that movie?
This film came seemingly out of nowhere. It was originally written as a short dealing with a young woman fighting back against her abusive and murderous husband that was set to appear as part of an ill-fated anthology feature. The thing was, it never really fit with the rest of the film... not from day one. I had a vague idea how to extend the entire thing and have the short become the first act of a full film, and at that time I HOPED it would be something I would get to in the feature.
Flash forward a couple of months... the anthology is dead and we are left with the short and the expenses for a full feature already paid for. A handful of us (Devanny Pinn [Devanny Pinn interview - click here], Tara Cardinal [Tara Cardinal interview - click here], Wolfgang Meyer [Wolfgang Meyer interview - click here], and myself) conceptualized the extended version that used the short as a springboard. I was literally writing the script throughout shooting... not exactly always an IDEAL way to work, but given the vibe that we all had with each other and that we were all like minded, it came natural and the energy was incredible. I'm currently editing it (under a pseudonym) and am in awe of what we accomplished.
The final storyline continues after Devanny's character kills her husband (Jess Weber)... after he murders my character's wife (Deneen Melody [Deneen Melody interview - click here]) and leaves her and I for dead. A year passes and Devanny's character is the caregiver for her husband's autistic sister (Tara Cardinal). By a twist of fate, our characters meet again... develop a relationship... yet her character is quite delicate psychologically and numerous factors spin her out of control... and once again... I'll stop there as not to ruin anything...
Both above films were directed by Wolfgang Meyer, with whom you have collaborated quite a bit in the past. What can you tell us about the man?
He literally gave up EVERYTHING for filmmaking - much like I have. He lives, breathes, eats, EXISTS for film. It's the kind of passion I wish more people had. Luckily he is one of the people I see incredibly eye-to-eye with. Of course, there are times that we don't, just like any other working relationship, but everything exists to make the best possible product we can. The budget for 15 Till Midnight - for instance - isn't anywhere NEAR what one may think. It's kind of a testament to show what you can do with very little and make something look like it cost 15 million dollars when it... did not...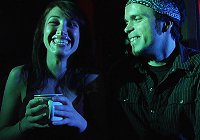 with Devanny Pinn in
Song of the Shattered
In both 15 Till Midnight and Song of the Shattered, your costar is Devanny Pinn [Devanny Pinn interview - click here]. A few words about her?
You hear a lot about girls that are being marketed, either by themselves or others, as Scream Queens... the problem is... many of them are in it for all the wrong reasons and they cannot actually ACT. They are either in it for attention or because it seems like something that would be cool to do for a little while...
Devanny is the COMPLETE antithesis of that. She is an incredibly gifted actress, has an amazing filmmaking instinct, is quite smart, and is also a genuinely good person. She is one of the few people with a matching passion for this craft and I believe the best work from her is yet to come. Something about her that I hope people begin to notice fast is she can look like a myriad of different individuals - all in the same film - whether it is a cosmetic change or something in her body language or speech patterns. I honestly could go on and on...
You produced Song of the Shattered together with co-star Tara Cardinal, in whose upcoming Legend of the Red Reaper you are also featured [Tara Cardinal interview - click here]. What can you tell us about her and your work on Legend of the Red Reaper?
Legend of the Red Reaper is an epic passion project. I'm not sure I can fully vouch for the incredible dedication and passion that she put into that film. I will just say that I am happy to bear witness to its closure.
As mentioned before, on both 15 Till Mindnight and Song of the Shattered, you perform multiple task, from acting to producing to writing to whatever else. Why, and what do you enjoy the most?
I enjoy EVERY aspect. I don't know how to fully explain it... but it all "makes sense" to me in a way. Storytelling is something in which you have to create rapport and empathy with people... develop that HUMAN connection that lures in the audience... producing is a complicated task that I can't fully explain because I just do it, and apparently it works and keeps things moving. I also have been director of photography and camera operator - something else that just "makes sense".
You have in the past also directed two feature films, Dark Avengers (2005) and Subject 87 (2007). What can you tell us about yourself as a director and your two films, and will you ever return to the director's chair?
Those films were both learning experiences. Dark Avengers is based on characters that existed in one way or another LONGER than the 15 Till Midnight storyline. In fact aspects of this film are being remade as The Avenged by some of the people associated with a recent high-brow horror remake in Texas. Dark Avengers had A LOT of issues but it is what it is.
Subject 87 isn't properly released on DVD yet, though that may be coming soon. I need to export a new render on the film before doing so. On this film I perhaps fully developed my photographic and editing style, though perhaps bit off a bit more than I could chew at the time concept-wise.
In terms of directing... I have a very, VERY specific way of working with actors. I like to push and put them in the right mindset, and by NO means will I kiss someone's ass if they have an ego, and I have no fear of telling someone they are hitting wrong notes. Yet at the same time I seem to be able to give people what they want and need to feed off of. Essentially - I give what I would HOPE a director would give to me as an actor.
In terms of future directing projects... I directed a great deal of Song of the Shattered, and in the near future - next year - I plan on stepping behind the camera SOLELY as a writer/director, and not actor for a couple of projects. There are a couple of ideas out... one more psychological horror/thriller called The Red and the other being another dark, mindbending sci-fi film tentatively titled Everyone Sleeps Forever. I know it may seem premature to go so far as to throw these titles out there, but I tend to get things done :)
There are a few more films of your past, present and future I'd like to talk about:
What can you tell us about Kim Sønderholm's Little Big Boy: The Rise and Fall of Jimmy Duncan [Kim Sønderholm interview - click here]?
I portray an egotistic director essentially telling an interviewer to go fuck himself, for lack of better words...
Avantgarde?
This is an interesting one, and I had a great deal of fun shooting it. I star alongside a great team of people I already knew - Manoush, Debbie Rochon, Zoe Hunter - as well as some great European talent - Annika Straub, Nadine Lucia, etc. The director is Marcel Walz, a Germany-based filmmaker who recently got a healthy buzz with his film La Petit Mort.
The film is about a fashion designer - portrayed by Manoush - who is renowned in the fashion world and is VERY exclusive in terms of what talent she uses. I portray her photographer, Patrice, who is a bit of a heroin-sheik sociopath who was discovered "shooting fetish shows in Los Angeles". I spent the entire film in six-inch red heels, which I had NEVER worn in my life before obviously and really put my years upon years of martial arts training and conditioning to the test in terms of maintaining my balance and footing.
It turns out that Manoush's character's stage shows, which already appear to be relatively gruesome, involve using actual body parts onstage. A newly recruited model gets brought into the fold, and all hell breaks loose from there...
I believe this film may already be seeing release overseas... I'm not sure about its US debut quite yet...
Jack + Jill?
This is a short film/promo shot by Chris R. Notarile [Chris R. Notarile interview - click here] about a duo of assassins conditioned by the United States Government to become the ultimate hit persons (to be politically correct). It takes place after their escape from execution as they infiltrate a television station in New York in order to broadcast to the nation how the government wronged them.
This one was actually quite rewarding for me, even though it is short subject. The JACK character played on a lot of my more eccentric tendencies combined with creating a genuinely unique and threatening villain. People can view it for free at http://www.youtube.com/watch?v=Z8Oo9v9fNlM
Reality Bleed-Through?
This is one of my personal favorites - which says a lot because I tend to be openly outspoken and critical of myself in my own films. It was written and directed by Jimmy Creamer, who goes by the musician pseudonym "ScreamerClauz", and is essentially a paranoid fantasy about a man who was part of a government experiment (which seems to be a running theme with some of my characters) and now has visions of an alternate dimension, ruled by a deity known as "Shylipis". Warm running water is scarce in this world, as well as the time that one can spend in the sunlight.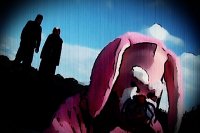 Dogshit
This film makes a lot of satirical social statements while at the same time being a complete visual acid trip and satisfying the gorehound's appetite for blood and carnage. Jimmy has a very interesting visual and storytelling style - perhaps a little bleak for some - but he makes extremely interesting and creative works. He is currently doing a series of animated stories and we shot another feature entitled, yes, Dogshit, which is about a monster hunter who wears a pink bunny suit... which was a lot of fun for me to say the least...
Diary of a Mad Blackman/The Black Facade?
Diary of a Mad Blackman was a short film that Wolfgang Meyer [Wolfgang Meyer interview - click here] and I were involved in which followed the exploits of Jackson Blackman, a Jack Black lookalike who uses his resemblance for his own personal gain. At the same time he learns a lot of valuable life lessons as it all backfires once he falls for who he sees as his ideal girl.
The Black Facade is a feature version of the same story. My character is an unnamed townsperson who in his own way also has assumed multiple identities depending on what various odd job he occupies, whether it be video store, theater ticket clerk, concessions clerk, etc. He is an incidental character essentially, popping up at various times during the lead's ultimate plight...
Methodic I wrote and produced with Chris R. Notarile [Chris R. Notarile interview - click here], who also directed. Early in 2007 he handed me an abandoned Halloween re-imagining script, which I proceeded to rewrite and restructure into something that was at the same time both an homage to Halloween as well as something that stood on its own. My character was a bit of a throwback to the character I was originally cast in Polycarp/Kinky Killers as (the reluctant young detective).
The storyline follows a boy who murders his parents on his 8th birthday, apparently possessed by an entity known as the "Dollman". Flashfoward 20+ years, he escapes from the mental institution and begins wreaking havoc on his former place of residence, apparently looking for an outlet to rid himself of this entity - an new host, if you will...
The film generally has gotten decent reviews and a positive response. A few reviewers have been quoted as saying that unlike many direct-to-DVD horror films, the performances of the lead actors are actually quite good. That, of course, was refreshing to hear as more often than not the reviewers of such films tend to generally either ignore the actors or lump all of them together and berate each of them for the bad performance of one, rather than single them out.
Polycarp/Kinky Killers?
This is an interesting one. This film goes back to about 2003. Saw had just premiered at the Toronto Film Festival and actress Brooke Lewis was excited about trying to put together a horror thriller to target that same market. She contacted a producer she had been working with and over time a rough script dealing with the occult had developed. The producer had seen a rough cut of Subject 87 and cast me as one of the male leads - at the time a rough around the edges detective. The producer also got ahold of the Subject 87 script and was impressed by the use of psychological themes in it and also hired me to rewrite and extend the script.
I spent a few months on it, rather frustrated at first, but eventually wrote in what amounted to the first act of the film, and structured the rest of the film to follow. I was a bit naive and insecure about doing rewrites at the time, so I sort of stuck to the basics that were handed to me rather than really expanding upon them and making it something that I would normally write had I been the initial creator of the project. Had I been given this film NOW I would have done a MUCH more drastic rewrite.
I also tried to sway the film away from the overt sexual themes that it had. Much of it seemed not needed and thrown in for sheer thrill rather than story purposes. I tried to add in a bit more pathos and meaning to the sexually-charged scenes, but ultimately I admit I failed, likely due to my setbacks described above. The film was re-written by the producer again, and much of what I had added was thrown out beyond a police interrogation scene and a few random and subtle one-liners here and there. An element that I had written that remained, was turning the lead, "hero" male into a musician from an athlete, and I was soon re-cast in that role. This character was more or less me when I was around 24.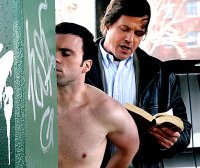 with Michael Paré in
Polycarp
A number of "name" actors were cast in the film. Michael Paré (Eddie from Eddie and the Cruisers), soap star Justin Deas, Kelli McCarty (Passions), Eric Etebari (Witchblade), Charles Durning (Tootsie, Dog Day Afternoon - who also was something of a mentor for a short time) and Beverly Lynne, who some may say is a soft-core icon. The film was shot largely in Hoboken, New Jersey (with other scenes shot in Los Angeles) and I had rather high hopes for it, despite being generally unhappy with the final script (and wanting, for a long time, to remove my name from it because I didn't feel it adequately represented my writing style and so little of what I had written was left in the film).
The film premiered, and was instantly trashed... many people walking away from it calling it absolute garbage. Yet still, it was picked up by Universal Pictures (after I handed the film to Uwe Boll) and released on DVD in 2008 with decent sales numbers, retitled in the United States as Kinky Killers, yet keeping the original title in the rest of the world.
The film made its cable debut, on The Movie Channel, in 2009, and has also been consistently played on Showtime and I believe Cinemax once or twice as well. All under the title Kinky Killers... not a title I am very happy with... but at least I know that it's been seen by a ton of people and continues to be...
Plasterhead?
This one was shot a LOOOOOOOOOOOOOONG time ago now... it's more or less your typical teens on vacation slasher horror film - not really something I care for, but the film is actually fairly well made. I play "Henry" - the town drunk who knows more about the actual backstory of the film than the leads do. Not really my best moment, but I did get up to around 210/220 pounds for it (I'm normally about 165-170, not bad for 5'10") and grew a beard for two and a half months prior to shooting, so most people don't really recognize me in the film. It's another one that's really gotten out there well internationally, which I am grateful for.
Any other movies of yours you'd like to talk about?
Hmmm...there is also The Super which is coming up in which I portray a character dubbed "Franny the Tranny", who is actually an Iraq-War vet who is experiencing severe post traumatic stress which led to him becoming a cross-dressing drug addict, not-too dissimilar to 80's New York City street trash - the kind you may find in a Nick Zedd or Lydia Lunch film.
Here is its RED BAND Trailer - http://www.youtube.com/watch?v=9-i_HxdcfaY
I'd also like to plug Gate of the Fallen Angels, which is actually Wolfgang Meyer's directorial debut [Wolfgang Meyer interview - click here]. Should all go well in its release, it should become something of a cult epic.
Any future projects?
A number of them in various stages... a film called Shotgun Kiss, which I originally shot in 2008 and had trouble coming to full fruition is being pushed again finally for a 2011 shoot (which I AM VERY MUCH looking forward to... the filmmakers went on to do Sinners & Saints with Johnny Strong, Tom Berenger, and the Mandylor Brothers as well as Hit List with Cole Hauser and Cuba Gooding Jr.)
As mentioned before, I'm also looking forward to the Dark Avengers re-imagining, The Avenged. The film got bumped around a bit and took a big hit during the recession, but looks to be coming around soon. It centers on a comic book writer who - in a twist of fate - finds his family murdered and "becomes" his fictional creation. The script received a number of raves during its initial steps to production and is being handled by a VERY good team.
There are also a number of other films in-development at one stage of another - an action film entitled Shake, a 15 Till Midnight sequel entitled 15 Past Midnight, and Blue Silence - something of a police epic that Wolfgang Meyer and I wrote after being of like minds and wanting to do a serious police/mob drama much in the vein of Heat or The Departed.
Many of your films are of the horror or science fiction variety. Is this just coincidence, or do you have a a special fondness for these genres?
A bit of both. I grew up on obscure horror films, and by obscure I mean this in every sense of the word - harking back to the VHS days when European horror - which is my preference - was almost impossible to find stateside and you would spend upwards of fifty to one hundred dollars to locate an uncut copy of an Argento, Bava [Mario Bava bio - click here], Fulci [Lucio Fulci bio - click here], Franco, and etc film. In a way I almost miss those days and the "thrill of a hunt" in finding a hidden gem. Now everything's available easily on DVD - which isn't a BAD thing of course, and I have great memories of how victorious I felt finding a copy of say, Burial Ground, Nekromantic, etc...
I also have a love of Science Fiction... and serious drama and character studies. My initial intent was to immediately do work such as Romper Stomper, One Flew Over the Cockoo's Nest, Heat, etc.. .and along the way, starting with Plasterhead, Am I Evil, and a few others, I started getting cast in a number of horror films. This led to me being featured in Fangoria, Scars, and other magazines as well as countless online genre press sites. Current Fangoria editor Chris Alexander - his first interview upon joining the magazine was with me in 2007.
After that, I ended up getting booked as a panel guest at conventions, and so on and so forth. Of course, I want to and I DO other genres, but horror has been very supportive of me. Science Fiction is something that has come about more recently, and I would LOVE to continue to do more of it.
To change pace completely, is it true you also were on Sesame Street once?
Hahah... this hasn't been mentioned in awhile, although joblo.com liked using this as a tidbit a few years ago. Yes, I was in an episode of Sesame Street about five years ago. It was part of a mostly animated vignette about the residents of an alphabet town. If memory serves, my fave ended up on the body of a crippled elderly man...
What can you tell us about your formal education as an actor, and what is your approach to a role?
I was trained in the Stanislavski "Method" (essentially) by Laura Hutchings, an AMAZING teacher based in Texas (though she - to my knowledge - never specifically told me its name). This particular immersive approach always made the most sense to me instinctually, and I feel has been refined quite a bit as I've gotten older and I've made into my own approach. I tend to employ quite a bit of improvisation as well - basically whatever works in creating the clearest, deepest character that I can.
I don't let it sit there either... if I pick up something along the way that can help me and allow me to grow, I embrace it.
How did you get into acting in the first place, and what can you tell us about your first film experiences?
It's really all that I've ever known in my life. I did perhaps 50+ stage productions in my youth, and as a teenager was brought in to audition for films such as the Mighty Morphin' Power Rangers Movie, Children of the Corn IV, episodes of Walker, Texas Ranger, and etc. I didn't take the rejection well back then though, so thankfully I've grown.
Movie roles you'd love to play, no matter how improbable?
I'd love to portray the late INXS frontman Michael Hutchence in either a straight biography or a film about INXS... actually there are a number of biographies I would love to attack - one of them also being serial killer Richard Ramirez. I know that I don't necessarily "look" like him, but I could MAKE myself look like him with a few alterations to my general appearance as well as body language and voice. Another one is Marvel Comics character Moon Knight. I find the concept of the character brilliant, from his mythic origins to his "secret identity" having a multiple personality disorder...
Actors who have inspired you?
Marlon Brando - for changing everything... Montgomery Clift - for showing a fragility that few EVER have... and James Dean - no explanation needed. Contemporary actors I admire include Russell Crowe, Denzel Washington, Val Kilmer, and I also greatly admired, respected and related to Heath Ledger.
Before you made it into films, you had a career in music, and under the name zminusx you still work on filmscores time and again. What can you tell us about the musical side of Brandon Slagle?
I was the frontman of an "industrial metal" band called DIE SECTION around ten years ago. We had a pretty decent run actually, opening for bands such as Soulfly, Static-X, Vanilla Ice (yes), Crossbreed, and countless others. Here is a live video - http://www.youtube.com/watch?v=1wr2l-pzAUk
This seems to be almost a completely different life to me now. The "zminusx" name is a pseudonym I use for music supervision as well as occasional score work. It is supposed to be an abstract question... Z minus X equals Y... or WHY? I'm sure that's lost on most people though...
I'd love to perform music professionally again...but it has to be the right time... and speaking of time, there needs to be time, PERIOD... managing film AS WELL AS music is a difficult thing as consuming as both fields are.
Any other talents you have I have forgotten to mention?
I actually am quite good at otherwise mundane things such as cooking, gardening, home repair/remodeling, and the like. Shhh... don't tell anyone. While most guys were off drinking, I was off learning essential skills.
Seriously though (actually, the above IS serious) I am adept at photography as well as drawing. I have a particular stylized "comic book" way in my sketches.

Feeling lucky ?
Want to
search
any of my partnershops yourself
for more, better results ?

The links below
will take you
just there!!!

Find Brandon Slagle
at the amazons ...

amazon.com

amazon.co.uk

amazon.de
Looking for imports ?
Find Brandon Slagle here ...
Something naughty ?
(Must be over 18 to go there !)

Your favourite movies?
Closer (the Clive Owen/Julia Roberts film), On the Waterfront, Dark City, The Crow, Altered States, Heat, Alien, True Romance, Silence of the Lambs, Hannibal, Hard Boiled, The Killer, Wonderland (the Val Kilmer-starrer), and far too many to really name. The list could go on and on...
And of course, films you have really deplored?
Well... I HAVE been rather disappointed with the summer offerings of 2010... they shall not be named...
Anything else you are dying to mention and I have merely forgotten to ask?
This has actually covered far more than I could have hoped for... thank you very much!
Thanks for the interview!
My pleasure, sir... my pleasure...