Your upcoming webseries The Retcon Chronicles - in a few words, what is it about?
The Retcon Chronicles is a superhero, sci-fi webseries that basically creates an expanded universe, linking all my previous original content together into one neatly packaged time line. It's pretty cool actually. Everything from The Protector to American Lawless is all part of the same universe. It's kind of what Quentin Tarantino did with his movies.
As far as I know, The Retcon Chronicles will serve as a link between quite a few shorts and features of yours, right? Care to elaborate, and were these movies all originally intended to be part of one single universe?
No, prior to Retcon, I never had any intentions of linking ALL of them together. I had references in between films. For example, I reference the events of Methodic and even use one of the characters in Stand Off. And I reference American Lawless in Perfect (Android Rising). But prior to that, everything was kind of just there. It was with The Retcon Chronicles that I made the decision to ACTUALLY create a linkage with everything. It's as fun as it is tedious.
What were your inspirations when writing The Retcon Chronicles?
Not many people know this, but The Retcon Chronicles actually began as a Teen Titans fan film. I had every intention of making it my next fan film. I even went as far as casting certain roles. But as time progressed, I realized I needed to make a change. Fan films are and will always be a passion of mine, but I needed to start branding myself and my work more. Also, I really wanted to try my hand at marketing and distribution and you CANNOT do that with a fan film. It's illegal. So I took the core story and dissected it. I looked at the archetypes that I put into my Titans story and deconstructed them till I found common ground with my original characters. As a kid, I spent many years creating dozens of original superheroes, complete with costumes and back stories. So all I had to do was figure out which of my original heroes were most like the personalities written in my Titans script. Once I made my cast selections, I modified the dialog to fit the new characters as well as the story and that's it - The Retcon Chronicles were born.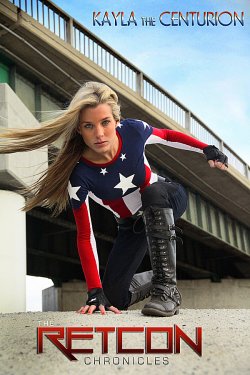 With The Retcon Chronicles being a superhero tale, is that a genre at all dear to you, and why (not)?
Oh totally. I love comic books. I was raised on them. Superheroes are as important to me as horror films. They symbolize everything we as a people should strive to be. They're role models... most of them anyway. But yeah, I've always been big on superheroes. So it was nice to be able to do something original in that genre. I really haven't since my short film Superhero in 2012 and prior to that, The Protector in 2006.
How would you describe your directorial approach to your subject at hand?
Epic, but not pompous. Everything I do has the underlining intention of being EPIC. But I don't ever want my work to seem full of itself. The best example I can give is when you are watching something and you feel like the director is cramming the idea of "THIS IS AMAZING" down your throat. I want people to come to that conclusion on their own. But I still make sure that my shots, my angles and my music selections (if any) still maintain the necessary ingredients of epicness. Does that make sense?
Superhero stories demand quite a few special effects almost by definition - so what have you planned for The Retcon Chronicles?
I really want to see Kayla the Centurion and Subject - 0 fly. I want to see more of Phantom Faye's powers, as well as take a glimpse into her world. I also want to give viewers an inside tour of Retcon Labs. You cannot do a proper sci-fi story about a nefarious research facility without showing some cool tech. Think Encon Tower in Tron Legacy meets Tony Stark's basement lab.
Do talk about your key cast for a bit, and why exactly these people?
Let's start with our main protagonist - Kayla the Centurion, played by Dominique Storelli. Kayla is basically a female Captain America with the basic powers of Superman. She is strong, militant but at the same time a humanitarian. Dominique originally auditioned for the Titans project and was cast. When I modified the script and changed her character into Kayla, I basically already knew how I was going to handle the dialog. She may be a tiny girl, but she has a strong presence both in and out of costume. She is very angular and it lends itself to the super soldier archetype. What I like about Dominique as Kayla is that I did not in any way attempt to overly feminize this character and it works.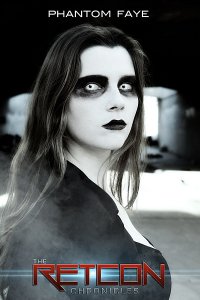 With every Yin, there is a Yang. I of course am talking about Madaline Hess, played by Andrea-Nichole Olivas. Madaline for lack of a better description suffers from a Messiah complex, which I will be delving into in future episodes. What you saw of her at the end of the Retcon pilot is unfortunately not the full spectrum of the character. You may have also remembered seeing some freaky mime chick that looked similar to Phantom Faye, lurking over Madaline's shoulder. This character is named Celesta and she plays a big part in why Madaline acting the way she does. When I cast Andrea in the part of Madaline, I did it knowing that she would have big shoes to fill. This sort of role is usually reserved for the older wealthy MALE business tycoon character. Think Lex Luthor. It's rare that you see a younger actor, much less a female in this sort of part. With Andrea, we basically came to terms that she is simply an aristocratic heiress of the highest caliber and should be played as such.
Phantom Faye is an interesting character because she is basically directly related to the character Choice, from my 2011 film of the same title. So for her, there was already a predetermined look and set of mannerisms that the character and our actress, Kylie Contreary had to adhere to. Faye is basically a spirit from the Other Realm. A world in between worlds. So it was really fun to explore that. With Kylie in the part, it was simply a matter of observing the Choice film and creating similar characteristics and mannerisms for Faye.
The Avenger is the final character I will discuss. He is quite interesting as well since he is a legacy character. The first Avenger is featured in my comic The Protector. In The Retcon Chronicles, we are meeting his grandson. So there was liberty when it came to the modern design of the costume as well as the personification. The Avenger, no matter who is under mask, will always be ruff and tumble guy as well as a man of the law. Robert Tovani, who plays The Avenger, did a pretty good job of finding a balance between a stoic vigilante and jerk with a knack for understatement.
As far as I know, while the pilot is shot, the series is still in its fundraising stages - so what can you tell us about your fundraising campaign?
Well, I created a page on IndieGoGo. If you visit the page http://igg.me/at/retcon/x/18731, you can see the pilot in full. It is featured right at the top. We have a number of cool perks you will receive if you choose to contribute. Donations begin at $1.00. We also have a bunch of cool images in our gallery and I will be adding a few more things over the course of this campaign. Ideally, if we can reach our goal and raise our budget, we will be able to bring you a full season of original superhero action. But we can't do that without the help and support of our wonderful fans, so please, if you can, visit the link above and donate.
Once the funds are raised, what's the schedule, and any idea when and where the series might go live?
The series will go live this summer with a new episode premiering every Tuesday night on YouTube.
Any future projects beyond The Retcon Chronicles you'd like to share?
I am also working on a short horror thriller entitled Pretty Little Killers, starring Bree Olson and Andrea-Nichole Olivas, as well as making my 4th Krueger short and final fan film Krueger (The Slasher from Elm Street). Yes, as much as I love fan films, I'm going have to close the book on them for a very long while.
What got you into filmmaking in the first place, and did you receive any formal training on the subject?
I always had an affinity for storytelling. It began with trying to draw comics as a kid, then it evolved into writing short stories and scripts in high school, followed by experimenting with video, which subsequently led me to studying animation in college. But it wasn't until I was halfway through with college that I decided to make my first live action movie. It was a modest effort and is still pretty good. But once I began working on that first short film, I was officially hooked. I finished college with a degree in animation and simply set out to make live action movies. I've had little to no formal training. I've just been using my skills as an animator and whatever I've picked up along the way.
Over the years, you have made an amazing number of "fan films" - so do talk about those for a bit, and how much fun is it to play around with some of your favourite movie and comicbook characters? And which characters do you actually like to work with the most?
Oh it's been a blast being able to make my favorite characters come to life. Everything from Michael Myers and Freddy to Batman and Deadpool. It's very hard to pick a favorite as most of them are all on my favorite list. I rarely ever make a movie about something I am not fond of or haven't loved since childhood.
Having talked about your fan films, one mustn't forget that you have also done quite a few movies with your own original stories and characters. Do talk about some of those for a bit!
Well some of my favorite original films include The Protector, Choice, Roses, Host, Superhero, Stand Off, American Lawless, Perfect (Android Rising) and Methodic. Each of those films have something special inside them that makes me feel proud to be a filmmaker. And they all have a message of sorts that if you were to pick up on them, you would feel something more than entertained.
How would you describe yourself as a director?
Intense. I know I am. I'm a fun guy, but I am also incredibly intense. I have the movie shot and edited with music inside my head long before I ever set foot on set. So when I am behind the camera, I know what I want and I will do almost anything to get it.
Filmmakers who inspire you?
John Carpenter is without a doubt one of my first and biggest inspirations. The late and amazing Tony Scott has been a massive influence on my style and pacing. Robert Rodriguez's crisp way of filming and editing has totally rubbed off on me. And finally Michael Bay's ability to make everything EPIC, AWESOME and SEXY is something to be recognized. The man sure knows how to film.
Your favourite movies?

Feeling lucky ?
Want to
search
any of my partnershops yourself
for more, better results ?

The links below
will take you
just there!!!

Find Chris R. Notarile
at the amazons ...

amazon.com

amazon.co.uk

amazon.de
Looking for imports ?
Find Chris R. Notarile here ...
Something naughty ?
(Must be over 18 to go there !)

Halloween, Man on Fire, Smokin' Aces, Collateral, The Avengers, The Dark Knight, Teenage Mutant Ninja Turtles, Crank and last but not least Die Hard, just to name a few.
... and of course, films you really deplore?
Hrmm..... I guess it goes without saying, but put me down for the Twilight Saga.
Your/your series' website, Facebook, IndieGoGo, whatever else?
Be sure to visit my website www.blinky-productions.com, follow me on Twitter @blinky500 or like me on Facebook @blinkyproductions and subscribe to my Youtube channel @blinky500.
IndieGoGo: http://igg.me/at/retcon/x/18731
Anything else you are dying to mention and I have merely forgotten to ask?
Yes, be sure to check out my comic books, The Protector #1 and Dangerman #1 on sale NOW at www.houndcomics.com - they are awesome!
Thanks for the interview!