Your film 15 Till Midnight - in a few words, what is it about?
15 Till Midnight is about a normal everyday guy who has his life interrupted by a parallel world of many earths. The Knowers, a protective agency that polices the worlds, are chasing a evil version of the main character. The main character which is Lukas soon figures out what has been going on after the people around him have been playing along to hide and cover up the secrets.
15 Till Midnight is quite complex, even labyrinthine, in structure. How did you find your way through the story?
I was able to connect to the story and when there is a good story that gets my full attention it opens up doorways of vision for me.
How would you describe your directorial approach to the story, and what were your inspirations?
When the story was at its final draft and we knew that this was the script we are using for shooting, the ideas for design started to pop in my head and I knew this had to be done in a serious taste, and I wanted the best I could bring to the film itself. My main approach also was kind of a vengeance to make up for a bunch of disaster films I worked on, and this was finally something that came at the right time and lifted me to prove that we can make this with really good production design and a high end camera. I wanted to show that this is my first directorial film on a real camera that has more meaning than just cheap thrills-on-dv-filmmaking. It was a serious project for me and I love the story cause I'm into Sci-Fi that is serious and dramatics that can make you feel it is real. One film that really connected to me was Memento by Christopher Nolan. That was a film which I own on DVD and I'm really picky on films I own. That film is well designed and inspired me on making 15 Till Midnight. That is the only film I would say that had any effect to me wanting to make 15 Till Midnight serious and showing a side of me which I was wanting to show as a director.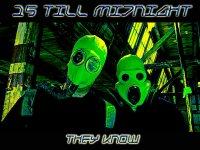 For me, 15 Till Midnight is proof that good science fiction does work on a low budget and without too many explosions and special effects. Having said that, would you have done anything differently if you had had (way) more money to blow (up)?
I mean I would of loved to have a little more money to just be able to have some of the props I wanted and to maybe add a couple of extra shooting days to take the pressure of having to shoot this entire film in 7 days straight. That is the only things that would have been nice. The special effects was just enough for this film and we didn't want to make it overboard. There was one special effect that was re-written in the script and that was the pier jump. Little secret for you…
Your film's star Brandon Slagle [Brandon Slagle interview - click here] was also the writer of 15 Till Midnight. How would you describe your collaboration, and did he have any influence on the look of the film?
It all started with talking on AIM everyday while I was day caring my grandmother. So Brandon basically told me he had a story that he wanted to make when he moves back to New York, and he said to me it would be just a no budget flick, we shoot it on spare time and that's where it begun. After he sent me the first draft of what he had, the whole idea went another way. I told him we are shooting on Red One and then he did rewrites and got the adjustments on the last few drafts of the writing. Brandon was a huge help to me to understand each person and what their involvement in the story was. So just by talking on AIM every day and speaking of ideas about the script helped get it to the point we were super happy with. Brandon's writing on this is very intelligent which I like. So being able to work on discussing this everyday helped us understand where this whole thing was going.
You and Brandon have collaborated in one form or another on quite a few projects before 15 Till Midnight and since. How did you first hook up, and how would you describe your professional relationship?
Well it has to be about 5 years ago when I first started to talk to Brandon. We both acted in a film called Blitzkrieg: Escape From Stalag 69 but never met on the set during the making of the film. During the time of that film being made I was shooting my first directorial film The Gate of Fallen Angels and Brandon emailed me and asked me about the film, and we both knew we were in Blitzkrieg, so we just started chatting by email and AIM. The first time I met him in person is when I asked him to play a part in The Black Facade.
We have a good relationship and can relate to what we have to do every day to work in film. There is really no big answer on the second part of the question, the only thing I can say is we both committed to film for richer or for poorer and it is just something that works, working together or just being friends and talking about anything.
A few words about the rest of your cast and crew?
I have to say I'm proud of the actors who took this film serious and came and did the work that was required on a tight and intense shoot. My crew was myself, my DP Daniel Lipski, the AC Jason, and Adam Vargas … It was tough but we manage to do so much with so little crew, and I personally am used to working like a machine. The DP can relate to my vision and that is a real strong bond we have when we work on films together .
Is there anything you can tell us about the 15 Till Midnight-sequel 15 Past Midnight yet, and will you direct again?
My plans are to direct the second film cause there is something that will make the people that loved the first film crave the second one 50 times more. The second film is in the works of being written ... when we can find some good free time to work on it since we both have been really busy lately. The only thing I can say is we designed so much more for part 2 and know exactly where we want to go with it from making the first film. The first film - let's just say is a tease from what part 2 will show and explain. I don't want to give away too much, but let's just say you had Star Wars, then you had Empire Strikes Back - if you get my drift on that then you understand what I'm saying.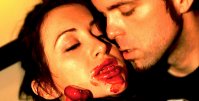 Brandon Slagle, Devanny Pinn in
Song of the Shattered
To my information, the 15 Till Midnight-shoot was followed by the pretty much spontaneous production of a second film, Song of the Shattered. A few words about that movie?
The Song of the Shattered has a long story behind it. That's why it's called that. For my story, I was asked by Brandon, Devanny Pinn [Devanny Pinn interview - click here], and Tara Cardinal [Tara Cardinal interview - click here] if I would come on and direct it since they would all act in this story they had. It was like a few days before we had to leave to the Poconos to the location where we would live and shoot all day and night for almost 2 weeks. The film is pretty intense on some of the subject matter which you can read about on reviews, the fan page on Facebook, or just watching it. Let's just say it was a great experience in filmmaking and also meeting the many others who came and put time into the project. The best thing I have to say is the film got done and was not a shelf sitter or a uncompleted film, so that is one thing I'm proud of. I do like how the lighting came out, and it was another learning lesson in filmmaking. The film itself has been in a lot of festivals and just has a great fan base for which most of the promotion was done by Brandon Slagle and Devanny Pinn. Joe Hollow was the Executive Producer [Joe Hollow interview - click here]. If anyone is looking to watch it, I know May it is being released on DVD.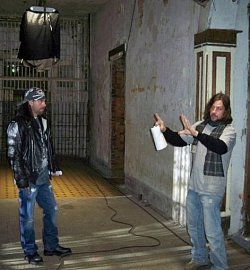 Joe Hollow and Wolfgang Meyer on the prison set of Cut
You have also recently shared direction- and production-credits on Cut with Joe Hollow [Joe Hollow interview - click here]. What can you tell us about that movie, your co-director/producer Joe Hollow, and how did the collaboration work out?
Cut is a feature film that has many twists and involves a town that conducts some filmmaking of their own. I don't want to give away too much cause it should be out soon and I would like the viewer to enjoy the film without knowing so much. Joe Hollow asked me about coming on board with this new script he was writing and wanted me to read. So Joe explained to me about helping him direct a film on high end camera like Red One and in a professional studio type level of film making. Joe wanted to step up with a bigger vision for his project and take it another level. I agreed to come on board and brought my DP Daniel Lipski on board, since Joe wanted me to control the visuals for the film. My job in production was dealing with all the business with camera and lighting from the rental house that I deal with on all the films I shoo,t and just minor things we needed for the film during shooting. I basically worked on getting the visuals and sets set up everyday and using my skills of designing shots, while Joe would work with the actors on dialogs to keep the story in order, Joe also had to deal with the everyday business and also be a main actor in the film. The film was another great challenge for me and I got to work with so many different and amazing talents from all areas of the film industry. I'm proud about being a part of the film and that I got to use some of my visions and talents to help Joe Hollow make his vision and story that he had wrote. That is hard for any director to do, visually making a story someone else wrote. So that is what makes it exciting about the challenge of directing. I do look forward to seeing what the response will be when the film shows. I basically came on board did the work that I agreed to do and now it's in Joe's hands to show the finished product since he is the editor, but let's just say he is very close or might even be done with the 90 minute cut of the film. It was a great adventure for me also, I was working on the project for 2 months away from my home and got to meet so many amazing people and see different places which we filmed in upstate NY and West Virginia. There is a new trailer on Youtube.com. The best story about this film I have is I went to make a film and experienced something that you can't ever forget, and the time I spent filming at the West Virginia Penitentiary is a story I'll never forget.
Let's go back to your beginnings: What made you go into the film business, and how did you initially get involved?
I used to do commercial model work in New York when I was 18 for extra money, and I made some good money doing it. I wanted to do anything in a movie back then, and my agent just kept sending me to model jobs and high fashion which I hated doing cause I'm not really a great model. We didn't have the great internet that makes things faster like today in this business. I had to walk everywhere from a piece of paper handed to me by the agent. So I left the whole pursuit with that and travelled and worked all types of jobs to the point one day I said I'm going to quit the regular day job I had to become a actor. So my old agent had a assistant who became a player in the agent world and she sent me to a well known celebrity photographer in New York to do some headshots, and she started sending me on acting and model auditions where I was getting work, and I just got more and more aggressive going to all these auditions and managed to score some jobs in film with lines and that helped me see that this is what I want to do forever. Then there were also some personal things that have made me fully inspired to succeed in this business. I loved film from when I was young. Its was 6 years ago that I decided to quit my day job and commit to this business, so I haven't stopped yet. Then about 1 year into my career of acting I started working with producers that had me doing jobs like casting, locations, and pre-production work which started me to learn more about the process from no budget to high budget film making, and it also helped me develop a lot of resources and connections to benefit my producer work.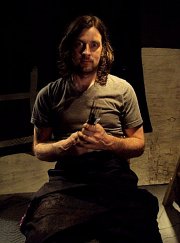 According to my information, you started out as an actor. What can you tell us about Wolfgang Meyer, the actor, and a few of your movies?
Yes, that is correct I started as a actor. I basically got the jump-start when I came back to taking film serious. I have done about 25 or more films as a actor with lines. Most of my roles in films that you can watch are small parts to leads. I have to say it's very hard for me also with being an actor cause I work behind the camera a lot and as each year goes by I don't act as much as I did when I first started. For me, I'm serious about acting the part the best I can, also cause nobody wants to look bad on film. It's something that takes a lot of commitment, to really sell the role you're playing. I'm still searching for perfection to better myself as an actor cause I prefer to play a different person and have a different look every single film I act in. The thing I use as a goal is each acting job I do makes me gain more experience and helps me go to the next one challenging myself to see how far I can go. I like playing the creepy villains in films but then I could play a suit-and-tie guy in a drama. I do like acting and would like to do more of it again since directing has taken that away from me. The last few films I acted in are cathARTic, Cut, and whatever is on my IMDB for the last 2 years, which has been small parts. I'm looking to get back into acting more, but it's an everyday assault you got to do to keep submitting to jobs, and finding parts in films.
As far as I know, your first producing job was The Black Facade - a few words about that one?
It's a comedy film that my writing partner Adam Vargas made for his first directorial film. I was helping him produce it and got cast as Kato a supporting role last minute. The film is complete and out on the market . The version that is for sale now will be gone soon cause its being released under new artwork and updated new edited version. The film is like underground slapstick comedy about this guy Jackson Blackman who has no luck until his roommate convinces him to act like Jack Black the actor in a town to get everything for free, but instead it all backfires. It was a learning experience and also has its stories you keep.
Your directorial debut was The Gate of Fallen Angels, right? What can you tell us about that movie?
Let's just say I have never really spoken about this film in interviews, and this will be the first. I started shooting the film 5 years ago with one partner for about 4 months. Then I got cast to be a lead actor in a serious Bollywood thriller. So I had stopped shooting Gate and went to do this film and met Adam Vargas cause he was the production designer. We talked all night about The Gate film and The Black Facade. After I finished with Vaikoont we made The Black Facade and rewrote the The Gate of Fallen Angels script and I started to recast and started to shoot the film entirely over. So we did that for a year and a half weekend warrior style.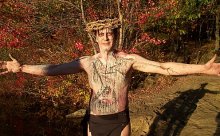 Maledictus
The script and story of this series is very complex and ambitious and we never reached certain goals with the effects we had planned and written in the script. So the news is I completely re-edited the film and I'm naming it Maledictus which means The Curse in the book of Lucifer. The film will just be a serious fantasy thriller with new title and packaging art. The Gate of Fallen Angels-stories which there is three will be saved for the future to be made with proper budget and high end camera. So I'm announcing the film I shot has been re-edited to be Maledictus . The film will be one hour 30 minutes. There is so much more to explain about why this film has been sitting for the past few years, but I just managed to fix the issues and looking to move ahead and just release it.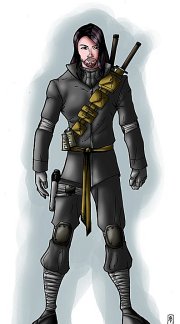 Kato
During my research, I stumbled upon the title Kato quite a few times, without learning anything definitive about it. Please enlighten us!
Kato is my new baby that has been in the works for 2 years with writing partner Adam Vargas. I wrote the first story of the idea and now we have been writing the feature film script which I would act as Kato and we are going to have someone else direct. I will not be directing this one and I'm basically more serious about acting and designing the film. The first thing I have coming out will be the comic book. The comic book will be a version of the feature film script. There is also 25 one hour episodes written in design that would continue after the feature film with some of the main characters. This project is one of my favorites and I'm sure people are going to like it . I'm not going to spoil or give any info right now, but just keep your eye out for the comic book. The only hints I'll give, Ninja, Girls, Guns, Yakuza, Serious, Suspense Action.
Any other movies you were involved with you want to talk about, any future projects?
The only future projects that are on my next-list is a film called Brooklynees. I'm on the project as director and producer and it's a drama story about a young gangster in Brooklyn, NY. More info will be posted soon. We have some name talent interested and are close for the budget we need and are getting close to moping up the pre-production work.
Disciples is a new film that is going to be shot on Red One which I'm directing with Joe Hollow and with Linnea Quigley starring and also producing. Press release will go out soon about the film.
I also been writing my next film that is Dark Comic and French Noir style which will be shot in Los Angeles and France. The team I'm working with is two French filmmakers that are VFX editors that are amazing at what they do in post production. They have made films on Red One. We are working on the script and they were super excited cause it was exactly what they been waiting to do for their next film project. Basically I'm going to direct and act a part as they are going to handle all the VFX , back up directing when I'm actin,g and post production. The film has talent from America and France teaming up on this. This is a project that I'm super excited about cause it has so much design that I've been waiting to use as a director. I'm keeping this one under tight wraps, but you're the first to know about it.
Then any other future stuff is too early to speak of now, this is mostly what I will be working on coming up this year.
Actors and directors who inspire you?

Feeling lucky ?
Want to
search
any of my partnershops yourself
for more, better results ?

The links below
will take you
just there!!!

Find Wolfgang Meyer
at the amazons ...

amazon.com

amazon.co.uk

amazon.de
Looking for imports ?
Find Wolfgang Meyer here ...
Something naughty ?
(Must be over 18 to go there !)

Directors that inspire me are Mario Bava [Mario Bava bio - click here], Sam Peckinpah, Wolfgang Peterson, John Boorman, Christopher Nolan, Tinto Brass, Takashi Miike, Peter Weir, Dario Argento - these are some of my top ones, but there is a list of many that I'm inspired by. Also many Asian, Italian, French, and American directors from the 1930's to the 1970's that I can sit here and type away.
I'm into all levels of actors. My biggest study is old films and foreign films.
Your favourite movies?
Geez, don't know where to begin on this. Let's say I have a huge interest in films that are really good and unique. I like films from the early years of the 1900's till today's time. There are so many films that are amazing. I have an open mind to all types of films.
... and of course, films you really deplored?
I don't really dwell on not liking films, but I'm not a fan of remakes … If the film bores me I won't watch it again.
Your website, Facebook, whatever else?
Website is down and being rebuilt, but basically you can find me on Facebook - http://www.facebook.com/#!/profile.php?id=632789586 - and also my films' fan pages on there. The only other place I would say to see my work is IMDB.
Thanks for the interview!