What can you tell us about Blood Struck, which is a debut feature for you in more ways than one?
Blood Struck is the 1st episode in a horror series I've created called Diary of Death. It's a story about a guy named Johnny who is is a suicidal schizo on a downhill spiral. He is a closet case necrophiliac with the profile of a serial killer. Blood Struck is an obsessive love story gone wrong. Johnny is insanely in love with 2 girls who are not in love with him. In a world full of drugs and violence, we follow Johnny as he faces an old enemy, now a big time crime lord, the 2 girls who broke his heart and the Death Dealer's twisted games! It's a visually stunning ride with twists and turns from start to finish! All the stories in the series follow a concept behind the Death Dealer and his legion of demons
What were your inspirations for Blood Struck?
Well, actually when I first started writing for the series, I wrote 3 of them. Blood Struck was one of the 3. I'm not so sure there was an insipiration there as much as it was more like painting a picture. I also needed to write Blood Struck so it works in the series as the 1st episode so there was a lot of thinking behind it.
What can we expect in terms of gore and violence?
Well in the Diary of Death series you can count on plenty of gore and violence. It certainly targets the more extreme horror fan. In Blood Struck I killed just about everyone on the set LOL
Blood Struck is the first entry into a series of feature films called Diary of Death. A few words about the concept of this series?
Diary of Death is a horror series that consists of several full length films following a storyline. Theres are demons that exist, they are all around us. There is one who preys on those who are afraid to embrace themselves and their true fears. He is the Death Dealer. If you're chosen, he uses his legion of demons to visit you in your nightmares, leading you towards the truth, corrupting your life and leading you towards death. Then, he will make you a deal, he will give you a new life and with it a chance to find your true self and face your fears. If you suceed you will have eternal life in his realm - but if you fail, your true fate will find you. Either way the Death Dealer owns your soul, but the fate of the soul depends on your will to survive!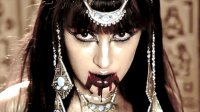 Devanny Pinn
A few words about your film's key actors and their characters - what can you tell us about Devanny Pinn [Devanny Pinn interview - click here]?
Devanny Pinn plays one of the demons called Lady Divine (Divina). She is a powerful Egyptian sorceress. I can't say enough about Devanny. She so very talented in so many areas and a wonderful human being as well!
Tara Cardinal [Tara Cardinal interview - click here]?
Tara is awesome! Talk about versatility and talent. She is a writer, producer, actor, director and one hell of an athlete. She does a lot of her own stunt work, the list goes on. I first met her when I cast her to play Sara in Blood Struck. We since moved on to many great things! I worked with her on Legend of the Red Reaper and I acted in and helped produce Song of the Shattered! I love Tara, we are good friends now as I am with Devanny.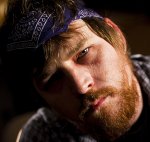 Chris Burchette
Chris Burchette?
Chris is the real deal!! He knows how to turn it on. He plays Johnny the main role in Blood Struck. He is very intense when he is in character and he is a big help on the set as well, he likes to dig in. He truly loves film and he understand it. I cast him in 2 films so far.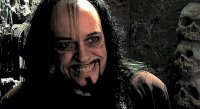 Cleve Hall
Cleve Hall?
Well, what can you say about Cleve, he is a great special FX artist and one hell of an actor! He plays the evil priest who is another demon in the series. Cleve is the definition of creep.

Your film also features a guest appearance by ubiquitous Troma legend Lloyd Kaufman - what can you tell us about him as an actor, and have he and his films at all influenced you as producer and director?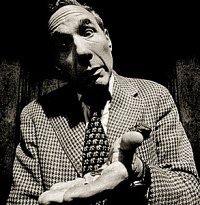 Lloyd Kaufman
Well, I grew up to Lloyd's films. There are influences from him in there I'm sure. As an actor he is just brilliant! As soon as you say action that switch goes on and he has everyone pissing their pants! He is a very very funny guy and we have grown to be very good friends as well!
And of course, a few words about yourself, the actor?
Oh I don't know, hard to speak about yourself, umm, it's a huge challenge, it's something Ive always wanted to do and I have such a high level of respect for actors so it really helps me raise the bar on myself. Everytime I get in front of the camera I learn something new. I do love it very much!
Any other castmembers you'd like to mention?
I'd have to mention waaay too many, I love so many people. I'm very lucky to work with so many wonderful people, Tara Cardinal [Tara Cardinal interview - click here], Lloyd Kaufman, Deneen Melody [Deneen Melody interview - click here], Devanny Pinn [Devanny Pinn interview - click here], Al Snow, Shannon Lark, Chris Burchette, Russ Russo, JB Destiny, Katie Parker, Morgan Brown, Courtney Gains, David Levine, Justin Gordon, Brandon Slagle [Brandon Slagle interview, click here], the list goes on and on.
A few words about your crew?
Nothing beats a great crew!! They are what makes it work. I have guys like Kaliafeh Wright and Big Jeff who put in so much time and hard work. It is a learning experience and I've lost many along the way because we don't get paid and it's hard work, but in the end if you really love it you remain. I've met so many talented people behind the scenes this year. A great crew is priceless!! If this was football they would be your offensive line!!
As mentioned, Blood Struck is your debut feature as a director. What can you tell us about your on-set experiences, and are there things you would have done differently in retrostpect?
Oh everything LOL, I went in as a new filmmaker so I made tons of mistakes. Lots I would have done differently but it's all part of the learning process, you fix the mistakes and move forward.
Is there anything you can already give away about future Diary of Death-episodes?
The other 2 scripts that have already been written are different than Blood Struck. The stories will all differ but still follow the concept of the Death Dealer. How much can I give away ... I think its a bit early since the first one is not released yet. But I'll save that for a future interview :-)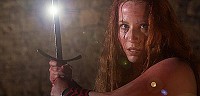 Tara Cardinal in
Legend of the Red Reaper
Apart from Blood Struck, you have recently also acted in and associate-produced Tara Cardinal's Legend of the Red Reaper [Tara Cardinal interview - click here]. What can you tell us about that movie and your role in it?
I worked as a producer for the most part. I came in at the end. I helped them in Florida and I produced the Waterfall scene in NY with Tara. As an actor it was a whole lot of fun! The wardrobe was great and of course in a scene with Lloyd Kaufman makes it that much more special.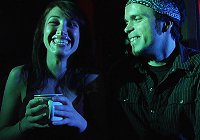 Brandon Slagle, Devanny Pinn in
Song of the Shattered
You also have your hands in the production of and a role in Song of the Shattered, starring and scripted by Brandon Slagle [Brandon Slagle interview, click here]. A few words about that movie?
Well, it was a quick job. I had become an executive producer on a project that fell apart and I didn't want to waste what we invested so Brandon and I went on a writing frenzy to come up with something to shoot for the time we were there. I wrote Cut, which is now a full length in preproduction, and we moved forward with Song of the Shattered to shoot at that time. The fastest project I've ever been a part of and im sure the fastest project I'll ever do. It turned out really well. Brandon worked his ass off on it. A lot fo fun for sure and acting in a couple scenes with Devanny Pinn was very cool. I'm used to directing her and now being friends it was an experience I'll always remember.
Bad Girls Burn in Hell is just an amazingly great title - and since you have co-written and executive-produced it, you just have to say a few words about it!
As of now the brakes have been put on. I was a writer/producer/director for this film. And in the end differences in views have led us to putting out a short with the footage we have with hopes on raising interest from other producers. It's a really good project and the footage is amazing. For me it was early in my film career and I've learned so much since then. My hopes are to go back and reshoot a feature this time with the experience I currently have. It has a whole lot of potential!
A few words about Absentia?
What an amazing project!! The whole Absentia family is just amazing. The writer and director Mike Flanagan is brilliant on so many levels. It was a dedicated hungry cast and crew that made that film possible. We even had Doug Jones in the film who plays a main character. What a fantastic experience for me!
Any other films you are involved in you'd like to mention, any future projects?
Well, I'm working on a film called Cut. I've already cast quite a few great actors for this film and a whole slew of the indie scene's greatest! I've got names like Rachel Grubb, Frederic Doss, Brandon Slagle [Brandon Slagle interview, click here], Shannon Lark [Shannon Lark interview - click here], Deneen Melody [Deneen Melody interview - click here], Seregon O'Dassey [Seregon O'Dassey interview - click here], Cyndi Crotts [Cyndi Crotts interview - click here], Larry Laverty, Lloyd Kaufman, Julin Jean, Devanny Pinn [Devanny Pinn interview - click here], Robyn Griggs, Kaylee Williams and more. I've already spoken to the agents and management for Danny Trejo, Brian Dennehy, Lauren German, Danny Aiello and Lance Henriksen who have obviosly been tougher to nail down. This will be my biggest film to date for sure! I've written the film, I'm producing the film and I'll be directing it with Wolfgang Meyer [Wolfgang Meyer interview - click here]. Wolfgang is a very talented director who brings a whole lot to this film. He appears in the film and I act in it as well. We will be shooting the film in HD on the RED! I'm very excited for this. I've been in preproduction all week!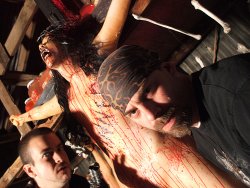 Pretty much all of the films you have your hands in are of the horror variety. Is horror a genre especially dear to you, and why?
I grew up to horror, almost everyone loves a good horror film. I have love in so many areas, Horror is a true love and it's easier and much cheaper to make a film LOL. Great for starting off!
You have a background in heavy metal music. What prompted you to get into filmmaking all of a sudden?
Well, I've always been an artist. I started as a writer and moved into music. I spent 16 years in a recording studio I built. Being in film has always been a dream. As time went on and the music business changed the way it did, it just got harder and harder to make money and still pursue my dreams. Now with a wife and 2 beautiful children I have much more responsibility and money has become an issue. I've always worked for free and still do because I love it. Last year I was in the right place at the right time and I took some chance. I drove forward and never looked back! so as a result, here I am! Follow your dreams, work hard and it can happen!
A few words about your band Hollow?
Hollow I something I started in 1992. I did another record with the band name with a good friend who wrote the music in Jason Velez. It's one of those things that just chase you down. Jason and I also did DEATH DEALER last year. It's a very heavy band. Notice how it inspired the film im doing with the Death Dealer :-)
Your website, MySpace, Facebook, whatever else?
WWW.JOEHOLLOW.COM
WWW.FACEBOOK.COM/HOLLOWBETHYNAME
WWW.YOUTUBE.COM/JOEHOLLOW

Feeling lucky ?
Want to
search
any of my partnershops yourself
for more, better results ?

The links below
will take you
just there!!!

Find Joe Hollow
at the amazons ...

amazon.com

amazon.co.uk

amazon.de
Looking for imports ?
Find Joe Hollow here ...
Something naughty ?
(Must be over 18 to go there !)

Having done pretty much everything on film, from acting and writing to directing and producing, which do you prefer, which could you live without?
It's all very cool and very challenging! Producing is the hardest for sure. Depending on how much you love what you do there is just not enough time in the day. I'd say let's keep the feet moving forward and see where they take me.
Your favourite films?
Hmm, that's tough and probably not what you would expect. Let's see The Godfather, Shawshank Redemption, Rocky, Jacob's Ladder, Scarface, Bronx Tale, Friday the 13th, the orginal Poseidon Adventure, Natural Born Killers and a few others for sure. That's a tough question :-)
Anything else you are dying to mention and I have merely forgotten to ask?
No, I think you covered quite a bit! Thanks so much for having me here. I really appreciate it. All my love and best wishes!!
Thanks for the interview!