First of all, why don't you introduce yourself to those of my readers who don't already know you?
Well, my name is Deneen Melody, an Irish-Scottish gal from Texas that now lives in the Chicago area. I am also a huge nerd that acts in indie films, especially horror… because I love being covered in blood and kicking butt. Oh, and The Last Unicorn and Lord of the Rings are two of my favorite things in the entire world.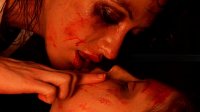 with Devanny Pinn in
Song of the Shattered
You are featured in the much buzzed about but not yet released Song of the Shattered. What can you tell us about the film and your role in it?
Song of the Shattered is a psychological thriller directed by Wolfgang Meyer [Wolfgang Meyer interview - click here], written by Brandon Slagle [Brandon Slagle interview - click here], and produced by Joe Hollow [Joe Hollow interview - click here] that I worked on this past summer. It was originally a short film that was part of a feature length horror anthology, however, after a few set backs involving the anthology… the people involved in the short (Brandon, Devanny Pinn [Devanny Pinn interview - click here], Tara Cardinal [Tara Cardinal interview - click here]), decided to go ahead and make it a feature. Brandon did an amazing job transforming the short version of the script into a full length and added some wonderful characters such as Tara's character, Melanie.
A lot of people think that the film is about rape/abuse, but actually, Song of the Shattered focuses on what happens AFTER a person experiences such events. The main character, Angela (portrayed by the amazingly talented Devanny Pinn), has escaped from her abusive husband at the start of the film… only to go through a traumatic event that completely changes her life. The story is heartbreaking, showing how such trauma can affect not only the victim, but everyone around them. It is about the downfall of a victim that cannot move on.
In the film, I play a sweet young pregnant woman named June. She is Eric's (Brandon Slagle) wife that opens up to Angela and tries to help her when she and Eric come across her on the side of the road. However, something extremely awful happens at the start of the film, and that eventually comes back later to haunt Angela. As an actress, I liked playing June because she is different than what I usually play. I often play the crazy characters, or the kick butt chick, so to play a genuinely kind and somewhat innocent figure was a nice change… especially since there are some creepy moments in there as well.
Song of the Shattered recently screened at the Sacramento Sci-Fi/Horror Show this past September. The audience really enjoyed it and had lots of positive comments and questions for Brandon, Devanny, and Tara. (I also just learned that the first screeners have gone out!)
Speaking of much buzzed about movies: The Soska Twins-scripted Dog Fight isn't even filmed yet (I believe), but it's already getting quite a bit of attention [Soska Twins interview - click here]. Is there anything you can reveal about that movie yet?
You are correct, Dog Fight hasn't been filmed yet, but it is in pre-production and looks like it will start filming sometime early 2011. Here is the plot from the IMDB page:

"Women who have been kidnapped and "broken" and psychologically turned into rabid dogs are forced into vicious competitive fighting by a sadistic criminal network. "
I honestly don't know much more at this point, but we have a fantastic cast that includes Devanny Pinn, Tara Cardinal, Rachel Grubb, Brandon Slagle, Shannon Lark, Keith Kraft, and Elske McCain [Elske McCain interview - click here] just to name a few. (Jen and Sylvia Soska make an appearance in the film as well!) I also know that I am playing a very wild and animalistic character named Doll, and that the script is brutal, gritty, and full of action. If anyone wants to keep up with the film, I suggest "liking" the page on Facebook, as news and information will be updated there.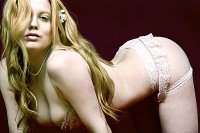 Blood Struck
You are also in Joe Hollow's yet-to-be-released Blood Struck [Joe Hollow interview - click here]. A few words about that movie?
Blood Struck is the first part of the Diary of Death trilogy, written and created by Joe Hollow. Here is the plot from the official website:

"Johnny is a suicidal schizo on a downhill spiral. He is a closet case necrophiliac with the profile of a serial killer. Blood Struck is an obsessive love story gone wrong. Johnny is insanely in love with 2 girls who are not in love with him. In a world full of drugs and violence, we follow Johnny as he faces an old enemy now a big time crime lord, the 2 girls who broke his heart, and the Death Dealers twisted games! It's a visually stunning ride with twists and turns from start to finish! "
We have a fantastic ensemble cast that includes Chris Burchette, Devanny Pinn, Cleve Hall, Joe Hollow, Rachel Grubb, Tara Cardinal, Linnea Quigley, and Brinke Stevens. One of the best things about this trilogy is that all the characters are interesting and unique. So much time has been put into developing the background and history of each one… especially the Demon characters. I absolutely love my character, Selene, as she is a mischievous little thing with a great character design. I'm looking forward to bringing her to life!
You have shot segments for two anthology movies of late, Psycho Street and Slices of Life, both directed by Anthony G.Sumner [Anthony G.Sumner interview - click here]. A few words about these films and Mr Sumner?
Slices of Life and Psycho Street are two of three feature length horror anthologies that have been/are being shot in the Midwest. (The third is Gallery of Fear by Alan Rowe Kelly [Alan Rowe Kelly interview - click here].) Each film consists of three different stories, a "wrap around" that ties them all together, and a fantastic ensemble cast.
Slices of Life, directed by Anthony Sumner and shot by Eric Richter, actually just had its world premiere at the Horror Society Film Festival in Chicago. We had a pretty large crowd and all the reviews have been quite positive, so we're happy! The segment I star in along with Galen Schloming and Judith Lesser, Sex Life (aka Pink Snapper) has especially been getting lots of attention. It is about a young brother and sister that escape from a sexually abusive home, only to discover something much worse in a beautiful Victoria mansion. It is the bloodiest of all the stories in Slices and is one of my favorite projects thus far.
Psycho Street, created by Marv Blauvelt and Raine Brown, is just about finished with filming. (From what I hear, there are just a few scenes in the wrap around left!) Hopefully, it should be completed by spring 2011. Like with Slices, I play the lead in the final segment of the anthology, Lewis, which was also directed by Anthony. My character, Amanda Reece, is a young mother that revisits the town she was born and raised in, suggested to her by her priest (played by my favorite actor, Jerry Murdock) after she catches her husband (the wonderful Marv Blauvelt) cheating on her. However, the town isn't quite what it seems, and some rather evil and demonic things start to take place. I loved doing this segment due to the fact that I got to meet so many wonderful people, such as the Clockwerk Pictures crew, the beautiful Susan Adriensen, and several new up and coming actors.
As for working with Anthony Sumner, well, honestly he is one of the few people I trust 100%. Aside from these two projects, I have worked with him on several other smaller things, will be working with him on a few upcoming projects, and hope to be involved in just about everything he does. Anthony is obviously extremely talented, but he is also such a fun person to be around. He, along with all the guys over at TinyCore (Eric, Chad, Keith, Paul, Brian, Taylor, and the lovely Jill), always make me laugh… being on set with them is the best.
Anthony Sumner will also be co-directing the remake Don't Look in the Basement with Alan Rowe Kelly [Alan Rowe Kelly interview - click here]. Even if the actual shooting of that film might still be months away, is there anything you can give away just yet?
I can tell you that this film is going to be a good one. Seriously. There really isn't anyone better than the Kelly/Sumner team to remake this grindhouse classic… and Alan has come up with a fantastic script that not only stays true to the original, but offers some amazing twists and turns. We also have an extraordinary ensemble cast featuring Debbie Rochon, Zoe Daelman Chlanda, Jerry Murdock, Raine Brown, Marv Blauvelt, Susan Adriensen, Terry M. West, Jeff Dylan Graham, Alan Rowe Kelly, Katherine O'Sullivan, Carl Burrows, and Caroline Williams as Nurse Karen. I'll be playing the role of Nurse Janet Steele, which was the role portrayed by the beautiful Rosie Holotik in the original version.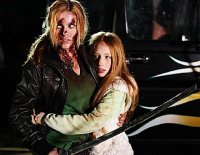 with Lily Cardone in
In As Night Falls, you star opposite B-movie icon Debbie Rochon. What can you tell us about that collaboration?
Working with Debbie was wonderful! Truth be told, I was quite stressed at times after filming each day, but she was always there for words of wisdom as well as support. The first night Debbie arrived, she talked with me for a while about some of my personal frustrations, and I can tell you that I am very thankful for that opportunity. She is someone that I look up to and greatly respect.
As Night Falls is also one of my favorite projects. Aside from the fantastic crew that worked their butts off (I wish I could type out all of their names, they deserve it!), the cast was wonderful and I made so many great friends. Joe Davison [Joe Davison interview - click here] was always watching out for me, just like a real big brother, and I became very close with the beautiful Lily Cardone, who played our little sister in the film. Dwight Cenac, who portrayed by boyfriend Otto, was a blast to hang out with and always made me laugh. It was also such an awesome opportunity for me because the Elizabeth character was so fun to play… she is the one character that is most like me. Not only is she into video games, RPGs, comic books, and cool weapons like swords and shotguns… but she has an appreciation for classic cars (I always have to give a shout out to my stunt driver, Frank!) and is super protective of her loved ones. Oh, plus Debbie got to throw me into a fence… and that was probably one of my favorite experiences… EVER.
The official website for the film can be found here: http://asnightfallsthemovie.com
A few words about Master's Devils?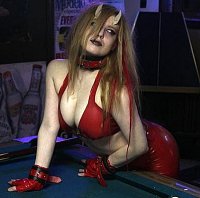 Master's Devils
Master's Devils is a film based off a story by Spider C. Guffey of Legions Studios, an independent comic book company by Ryan "Master Legion" Mohica. Basically, it is the story of 5 Devil Gals, reminiscent of Charlie's Angels or the Spice Girls, who put a bar full of sleazy, piggish, sinful men in their place. It is cool because each girl is different and brings something unique to the film. I portray the insane and animalistic Devlynn Envy… and had the opportunity to kick some major ass. (Needless to say, I enjoyed it.) We also have the legendary Ari "First Jason" Lehman in the film as the Angelic Pimp… and I won't spoil what happens to him. Mwhahaha.
I would like to give special recognition to our leader and Mistress of the film, Lyxi Brinkman. She may not be with us anymore, but she was someone that truly believed in and loved this project. Her performance is unforgettable and her presence will never be forgotten. We love you, Lyxi.
Here is the official website for the film: http://mastersdevilsthemovie.com
What can you tell us about Distortion?
Distortion is the first feature film by Chicago filmmaker Richard Diaz [Richard Diaz interview - click here], who is just amazing. Not only did he direct this film… he did EVERYTHING. It is his script, his lighting, his cinematography, his casting… everything. He put so much into this film, and it shows as the quality is simply amazing! I became involved after talking with Richard after the Fangoria Convention in Chicago last year. (We didn't meet there, but we both attended and thought it was funny that we didn't bump into each other.) He had one scene he needed to shoot and asked me if I would like to do it, and after seeing the trailer, I couldn't say no. We filmed my stuff in just a couple of hours, as we had to fight both the lack of light and the fact that is was going to rain at any second… and it was so much fun! You can find out more information on DISTORTION here: http://distortionmovie.com
Richard is also working on his next film, Dark Light, in which I will once again be making an appearance: http://www.darklightthemovie.com
You also have a role in the web-series Western X. What can you tell us about that project, and is the Western as such a genre that appeals to you?
Well, the interesting thing about Western X is that it isn't really just a Western… it is a post apocalyptic story that has many different elements mixed in through out. There is a bit of horror, science fiction, fantasy… it is all there. Michael Flores, the creator of the series, did an amazing job creating a unique world for the characters. I recently had the opportunity to see the first three episodes at the Sacramento Sci-Fi/Horror Show, and was completely blown away by how epic the series has turned out. I honestly felt like I was watching on par with Lord of the Rings.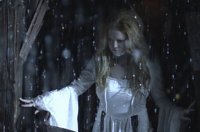 Western X
Western X focuses on a mysterious man, known only as X (played by actor/stuntman Dustin Hale), that is struggling to find out his identity while fighting an evil army. My character, Hecate Freya, is just as enigmatic as X during the first season, and you don't really know what her true intentions are till later on. I love this character because she has an ethereal quality about her that I have always wanted to play. The rest of the cast includes Richard Anderson, Aaron Ginn-Forsberg, Kaily Alissano, Jerry Eselgroth, Jayson James, Anthony Tempesta, Ted Goodman, Angelique Deuitch, and Vernon G. Wells as The General. There is also a spin off from Western X in the works called A Six Gun for Lobo, which features Western X cast members Dan Dice Narciso and Victoria Paege.

The first three episodes of Western X will be premiering online very soon: http://westernxtheshow.com
Oh, and is the Western genre something that appeals to me?
Most definitely!
Having talked about your present and future projects extensively, let's go back all the way to the beginning of your career: I've heard before appearing in movies, you have been a ballerina. What made you change to acting?
Well, it is a long story, but I basically injured myself pretty badly and had to quit dancing. As much as I love ballet, it just got to the point where I couldn't do all the rehearsals and classes that are required at a professional level. This hit me pretty hard, so I packed up all my stuff and moved to Chicago on a whim… just to see what else I could find. For awhile, I did belly and aerial dance, which I loved, but the second I went to a film audition… I was hooked. There is just something about morphing yourself into different characters that I absolutely love; I'm extremely passionate about it. Film is the first thing I have felt this strongly for since I stopped dancing.
How would you describe your approach to acting as such, and did you ever receive any formal training?
I actually have not had any professional training, such as going to classes or anything like that, at least not for film acting. In school, I was heavily involved with theater, but I think a lot of my skill actually comes from ballet. A lot of people do not realize how much emotion and acting is required in classical ballet… some of it is very intense. Some of my most dramatic roles thus far have been during my dancing years, and I tend to just transfer that over to the screen in a more subtle manner.
What can you tell us about your experiences on the set of your first movie, which was, I believe, 9 to 5?
Wow, you certainly did your research! Yes, 9 - 5 was my first movie and definitely a great one to be a part of. It was made by the talented team of Kobo Films, and I was a last minute replacement for another actress. I remember being a little nervous since I had only done a television pilot at that point, and I really wasn't sure how everything was going to turn out. Thankfully… Francis, Danny, and Joseph were all super nice and I had fun playing the role of the young FBI agent, Candace. I also met the beautiful Sherri Savage on this set, who is extremely talented, as well as Harold Dennis, an extraordinary actor from the Chicago area.
Since it was my first movie, my performance could have been better, but it helped me gain experience and I am so thankful for that opportunity. I had an awesome time working with the Kobo crew and would love to work with them again in the future.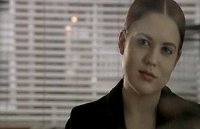 9 - 5
Any other films you'd like to mention, any future projects we haven't talked about yet?
Yes! Thank you! One project I am super excited about is an animated series by Jason Heath (The Chtulhu Key) called Astro Noir. It will consist of 8 minute online episodes surrounding the adventures of The Fixers, a group of fugitives with shadowy pasts that are working for a secret arm of the Galactic Intelligence Service. My character is named Valkira, the loyal, independent, and somewhat feisty member of the group. The other main characters are Anara, voiced by the beautiful Kitsie Duncan, and GT, voiced by Geek Tyrant's own Brian Shirley.
Official site: http://astronoir.com
Another project I am super excited for is the dark fantasy horror feature, A Midsummer Nightmare, by Joshua Siegel of Bloodwood Cannibals. When I was first approached about the project, I knew instantly that I wanted to be a part of it. I mean, come on… Shakespeare, fantasy, blood, gore, action, comedy… it has EVERYTHING! I just fell in love with the script and was thrilled to be cast as one of the leads, Marion.
More casting news and updates will be provided on the website: http://midsummerfilm.com
I am also cast as a lead in film called Girl Scout Cookies by Mark Cray and directed by Bobby Jones that will be filming next summer. It is an action packed horror flick with lots of talent that includes Monique Dupree, Jessica Cameron, Tara Cardinal [Tara Cardinal interview - click here], Kimberly Ross, and Rachel Grubb. I cannot tell you much about the story, but I can say I play a fun character that has some pretty awesome scenes. When I read about the different characters, she was instantly my favorite, so I'm excited to portray her.
Here is the official website for news and information: http://girlscoutcookiesmovie.com
It was also announced recently that I have joined the cast of Shane Michael's Prey to God, which also stars Jessica Cameron, Amanda Deibert, Lynn Lowry, Edwin Neal, Dax Spanogle, Greg Fuller, Andrew DeHart, and Eileen Dietz. Website: http://preytogod.info
Aside from these films, I also have several projects lined up with the Muscle Wolf Productions team, including an intense horror thriller called Stronger than Death, written by the talented Trevor Wright and Marv Blauvelt. It is basically like Requiem for a Dream but with a super natural twist and lots of gore. This particular film will feature an amazing ensemble cast and I really do think it will blow people away. It is one of the few scripts I have read that has actually made me cry… it is that emotionally intense.
We are also in the process of getting ready for a new anthology that features a particular monster… and that is all I will say about that.
Most of the films you are in are of the horror variety. Is this just coincidence or do you have a special fondness for the genre?
A little bit of both, actually. Horror is the most fun, in my opinion, and I love the people associated with the genre… so I definitely enjoy doing scary movies. I think a lot of it, however, is due to the fact that horror is the most popular genre in independent film. It has a huge fan base, conventions, festivals… all dedicated to horror… and because I have established myself into all of that, most of the film offers I get tend to be horror.
I am starting to focus on dramatic work to challenge myself as an actress emotionally, and also hope to be cast in more fantasy/science fiction projects. Fantasy is really my favorite genre, and my ultimate goal is to be in something like the Lord of the Rings. (Although, Western X does come pretty darn close!)
Women in horror are almost automatically labelled scream queens. Are you happy with that label, and your thoughts about women in horror as such?
I get asked this a lot, and really, I find it very flattering to be known as a Scream Queen. I mean, some of the actresses I look up to have that label! Debbie Rochon, Lori Cardille, Linnea Quigley, Debra Lamb, Susan Adriensen… these ladies are all so extremely talented and to be placed in the same category as them is an honor. Besides, I don't think just because a woman acts primarily in the horror genre, doesn't mean all she can do is run and scream… especially nowadays. The roles for women are more and more intense. You are starting to see more females playing the insane killers, more women kicking ass, and just more women in general.
That being said, I have noticed that all a girl needs to do is cover herself in blood and act in one horror film to be considered a Scream Queen. In some ways, I don't think the label is as "special" as it used to be. I haven't been doing this that long, only a couple of years, but even then… it does appear that almost every other actress is called a Scream Queen anymore.
Besides acting, you also do quite a bit of stunt work What can you tell us about that aspect of your career?
My interest in stunts and fight choreography started when I was cast in an action short a few years back. I didn't want to look silly trying to do the fight scenes (though I think I ended up doing so anyway, haha), so I went to Boot Camp and trained with fellow actor/former Marine Joe Caballero. About a year after that, I also started to do classes with Emmanuel Manzanares of the stunt team Lazy Brown Productions here in Chicago. Manny, along with Shawn Bernal, Alex Hashioka, and Keith Min, really pushed me and helped me become more interested in the stunt aspect of film, especially fight choreography. Alex even took the time to do some one on one training with me, which I really appreciate. He is fantastic!! Since my schedule is so busy, I do classes every once in a while with a stunt team known as Asylum Stunts, as well as Lazy Brown. Honestly, I wish I had a little more time to do more training, but I always make sure I am well rehearsed and prepared before doing any stunts on set.
Some of the more fun stunts I have done include sword fighting, falls, and being thrown into a fence in As Night Falls, as well as several scenes in other films that include fight choreography and gun handling. I'll also be doing some pretty big stunts in two of my films next year, A Midsummer Nightmare and Girl Scout Cookies… which I am extremely excited about. Oh, and I recently found out I will be doing more sword fighting, but that project is secret at this point!
You are currently also a model for comicbooks. Now how did that all come about, which comics are you modelling for, and are you fond of comics in your private life?
My involvement in comic books first started when I was cast in Master's Devil by the folks over at Legion Studios. As mentioned above, the movie is based off one of their comics, and I have since then modeled for their upcoming horror comic, Xes.
As far as Comic Book Divas is concerned, the creator, Jeff Hughes, approached me about a year ago to be a part of their vampire comic, Fangs. I love comic books and vampires, plus I always wanted to portray a comic book character, so it was just perfect! I am also part of the A Life Behind the Mask web comic as Blackbird (the Batman-like super hero), Dennis Willman's Ginger-Stein: Rise of the Undead [Dennis Willman interview - click here], and some other awesome comics I cannot talk about quite yet.
Jeff, Jason Dube, and everyone at Scattered Comic Studios/Comic Book Divas have been so very supportive of all the actresses/models involved with their projects, and I dearly appreciate them. Jeff makes sure each girl is well taken care of at each convention or festival they attend, such a sweetheart!
Any other aspects of your career I forgot to touch?
Well, I have recently started a pod-cast with Geek Tyrant's Brian Shirley, Terror Tyrant Radio, which airs every Friday at 10:00 pm central time. While is mainly focuses on the world of independent horror, we tend to talk about lots of different things in the geek culture. (In one episode, we talked about our favorite cartoons from the 80's… such as She-Ra and Bravestarr!)
You may listen to it here: http://www.blogtalkradio.com/alienbee
I'll also start writing a column over at Geek Tyrant as well, focusing on various topics involved in independent film. Some of it may also be pretty random, but I'm not too sure yet. I should have the first write up on the site in the next few weeks!
Your website, MySpace, Facebook, whatever else?
Facebook is the best way to keep in touch! I love having new friends and will always give back support. However, you can find and follow me at any of these networking sites:
Facebook: http://facebook.com/deneenmelody
Myspace: http://myspace.com/deneenmelody
Twitter: http://twitter.com/DeneenMelody
Tumblr: http://deneenmelody.tumblr.com/
IMDB: http://imdb.me/deneenmelody
Actresses or indeed actors who inspire you?
A lot of the actresses that I admire have been listed above, but as always, I must point out that I become inspired by most of the people I work with. Whether they are extremely experienced or a newcomer, I find myself being able to work very well with those that are passionate and have a good attititude. Actors like Jerry Murdock, Tom Lodewyck, and Brandon Slagle [Brandon Slagle interview - click here] have such a strong and natural presence, and I enjoy working opposite of that. And actresses such as Devanny Pinn [Devanny Pinn interview - click here], Toya Turner, and Erica Soto… they are so kind, sweet, and talented without ever trying to be competitive.
As far as Hollywood ladies go, I find Kate Winslet, Uma Thurman, and Cate Blanchett to be very inspiring. (Especially Kate Winslet. She is bold, emotional, and can pull off just about anything.) I also adore Abbie Cornish and Emily Blunt; two very beautiful and talented ladies that I definitely think are going to go far with their careers. I also really like Noomi Rapace.
Your favourite movies?
The Lord of the Rings trilogy and The Last Unicorn are my very favorites, which is funny, because the books are also my favorite books. I simply love fantasy and most of my favorite films fall in that genre, such as Labyrinth, Legend, Hook, and The Dark Crystal. However, I also love the Kill Bill movies, Brotherhood of the Wolf, Finding Neverland, the new Millenium movies, and more. If it is a good movie, I like it.

Feeling lucky ?
Want to
search
any of my partnershops yourself
for more, better results ?

The links below
will take you
just there!!!

Find Deneen Melody
at the amazons ...

amazon.com

amazon.co.uk

amazon.de
Looking for imports ?
Find Deneen Melody here ...
Something naughty ?
(Must be over 18 to go there !)

Favorite horror films, though? Day of the Dead, Aliens, The Thing, and the original Let the Right One In are my absolute favorites.
And of course, movies you have really deplored?
Oh, I don't like talking bad about other movies, to be honest. BUT, I have to admit I was highly disappointed with The Vampire's Assistant. I usually love movies like that, but it didn't keep my interest at all.
Anything else you are dying to mention and I have merely forgotten to ask?
I have recently found out that the folks of Dark Carnival Film Festival have nominated me for Best Supporting Actress for my role in Slices of Life! It is such an honor to be nominated, especially since three of my co-stars, Toya Turner, Helene Alter-Dyche, and Susan Adriensen, have also been nominated. Anthony Sumner [Anthony G.Sumner interview - click here] has also been nominated for Best Director for Slices of Life… way to go, Anthony!
The festival happens November 19th-21st in Bloomington, Indiana: http://darkcarnivalfilmfest.com
Thanks for the interview!
No, thank YOU! I am quite honored and flattered that you would interview me for the site. Thank you so much!