Your new film is called Tour de Force. In a few words, what is it about?
Well I think it lives up to its title, a hard working police man loses his son in a tragic gunfire accident at home and his wife leaves him. He ends up in a psychiatric hospital and loses his job. This is basicly where we meet him, broken down and hating life, now working for the very people he used to struggle to put in jail. He has lost all values in life and is basically a very bitter man.
What inspired you to write the film?
Well basically I wanted to make a trilogy about antiheroes, the first being my first film Craig, so you if you know both films you will see several silver lightings between them, but of course in the end they are two completely different movies. Being an actor of origin I've always thought it is interesting to explore a person right before, during and after a mental breakdown and I guess that's with Craig from Craig and Frank from Tour de Force have in common, in many ways. That and of course I have always had an admiration for both horror and action films, and Craig being a horror serial killer combined with drama film and Tour de Force being what I prefer to call an action drama, there are my shots at the genre, albeit with some twists. And it means a lot to me that so many have taken them to heart so kindly.
Any directors whose style influenced you while making Tour de Force, and can you think of any movies you would like your film to be likened to?
Hmm... tough one, the answer here would probably both be none and all, a little cryptic I can hear that, but I wanted to create something completely on my own but you can't help being inspired by what you know I suppose. All I knew was that I wanted to tell a story about a person who does right but due to very unfair and tragic reasons starts to doubt himself and his values. He loses his sanity but suddently one day wakes up and finds himself in the middle of all he has been fighting to eliminate, so what does he do?
Essentially, Tour de Force is a cop movie. Do you have any special relationship to that genre, and what are some of your favourite cop flicks?
Well, Frank is an ex-cop, but I'd like to play a little wannabe intellectual here and say it's a film about the choices we make in life when our minds are completely blank, so I don't really see it as a typical cop film. After all his cop career is in his past as we meet him and his collegues hate him because he used to fight them. For some strange reason the gangleader Holger likes him and keeps him on. It's a double thing cause he knows how effective Frank is therefore Frank is an asset to have to work for him, but it's also a bit of a sadomasochistic desire for Holger to see Frank squirm because he has to carry out assignments he truly doesn't wanna carry out. Holger is a mean, mean man, hehe.
You give a rather powerful performance as the film's depressive, violent and essentially broken lead. What did you draw upon to make your performance work, and how did you prepare for your role?
Thank you. Hmm, it's a tough one. We all hear about actors who have to dig in deep and find the inner pain, but to be honest in most cases I think it's just people blowing smoke out of their ears in order to sound interesting when the truth is that they don't really know how they found the character, haha. Seeing as a invented the character myself I know him very well, and yes, there are elements of myself in it, but what experiences I draw from are my own personal secret. You see, that's the magic of it all. I'm a very intuitive actor, and it seems to work well for me - Well, I chose to believe it does, anyway, haha.
Claire Ross-Brown, who plays your wife in Tour de Force, pops up time and again in your films. A few words about her?
She's pretty, talented and easy to work with, it's always a pleasure.
Likewise, Alice Haaber, your prostitute girlfriend in Tour de Force, is pretty much a regular in your films. What can you tell us about her?
Well, Alice and I met on Craig where she was in as well, and well, we had a 2½ year relationship, but that is not why I chose her for the film. I chose her cause she essentially IS the film's Emily - obviously she isn't a prostitute for real, but Alice has all the vulnerbilities and sensibilities I needed in the character, plus she is a delight to work with and I'm so happy she and I are still as good friends as we are, even if our personal relationship is no more. In retrospect, and without me knowing, Emily is Frank's saviour in the film and in real life in many ways she was my saviour, so I guess it's not accidental. Yes yes, I know, I'm getting all touchy feely here, but you asked so it's your own fault, haha.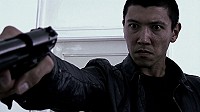 David Sakurai
Martial artist David Sakurai does not only play one of your main adversaries in Tour de Force, he also did the fight choreography. Why did you choose him for the job, and what was your collaboration like?
Well that was an easy pick, David is bad ass at what he does and it's just an extra plus that he is one of the nicest guys in the world as well. The collaboration was awesome and I'm quite sure there'll always be a place for him in my films, it's been really uncomplicated and constructive and he would always have a few good ideas, which I love as a director - you know, when an actor has some input, especially if it's good input. And basically the fight sequence in Tour de Force, I told him - give me a reason to bleed... and he did! Haha.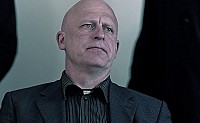 Peter Ottesen
A few words about Peter Ottesen - yet another familiar face from your earlier films - and his role, crime kingpin Holger?
Again, Peter was also in Craig. Peter is one of those people with an awesome face, which is great for film. He's a good actor and he understands how his face works on the screen. He also has a great voice which is a thing I envy him for, really deep and sympathetic but he can easily and without big movements sound extremely menacing. Peter is definitely one of those actors I hang on to as well, and I knew I wanted to work with him ever since I saw him in David Noel Bourke's Last Exit [David Noel Bourke interview - click here] where he played a character much like Holger in Tour de Force.
Of the many supporting characters in the film, the most amusing are probably Django and Skalde, as playd by David Schack Trappaud and Lars Bjarke. How did you come up with these characters, their dialogue, and a few words about the two actors?
Basically, their scene is in the beginning of the film and I needed the audience to know a few things but I wanted a couple of completely deranged and comedic characters. The dialogue basically tells you what you need to know plus hopefully provide a few laughs because they are both clearly insane, well probably mostly Django where Skalde acts a little more like a father figure to him yet is constantly being asked by Django to shut up. I had a fun time writing that. I chose David Trappaud for the role kind of in the last minute as the actor I initially had on it, Rudi Köhnke, chose to jump ship on me only a few days before shooting and I had to find a replacement, so it was a bit of a coincident I found David who I had met years earlier on another film, but never really kept in contact with, but he did a great job and today I'm happy he joined us on the film.
What can you tell us about the rest of the film's cast?
Well most of them are people I worked with before, but it was a privilege to work with Slavko Labovic as most people know from the Pusher 1+3 films and In China They Eat Dogs. From the first time I saw him in those films I've been wanting to work with him and here was the chance. For anyone who have seen any of those films you know what a menacing presense on sceen he has, so I was quite anxious to meet him but he turned out to be a great guy with a great sense of humor, very dark like my own, and as it is now, he is slated to act in another project I'm currently wrapping up named Little Big Boy. Ole Ernst who plays Peder in the film is one of Danish cinema's grand old men, it is always a privilege to work with him. He's been in the industry for most of his life and is a huge part of the Danish film treassure, he was in over half of the (in Denmark) legendary Olsen Gang films and he works at the Royal Danish Theatre so it doesn't get a lot more classy than that. Yes, he is really easy going and fun to work with and always game for a laugh, so he was an easy pick for the role. In fact I knew from the start the role was his or the character would be something completely different. Then finally we have the actor/comedian Jonas Schmidt who was fun to work with as well. He's had a comet career in Danish comedy over the last years but is actually quite good at the more dramatic stuff as well and I think he shows that quite well in Tour de Force, he was kind of anti-cast for that film cause I always think it's interesting to see people who often do a lot of comedy give it a shot at roles with no emphasis on comedy. I would very much love to work with him again on future things. And well, it's kinda unfair of me, Tour de Force has a huge variety of talented actors doing great roles in it, so I'm just thankful for anyone's participation and it's been a great experience completely without problems from wannabe-starlets with egos that didn't match their talent in any way that I had a few of when I did Craig, one in particular almost drove me insane on that film, hehe...
The films you direct yourself are always rather dark in theme and atmosphere. Any explanation for that?
For me I suppose it goes with the territory of the broken down poor man. Craig was to me a desired venture into the dark mind, I suppose Tour de Force has elements of that too in order to show the character's turmoil, but personally I think Tour de Force is remarkably lighter. But of course, having seen both movies an endless amount of times, you kinda lose the ability to see it as a new, you know, hehe..
Would you ever consider to direct something lighter, say a romandic comedy?
Well, people asked me years ago when I was acting in a lot of different things if I'd ever direct myself and I clearly said no cause I thought it wasn't for me. One thing I learned here was that you should always keep open to new opportunity and never say no indefinitely, so sure, I'm open, although I'm not very much into chick flicks. As an actor I'd love to do it, but as a producer or director the project probably would need to have the most emphasis on comedy then. In that genre I am actually currently working on a script, but it's not very romantic. Also, don't forget, I did write the action comedy Brutal Incasso that we released in 2005.
Your and your film's website, MySpace, Facebook, whatever else?
Well, www.sonderholm.net and of course you can find me on said facebook.

Feeling lucky ?
Want to
search
any of my partnershops yourself
for more, better results ?

The links below
will take you
just there!!!

Find Kim Sønderholm
at the amazons ...

amazon.com

amazon.co.uk

amazon.de
Looking for imports ?
Find Kim Sønderholm here ...
Something naughty ?
(Must be over 18 to go there !)

Where is or will Tour de Force be available from?
It was released on May 11 and is available from most big retailers on the net and so like amazon.com, amazon.ca, Barnes and Noble, Target etc.etc. If you're from Europe I'd recommend you order it at axelmusic.com and if you're from Denmark, imusic.dk is selling it as well. There's gonna be a German release of the film later this year as well, dubbed in german language, deal is in place already. Probably also a Scandinavian release of it, but we'll see, currently I'm quite busy writing on two new feature films with the English working titles The Domino Effect and Vanished.
Any future projects you'd like to talk about?
Third installment of The Horror Vault is out on July 13, you can already now pre-order at amazon.com and amazon.ca - so do it and be the first to get it ;-)
Anything else you are dying to tell us and I have just forgotten to ask?
Nah, think we covered most bases ;-)
Thanks for the interview!