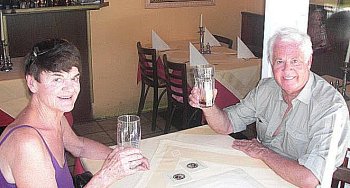 Irmi and Nick Millard in Munich
You have just shot the feature film The Bullet Ballet in Germany, right? In a few words, what is it about?
The Bullet Ballet is about an aging German actress who has had success in Germany and in Hollywood. Her Hollywood career is at an end, so she returns to Munich to try to get work - no luck. What makes the character interesting is that she lies constantly to others, and to herself ...
Her career will eventually be saved by a young writer-director, a character I call Yankee Logan. Yankee is a young Orson Welles, and has always admired the aging actress. I call the character Martina Mainz. Together, they make a great film entitled The Bullet Ballet, it wins the Palme d'Or at the Cannes film festival - a nice happy Hollywood ending.
What were your inspirations for the movie?
An important inspiration is one of my favorite films: The great writer-director Billy Wilder's masterpiece Sunset Boulevard.
Austria gave the world two great film directors, Billy Wilder and Otto Preminger. I had the pleasure of briefly meeting Otto Preminger at the 1970 Cannes Film Festival - he had the reputation of being a tyrant on the set, shouting and screaming commands at the cast and crew, fearsome ... but in my conversation with him, he could not have been nicer - the Viennese charm shined through ...
How did the project fall together, and why film it in Germany?
I started shooting films in Germany in 1967 - my wife Irmi is from Munich, a city that I like very much. I've made six or seven films there through the years. I work with my own money, so things can come together very quickly because of that - if you have to look for money to make films it's a far different story. I read that Orson Welles once said in an interview "I've spent more time at film festivals and in restaurants trying to raise money to make films, than I have actually making films." That's sad, the greatest director in the history of cinema (even the French will reluctantly admit that he is, although they would very much like it to be Jean Renoir ), and he has to fight to get money to make films. Hollywood studio heads would give tens of millions of dollars to young directors who didn't have in their heads what he had in the heels of his feet - film is, and always will be, a very tough business...
What can you tell us about filming in Germany, and how does it compare to filming in the USA?
I like shooting films in germany. I've also shot two or three in France as well ... please understand that I live in a different world, it's called the world of guerrilla filmaking. I have never had a permit to shoot in France or Germany or the USA. This is filmmaking that has an edge to it, it is more exciting. I'm not sure that it would be any fun to make a film any other way. You know what shots you must get, so you go and get them one way or the other. I'm sure Rainer Werner Fassbinder worked that way too, in the beginning - all low budget filmmakers must do that. The permit fee to shoot at the Los Angeles Airport is two thousand five hundred dollars - if I need a shot of one or two actors arriving in Los Angeles carrying their suitcases, I go to LAX with the actors and two prop suitcases and shoot ... I'm sure that when Godard made his masterpiece Breathless, he shot the same way - rent a Paris hotel room, bring in Jean Seberg and Jean-Paul Belmondo, and cameraman Raoul Cotard and shoot. I work the same way in the USA as I do in Europe, and believe me, it's fun!
Anything you can tell us about The Bullet Ballet's cast yet?
T.J. Fournier as Billy Goat Heimat, Irmi Millard as Martina Mainz, Nick Millard as Bernd Strasser.
It might be way too early to ask, but any idea when and where The Bullet Ballet will be released?
Not sure of release date as we still have a lot of interiors to do here in US. We have our own distribution - I am one of only a few people who have been in all three parts of the film business exhibition, distribution, production ... by far the most fun is production.
From what I've heard, you have made quite a few movies in the last few years that are nowhere really listed - so I'd very much like you to give us the lowdown on at least some of them.
Jackie Devereau - the story of a New Orleans low life pimp.
The Turn of the Screw - a modern day version of Henry James' classic ghost story.
Pygmalion - a modern version of George Bernard Shaw's great play: Liza Doolittle as a punk rocker with purple hair, and a very foul mouth ... to professor Henry Higgins: "you like pussy, don't you?"
Hemingway - the greatest writer of the english language since William Shakespeare ... his life and loves.
Johnny Stompanato - small time Los Angeles gangster and gigolo Johnny Stompanato and the glamorous motion picture star Lana Turner ... Lana liked mixing danger with passion ...
Faust 2005 - German film director Werner Faust wants a hit film, and he is more than willing to sell his soul to the devil to get it. Werner is very jealous of the enormous success his sometime friend Wolfgang Anderson has had in Hollywood, so he strikes a deal with the devil ...
City Without a Soul - it's name starts with an H and ends with a D. It's a hard town, but everyone wants to go there, including myself. Sometimes even those who have had great success there jump off bridges ...
The Undefeated - based on a Hemingway short story about an aging matador who is determined to give the crowd one last great bullfight, even if it means his death - as an aside, I learned how to write by reading Ernest Hemingway, he gives free writing lessons in his books Green Hills of Africa and A Moveable Feast, and other works. Too bad, he let us all down by blowing out his brains, Irmi and I have visited his grave in Ketchum, Idaho ...
Don Quixote - a modern day version of Cervantes great comic novel. The Don thinks that Las Vegas whores are great noble ladies, he thinks that a beat up old junk Chevrolet is a Ferrari, that windmills are armies ... I did a hell of a good job adapting the book.....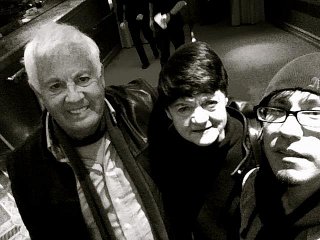 Nick and Irmi Millard, distributor Jesus Terán
Of every script I've done, the best piece of material, the best script is Pygmalion - not because of Nick Millard but because of Mr. Shaw - he put the emotion into the play, and a hundred years later it is still there. The theme a most important one, the triumph of the human spirit. Liza must overcome not only her own terrible background, but also the petty tyranny of professor Henry Higgins ... it is a great script. There is an actress who has just left her movie star husband, that would make a great Liza, in a big budget version ...
Let's go back to the beginnings of your career: What got you into filmmaking to begin with, did you receive any formal education on the subject, and how big was the influence of your father S.S. Millard, himself a film producer? And what can you tell us about your father to begin with?
Love of good films. When i was young, back in the 1950's, there were many good films. Today we are lucky to get one really great film per year, films of quality like The Reader, The King's Speech and Das Leben der Anderen.
Not a lot of education, I quit school at age 16 - but because my mother took me to the library at an early age, I have always been an avid reader. My sister Tamara is as well. I have also been very lucky to be able to travel for most of my life, so i have been to the Prado in Madrid, the Gare d'Orsay in Paris, and the Tate Gallery in London more than once.
My father was a great man - I'm sure most sons feel the same way about their fathers. S.S. Millard was a producer, he was a man of daring, a man who could get things done by using his wits, and not a lot of money. He was the consort of Queen Marie of Romania. He had a tremendous influence not only on my film career, but on my life, and all the fun that I have had. One small example, he would play classical music on the car radio - being a european, that is the kind of music he liked. As a kid, I did not like it, but my dad introduced me to it. I have spent many pleasurable hours in concert halls all over the world listening to symphonic music being played, the Royal Albert Hall in London, the Louise M. Davies Concert Hall in San Francisco, and the Walt Disney Concert Hall in Los Angeles. I consider that the gift of fine music he gave me is worth millions of Dollars. Austria can be very proud of having produced the finest composer of all time, Mozart - no composer will ever surpass him.
My father raised me to be a cynic. In this day and age, some cynicism is necessary in order to survive - to date, no one has ever sold me the Brooklyn Bridge...
Your early films were almost all of the erotic variety ... and here comes probably the most stupid question I could think of: Why? And what can you tell us about the erotic filmworld in the early days of your career?
Why did i make erotic films? To make money - they are easy to shoot. I have many good memories of making adult films. Occasionally, not as often as I would have liked though, one of the actresses would take a liking to me, and we would have some fun (I don't mean going to Disneyland fun) together ...
I tried to avoid being a part of the erotic film crowd as much as possible - much like Ernest Hemingway, who never lived in New York City because he didn't want to associate with other writers.
I did business with a man named Hal Guthu, he was an agent for the models - everyone liked Hal Guthu ... years before he had been Ed Wood's cinematographer [Ed Wood bio - click here]. Shortly before he died he told me something about himself: "Nick, I always treat every girl who comes into my agency with courtesy and respect - sometimes the girls are not good-looking, and I know that I cannot get them work ... but I always ask them to fill out the information form, and I take Polaroid pictures of them. I don't do this with any ulterior motive, I'm just being nice, not wanting to hurt their feelings. Sometimes, a week or two later, they will come back to the agency, with their roommate - and the roommate is often a very beautiful girl, a girl I can get work for. She will tell me how her friend raved about me, how kindly I treated her, after other agencies had slammed the door in her face ... the beautiful roommate will sign with my agency."
Hal Guthu is the agent who discovered Demi Moore - she was from New Mexico, and came to his agency. Hal Guthu told her he could get her work the next day, if she would work topless before the camera. He said that without his even asking, she pulled off her tank top - he showed me the Polaroids he had taken, it was a young Demi Moore ... I told Guthu, that's quite an accomplishment, you discovered a fine dramatic actress - Hugh Hefner and his Playboy Magazine never discovered a fine actress in fifty years of publishing ...
Your erotic films often had a very special atmosphere and an almost artsy flair to them. Was this at all an artistic decision, or did this just happen?
It was an artistic decision - I have always liked shooting with available light, it is real. I like shooting on location, this is one of the basic tenets of Roberto Rossellini's neo-realism ... I was strongly influenced in my youth by European art films - not to say that Hollywood has not made great films, they have ... Hollywood does tend to overlight.
A quick story about myself, in 1994 I was shooting a film, adapted from a Hemingway short story The Undefeated, my film lights were in the pawn shop, and I was not adding even a little bit of light, because I had no lights - the footage looked very real, very artistic. A short time later I got some money and got my lights out of the pawn shop, which was on Sixth Street in San Francisco. In spite of knowing better, I started to overlight too. The footage did not look as good ...
Quite a few of your films like Chantal, A Couple of Trouble/Lustful Addiction and Roxanna have been remade by Seduction Cinema in the early 2000's. How did this come into being, were you at all surprised by this new-found interest in your old films, and how did you feel about the remakes as such?
I was not surprised by the interest in my erotic films, because I've alway known I was one of the best at making them. Even today if I were to go back to shooting them, I could do better than most writer-directors who shoot adult films. There are a few tricks, a partially clothed beautiful woman is more enticing than a naked beautiful woman, because something is left to the imagination. I was always able to get more from the actors and actresses by saying very little, rather than giving them a long list of instructions.
I thought the remakes were an interesting, original idea - something different ...
You have worked several times with early adult superstar Uschi Digard ... and there are just too many fanboys in my audience (me included, admittedly) not to ask: What can you tell us about the woman, and what was working with her like?
I can tell you that Uschi was always very professional to work with ... and I can tell you about the first time I ever saw her, because I will never forget it: It was in March of 1970, at the Centurry Plaza Hotel in Century City, California (very close to Beverly Hills). One word can describe Uschi, magnificent - I had never seen anything like her breasts in my life (and I was raised around a burlesque theater, the Moulin Rouge theatre in Oakland, California). She also had a very pretty face and a nice derriere. She was from Switzerland, she spoke German with Irmi ... sometimes they write that she was from Sweden, perhaps they are thinking of Anita Ekberg. About twelve years ago, her agent, Hal Guthu, told me she was living in Palm Springs, California.
If my information is at all correct, you turned your back on erotic films in 1975 with the brilliant Criminally Insane. What prompted that decision, and what can you tell us about the movie as such and its star Priscilla Alden, who would continue to pop up in quite a few of your films over the years?
I have to have a little fun here - I like to have some fun in my films, too: I once said that moving up to horror films was a step up for me "from the gutter to the curb". Now, there is something even lower than the gutter, and that is the sewer - the film genre that I would say equates with the sewer is today's big budget Hollywood action film: Kill, kill, kill! The adult genre is about lovemaking, lovemaking, lovemaking - I made forty or fifty adult films, that was enough. To paraphrase a line from Billy Wilder's great film noir Double Indemnity: "I did it for the Money, and I did it for the women. I got both." (Not as many women as I would have liked though.) The last adult film I made was in 1974. Maybe I'll go back, I miss the genre ...
Criminally Insane is still around after almost forty years - I can name five or six films that I saw at the Cannes film festival during the years that are not. I give the credit for this to Priscilla Alden, without her the film would have been far, far less. She was great to work with. We started working together in 1969 on a film entitled Severine, I brought an actress from Germany to play the lead in the film. She later had a very successful career in Germany, her name is Elke Hart, she made a film in Germany entitled Rheingold, she both produced it and starred in it. The film won many important awards.
The last film Priscilla Alden and I did together was in 2006, it was entitled Funeral Parlor. Unlike the characters Priscilla played on screen, in real life Priscilla was an intellectual - she liked good books and good films, she was a lover of opera (an art form i have never been able to acquire a taste for) and worked for free in many San Francisco opera productions. She also liked the theatre very much. I do miss her ...
As far as I know, Criminally Insane, just like your erotic flicks, will receive an official remake, to be directed by Brian Dorton [Brian Dorton interview - click here] amd called Crazy Fat Ethel. Your feelings about this, and do you have any part in this project?
Yes, a remake is in the works. From what I see on the internet it looks interesting.
What can you tell us about your career in horror (and later also in action cinema) as such?
I have enjoyed working in all genres, erotic, horror, action, and drama. These days I only do dramas, or drama with some comedy in it. Like woody once wrote, "When you do comedy, you are sitting at the childrens' table." Drama is the big show. That said, it is a wonderful thing to make people laugh, cheer them up a bit ... and comedy is not easy to do, some hollywood TV-series have five or six writers, and they are still not funny. It is truly easier to make someone in the audience cry than it is to make them laugh, but drama is the top, no gunfights to hide behind, no vampires biting pretty girls' necks, no love scenes ... Woody had better get up to Stockholm and shoot a depressing drama in black and white, set in winter ...
Any future projects you'd like to talk about?
Yes, a film on director John Huston, and the problems he had shooting The Misfits near Reno, Nevada in 1960. I've got a beautiful girl playing Monroe, we put her in a wig styled to match Monroe's hairdo in Misfits, and while she does not look exactly like Monroe, no one can say she is not beautiful enough to portray her. The girl is a stripper, but she has has acting lessons, and has talent. The footage we've shot so far looks very good. Today's directors have no color, Huston had plenty of color ...
Then there's of course The Bullet Ballet (mentioned above), and there is also a film noir script I wrote, still untitled ...
Your personal favourite(s) among your films?
My favorites:
The Blue Angel - one critic said it was better than the Curd Jürgens-Mai Britt 1950's remake. I worked from the novel by Heinrich Mann, not the film.
The Undefeated from a short story by Ernest Hemingway - an aging matador is determined to give the crowd one last great bullfight, even if it means dying in the bullring ...
Pygmalion - a modern day version of George Bernard Shaw's great play.
Faust 2005 - set in the world of modern day German cinema..
Hemingway - the greatest writer of the English language since William Shakespeare - his life and loves ...
Don Quixote - a modern day version of Cervantes' great comedic novel.....
The Life and Death of Richard 3 - a modern day version of Shakespeare's play set in the world of outlaw motorcycle gangs.
How has the low budget film world changed over the years?
You get more bang for your buck today. Forty years ago you had to shoot on film, now you have high definition, no negative to buy and develop, no expensive first answer print to make, or in my case we most often did a one light print - and hopefully the internet will open more ways to sell your film. Forget YouTube, they don't pay a damn thing - in fact they are nothing but copyright infringers. Paramount has a billion dollar lawsuit against YouTube. I hope Paramount wins!
How would you describe yourself as a director?
I am one of the best film directors working today,because i watched and learned from one of the best, two time Academy Award-winner John Huston. Huston could also write, so he was a real filmmaker. Anyone who knows film will tell you that it is the writer who is the creative force behind a good film, not the director or the producer, but the writer ...
Any advice you'd give an up-and-coming filmmaker who wants to enter the (low budget) filmworld nowadays?
Skip film school and use the money to make films - that is your school. And it is the very best.
... and equally important, watch great films, not the Hollywood crap of today, but films like
Citizen Kane, Casablanca, High Noon, Breathless, 8 1/2, La Strada, Open City, The Bicycle Thief, La Notte, The King's Speech, The Reader, The Lives of Others, ...
Filmmakers who inspire you?
All of the greats - Orson has to go first. John Huston because of his great films The Maltese Falcon, The Treasure of Sierra Madre, The Asphalt Jungle, The African Queen, and because of the colorful life he led. The Swede, the great Ingmar Bergman. Jean-Luc Godard - Breathless will be shown forever. Roberto Rossellini, the father of every low budget filmmaker, including myself. Federico Fellini, 8 1/2 is a masterpiece. A film that any real writer-director admires ...
I think that Woody is the best American writer-director working today, but that's not saying much. There will never be a Nobel Prize for literature for John Grisham - he is a good writer, but takes no chances. Hemingway said in his Nobel Prize acceptance speech that the writer must go far, far out - a reference to the old fisherman in The Old Man and the Sea. John Grisham must row far, far out - and woody has to go to Stockholm in winter, and make a depressing film in black and white ...
I am practicing what I preach - for the past twenty years I have rowed farther and farther out. It is hard, but I wouldn't have it any other way. I lost my house in the South of France, my house in Palm Springs, my mom's house near San Francisco, and my own ... would I change things if I could?
No, I would not ...
Your favourite movies?
Citizen Kane, Casablanca, High Noon, The Bicycle Thief, 8 1/2, Breathless, The Treasure of Sierra Madre, Dial M for Murder, The Asphalt Jungle, Kubrick's The Killing (he does owe a lot to John Huston for The Killing), The African Queen, The Reader, Sweet Smell of Success (Clifford Odet's dialogue alone makes Sweet Smell worth seeing, "you're dead kid, get yourself buried.") - a lot of others as well, a good film makes you think and feel.
... and of course, films you really deplore?

Feeling lucky ?
Want to
search
any of my partnershops yourself
for more, better results ?

The links below
will take you
just there!!!

Find Nick Millard
at the amazons ...

amazon.com

amazon.co.uk

amazon.de
Looking for imports ?
Find Nick Millard here ...
Something naughty ?
(Must be over 18 to go there !)

I like to try and find something good in every film, because I know how hard it is to make a film. I do knock the major film studios in Hollywood, that's probably because they won't let me come to Hollywood and make films for them ...
Your website, Facebook, whatever else?
No website, and soon I will be leaving Facebook - it is addictive. My time is better spent writing and shooting and trying to sell films ...
Anything else you are dying to mention and I have merely forgotten to ask?
Yeah, try to get me a deal with Constantin Film on the new film - if you pull it off, I'll make you a producer. To quote my dad, S.S. Millard, "the film business is a miracle business." German, Austrian and Swiss rights are always sold together in one package, these include theatrical, DVD, cable and television rights. I don't need any money to make the film, just a distribution deal ...
Thanks for the interview!
Thank you, Michael. I enjoyed doing it. I want to also thank any of your readers who have supported my films - there is no film business without an audience ...