You have recently launched your new film-series The 7 Nightmares Girl. What can you tell us about that series?
The 7 Nightmares Girl is a kind of serial, with much more horror and terror elements than we had in the Unhappy End series. Nightmares is much darker, but again of course with very beautiful actresses.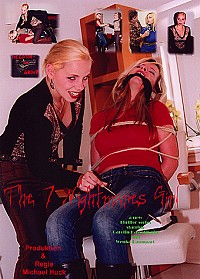 Carolin Hasselman and
Wenke Baumgart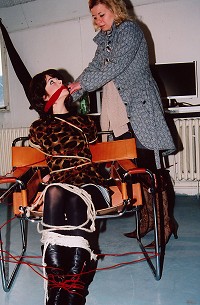 Maja Loom and
Barbara Ungerhofer
The first episode of the series ends with the words to be continued. Will part 2 be a direct continuation of part 1?
Yes, episode 2 will be a direct continuation of part 1, just like the old Republic-serials [Republic history - click here].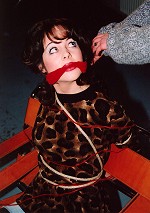 Maja Loom
Both The 7 Nightmares Girl and your long-running Unhappy End-series are (mostly) about beautiful women being tied up. What are the main differences between the two series?
First the story is more complicated, more action, more terror situations and more deadly perils for more beautiful leading ladies
While in the Unhappy End-series the violence as such is rather restrained, you seem to push the envelope a bit in The 7 Nightmares Girl. How far do you intend to go in terms of gore and explicit violence in your new series?
While Unhappy End was often funny, The 7 Nightmares Girl will have more violence, but acually most of the violence will not be shown directly. There will not be much gore or splatter elements, most of the splatter scenes will only take place in the brains of the audience. I still prefer beautiful shots of beautiful women in deadly perils.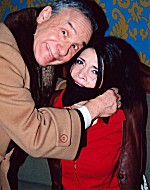 Lloyd Kaufman and
Micaela Schaefer
In an episode of The 7 Nightmares Girl, Troma-boss and independent horror legend Lloyd Kaufman has a guest spot. What can you tell us about his role, how was it working with him, and how did you get him to appear in your film in the first place?
I knew some of Mr Kaufman's movies and have learned a lot from his book Make your own Damn Movie, which is an excellent book on low budget filmmaking. There is also a Troma 5 DVD Box about making your own damn movie. I have met Mr Kaufman some years ago in Los Angeles where he did appear in a bookstore at Sunset Blvd talking about his movies, and later I met him at a filmfestival. We talked a couple of times and he was so kind to accept playing a guest killer part in our new series.
He is a very nice person, a perfect actor who knows exactly how everything looks onscreen. He is one of the nicest persons we ever worked with and I hope we can do some other project with him. In Nightmares Girl he plays the father of a kidnapped actress who is forced by the kidnapper to kill a young woman to safe his daughter's life.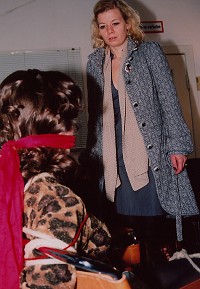 Barbara Ungerhofer
A few words about the other actresses (and actors?) involved in The 7 Nightmares Girl?
Wenke Baumgart and Carolin Hasselmann you know from part one. In episode two there are Maja Loom and Micaela Schäfer who were both already in the Last Laugh-movie. Even in Unhappy End we never had so many so beautiful actresses in one single project. Also new in episode 2 is Barbara Ungerhofer, a very gifted young actress from Vienna. She recently worked with Lloyd on a music video, so they knew each other already - although they did not share scenes in 7 Nightmares Girl.
With The 7 Nightmares Girl in the making, has the Unhappy End-series come to an end?
No, there will be more Unhappy End, but actually a little bit different. There will be longer episodes, that is 60 to 90 minutes, so actually more Unhappy End-movies than short episodes. We have new cameras and post production equipment and we've learned a lot, so we will do bigger projects now.
Websites, blogs, etc where one can learn about your films?
www.flickr.com/photos/MichaelHuck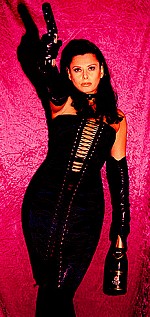 Suspense
On your flickr-site there are several very promising photos in the Suspense-folder. What can you tell us about that project of yours and is Suspense a film or series that will see the light of day any time soon?
I always wanted to do a series like The Avengers with spies but we never did it so far, maybe some day...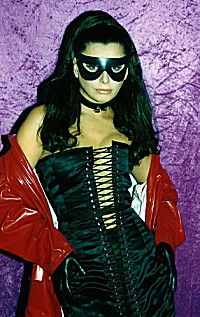 Suspense
Any future projects not mentioned yet you'd like to talk about
I'd like to do something like the old silent movie-serials, with an evil phantom or something like that.
In terms of bondage, you said in our last interview that classic movie serials were a major inspiration of yours. Any particular serials you'd like to point out?
Jesse James Rides Again (1947, Fred C.Brannon, Thomas Carr), The Purple Monster Strikes (1945, Spencer Gordon Bennet, Fred C.Brannon), Tiger Woman (1944, Spencer Gordon Bennet, Wallace Grissell), Perils of Nyoka (1942, William Witney [William Witney bio - click here]), Haunted Harbor (1944, Spencer Gordon Bennet, Wallace Grissell), Manhunt of Mystery Island (1944, Spencer Gordon Bennet, Wallace Grissell, Yakima Canutt).
TV series: Wonder Woman, The Avengers.
With The 7 Nightmares Girl going into a slightly more violent direction than your previous films, were you at all influenced by any particular slasher films or survival movies?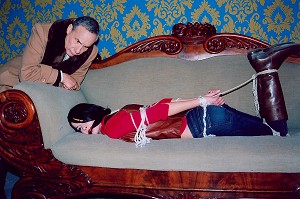 Lloyd Kaufman and
Micaela Schaefer
I've watched some, the Saw-series is very well done and I particulary loved Hostel 2 - actually not because of the slasher and splatter elements but because the stories are so good. Actually I still do not like movies with blood and gore all over, I think it's disgusting.
In The 7 Nightmares Girl there is one scene: Llyod Kaufman's character is forced to cut off his thumb. The camera focuses on the scissors and Lloyd's thumb, then when he cuts it off, camera is already on his face, you do not see one drip of blood and you do not see the cut-off thumb, all you see is Lloyd's face in pain and he screams. That's enough and it's a horrible scene even WITHOUT any blood or cut off body parts shown. I still like the beautiful pictures of beautiful women like Linda Stirling or Micaela Schäfer helplessly tied up and gagged facing a deadly peril. I like this kind of suspense so much more than gore and splatter. So actually the story in The 7 Nightmares Girl is much more violent than the Unhappy End-stories, but actually we are not going beyond a certain point, it all happens in your mind, not onscreen. I've wached a lot of recent made violent slasher and survival movies, one so stupid I left the theater after about one hour. However there are some very interesting movies like Wolfgang Büld's Twisted Sisters a kind of romantic slasher movie and Wrong Turn with a great Eliza Dushku.

Feeling lucky ?
Want to
search
any of my partnershops yourself
for more, better results ?

The links below
will take you
just there!!!

Find Michael Huck
at the amazons ...

amazon.com

amazon.co.uk

amazon.de
Looking for imports ?
Find Michael Huck here ...
Something naughty ?
(Must be over 18 to go there !)

Funny Games is a strange movie and I did not like it. The surprise ending is just not surprising at all and actually I would have liked to learn more about the two bad guys - who are they, why are they acting like that? Maybe there will be a part 2, but actually it looked more like a ZDF Freitagskrimi than a thriller.
Timber Falls actually has a good storyline but then there is one very stupid scene when the girl, AFTER HAVING BEEN MENACED BY SOME BAD GUYS, makes her boyfriend throw away the bullets of his gun!!! That's so stupid you want to scream.
Other influences on The 7 Nightmares Girl?
Carolin Hasselmann - it was some of her ideas which got us in that more violent direction.
Anything else you are just dying to mention that I've compeltely forgotten to ask?
I always wonder if I'm the only one who is aware of the fact that our world is run by totally corrupt politicans and managers. I mean our whole system of social security is destroyed by greedy VAMPIRES who are about to destroy our country, Europe and probably the whole world. People like our representatives and managers are destroying our country and noone seems to care. Now they pay lousy bankers with taxpayers' money, it's so unbelievable! This is horror in real life. There are VAMPIRES all around us, and they are not sucking blood anymore, they go for money now, our money.
Thanks for the interview!