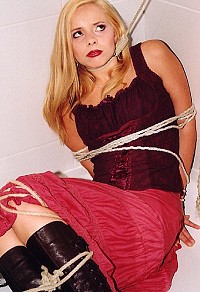 Carolin Hasselmann
A model (Carolin Hasselmann) enters an empty studio ... where she is suddenly attacked by someone in a cheap horror mask, tied up - and then she gets cheese (!?) smeared all over her face ...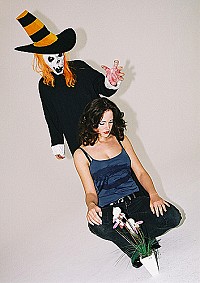 Maja Loom
Another model (Maja Loom) enters the same studio, is attacked by the same person in horror mask, is tied up and then ... Ms horrormask is revealed to be Angela (Sandra Lüdke), a woman who went to school with the model, but who never was as pretty as our model, and who always was at the butt-end of the jokes of Ms perect and her friends - which she thinks destroyed her whole life. Thing is, Angela knows the model is incredibly ticklish, so she promises to tickle the model to death ...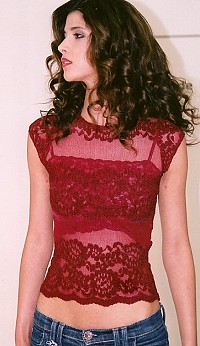 Micaela Schäfer
Yet another model (Micaela Schäfer) pays a visit to the studio, and she's welcomed with open arms by Angela - but Angela of course has ulterior motives, since model number three was the closest friend of the first two girls ... and Angela tells her exactly how she killed the others (the first girl got her face eaten off by rats, the second had a noose round her neck tied to her feet and was then pretty much literally tickled to death) - then she ties her up as well. But when her latest victim won't die as easily as the first two girls (she's not ticklish at all), Angela starts to lose it, and even trying to drown her in the bath tub won't work cause this girl's a fighter. Ultimately, the tied up girl even manages to get out of the tub, throw Angela in, and push a hairdryer in as well to electrocute her. when Angela is already lying dead in the tub does the model, who has been Ms sweetness all through her ordeal, show her true face ... and she's pretty much just the asshole Angela has accused her to be.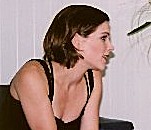 Sandra Lüdke
In writing, Last Laugh might sound pretty much like your typical slasher/survival horror flick, yet writer/director Michael Huck has stripped the concept of these genres to the bone, and instead of just delivering a piece of genre fare where fancy camerawork and rapid editing are supposed to obscure the lack of depth and bland characters of the piece, Huck focuses on his characters and their interactions and turns his film into a tense and suspenseful psychodrama carried by well-written dialogues and good performances - especially Sandra Lüdke as psychotic Angela is really creepy.
By the way, this was developed out of a featurette of the Unhappy End!-series, also titled Last Laugh - which basically consists of the middle segment featuring Sandra Lüdke and Déborah Behrens, shot from different angles and dirfferently edited.
This film can be ordered directly from the director via email - MichaelMHuck@aol.com (preferred) -, phone - +49 30 / 345 1338 - or the production company's website - http://www.gator-group.de.