Your new movie Sargad - in a few words, what is it about?
Sargad is about a young woman, Elina, who drives to a cabin with her mom and younger sister to spread her dad's ashes. They encounter three brothers that will make their weekend a living hell.
What were your sources of inspiration when writing Sargad?
My main inspiration came from all the women I know who have been harassed, raped and treated badly, but I also took a lot of inspiration from rape/revenge genre movies, the main one being I Spit on your Grave from 1978.
Sargad doesn't exactly hold back when it comes to violence - so do talk about those scenes for a bit, and was there ever a red line you refused to cross?
No there was no red line that I refused to cross, but I did hold back in one scene, just because I thought that it would be more effective to tell it the way I wanted to. Regarding the violence, I wanted the film to have even more gore and violence, but some sfx did not work out and working on a very strict time limit, there was no time to get these sfx the way we wanted to and we simply had to let some stuff go.
Do talk about Sargad's overall approach to horror?
I wanted to make a feature film that would stand out and make an impact in the Swedish genre cinema and honor our classic genre films like Thriller – A Cruel Picture. I also wanted to put my own twists in there to make the story stand out a bit. As I mentioned before I also wanted to have as much gore as we could pull off.
What can you tell us about Sargad's director Andres R. Ramos, and what was your collaboration like?
We met when we were both studying film production in Stockholm and we immediately became very good friends and have been since then. We did a short film together before Sargad called Man in the Forest and when I wrote the script for Sargad, I knew that I wanted Andres to be involved in creating the film.
You also play the lead in Sargad - so do talk about your character for a bit, and have you written her with yourself in mind from the get-go? And since yours was a pretty demanding role, how do you even prepare for a shoot like this?
Yes I did write Elina with myself in mind, but I did not realize it until we were looking for someone to play her, then it felt natural for me to portray her myself and my love for acting sparked when I portrayed Elina. I prepared by reliving some of my darkest moments and really face them, instead of running from them like I had been doing for a long time, and it made me feel free to really play the part and get into the right mindset. I think that is also why I wanted to continue pursuing acting, because it helped me evolve a lot as a human being, not being afraid to face my fears and problems anymore and just be more free with my emotions and not holding anything back anymore.
What can you tell us about the rest of Sargad's cast, and why exactly these people?
The mom in the Sargad was actually played by my real mom Alicia Henriksson and I chose her because of our natural mother-and-daughter feeling and I think it turned out very well. We held auditions for two of the brothers and when I saw Jesper Hall, who played the main brother Alexander, I immediately knew that he would be perfect for the part. Krister 'Twizz' Forsberg who plays the older brother was brought in pretty early, because I had worked with him before and knew he would be right for the part.
Originally we had someone else play the part of my younger sister Lily, but she had to leave the project a few weeks before filming because of other projects, so I immediately thought about Tindra Hedlund, a girl I had done some sfx on for a zombie TV-show, and she said yes right away, so I am happy that it worked out.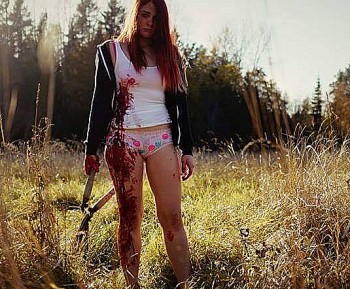 Xander Turian [Xander Turian interview - click here], who plays the part of Oliver, came in pretty late in the process because I had met him on a short film called The Ego Death where I was working as a first assistant director and he was an actor and I got to see him act, right there and then I knew that he would be perfect for the part, so I approached him and asked him to portray Oliver and he said yes. Since then me and Xander have formed a strong professional working bond, which began with us dating for over a year, but then we both realized that we work better as friends and we have worked on several projects since Sargad, like Rotten Love and Mimes. We both have our own productions companies, mine is Bloody Fierce Productions and Xander's is Cuprite Productions, so our companies often work together.
You of course have to talk about Sargad's outdoors locations for a bit, and what was it like shooting there?
It was a bit outside of Stockholm, so we drove there every morning and filmed until late in the evening. The nature is very beautiful here in Sweden and I wanted to incorporate as much of the nature as I could. It was pretty warm and I enjoyed shooting out in the nature, more than indoors, because there were fewer problems outside.
A few words about the shoot as such, and the on-set atmosphere?
We had both budget and time limits and to schedule the shoot around everyone's own schedules was hard, but our first assistant director Jasmine Martinez did a fantastic job and solved any kind of scheduling problems we were faced with. The crew got along well, of course there was some stress when the sfx did not work on when we were running out of time while still needing to shoot another take, but in the end we managed to pull it of.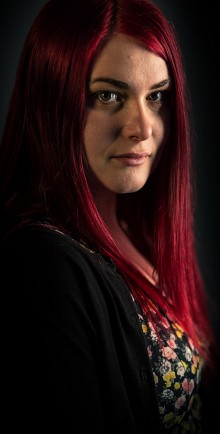 photo by Martin Gustafsson
The $64-question of course, where can your movie be seen?
It is out doing its festival run right now and can be seen in various festivals all around the world. Sargad is also out on DVD, go to the Facebook for Sargad and write us a message if you would want to buy it.
Anything you can tell us about audience and critical reception of Sargad?
We have been selected to festivals and won five awards so far, three for best film and I have won two for best actress. The overall reception of Sargad has been good and I am amazed at all the support we have been getting.
Any future projects you'd like to share?
Well I might as well say it, we are currently planning for the sequel to Sargad, so I am very excited about it. Xander Turian [Xander Turian interview - click here] will be directing it and we are working on the story together. I have also my own documentary called Sarah of Horror being filmed and put together this year. While studying Acting for Film at Prague Film School this year, I have written a short horror film called Brisé and all I can say about that one is think Black Swan meets Suspiria. Later in the year I do have a few acting jobs coming up.
What got you into the filmworld in the first place, and did you receive any formal training on the subject?
I started watching horror movies at a very young age and have always loved the genre. When I was ten years old my father died from cancer and after that I began writing stories and screenplays to deal with the pain and sorrow. When I finished high school I started studying filmp roduction for one year and after that I studied screenplay writing for one year. After that I decided to start my production company called Bloody Fierce Productions with the intent to start creating my own short and feature films. Now I am currently studying Acting at Prague Film School, so yes I do have some training, but most of my training has come from being on a lot of different sets.
You seem to be equally comfortable behind as well as in front of the camera - so which do you prefer actually, and why?
Right now I prefer to be in front of the camera, but what I love to do the most is to write a script and then act in it.
What can you tell us about your filmwork prior to Sargad?
I had done a few experimental short films, that I wrote, directed, shot and edited myself, usually starring my mom Alicia Henriksson, but mostly for fun.
Actresses, filmmakers, whoever else who inspire you?
Dario Argento is my favorite director and have always inspired me, but filmmakers like John Carpenter, Wes Craven, Sean S. Cunningham are all people I look up to that really started my love for horror movies. All my friends in the horror industry inspire me a lot, there are so many though, but a few names are Emma Dark [Emma Dark interview - click here], Heidi Moore, Tyler MacIntyre, Mark Savage etc. As for actors, I really admire Danielle Harris and I am always excited to watch a movie featuring her, but as I mentioned before there are just too many good actors, but Robert Englund [Robert Englund bio - click here] is also someone I look up to and did meet at a sci-fi convention in Stockholm many years ago.
Your favourite movies?
Suspiria is my favorite movie of all time, but I also love silent films, especially German expressionism like The Cabinet of Dr Caligari, Nosferatu, Orlac's Hands. Slashers have always been a favorite subgenre with my favorite ones being Halloween, Friday the 13th, Texas Chainsaw Massacre, Blood Rage. But I do also love gore and extreme films like A Serbian Film, The Human Centipede etc. Recently I saw the rape/revenge film titled Revenge and absolutely fell in love with it. I also have a soft spot for home invasion movies and my favorites being You're Next, The Strangers Prey At Night, Inside the original), Them (Ils) and The Purge.
... and of course, films you really deplore?
Mostly films that seem to lack passion and heart and are just made because of the sake of being made.
Your/your movie's website, Facebook, whatever else?
Sargad Facebook: https://www.facebook.com/Sargad/
Mimes Facebook: https://www.facebook.com/MIMES2017/
Rotten Love Facebook: https://www.facebook.com/RottenLovemovie/
Bloody Fierce Productions Facebook: https://www.facebook.com/BloodyFierce/
Cuprite Productions Facebook: https://www.facebook.com/CupriteProductions/
Bitches of Horror Facebook: https://www.facebook.com/B1tchesofHorror/
Instagram: Sarahofhorror
Instagram: Bitchesofhorror
Twitter: Sarahofhorror

Feeling lucky ?
Want to
search
any of my partnershops yourself
for more, better results ?

The links below
will take you
just there!!!


Anything else you're dying to mention and I have merely forgotten to ask?
Yes, me and my best friend Jasmine Martinez have a YouTube show called Bitches of Horror, where we review horror movies and interview their creators, so please check out our show! We also collaborate with the horror site Thirteenth Floor, so you should check them out aswell. I will be a guest at Heroes Dome on the 2nd and 3rd of June this year in the Netherlands.
Thanks for the interview!
No thank you!