Your upcoming movie Salient Minus Ten - in a few words, what is it about?
Salient Minus Ten is the new sci-fi/horror short film from award-winning filmmaker Emma Dark, and is a cerebral foray into the darker, more disturbing, side of science fiction.
A brief synopsis - "Adam Harper is an average man. And on an average day he suddenly finds himself catapulted into the strangest, reality changing game... a game of time and chance, where the stakes are a matter of life and death."
What were your sources of inspiration when dreaming up Salient Minus Ten?
I think people like to box films into being Ďinspired byí a little too much if Iím honest, although if Iím going to say anything it would be to imagine a smattering of 60/70ís dark sci-fi smashed together with the artful quirkiness of 70ís giallo films (Italian crime/horror thrillers for those who donít know) and a bit of a Lars Von Trier vibe (minus the sex and nudity).
You call Salient Minus Ten a science fiction horror film - so what's your approach to both genres like?
I like dark cerebral (aka Ďthinkingí) and gripping films. They may or may not fit exclusively into horror or exclusively into sci-fi. Most films I like have a bit of both or some fantasy or thriller elements. I personally believe there is no right approach to either genre, a filmmaker should simply follow their gut and ensure they make an artful and memorable film. Iím not a huge fan of gore and torture Ďporní, mainly because I think itís overdone right now, so thatís something Iím keen to avoid.
Do talk about your movie's intended look and feel!
My aim is to make it as artful and filmic looking as possible. Although I do have a very direct vintage aesthetic in mind it wonít be trying to look as if itís set in a certain time period. Iím aiming for something both visually beautiful and subtly disturbing.
As far as I know, you play a supporting role in Salient Minus Ten - so what can you tell us about your character, what will you draw upon to bring her to life, and did you write her with yourself in mind?
I can, and of course I did. One of the things about coming from a modelling background with a large fanbase who have followed you from that period in time is that they do expect to see you on screen. This can cause itís own complications, particularly with directing with limited time on locations, but Iíd probably do it anyway, even if my fans didnít expect it, because I enjoy it. The role is smaller than in Seize the Night, my previous film, where I played a lead character, however the character is still a principal role and will be strong and memorable. Of course she will be slightly evil, itís easiest to draw on previous experience whilst acting and trying to keep a role believable, and while I may not be evil myself Iíve had plenty of experience playing evil characters, whether that be with my acting or modelling.
What can you tell us about the rest of your cast, and why exactly these people?
This is a tricky one as Iím answering these interview questions the day before Iím about to hold auditions to recast the lead role. Mainly because I know the people Iíve cast can both perform the role and are professional and easy to get along with. Those are absolute key qualities for me. Iíve brought back Chris Hampshire and Beric Read from my previous film Seize the Night - why, because they have screen presence, performed well, and were both very professional and easy to get along with. Iíve also cast Samantha Oci in a supporting role. This is actually the first front-of-camera role for Samantha, who is also a very talented filmmaker/director I might add.
For Salient Minus Ten, you bring quite a few crewmembers back from your earlier short Seize the Night - so do talk about these people for a bit, and what made you want to work with them again? And while we're at it, do give us a quick recap of Seize the Night?
Seize the Night, in a few wordsÖ vampires, werewolves, action, gritty, badass, leather, pounding music and explosive effects. If thatís your bag, and I hope it is, you can catch it online at www.seizethenightfilm.com, and if you like it by all means buy an autographed copy of the DVD.
Yes I absolutely did bring people back, I think I was extremely blessed with Seize the Night to have had such a talented and professional crew. As of right now I have Merlyn Roberts (assistant director), Wendy Rose (set production assistant), Eric Elick (composer), Davy Simmons (VFX), Lawrence Brightman (sound recordist) and Rod Sinfield (additional props). If I had a bigger overall budget I would have brought more cast and crew back, certainly.
As far as I know, Salient Minus Ten is presently still in its fundraising stages - so what can you tell us about your campaign?
Itís actually now met its goal and is ĎInDemandí on IndieGoGo. Which means anybody who would still like to contribute towards the making of the film by grabbing a perk can still do so right now. Iíd just like to give Hill Burton and Barry Pook a huge shoutout please for picking up the top perks of Associate Producer, such lovely and generous people, and indeed everyone who has contributed so far. Iím really very honoured, most of the backers have been fellow filmmakers, to have that support and belief in my project is truly wonderful.
https://igg.me/at/SalientMinusTen
Once the budget's in place what's the schedule?
As I mentioned above briefly Iím currently recasting the main role. I had actually shot a large portion of the film but unfortunately I made the decision to recast as I didnít feel that the lead character was coming across in the way I intended. I have to be clear that this was a purely creative decision and I didnít take it lightly, particularly after Iíd based my crowdfund around a locked cast and had already started talking about the film and printing marketing materials. It happens quite a bit more than you might imagine, even at the super low budget independent film level, and itís not a negative reflection on anybody's abilities, just sometimes the magic doesnít happen and the only option is to go back to square one if possible. Itís perhaps a little bit embarrassing for the filmmaker and the actor to have to put out an update like that but these things happen for better or worse. This does mean Iím over a third down in budget, which means I have to be more frugal than I really wanted going forwards and the production process may be a little slower than originally planned.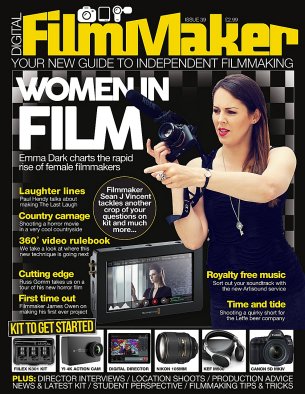 Even if it might be waaay too early to ask, any idea when and where the film might be released yet?
The release date would be late 2017 at the earliest now. I imagine it will be online again, as with Seize the Night. If I have the funds and enough of a demand to recoup the rating and production cost Iíll consider BBFC rating the film again and making autographed DVDs available to fans.
Any future projects beyond Salient Minus Ten you'd like to share?
There are, but if I told you Iíd have to kill you ;-) Seriously, there is one very amazing one, but I really canít talk about it yet. In other news on the acting side of things Iíve just starred in Frankula, which was directed by Jason Read of Robo Films and produced by Stuart Morriss of the Misty Moon Film Society - https://mistymoonfilmsociety.com. It also stars Hammer scream queens Caroline Munro [Caroline Munro bio - click here] and Judy Matheson, David Barry of Please Sir! (who also wrote the script) and newcomer Martin Rudman. It will premiere at the Misty Moon International Film Festival in London on 29th October, and believe me you donít want to miss it. The festival is free entry so Iíd encourage people to come along and support the film, the festival and all the other filmmakers involved who are all showcasing their work.
Your/your movie's website, Facebook, whatever else?
Facebook - https://www.facebook.com/SalientMinusTen
Twitter - https://twitter.com/salientminusten
IndieGoGo - https://igg.me/at/SalientMinusTen
Anything else you're dying to mention and I have merely forgotten to ask?

Feeling lucky ?
Want to
search
any of my partnershops yourself
for more, better results ?

The links below
will take you
just there!!!

Find Emma Dark
at the amazons ...

amazon.com

amazon.co.uk

amazon.de
Looking for imports ?
Find Emma Dark here ...
Something naughty ?
(Must be over 18 to go there !)

YES! Iím on the cover of this monthís Digital Filmmaker Magazine, and more importantly itís because thereís an amazing article by me in the mag talking about women in film. I interviewed super talented female filmmakers Chelsey Burdon (She), Abigail Blackmore (Vintage Blood) and Melanie Light (The Herd), plus actress Judy Matheson (Twins of Evil). Itís a must read for anyone who a) supports women in film (which hopefully you all do) and b) itís very frank and educational. So please do buy a digital download of the magazine here: https://pocketmags.com/digital-filmmaker-magazine/dfm-issue-39
Thanks for the interview!
All photos by AJ Singh.