Your new movie The Great Charade - in a few words, what is it about?
The premise for The Great Charade is simple. The world's two most famous actors are kidnapped and held at the mercy of those who adore them the most; their fans. But on a subtler level, The Great Charade is about the gap between the image people present of themselves, and who they actually are. This was an idea that was definitely influenced by people's use of social media. No one ever shares any of the bad stuff; it's never, 'I feel fat and vulnerable today', or 'I hate my husband and I'm only with him for the money.' Instead, most of the western world has fallen into the trap of pretending to be happy all the time, believing that in order to have worth they must be skinny, and you're the height of sophistication if you eat avocado toast and go to the gym. So when we were discussing the idea of the two most influential people in the world being kidnapped, we couldn't help but play with subverting expectations. Thus, within this film, we explore what might happen if the walls came down, and we really got to see what Ryan and Amara, two rich, beautiful people, were thinking.
What were your sources of inspiration when writing The Great Charade?
The idea first came about when we were in the car and I Can't Decide by The Scissor Sisters came on the radio. If you're familiar with the song you'll know that the lyrics essentially detail an assortment of colourful ways to kill someone. It was Dan's idea to make a film about someone deciding whether or not to kill someone, and if so, in what way and to what end. Rodeo then span the idea on its head and suggested having two celebrities kidnapped by their fans. From there the idea grew into the greater concept that perhaps everyone is playing a part to a certain degree, and maybe the reason we're told not to meet our heroes is that they're not all they're cracked up to be. This got us thinking about what might happen if someone seriously deranged fell in love with a celebrity, but when meeting them, was confronted with a completely different character to what they thought.
We wanted to illustrate the heady lust for fame and fortune that drives so many to make the pilgrimage to Hollywood. We also wanted to capture the depravity that lurks just below the surface, rearing its ugly head only once in a while to grab a headline and then slink back out of sight. The main antagonist, Lyle, became something of a pseudonym for Hollywood itself. He was the glamorous manipulator, throwing parties with champagne and poisoning the minds of the impressionable. Lyle's partner in crime, Dixie, represents the classic Hollywood tragedy, a starry-eyed girl who goes to find fame and fortune, but is ultimately told that she hasn't got what it takes. Thus it made sense that Lyle would take her under his proverbial wing and transform her into whatever he wanted her to be.
In short... our inspiration was Hollywood and all of its glorious, ugly, beautiful mythos.
How would you describe The Great Charade's approach to the thriller genre?
When we were first spitballing the idea, we weren't too concerned with genre... in fact, we weren't too concerned with genre full stop. We wanted to make a film that spun the tropes of classic cinema into a weird and twisted web and subverted the ideals of archetypal characters. We knew that it wouldn't be a 'nice' film, but we also knew that it wouldn't be a straight-up horror or even a to-the-point kidnapping film. So naturally, it fell into place within the thriller genre. What we didn't expect were so many comedy moments. These were almost purely a result of our brilliant cast and their wonderful chemistry on set. When we wrote the script we intended it to be tongue-in-cheek... but somehow through all of the laughter and camaraderie along the way, we ended up weaving in a 70s porn-style funk track, a gospel-inspired undead priest and an audible ding every time someone winked. We thought we were making a film that sat somewhere within the thriller genre, but we ended up making something bordering on a psychological dark comedy. Our approach was to simply trust our cast and crew's instincts, take on any ideas that worked and let the film grow into whatever it was meant to be.
Quite honestly, as writers/directors of the movie, to what extent could you identify with Lyle, the mastermind of the story? And to what extent with any of the other characters for that matter?
Honestly, we think it's impossible to write any characters without being able to identify with them at least a little bit. It's not that we necessarily share their feelings or beliefs, or even that we've taken influence from our own. It's more that we've come up with the ideas of these characters and almost acted as conduits, bringing them into reality through empathising with the hang-ups we've given them. When we first started creating them, what became really prevalent was their individual anxieties and insecurities.
We wanted Ryan Sterling to appear to be the hero while inside he's crippled by a fear of not being good enough. (I think we can all relate to that.)
We wanted Amara to present herself as the ultimate role-model and modern heroine while behind closed doors she's completely self-absorbed and only out for her own personal gain. (Again, everyone's selfish every once in a while, whether they like to admit it or not.)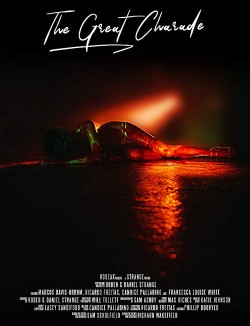 Dixie was always the honest one. Although she's technically one of the baddies, having kidnapped Ryan and Amara and taken pleasure in toying with them, really she's the victim. We wanted her to idolize Amara and dream of being just like her, but have her dreams snatched away and be left with ruin and misery. She was impressionable, naive and ultimately that was her downfall; a country girl who wasn't prepared for the strip-you-naked-and-spit-in-your-face brutality of Hollywood. Obviously we hope that we do achieve our dreams, but imagining that we don't, Dixie's grief and lack of direction would be horribly relatable. We certainly identify with Dixie in a potential-future kind of way... if we wound up not achieving our dreams and ultimately losing everything, we'd probably both go a little off the rails.
Lyle was always a weird one; we initially imagined this Buffalo Bill-esque character who was completely besotted with Ryan Sterling, but then gradually, we came to the conclusion that he could be a personification of so many of the themes that we wanted to work in. This was one of the things that made him so interesting to write; he wasn't really sculpted by backstory or insecurities; rather the ideas and images of Hollywood that the media have collectively instilled. So for that reason, he was probably the least relatable and least identifiable. (Thank God for that!)
What can you tell us about your directorial approach to your story at hand?
Whatever the project, we have always agreed that giving the cast and crew room to experiment is the most valuable thing for the film. It involves letting go of some of the control, and really honestly contemplating new and different ideas and approaches... but ultimately, we feel it yields far better results. When we first sent out the script to the actors we asked them for completely honest feedback, as a result, their ideas and interpretations were woven into the film. The same ethos of being able to play and experiment with ideas was very much instilled on set. We encouraged the whole cast and crew to offer any ideas that they thought would work and we always considered them. Sometimes we'd decide to stick to the script, other times we diverted the narrative just a little bit to include whatever different approach had been offered up.
Equally, following the vein of creative equality, we always try to avoid too much of a hierarchy on set. Obviously, you need someone to steer the ship and keep the production running on track, but outside of that we really try to create an atmosphere of camaraderie and often friendship. If we're waiting for make-up or lighting and we're not particularly useful at any given time, we'll offer to make cups of tea for everyone, including runners. Because if everyone feels equal, it means that everyone's more comfortable, and we truly believe that when people are able to feel comfortable enough to be themselves, they'll deliver much better results and it'll be a lot more fun along the way.
You shared writing and directorial duties on The Great Charade - so what was your collaboration on the film like?
We've worked together for the past five years or so and over time we've just found a way to gel together and collaborate on more or less everything. Not only do we work together but we live together and intend to get married next year. That's right. We're one of those weird couples who enjoy working together. That said, we've never let our relationship affect the running of the production. If one of us has a bad idea (it happens to the best of us) we both know that it's completely okay for the other to gently shoot it down and offer an alternative. Neither of us are too precious about our ideas because we both feel that it's the experimentation and the ability to play that really drives a project forward.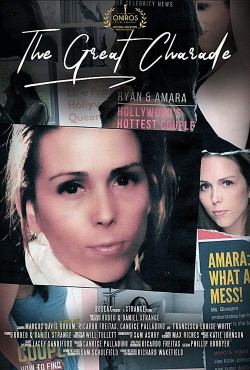 That said, The Great Charade was the first film we've ever directed together... in fact, it's the first film that Dan's directed at all! When we first met, Rodeo was a writer-director and Dan initially was an audio engineer. However, through our personal relationship and the fact that we're constantly tossing ideas around, we quickly found that we're both far better together and we can each offer the other something that ultimately improves the project. So it was only a matter of time before Dan shared in the directing. Because of that progression, collaborating on this project was the most natural thing in the world to us.
The Great Charade is not the first time you've worked together - so what can you tell us about your previous collaborations, and how did the two of you first meet even?
We first met and started working together about five years ago when we were both studying at the same university, and Rodeo was seeking crew for a short film. We kinda knew each other... Rodeo gave Dan an origami chicken one morning because he seemed like a nice guy and she found it endearing that he had really tall hair at the time. Unfortunately, the only film that Dan had seen by Rodeo was a very questionable group project that she'd been involved in for her degree... naturally, when a bunch of people are thrown together and told to make a film they don't always gel and as a result the film isn't always a success... so seeing the unfortunate film out of context, Dan was apprehensive about working with Rodeo, to say the least. Eventually, he gave in and agreed to do on set sound for the short film Flutter, which went on to win awards, and we haven't really looked back since. We very quickly started our company, Rodeax®, Rodeo moved in, and we set up a home studio. We produced a range of different short films together, worked tirelessly creating adverts/video content for businesses in order to raise the money to fund our first feature film. Finally, we were successful and we promptly dropped all of our clients and set about making The Great Charade.
What can you tell us about The Great Charade's score, and your musical influences?
We had a lot of fun composing the score for The Great Charade. Dan has a broad background in music. He started his career as the lead guitarist of a rock band and worked tirelessly to earn an illustrious record deal, only to have the band turn it down because they thought it would be too much work. Naturally, he ditched the band and changed tact instead, studying audio engineering and sound design. We'd produced a few different tracks together already and had always enjoyed making music together. On the short films we've created together before, Dan would always be in charge of the score and Rodeo would chip in by saying things like 'can we have more of a swoooooshhh there?' or 'it needs more of a boooom!'
For The Great Charade, we decided to take a different approach. Where previously our scores have been predominantly synth-heavy, for this one we decided to record real sounds and just mess with them in such a way that they weren't always identifiable as instruments. This orchestra mainly consisted of several guitars, a wok, a few cymbals, an empty Coke can and a few pots and pans. We wanted to create a sound that mirrored the location; clinky and clanky and drippy and unsettling. We had discussed the idea of taking influence from classic Hollywood orchestral scores, but in the end, we decided that something more industrial would suit the film better.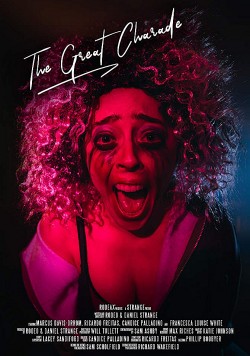 One of our biggest influences was Nine Inch Nails and Trent Reznor's scores for films such as Gone Girl among other titles. We must have listened to Reptile about 60 times and watched the intro sequence for Se7en, featuring the track Closer enough to memorise it shot-for-shot. We deconstructed what elements made those tracks work so well and essentially assigned a different instrument or kitchen utensil to each. That way, when we came to composing our own music we had a basic idea of what elements we needed to combine to create different effects.
Then, of course, we went off the rails a little bit and Dan composed a funk track, which we heavily based on old porn/grindhouse films of the 1970s. Also in this saga of insanity, we found ourselves watching Sid Vicious's rendition of I Did It My Way and combining his grating vocal style with the traditional wedding march. It was a pretty weird time for us.
Do talk about the cast of The Great Charade, and why exactly these people?
When it came to casting, we'd had the immense pleasure of working with Candice Palladino [Candice Palladino interview - click here], Ricardo Freitas [Ricardo Freitas interview - click here] and Francesca Louise White [Francesca Louise White interview - click here] on a few previous occasions. Marcus Davis-Orrom [Marcus Davis Orrom interview - click here] was a complete wildcard.
When we were writing the film, we already had Candice in mind to play Dixie... in fact, we'd go as far as to say that we wrote the part for her. We've worked with her on a number of different projects and on every single one we have been continually amazed by her incredible performance range and sheer unbridled talent. She's somehow able to inject the most stunning subtlety into every performance yet still blow you away with the power with which she expells emotion. To put it simply, she's incredible. AND, she's a wonderful person to boot. What's not to like?
Francesca had been on our radar for quite a while as someone we wanted to work with. We did plan to make a different film initially which we had already cast her for, but unfortunately, funding fell through and we ended up writing The Great Charade instead. Francesca was such a natural casting choice for the role of Amara. Not only does she completely look the part for the queen of Hollywood, but she offers such wonderful multi-faceted performances. So when it came to Amara, a woman who presents a certain image of herself, but underneath it all is something entirely different, we knew that we needed to cast someone really special who would have the ability to deliver all of the different levels of Amara's character... Francesca was perfect.
Up until The Great Charade we had only worked with Ricardo on commercials but had already formed such a strong creative affinity with him that we desperately wanted to work with him on a narrative piece. Somehow we just knew he'd be perfect for Ryan Sterling. Not only is he able to deliver stunningly emotional performances that honestly make you want to cry and hug him, but he can so easily fit into the role of hero as well. And, like Francesca, he already looks like a Hollywood heart-throb - no acting required!
Casting Lyle was a little more difficult. We came within inches of casting people on more than one occasion, but something would come up at the last minute that always meant that they weren't quite the right fit. It was like Lyle was a complete enigma. We received about forty audition self-tapes and although many of the actors were very talented, we felt that none of them were quite right. Finally, it was Francesca who suggested Marcus Davis-Orrom. We'd already seen him in a comedy play, acting in a role that was absolutely nothing like Lyle whatsoever. So in truth, when she first suggested him, we weren't entirely convinced. But we had nothing to lose, so we asked him to send us a self-tape and when we received it we couldn't believe what we were watching. Somehow, he had managed to interpret the script so perfectly that we both got chills while watching it. He played Lyle prissy on the surface, yet on another level, there was this incredible air of calculating passion. He brought a completely unique feel to the role, having not previously worked in film. The theatrical, almost Shakespearian quality to his portrayal gave Lyle the quirky, unsettling almost unreal quality that we didn't know he was missing all along. We had finally found our Lyle! Clearly this casting decision paid off as Marcus has just won Best Acting Debut at the Oniros Film Awards, Monthly Edition.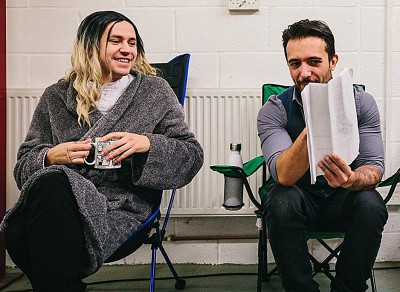 Marcus Davis-Orrom, Ricardo Freitas
Marcus' award was not the only victory we had with Oniros; Ricardo also won the award for Best Actor, Francesca was awarded Honorable Mention for her portrayal of Amara and Candice was a finalist for Best Supporting Actress. Not only that but The Great Charade was a finalist for the Best Film category as well!
A few words about the shoot as such, and the on-set atmosphere?
The Great Charade has got to be the most enjoyable-yet-tiring experience we have ever had on set. We had a very small cast and crew, but everyone had so much complete belief in the project, and such willingness to collaborate and give it their all. We were shooting in an industrial unit generously provided by Jennings in Oxfordshire, however, due to the noise from the neighbouring businesses, we were limited to shooting at night. Thus, we'd all arrive on set, ready to start shooting at five PM, say good morning and have breakfast. It was a completely delirious rush of a shoot, fuelled by coffee and creative passion. There were times when the going was tough. There were times when we'd have a long scene to get through and it was clear that everyone had started flagging... but the atmosphere was so collaborative and so friendly that we could have got through anything and we think it's safe to say that Sam Ashby and Will Tullett kept us laughing throughout the shoot, hence we ended up dubbing them the chuckle brothers. We have never heard more laughter on a film set than for The Great Charade. Everyone was constantly joking and playing, so morale was on a constant high. It was wonderfully sweary, delightfully silly, and by the end, I think we all felt that we'd become something of a family. In fact, the experience was so good that almost a year on from the shoot, the whole cast and crew are planning on gathering for a private screening and reunion at our place!
Any future projects you'd like to share?
As for now, our focus is still primarily The Great Charade. We have about a million ideas buzzing around in our heads and occasionally making it onto the pages of our notebooks, but we don't want to divert attention away from The Great Charade until it's reached its goal of finding an audience and gaining distribution.
In the meantime, we can't survive on a diet of purely business and no creativity, so we have also written our first novel and are planning to write a blues album... but in terms of film, all of our efforts are focused on getting The Great Charade the audience it deserves.
Your/your movie's website, Facebook, whatever else?
You can find all of the information about The Great Charade plus images, interviews, reviews and updates on our website: https://rodeax.com/the-great-charade/. And we also regularly tweet about the film's progress on our personal twitter profiles @RodeaxRodeo and @Dan_Rodeax
Anything else you're dying to mention and I have merely forgotten to ask?

Feeling lucky ?
Want to
search
any of my partnershops yourself
for more, better results ?

The links below
will take you
just there!!!


We'd just like to say a huge thank you to our whole crew. Our director of photography, WIll Tullett and cinematographer Sam Ashby worked so hard to make this film look the way it does. Not only are they insanely talented, dedicated individuals, but they're also wonderful friends. The same goes for Katie Johnson who created all of the hair, make-up and prosthetics for this film. She's the sweetest person to ever douse an actor in blood and working with her is a blast every time. Maxwell Riches is a quiet genius of a sound recordist. With only one short sentence of ADR needed on this entire film, working in a difficult location and manoeuvring his boom pole between hundreds of Christmas baubles (which again was hilarious to watch), we couldn't be more thrilled with Max's work. Our esteemed script supervisor, Lacey Sandiford was always there every time we needed her and her notes alone were what got us through the edit! She made everyone smile and laugh every day and we couldn't imagine making this film without her! The same can be said for Sam Scholfield, BTS videographer and Richard Wakefield, BTS and posters photographer. You have no idea how excited we are to eventually release the BTS videos and bloopers! And we couldn't be happier with the poster shots that Richard took. Perhaps the most important crew-member, the one who kept us going every night of the shoot was Phil Boobyer, who was in charge of catering. He fuelled the madness with massive quantities of macaroni cheese and vegetable curry, filling our bellies and warming our hearts. What a legend. These are the people that made The Great Charade happen, and for that, we are eternally grateful.
Thanks for the interview!
You're welcome! :)