Your new movie The Great Charade - in a few words, what is it about, and what can you tell us about your character?
In short, The Great Charade is a psychological thriller involving two of the Worldís most famous actors being taken hostage by two extremely, TERRIFYINGLY obsessed fans. I play Amara Giovanni: narcissistic, infinitely ambitious, famous and determined to stay that way.
Being an actress yourself, how close to home did the plot of The Great Charade actually hit?
As soon as I read the script, I knew I had to play Amara. Itís certainly an extreme case of stalker/fame gone wrong, and Iím nowhere near the league of Amara in terms of celebrity. But being in the industry in any way, itís all too easy to imagine & fear. It was actually Dixie, played by Candice Palladino, whose part of the story really hit me hardest. I wonít give away too much as I want people to watch and be as moved by her as I was, but there was one scene in particular in which she reveals just what she has suffered, and when Amara is supposed to be fairly ambivalent to it, which was extremely challenging to portray; I desperately wanted to comfort & hug Candice!!
What did you draw upon to bring your character to life, and how much Francesca Louise White can we find in Amara?
In our first meeting about the project, Amara was described as being ďKardashians meets Angelina JolieĒ, so I furiously got to watching the Kardashians (which I must admit is NOT my kind of watching as Iím fairly anti-reality TV but needs must :P) and trying to evoke their confidence, speech patterns, and to understand their way of thinking; having that amount of money, freedom and attention on them constantly would affect anyone! I am a very determined and ambitious woman, so I could relate to that side of her, but I have always wanted to act for the love of it & telling peoplesí stories rather than any desire to be Ďfamousí per se. The idea of having my pick of roles to portray would definitely be an upside, but I donít think Iíd be happy with that amount of people aware of my every move outside of my work; no judgement to those who do want that side of it, it just wouldnít be for me. So, understanding this aspect and what drives Amara and real life Amaras in that way was important for me.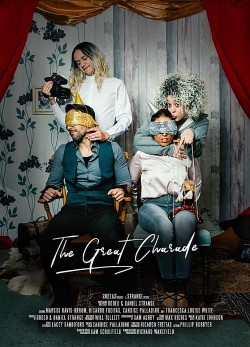 Most of the running time of the film you're tied to a chair - so in what way has this influenced your performance?
It was certainly a challenge, I didnít realise just how much I use my hands to emphasise my thoughts and speech until this shoot! It makes you feel very vulnerable too, a few times crew members had to pick up and move the chair with me still tied to it, which I hopefully managed to use to enhance my performance: Amara wouldíve felt vulnerable after all. I literally couldnít get out, and Amara couldnít get away from being confronted with the hard truths and consequences of her actions & existence; it definitely influenced my performance.
How did you get involved with the project in the first place, and how did you also end up on the production side of things?
I attended an audition for one of directors Rodeo & Danís projects [Rodeo and Daniel Strange interview - click here] way back when they were at SAE Institute in Oxford. I didnít get that role but I was extremely impressed with their approach and their script. We kept in touch after, and they hired me on a couple of their commercial projects. They then sent me The Great Charade script and offered me Amara which I was obviously thrilled about! Very different to the cushtie commercial jobs involving drinking hot chocolate in front of a fire in squishy socks!! I actually came on board the production side of things after the shoot. Iíve had a fair bit of experience in independent film and film festivals at this point, and Rodeo and Dan were interested in making the most of this, so Iíve been furiously sending emails, researching intriguing film festivals to which to submit and trying to set up interviews with supportive souls like yourself! Thank you very much!
What can you tell us about your directors Rodeo and Daniel Strange [Rodeo and Daniel Strange interview - click here], and what was your collaboration like?
Theyíre extremely talented, professional and have a clear vision. They trust their cast & crew members to do their jobs & respect their opinions, they prepare to the nth degree and are very efficient. And even though they were exhausted on the last day they baked us all a chocolate cake to celebrate wrapping on their first feature! Genuinely good people. Iíd work with them over and over again if I could, I know theyíd keep creating incredible roles to play and Iíd always enjoy the experience even when itís challenging.
Do talk about the shoot as such, and the on-set atmosphere!
It was a very intense shoot: early mornings, late nights & some pretty tough emotional scenes to tackle. That being said, the on-set atmosphere was one of the best of which Iíve been a part. The wedding scene in particular cracked me up ohhh so much, as it did many others on set. Iím usually pretty good at not corpsing even when working with funny actors and subject matter, but oh that scene got me good many times over. Iíve acted with both Marcus [Marcus Davis Orrom interview - click here] and Ricardo [Ricardo Freitas interview - click here] before, both lovely people, and I was so grateful to finally work with Candice [Candice Palladino interview - click here], whoís shot with Rodeo & Dan a few times. From Katie the Queen of Blood MUA, to Richard Wakefield our BTS photographer, to DoPís Will & Sam, to Max our sound recordist, Lacey our script supervisor & Philip who kept us very well fed. We were all delirious by the end of the shoot, I can only imagine/fear how the BTS video filmed by Sam is going to come outÖ
Any future projects you'd like to share?
I am currently working on a thriller feature which is being kept pretty hush hush, so I sadly canít say much yet. However, I will share as soon as I possibly can! I recently wrapped on a short horror film called No Strings directed by Pablo Raybould for Shooting Lodge Productions, creators of The Snarling for which you should keep an eye open. I also shot a very silly comedy film called Becoming Grim by Harry Metcalfe which is in the vein of The Good Place with a touch of 30 Rock, so I hope people will enjoy that too. I am producing and acting in a post-apocalyptic film called The Flock by Andrew Griffin of Steamwork Film, too.

Feeling lucky ?
Want to
search
any of my partnershops yourself
for more, better results ?

The links below
will take you
just there!!!


Your/your movie's website, Facebook, whatever else?
Official Rodeax LTD website: https://rodeax.com/the-great-charade/
Rodeax LTD Facebook: https://www.facebook.com/rodeax/
Rodeax LTD Twitter: https://twitter.com/RodeaxLTD
Rodeax LTD Instagram: https://www.instagram.com/rodeaxltd/
My website: www.francescalwhite.com
Facebook: https://www.facebook.com/francesca.l.white/
Twitter: https://twitter.com/FrancescaLWhite
Instagram: www.instagram.com/francescalwhite
Thanks for the interview!
Thank you very much for the interest, support and great review Mike. Itís appreciated!