Your new movie The Great Charade - in a few words, what is it about, and what can you tell us about your character in it?
The Great Charade is a new independent feature by the fab team at Rodeax, spanning the genres of psychological thriller and dark comedy: Two of Hollywood's biggest stars (and real-life couple), Amara Giovani (Francesca Louise White [Francesca Louise White interview - click here]) and Ryan Sterling (Ricardo Freitas [Ricardo Freitas interview - click here]) wake up, somewhere, bound to chairs. They are, as you may have guessed, not alone. With them are their biggest fans, Lyle (Marcus Davis-Orrom [Marcus Davis Orrom interview - click here]) and Dixie Lee (myself). The twisted and captivating story unfolds from there.
Dixie is the female antagonist of the film. She was dealt a bad hand in this game we call life and also made some pretty bad choices which led her to this moment. She is consumed by rage and sorrow and tries to heal the best way she knows how.
Being an actress yourself, how close to home did the experiences your character had, the disappointments she suffered hit?
I don't want to go into detail here because I don't want to give away any part of the story, but I will say that when I first read the script my initial thought was, "How the hell am I going to play her?" I mean, we had nothing in common. But the more I got to know Dixie, the more I realized that wasn't exactly the case. Yes, her story is a lot more tragic than my own, but each emotion Dixie felt, I felt, too and I was able to make connections just on smaller scales.
What did you draw upon to bring your character to life, and how much Candice Palladino can we find in Dixie?
I think a lot of Dixie's impetus comes from the rejections she's faced and how she values herself. Luckily, actresses have a whole slew of stuff like that in their arsenal, so (I wish I was kidding)… I focused on that minefield first to figure out why, having experienced what she did, might she make certain decisions throughout her life. I then let myself play from there.
How much of me is in Dixie? This is a bit tricky, but I keep coming back to the fact that I am at Dixie's core. My brain, my heart, my courage (sorry, I had to…). I mean, yeah, we have different accents and, thankfully, different hair, but I'm there. So, there's a lot me in her. If my circumstances were different, who knows how I would have turned out... But, just to be clear I think it's important for me to say that I have no intentions of kidnapping anyone and tying them to a chair.
How did you get involved with the project in the first place, and how did you end up on the production side of things as well?
The directors Dan and Rodeo Strange [Rodeo and Daniel Strange interview - click here] have been in my life for a while and I feel extremely fortunate to have met them. I sent them a self-tape years ago for their short film The White Room and got the part! That was when I was starting to dip my toe in the water of screen acting and was learning as I went. It must have been kismet because we got along so well both as humans and artists, stayed in touch, and continued to work together on different projects. I can still vividly remember our last short film, Blood Child. They just yelled "Cut" for the final shot and gathered us around for an announcement. With tears in their eyes, they thanked us for all our hard work and said they weren't going to be making short films anymore. Then, with a bit of a dramatic pause, they said they were going to make their first feature film and wanted us all along for the ride. It was such a special moment! Needless to say, hugs and happiness were in abundance. I feel extremely lucky to have been with them on this journey and am so excited to see what the future holds.
The Great Charade means so much to the entire team. We worked our asses off and want to be able to bring it to as many people as possible. Through conversations and brainstorming, I realized I could give support to the post-production process. So I offered my services and they were accepted!
What can you tell us about your directors Rodeo and Daniel Strange [Rodeo and Daniel Strange interview - click here], and what was your collaboration like?
In short, they are fantastic. But everyone needs a big head so I'll go on (don't tell them I said that, ha). They're the type of artists who know exactly what they want and aren't afraid to go and make it happen. But through all of their confidence in their projects they're not scared or intimidated by other people's opinions. In fact, they ask for and use them. The entire process is an open book of conversation and it's just a fabulous way to work. And, yes you're right… it was a true collaboration! They didn't tell us to "walk here, say the line this way, and move off." It was a constant conversation from the finalizing of the script to now. I had a question or suggestion? We talked about it and didn't stop until each party was happy. And that wasn't just between us. Everyone involved with the film had a voice and it was especially wonderful playing and sharing the lives of these characters with Ricardo, Francesca, and Marcus. I absolutely love working with Rodeax and think any crew member and performer is lucky to be on their set.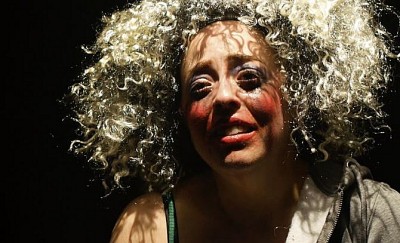 A few words about the shoot as such, and the on-set atmosphere?
The few words that come to mind: epic, long, tiring, hilarious. The days were LONG. And by days I should say nights. Due to location restrictions we were getting to set at 5pm and leaving at 5am (enter deliriousness), but through it all there was this huge sense of "We are going to make the best damn thing we can," and everyone pulled together. We also laughed a ton. And I don't mean we'd audibly chuckle every now and then. I mean, the tears streaming down our face kind of laughter (I'm really excited for the BTS video). The deliriousness really helped with this.
Any future projects you'd like to share?
I'm currently writing a feature film and a stage play about two different women I have created. Both scripts are still in their early stages, but it's been wonderful digging into their worlds and figuring out exactly where their stories lie.
What got you into acting in the first place, and did you receive any formal training on the subject?
It was actually all through music. My elementary school music teachers (Brian O'Connor, James Stehlik, and Jim Coscette) were fabulous and I will remember them always. It first started with learning instruments and then singing. That's where things started to hit home. Pretty soon I was doing musical theater and I never looked back. I went to a performing arts high school on Long Island (Long Island High School for the Arts), got a Bachelor of Fine Arts from New York University's TISCH School of the Arts (Department of Drama), and then my MA in Musical Theatre Performance (graduated with distinction) from the Royal Scottish Academy of Musical and Drama (now the Royal Conservatoire of Scotland). Somehow through all my musical theatre training, I found the screen… Or maybe I should say the screen found me.
What can you tell us about your filmwork prior to The Great Charade?
Based on my history, I still consider myself a bit new to film, but I've had the chance to work with some fabulous people on short films. A few include: Obviously, there's the Rodeax team. Then, I met and worked with Ben Murray of ThatMoose Pictures. He is so talented and I'm excited for our short Eat My Life to be finished with the post-production process. I'm also really proud of winning Best Actress and nominated for Best of Fest at the Actors Awards for The Getaway directed by Shervin Shirazian and Nicholas Cooke.
How would you describe yourself as an actress, and some of your techniques to bring your characters to life?
Ha, I almost feel like someone else besides me should answer this, but I'll give it my best shot. I'm a dramatic character actress and comedienne… Someone who isn't afraid to take chances… Someone who brings a touch of humor and a boat load of honesty to everything she touches. My techniques for a character? Firstly, I'll comb through the script to get all of the information I can about who my character is. Then, I'll work on lines. I need to know them backwards and forwards (for Dixie's monologue I NEVER would have gotten through it if I was even a tad bit iffy). Next, I spend HOURS on who the character is and figuring out how they feel in my body... How they walk and talk. I spend as much time as possible with them just being so that when it comes time to it, it all becomes second nature. It can definitely be hard letting that person go after a shoot or run of a show, but I always try and say goodbye and thank them for allowing me in.
Actresses (and indeed actors) who inspire you?
I think I'm more inspired by performances and projects as a whole. And I think that's because, yes, one person can be fabulous but if the whole world created is not up to scratch then I don't believe it. So, I love anything Amy Sherman-Palladino touches (there's no known relation, but Amy… if you're reading, I would KILL to be in anything that comes from your brain). I do love Melissa McCarthy as well. I remember weeping like a baby at Roberto Benigni's Life is Beautiful. Lin-Manuel Miranda and Hamilton are electric. I saw Company in the West End last year on the night Jenwaa Saayeng stepped in for Rosalie Craig due to illness. It was one of the most beautiful nights of theatre I have ever witnessed. Jenwaa was mesmerizing, as well as the rest of the cast. That night they re-defined the definition of the word 'team' and I thank them for the gift they gave us. And, speaking of musical theatre, have you seen Fosse/Verdon?! Currently, I'm obsessing over the TV shows Dark and GLOW. I finished season 2 of Dark a few months ago but it is STILL with me. My metaphorical hats are off to everyone involved. And I'm currently on season 3 of GLOW. There aren't enough good things I could say about it #strongfemalesforever #samfan
Your favourite movies?
Movies that have stayed with me for different reasons are Legally Blonde, Lady and the Tramp (the original cartoon – yes, I am obsessed with dogs, how did you know?), The Strangers (it hit me deep, probably one of the scariest movies I've seen).
... and of course, films you really deplore?
It doesn't seem fair to kiss and tell!
Your website, Facebook, whatever else?
Website: www.candicepalladino.com
Facebook: www.facebook.com/pg/CandicePalladino
Twitter: twitter.com/candypalladino
Instagram: www.instagram.com/candicepalladino
Anything else you're dying to mention and I have merely forgotten to ask?

Feeling lucky ?
Want to
search
any of my partnershops yourself
for more, better results ?

The links below
will take you
just there!!!


I want to take a moment just sit right here to thank everyone involved with the making of the film: Dan and Rodeo [Rodeo and Daniel Strange interview - click here], you were the best captains. Will Tullet (DoP) and Sam Ashby (cinematographer), your unwavering dedication and determination was incredible. Katie Johnson (HMU), you are a creative genius. Maxwell Riches (sound recordist), you faced every challenge with grace. Lacey Sandiford (script supervisor), you were always THERE, and that is everything. Philip Boobyer (caterer), you were so attentive (and your food was delicious). Richard Wakefield (photographer), you are a stunning artist. STUNNING. Sam Scholfied (BTS videographer), you should think about training to be a ninja because you have skills (with the video camera, also)! And the cast… it would not been the same with each and every one of them. Ricardo [Ricardo Freitas interview - click here] is a force, Francesca [Francesca Louise White interview - click here] a godsend to the industry, and Marcus [Marcus Davis Orrom interview - click here] a light in the darkness. I also want to thank Susie Dumbreck and the entire team at Infinity Artist Management. I could not do all I have without your love and support!
Thanks for the interview!
Thank YOU!