Your new movie The Great Charade - in a few words, what is it about, and what can you tell us about your character in it?
The Great Charade is on the surface a story of an obsessed fan living out his fantasy and kidnapping the object of his obsession. That story is wrapped around an exploration of the cult of celebrity and the Hollywood hierarchy that can feed such obsessions.
Being an actor yourself, how close to home did the plot of The Great Charade actually hit?
The part of the film that I found most relatable and hard-hitting personally was the character of Dixie. Without giving too much away, Dixie is a character who was strongly affected by a moment of rejection, an experience that any actor is perhaps more used to than theyíd like to admit!
What did you draw upon to bring your character to life, and how much Marcus Davis-Orrom can we find in Lyle?
Lyle came from a number of places, Rodeo and Dan Strange [Rodeo and Daniel Strange interview - click here], our directors, wanted the film to be steeped in Hollywood lore, and to that end they gave me a list of iconic movie villains to take subtle elements from to create Lyle. Thereís a bit of Hannibal Lecter and Buffalo Bill in there, a bit of Patrick Bateman, Norman Bates, and a little of A Clockwork Orangeís Alex, and with enough of myself to distinguish him from all those classic roles.
How did you get involved with the project in the first place?
I had just finished working on a play with Francesca Louise White [Francesca Louise White interview - click here], who plays the role of Amara in the film. She mentioned that a film she was involved in was having trouble filling a villain role, and put me in touch with Rodeo and Dan. I sent them a self-tape, and they decided to take a chance on me, for which Iím extremely grateful!
What can you tell us about your directors Rodeo and Daniel Strange [Rodeo and Daniel Strange interview - click here], and what was your collaboration like?
I have nothing but praise for Rodeo and Dan, they make an exceptional double act, tempering and complementing each otherís skills. They ran a tight ship on set, while still encouraging us all to have fun and experiment, and provided a constant stream of imagination for us as actors to bounce off.
A few words about the shoot as such, and the on-set atmosphere?
As above, we had a great time on set. Given that we were working with incredibly dark and disturbing subject matter, we had to find the humour in what we were doing. We all clicked very well as a cast and crew, and were able and encouraged to joke around and enjoy ourselves. While still getting the work done of course!
Any future projects you'd like to share?
I recently wrapped shooting on the horror short No Strings, with Shooting Lodge Productions, in which I was playing yet another villain! The film will be doing the festival circuit in the near future, so keep an eye out for it! I am also playing the role of Mercutio in Leaning House Theatreís play Mercutio & Tybalt based on characters from Romeo & Juliet. Thatís being performed at the Oxford Playhouseís Burton Taylor Studio on October 1st and 2nd.
What got you into acting in the first place, and did you receive any formal training on the subject?
I knew from my teenage years that I wanted to make a career as an actor, having taken part in a number of school plays and local amateur productions. I have not attended drama school, I have rather received my training on the job, seeking out varied approaches and skilled collaborators to work with and learn from. As actors, we never stop learning, and I am to this day always seeking out new perspectives and developing new skills as much as I can.
What can you tell us about your filmwork prior to The Great Charade?
Prior to The Great Charade, I had not worked in film a huge amount. I had almost exclusively worked as a theatre actor. The Great Charade was in fact my first feature film. I had worked on a couple of student films, but had built my career mainly around Shakespeare, performing in a number of Shakespearean theatre productions in Oxford, where I am based.
How would you describe yourself as an actor, and some of your techniques to bring your characters to life?
I would like to think of myself as a flexible actor, I enjoy new experiences and rising to new challenges. I like to work in a broad spectrum of fields, and to get as varied an experience of the industry as I can. I always begin creating my characters by asking ĎWhy?í Why is the character in the situation in which the script finds them, why do they behave the way they do, what has happened in their past to make them the character they are. The more fleshed out their backstory becomes in my head, the more rounded they become to me as a character and the better I can understand them and bring them to life.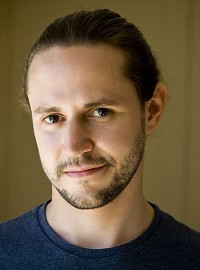 Feeling lucky ?
Want to
search
any of my partnershops yourself
for more, better results ?

The links below
will take you
just there!!!


Actors (and indeed actresses) who inspire you?
Ian McKellen is always the first to spring to my mind when I think of actors who inspire me. Having been lucky enough to see him on stage on a couple of occasions, Iím not sure Iíve ever seen another actor who so fully embodies a role as McKellen does, in my opinion at least!
Your favourite movies?
So hard to choose! There are so many movies I love. I do find myself always coming back to Shakespeare in Love Ė perfectly cast, written by one of my favourite playwrights (Tom Stoppard), and always leaves me a bit weepy, in a good way!
... and of course, films you really deplore?
I donít love disparaging the work of other creators, but I could never get on board with Avatar. A very pretty film, but a little unoriginal and on the nose for my tastes!
Your website, Facebook, whatever else?
https://www.facebook.com/MDavisOrrom/ - Iíd much appreciate a follow!
Thanks for the interview!