You are about to release your new movie Sickened. In a few words, what is it about?
Kim (Nancy Feliciano [Nancy Feliciano interview - click here]) was abducted 20 years ago. She managed to escape but the kidnapper was never caught or seen again! The memories still haunt her. Her friend Charlene (Debbie D [Debbie D interview - click here]) is the only one who knows and she can talk to about it.Things are getting strange and Kim begins seeing and hearing the man who terrorized her. Is he back or is she going crazy! Along with her friend and new love interest (Phil Herman) she hopes to conquer her past fears and live her life! Also starring: Joel D. Wynkoop [Joel D.Wynkook interview - click here], Tiffany Sinclair, Christopher Kahler, Ron Germy, Franklin E. Wales, Texas Malone! This sexy suspense thriller will have you scared and out of breath at the end!
How would you describe the atmosphere of the movie?
The atmosphere of this movie is dark. It feels like you're watching a scene on a rainy day over and over. There is so much trauma the lead character has to deal with that there is never really a happy moment for her. All her past is catching up with her, even though through therapy and time it has been dealt with. Hidden things that were blocked and voices of the past are stirring things up. Her madness is dealt with by herself and is unraveling faster than she can control.
A thin line between reality and madness is drawn and sucks the viewer into her madness.
How far do you go in terms of explicit violence and gore, or is your film based more on what I would call psychological violence?
My movies always are dealt with in the term you use, psychological violence. I want them to be realistic and scary without being over gory. There is blood and violence throughout but not over the top with gallons of blood.
What inspired you to make the movie in the first place?
Our last movie Into the Woods was a surprise hit. The movie was one giant nightmare that had the viewers actually watch and piece things together. It was a challenge cause usually horror genre movies are color by numbers and very predictable with one twist at the end that wraps everything up. Into the Woods was really a challenge and had people scratching there head and saying what the hell is going on. But in the end it all pulled together and worked. We had an original running time of 1:45 but felt things were to drawn and lagged it was cut down to 1:10 minutes and people felt the rush and loved it. They though the time was perfect and really felt what we were going for. A psychedelic adrenaline rush!
Well, people were so drawn in with Into the Woods they wanted more. Tons of e-mails and letters were sent to our distributors and our websites wanting a sequel. I had written a sequel but felt I was cheating viewers. I felt it was all told and done with in part 1. Plus I wanted to do something different and not do a sequel so soon. ButI did like the script, so I changed things around. All new characters were made and came up with a completely new story with the feel of the original Into the Woods.
But while all the characters and situtations are familiar from Into the Woods, rest assured it is another mind trip. People will have to sit there and watch to understand what Is going on to really appreciate it.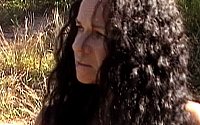 Nancy Feliciano
Sickened's lead actress Nancy Feliciano [Nancy Feliciano interview - click here] has become a regular in your movies over the years. A few words about her, her role, and why do you like to cast her in what I would call victim-roles quite as much?
The reason I cast her is, I really like the attention she gets with minimal enthusiasm. She does very little press and interviews and always says she hates this. But the fans love her. Maybe it is because of the shortage of Latino scream queens... I don't know! She is witty and funny and very free spirit. She will work with you on things and if she doesn't like something she will let you know. The last two movies Sickened and Into the Woods have put her in front and while she won't admit it she is liking the attention.
Even though she plays victims she never shies away and doesn't give a good fight. She studies her part and tries to put herself in the shoes of that character.
These woods-movies are grueling cause you're in the elements in all types of weather or conditions. She is very athletic and keeps up with the demands thrown at her and smiles but really wants to kill us. We always try to go a lil further with shock value with her but like I said she won't be coaxed into anything she doesn't feel proud or good with.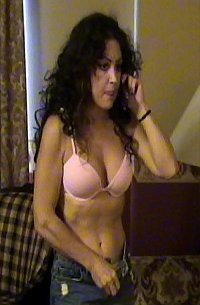 Debbie D
Sickened also marks the return of Debbie D [Debbie D interview - click here] to your films, who has debuted in your debut feature Burglar from Hell in 1993. What can you tell us about her and her character?
Debbie D and I have been shooting ideas back and forth for a few years. Budget issues and distance between us has kept us apart, but we were finally able to figure out a way to shoot this and reunite us.
Debbie plays the lead character's best friend and pacifies her and is a shoulder to lean on. Deb and Nancy had great chemistry and really worked well together. They're both pros and gorgeous women inside out to work with. It is ironic that in they were both Burglar from Hell and now they reunite and are in the same movie again after all these years. And may I say they both look great!
We're sure fans are going to love their scenes and performances and hope to maybe get a starring role for both of them in a feature in the near future. Fans seems to like them and they work well together.
You also play one of the lead roles in Sickened yourself. A few words about Phil Herman, the actor, and of course your performance in the film?
I was drawn into this because the lead who was supposed to play the role dropped out at the last minute. I really liked the script and it was not really a major role but it was important to the story, so I could not just cut it out. As a matter of fact it was pivotal to the development and breakdown of the lead character.
One scene took about 8 hours to shoot with blood and body parts that just got worse and worse and me saying why why did I do this?
Also to get Nancy to do the outdoor woods nude stuff Ih ad to agree to also do some or else she wasn't going to. So we'ill see how much of my nudity gets into the movie. I had never done such revealing stuff but after persuading an coaxing from the female leads in the movie and threats of walk-outs I finally agreed. How much will stay in the movie is up to the editor.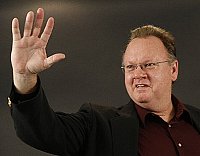 Joel D.Wynkoop
What can you tell us about the rest of your cast? Let's start with Joel D.Wynkoop [Joel D.Wynkoop interview - click here], not exactly a stranger to your films either ...
Joel D. Wynkoop is the hardest-working actor in the genre. The guy does a movie a week it seems like. Yet whenever I get on the phone with him and ask him if he wants a part he never lets me down. Joel's played in almost every one of my movies including this one. He plays the newsman reporting the murders in a subplot going on. But any role Joel takes he always injects his charm and wit and creates a character that no one else could and turns in a top performance.
We are still trying to find the time to make a buddy movie where our characters are the lead and we're actually playing in the movie together. A few failed attempts later we're going to try again soon.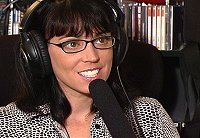 Tiffany Sinclair
Then there's Tiffany Sinclair ...
Tiffany is the most talented, beautiful inside-out person I know. Unlike most of my actors and actress who are mainly just that, Tiffany is a writer,director,editor, actress etc. She is a one-woman army of talent. I know when I ask her to shoot something for me it will be perfect. From the sound to the picture nothing ever has to be fixed. She is another powerhouse who has so many things going on yet always finds time for me.
I needed a sex therapist for a radio show to have a call-in with the lead. She really played the part well and convinces the viewers that she really is an on radio sex therapist. Her portrayal was dead on and one of the lighter moments of the movies with her sarcasm and wit injected into the role.
Nancy had worked with Tiffany in Into the Woods and was glad to be reunited once again. Their onscreen presences and exchanging of lines are flawless and very well-acted!
Christopher Kahler
And there's of course Christopher Kahler, another of your semi-regulars ...
Chris my lil buddy. While everybody puts in a lot and everything everyone does is appreciated, if it wasn't for Chris' patience and talent none of these movie would ever had seen the light of day.
Chris painstakingly takes hours and hours of raw footage and makes sense of them and presents them in such a way you could never believe that these movie were made on such low budgets. His keen eye for perfection and flowing of scenes along with FX and music are on the money.
Even when a shot doesn't work he will go out with camera in hand and shoot something no matter how small or big it is to make it work.
He has a task with this movie of a lot of green screen FX that he wants to kill me for but is turning out top quality results that will be seen an appreciated by viewers.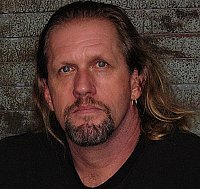 Franklin E.Wales
Anyone else in your cast and crew you'd like to talk about?
I would like to thank filmmaker Joe Sherlock for his opening segment which brought foundation to the flick and a great premise to build up on. With the talents of Texas Malone and Ron Germy to play that out.
Also with great thanks horror author Franklin E. Wales... The Cable Guy! Dude your finally in one of my movies and hopefully many more! When I was first introduced to you through the love of the novel Booger - How many authors write back to a fan personally and also give an autographed copy of their novel? Great brilliant underrated author. An original writer with bright ideas, not rehashes of others but original stuff that takes you on a journey and into their world and leaves you wanting more when you're finished. Keep writing man!!!!!!!
The film's website, MySpace, Facebook, whatever else?
When and where will Sickened be released?
Sickened wil be released late Spring 2010, check website for availability and updates!
You have recently also shot a segment for WAVE Productions' Sleepwalker Strangler [interview with WAVE Productions' Gary Whitson - click here], incidently also featuring Nancy Feliciano. A few words about that movie and your segment?
I shot two things, Sleepwalker Strangler which is out. It was so well received and fans really took to Nancy we shot another one called Pumpkin Eyes: Blind Justice. It is always a pleasure shooting other people's things and getting paid for it. Plus I can do a lot of stuff that I usually can't do cause I blame it on the writer (WAVE) and say I didn't write so I can't change it. Can't mess up their vision!
They're basically women in peril-segments focusing on their deaths and their bodies! I am so impressed with Gary and WAVE on how they cornered the market with their type movies. They are tastefully done horror fetish movies, and he really seems to make a good living at it. People really like his style and people love working for him. He is very fair and has an eye for what people want to see. He must be doing something rite as he's still grinding these flicks out and has an impressive list. He has the best ingredients: beautiful naked girls and horror!
I plan on doing more once I get the next script. He requested another segment with Nancy! Will see what her schedule is like and if she is available.

Feeling lucky ?
Want to
search
any of my partnershops yourself
for more, better results ?

The links below
will take you
just there!!!

Find Phil Herman
at the amazons ...

amazon.com

amazon.co.uk

amazon.de
Looking for imports ?
Find Phil Herman here ...
Something naughty ?
(Must be over 18 to go there !)

Any future projects you'd like to talk about?
This is the first time this has ever happened. Production wrapped in November 2009 on Sickened and I haven't shot anything since. I was going to take a year off and try to get some of my scripts financed by a bigger production company. When the release of Sickened comes I will focus on promotion, distribution and get that into a few festivals and see where that takes us!
I will also be working on other peoples projects but no start-up on any of my own as of now!
Anything else you are dying to tell us I have merely forgotten to ask?
I think that covers it except if any distribution or production companies are out there and take a fancy to what I am about to, contact me! I'm drawing straws here and can't go on much longer making movies at this level, I need to get to the next stage very soon before I financially tank.
But as usual I thank you and all my fans for sticking with us for all these years and coming back with every new flick I put out.
See ya next time!!!!
Thanks for the interview!