You new film is called Into the Woods. Can you tell us in a few phrases what the film is actually about?
Danielle is stuck in a dead end relationship with a married man. It takes a turn for the worse when he leaves her and then comes back and brutally rapes her after she tells his wife what is going on. Her life has turned upside down. She mysteriously turns up in a place unfamiliar to her, in a lonely stretch of beach near an equally desolate unrecognizable forest. Stripped of everything, she wakes up, drugged and lost in the woods, with only a few clues and constant torments. She runs from an unseen character who, little by little, reveals his intention and who he is. When she returns to reality, an explosive climax ties up all the loose ends and conflicts.
How explicit is Into the Woods in terms of violence and nudity?
The movie is not explicit in either categories. The movie itself is not a slasher movie. There is blood and violence but only to detail the story. It is not overdone and filled with buckets of blood. As for the nudity, yes there is a lot of nudity in the movie but it is used to express the humiliation and vulnerability of the character. What worse scenario can you think of or imagine being in, than waking up naked in a strange place with no recollection of why or how you landed up there?
Reading the film's synopsis, labels like survival horror and torture porn immediately come to mind. How happy are you about labels just like these?
Well if that was the type of movie I was making I would be proud to have it labeled like that. But to put this movie in that category would be unjustified. The movie is more of a suspense movie. It is not your typical color by numbers let's kill everyone type of movie. This movie has the viewers watching and every time they think they have it figured out, the movie goes in a different direction. Once again the viewers have to retrace their steps and resolve the situation. When the viewers finally can't take it anymore everything is resolved and the viewers are not disappointed.
What were your inspirations for the film?
I always liked the claustrophobic feel you got when watching Open Water and Blair Witch Project! I wanted to do the same but with a different twist. There is nothing better than being terrorized and not knowing were it is coming from. Woods and the Ocean are the scariest places when given the right setting. I decided on having both in my movie and was able to create my own world of terror.
A few words about your star Nancy Feliciano [Nancy Feliciano interview - click here]?
Wow! I first met her when she auditioned for my movie Arena of Death. I thought she was great. She was a real trooper. It was very hard to get her to film and she only did cameos. It wasn't until Into The Woods when I presented the script to her. She was mesmerized and agreed to do it. It was a real different direction that the roles she usually did. But she really pulled it off and surprised her fans and is getting praise for her role. It was daring and revealing and very demanding but she was a real trooper and shot in all types of weather and conditions. What you will see is a true actress who really got into the role and did not back down and will be recognized for her daring portrayal!
The film's website, mySpace, whatever else?
Into The Woods: http://www.geocities.com/pharmpon/INTOTHEWOODS.html
Falcon Video: http://www.geocities.com/pharmpon/Falconenterpage.html
You worked on Into the Woods (as well as on earlier projects) as director, writer, producer, actor - which part of moviemaking do you like best?
Tough question! It has gotten to the point were I wear so many hats that I can't really tell anymore which I favor. I work so hand-in-hand on doing everything that I can't imagine not handling all the jobs. I really love the steps it takes to get these movies out there. Starting off with writing them and then casting. Then directing and always finding time to act. It is tough but I always pull it off and get a lot of good feedback, that is what keeps me going. I am focusing on writing cause of budgeting on these movies. It takes a lot to just make the simplest projects and money adds up quickly.
How did you initially get into filmmaking?
I always loved writing when I was young. I was a big fan of the old Hammer films. Then the 70's came and horror movies were coming out. They were dubbed slasher films. Then in 1978 Halloween came out. I was blown away and was so into making movies after that. I said hey I can do that and lil by lil I had coaxed my parents into getting me a video camera in the early 80's. The rest is history - and no one was safe in my neighborhood.
Some of your movies prior to Into the Woods?
The Burglar from Hell: A burglar is killed by an old lady who then buries him and takes her secret to the grave when she has a sudden heart attack. Years later a group of kids accidentally disturb his rest and bring him back to life! And the horror begins! Scream Queen Debbie D guest stars.
Jacker: Philip Herman stars as Jacker, a troubled man who takes out his frustrations with society on unsuspecting motorists. Hot on his trail is Officer Jackson, whose own sister was a victim of the sadistic killer! Will Jackson triumph or will the Jacker rule the roads. Debbie D again guest stars.

Hell on Earth 2: The Arena of Death: The time...the future. The place...hell. Everything's been destroyed in the Great War. A vicious control gas has been released into the atmosphere, turning all but a few survivors into monsters! The meanies, created by the gas, rule the East under the control of a crazed mutant named Balrog. Balrog uses Zorack, a surviving serial killer, to rid him of dangerous humans. But once his job is done, Zorack is betrayed and thrown into the Arena of Death, where it's kill, or be killed!
Tales till the End: Sex, violence, and mayhem in three tales of terror starring Scream Queen Debbie D, Nancy Feliciano, Barry Gaines Phil Herman.
Jacker 2: Produced by Falcon Video. Barry Gaines, the cinematographer from the original Jacker takes over directing and turns out a superior sequel to the cult classic, Jacker. Mike Rivers (Philip Herman), believed to have been killed in Part 1, returns. This time, nothing can stop him as he knocks off anyone in his way! The only persons who can destroy him, James (Barry Gaines) and the Crotch brothers (Ben Stanski), are back to try to do good. They are met with his furious wrath and are brought to hell for a confrontation between good and evil. Will their descent into hell be worth it or will the Jacker continue to rule the roads? Special cameos by Joel Wynkoop (Creep) [Joel D.Wynkoop interview - click here] and Marilyn Ghigliotti (Clerks).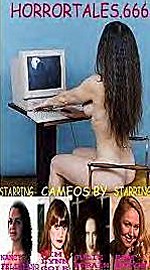 Horrortales.666
Featuring shorts by:
Wave Productions
Morbid
Wet Floor
4th Floor Pictures
Falcon Video
... a burglar (Joel D. Wynkoop) breaks into an author's house and stumbles onto files secretly stored on the guy's computer for his upcoming novel. Stories that amuse him at first, start becoming all too real to stomach! You'll be shocked by the end! Starring Nancy Feliciano, Pam Sutch, Phil Herman, GW Lawrence, Davie Keye, Adam Berasi, Bill Casinelli, and Joel D. Wynkoop. Cameos by Julie Strain and Kim Lynn Cole.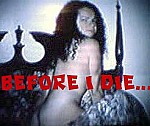 Before I Die...: A writer with writers' block has to come up with 3 stories to meet a deadline. Thre tales of terror are spun with a mixture of sex, vilolence, bugs and more. Dawn Murphy in Last Resort is breathtaking in a role of a lifetime.
Nancy Feliciano is sure to please all her fans with a very revealing and demanding performance in the creepy nightmarish story Someone's Sleeping in My Bed.
Cathy Holseybrook is looking for love and finding it. She really blows the minds of her lovers and you will not believe the twist ending! Cameos by Joel D. Wynkoop!
Also starring: David Lee and Phil Herman!
Around Midnight - Hosted by Suzi Lorraine [Suzi Lorraine interview - click here].
After Midnight - Hosted by Nancy Feliciano.
The exciting sequel from the makers of Around Midnight. More vampire tales to chill your spine After Midnight with Laura Giglio, Delilah Levay, Isabelle Stephens, Cindy Osborne and Gina Garcia. With Phil Herman and David Lee.
Always Midnight - From The Minds of Phil Herman and Joel D. Wynkoop!
More Vampires! More Sexy Girls! More Midnight!
The final chapter of the Midnight Trilogy. Laura Giglio, Nancy Feliciano, Tone Dragon, Catherine Holseybrook-Wynkoop, Micheal Green, Gashley Darcane, Tom Oswald, Ed Walker Jr. and Bachus Logan. With special appearences by Phil Herman and Joel D. Wynkoop as your host The Reaper.
Any future projects you'd like to talk about?
There are early talks about a sequel to Into the Woods. There has been interest in a script already written but we have to see the receipts form part 1 and also if anyone is interested in financing it. I am also shopping around 2 scripts that have been getting some buzz overseas but no serious takers yet. They are called The Usher and Shellville.
Have you ever thought about leaving what I would call the unterground and go more mainstream with your movies?
I always think that but it seems I only do. That is everyones dream at this level to be discovered and given a real budget to make a movie. You see some of the crap on late night TV and say wow how can they get a budget and playtime for that. But it is all about who you know or being in the right place and the right time.
But I keep making movies. I hope someone will say, "Hey look this guys makes these movies and generates such a fan fare at this level, imagine if he had money behind him."
Your thoughts about the American (and internatinal) horror movie on both the mainstream and the independent level?
Americans don't have the balls international films have. Just look at any movie from Japan or any foreign market. They are so much bolder and daring. They have no limitations or boundaries. Not saying all American filmmakers are like that (Eli Roth and Rob Zombie to name a few). But on a grand scale who wants to see a PG-13 horror movie? Such a disappointment.

Feeling lucky ?
Want to
search
any of my partnershops yourself
for more, better results ?

The links below
will take you
just there!!!

Find Phil Herman
at the amazons ...

amazon.com

amazon.co.uk

amazon.de
Looking for imports ?
Find Phil Herman here ...
Something naughty ?
(Must be over 18 to go there !)

Your favourite directors, writers, actors, ...?
My favorite directors are who got me in this. John Carpenter and George A. Romero. There are too many new ones out there, but as I have mentioned Rob Zombie and Eli Roth kick ass!
Some movies you really like?
Halloween (1978)
Dawn of the Dead (1979)
Friday the 13th (1980)
Texas Chainsaw Massacre (1974)
... and of course some you hate?
Most or the remakes and sequels. They never hold up except for a few exceptions. Texas Chainsaw Massacre and Halloween.
Anything else you would really like to talk about and I've just forgotten to ask?
I am so appreciative that after all these years of making movies that everytime I put one out I get a ton of feedback. There are so many fans and reactions I just wish it would finally translate into $$$$! But hey I love making movies and will keep creating as long as the fans are there asking!
With the exposure of Into The Woods I am hoping it will generate enough interest in a big budget deal. I have tons of stories but don't have the budget to make them. I believe if you keep the faith and keep creating things will turn and start looking brighter.
Thanks for taking the time to interview me and look forward to talking again next time.
Thank you for the interview!