You have just starred in Into the Woods. What can you tell us about your role in the movie?
I play women called Danielle. She is reaching middle age. No kids, no husband or any bright future. She is messing with a married guy who promises to leave his wife. The time comes when he has to make a decision, a decision that has her left out in the cold and feeling used. Fun and games and her perfect life she thought was coming are all gone. Her life is changed overnight and she is left alone. Things are not what they seem and she is thrusted in a nightmare like scenario.
I took the role because it was a challenge. I have always taken small roles. This was the first starring role. I also saw it as something I would have never done but was talked into because of the powerful script. It was a real thinking script. Where the viewer could not get up and leave, they have to watch from scene 1 till the end.
As I understand it, your role in the film was very demanding. Is it right that you twisted an ankle during shooting?
Twisted? Broke is more like it. We were a few weeks in the shoot. The movie is like 90% outdoors and had to deal with natural elements. We had good weather but there was rain. We were shooting a random chase scene through the woods. It was very dense the woods and rugged terrain. Shooting a simple scene like that on a low budget takes a few hours. Youíre shooting the same thing from different angles over and over - the reason is youíre only using 1 camera due to budget limitations.
Well, we were a couple of hours into me running around and getting tired. I am a runner and this is a natural thing for me, but even I was tiring out. It was close to the end of the shoot and it was a pretty hilly rocky area. I was watching myself to prevent a stumble and out of nowhere was a root. I stopped but not in time, when I heard a crack and took a fall. I felt the pain like I never felt before. It shot through every nerve of my body and I saw stars. After a few minutes of crying and cursing the director (Phil Herman) we finished. But afterwards while packing up the equipment I was feeling real dizzy and threw up. My ankle was throbbing and purple. Phil rushed me to the hospital and it was x-rayed and confirmed broken. Therapy and a slow recovery followed. Obviously a long delay in filming (6 months) but all is better now and we did finish the movie, obviously.
Any other moments while shooting Into the Woods where you had the feeling you were pushed beyond breaking point?
From beginning to end I felt like that. Between the nudity and weather I was really thinking why I took this on. It was grueling, the things that went on. But I can say my breaking point was the pivotal rape scene. It was handled very tastefully but it was still very explicit and tough to do. I agreed to do it with Phil. We have worked together a lot in the past and I feel so comfortable with him. He is such a professional. After kicking and screaming about the scene and refusing at first to do it, he assured me it would be done tastefully and not exploitive.
It was shot over a week and was being done over and over till I agreed to what was shot. It needed some nudity but was not done explicitly. The finished result had everyone convinced and disturbed at what they saw. It was a really grim realistic depiction of a brutal rape and leaves a bad taste in your mouth - exactly what the filmmakers wanted.
I am very proud of our work, and that scene really sets the tone for the movie.
As an actress, how did you prepare for Into the Woods?
I started running 7 miles a day and watching my diet. I had to make sure I was in shape. For not only the grueling running stuff but also my body was on display throughout the movie with nothing to hide. I was so scared it made me sick thinking about to what I agreed to. But now after seeing it and all the good press I am getting, I donít regret it.
There is quite a bit of nudity in Into the Woods. Do you, or did you ever, have any problems appearing naked in front of the camera, and do you still remember your first ever nude scene?
When I first started making movies I did not do any nudity. But to stay in the game - and also sometimes it really helps the script - I had to change my game play. In the beginning I just did a lot of tame stuff. Tight shirts, low cut shirts, behind shots so you couldnít see anything. The magazine Draculina had asked me to pose and I said hey why not? The rest is history, I had received so much fan mail that I had to disrobe in my next movie. The first movie was Before I Die. My topless shot generated a lot of interest, and I was a bonafide scream queen.
I still really donít like doing nude scenes but if the role calls for it I will not have any problem with it. Also you get paid a lot more than for non-nude scenes. Youíre not young forever so I think I might as well while I can.
In the case of Into The Woods the whole tagline is Stripped of Everything. So did not want to mislead the viewers. The beginning of the movie where I wake totally nude in the old bunker was very scary.
It was in a public place with joggers nearby. I was completely naked and scared of getting caught. So the fear on my face was real. I also felt though it was necessary for the role. We were going to do with panties but I said let's go for it. What is the most feared thing for everyone? Waking up complete naked in the middle of nowhere. Not knowing where you are and why you're there. Youíre vulnerable to begin with being in that situation but also to be naked you are completely violated. Clothes can hide and give you security, without them youíre open for the world to see you for who are and nothing is left to the imagination. I donít know about you but that is a nightmarish scenario that scares the hell out of me.
A few words about Into The Woods' director Phil Herman [Phil Herman interview - click here], and how did you first get in touch with him?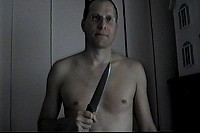 director/co-star Phil Herman
Phil Herman is a certified lunatic. The scene in the movie that shows him in a nuthouse is not far from the truth. Phil has a way with people and really is a kind person. He can make anyone do anything eventually. He has a true gift of being charming and very talented. That helps him in getting what he wants. Plus I really like those blue eyes and blond hair. Ever since the first time I answered an ad in a local paper for his movie back in the early 90ís called Arena of Death. It called for a girl in a bikini on a beach who spoke two lines. Those two lines and scene got more exposure and inquiry than the movie. I became a permanent fixture for Falcon Video ever since. I have such a fan base in the lil roles I played that it was just a matter of time before I got to do a lead role. After all these years Phil finally wrote something (Into The Woods) that I found appealing and a challenge and not a silly slasher movie with a masked maniac after me. Something I can really sink my teeth into.
As I understand it, Into the Woods is the first film with you in the lead. Did you find it difficult to really carry a movie as opposed to just appear in a supporting role?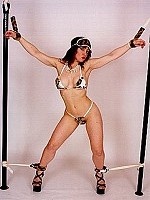 Debbie D
Oh my god I was terrified. I had initially rejected it. Debbie D was asked and agreed to do it. I felt it was more of a role for her due to the extensive nudity. But because of scheduling and a pay dispute Deb D dropped out. I was coaxed back with major script changes. The original movie had all the wood stuff having the lead in the nude the whole time. I explained that was not happening and out of the question no matter how much money I would get. We did some test shoots in the woods and Phil really liked the way I took on the character. We both sat down and pumped out a revised script. While the first script was more of a revenge flick this had a revenge twilight zone type of theme. It took on a mystery an awe that the first one did not have. We injected flashbacks and a richer deeper storyline on why this was happening. It is not told right away but unfolds and really injects the viewers with a storyline that has you guessing what the F * * * is going on!
Itís funny we have had a lot of reviews on this. There is no in-between either people love or hate this movie. It seems those who have actually watched and listened really got it and give an in-depth review. The people that didnít like it give two sentences and couldnít understand it. There are no mentions of specific scenes or actors just a negative assault. But like I said, people that have sat through and really watched find it very rewarding, the payout at the end.
So far, you have mostly appeared in horror films. Is horror a genre especially dear to you?
I love horror. It is such a great escape. Some people say horror movies degrade women or are silly. I say. ďDonít watch themĒ. Horror is not real. When you go see a horror movie youíre escaping from real life horrors. We live horror but cannot escape it. In a movie you're scared silly but know after 90 minutes it will be resolved an everything will be all right. Sure I love all types of movies but horror is true to my heart. I love sitting in a dark theatre with friends and being scared out of my mind and scream my lungs out. It is so much fun! What better way to spend a night than with good friends and a good scary movie.
Women in horror film are automatically labelled scream queens (while oddly enough, there are no scream kings). What do you think about that label, which somehow of course applies to you as well?
Well, it is nice to be labeled scream queens and not scream bitches. Your being labeled as a scream queen is a form of royalty. Scream Queens in the genre are put on a pedestal and praised, from early favorites like Linda Blair and Jamie Lee Curtis to new genre stars Danielle Harries and Shawnee Smith. I feel like I am among High Ranks! I am labeled as a scream queen and not a scream bimbo.
Scream kings - that sounds so uncool. The title should go to the ladies, which is what horror is all about! I have been named and also presented as a scream queen and have no regrets!
How did you get into acting in the first place?
Never liked it and if I never do it again will have no regrets. Feel obligated to Falcon Video cause of the following I have gotten. I never went into this thinking anything would amount to what it has. Like I said previously I had answered a newspaper ad for a small role in an Indy film called Arena of Death. I said hey that sounds fun. After doing it I said this sucks and didnít really think I would ever do anything else. A dozen movies later I still hate filming because of all that goes into it and the time it takes but I also feel I have an obligation to Phil and the fan-base that has grown over the years.
What can you tell us about your movies before Into the Woods?
I really appreciated the roles I have done in the past. They were all no more than cameos and guest spots. I would show up for one day of shooting and that was it. When the mags found out I was involved they wanted exclusive photo shoots and interviews. That was a funny thought cause I would only be in parts that if you would blink you would miss me. It was until Phil and company started making anthologies that my roles had increased. I got to play the host in one of the Midnight movie, which was part of a trilogy. I was to host the final one too but one of the producers, Joel D. Wynkoop, felt a different direction was needed for the series to inject new life. I was cut from the movie and given just a few scenes in flashbacks. I really respect Joel D. Wynkoops decision and was happy with the results. Even though I was not in the movie a lot, the whole short I was in was dedicated to me in a narration of a prophet type of dude. I really liked that the short was called the Bronze Princess, which is what they call me in the summerÖI wish! It was cool because it was all about me and I felt really privileged that someone would take the time to write a story praising my character like that.
Any future projects you'd like to talk about?
As of now were really promoting Into The Woods and have no future plans. This movie is pretty much do or die. Either it makes or breaks Phil. Him and his editor Chris Kahler have put a lot into getting this movie done. Chris painstakingly spent hours and endless nights to get this done. What is not known is all the specialeffects and color correcting was done to make this look a lot more than what it originally looked like. With the harsh tones, sounds, and piecing together of hours and hours of footage the finished product is pure genius. When I had shot it originally and then saw what was done I was amazed. The movie did not look like a cheap video production that floods the market but a finely polished masterpiece that he should be proud of. It takes a lot to film the movie but the finished product is what everyone will look at with awe in this case!
If all does will with this ,there is a sequel already written. We're hoping a company will pick it up and finance it. That will be the only way it will be made. We have had interested parties that were eager to get a sequel in the works, but nothing inked out yet. I would be eager to get back in the woods, if the price is right. If this does well financially I see a sequel being made very soon. I peeked at the script and it is really cool!
Any role you'd like to play (no matter how unlikely)?
I would love to play in an upcoming Rob Zombie-Halloween- or Saw-sequel. Then I would come full circle as a Scream Queen! Are you listening, producers?!
Your website/mySpace/whatever else?
http://www.geocities.com/pharmpon/INTOTHEWOODS.html

Feeling lucky ?
Want to
search
any of my partnershops yourself
for more, better results ?

The links below
will take you
just there!!!

Find Nancy Feliciano
at the amazons ...

amazon.com

amazon.co.uk

amazon.de
Looking for imports ?
Find Nancy Feliciano here ...
Something naughty ?
(Must be over 18 to go there !)

Actresses/actors who have inspired you?
Jaime Lee Curtis and Linda Blair!
Your favourite films?
Love Story and Revolutionary Road! Sorry Horror Fans!
... and of course some films you really deplored?
For some reason I hated Vacancy with a passion! Why? I donít know, I just hated it!
Anything else you are dying to tell us and I have just forgotten to ask?
My god you have asked everything and I take this as such an honor to have my work noticed. At this level of filmmaking, people come and go and are pretty much one hit wonders. I am proud to say that I have been noticed and recognized. I really hope to do a few more movies before I call it quits. You have to know when to say no more. But as long as I keep getting requests for interviews and roles I will be out there. There are so many more things I would like to do, but it is such a hard demanding level of filmmaking with little true rewards financially. But as long as I get offers you can count me in.
Thanks for interviewing me, it has been fun and hope to do so again in the near future!
Thank you for the interview!