Your new film Sickened is about to be released. What can you tell us about the movie and your part in it?
After the surprise response to my first leading role in Into the Woods I was asked to return for a new movie. We were supposed to shoot a sequel to Into the Woods. But after the script was completed the producers decided that they wanted to do a fresh new movie but with the feel of Into the Woods.
I was again the victim but this time the part was juicer and more of a mystery. 20 years ago I was abducted and kept captive after escaping... I lived in fear. The kidnapper never was caught. After a 20 years silence built on forgetting, little things start happening and triggering my characters memory. Phone calls of a familiar voice and sightings of a forgotten man begin appearing. The way the movie was filmed and the location gave me nightmares during production.
Plus I would say 80% of the movie had me acting in the lead and was demanding! I always liked doing the cameos where it was a 1 or 2 day shoot and that was it. This was almost a month, then I had to go back for re-shoots and it was getting to be early November and I was running around in my bathing suit in 40 degree weather. I became my character tough and not backing down or cowering to anything.
What were your inspirations, what did you draw on to bring your part in Sickened to life?
I did research on kidnap victims now and then. I researched all different cases and came across some interesting cases about victims. It is such a sad thing that these people just shut it out and try to deal with it themselves. Or a lot of the times they do get medical help but are so drugged up. With the drugs it causes bad side effects and that sometimes leads to suicide.
I studied the way they withdrew and also went on with life. But in the end it all comes crashing down and either they hurt themselves or possibly the person causing the hurt?
How did you actually prepare for your role in Sickened?
I had to physically get ready. I got into a workout regimen a month before shooting. I went running and did a lot of yoga. Because in the movie I was doing a lot of physically stuff. Running on the beach and in the woods for hours and hours takes it toll on you.
When filming was ready to begin it was late summer and the weather was gorgeous. But things quickly deteriorated as the summer winded down and we were still shooting. But it was aan experience that I enjoyed.
As I understand, your role was quite challenging. How did you handle your part mentally, and did you ever have the feeling you were being pushed too far?
Phil Herman [Phil Herman interview - click here] likes pushing me to the limit. There was the scene were I am being tormented, tied to a chair and it was grueling and uncomfortable. There was a lot of scenes that were shot with green screen so I was acting with nobody. Those scenes were pivotal nightmare scenes that were really scary. I was emotionally drained and crying sometimes after a shoot cause of the torment and what I was going through mentally in those scenes. For someone to escape such traumatic thing and thinking - wow it is over and I am safe. Being that it was 20 years and the kidnapper lied dormant the character thinks everything is okay. Until it starts happening again.
What I did was say to myself, "Imagine this is really happening now and what would I do." Then there was a lot of outdoor nudity in a public forest that was nerve-wrecking but was rewarding afterwards it helped the storyline and was all necessary for the part! I just kept getting nervous that I would be running around nude and I bump into a bunch of bird watchers and give one of them a heart attack! What a headline that would be!
What are your limits as an actress, what are things you wouldn't do on film?
I draw the line into anything over the top. No actual sex or explicit nudity. Natural stuff is okay. I am not shy about the human body.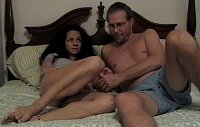 ... in bed with Phil Herman ...
You have become pretty much a regular in director Phil Herman's films over the years [Phil Herman interview - click here], yet he seems to have a predeliction for casting you in victim-roles. How would you describe your personal relationship to Herman, how would you describe him as a director?
Love/hate relationship! When I haven't heard from him in a while and the phone rings and it is him I know he has the new script he wants my opinion about. But then again I am like OK what the hell has he have me doing this time. But I usually like his scripts and fall in love with the stories. I love to see them unfold from paper to film and then the finished product.
Phil is such a laid back calm guy that he never blows his top. He always looks at his talent as the talent and kisses their asses and is overly nice. He appreciates that they participate in the production and not what they're working for. Exposure.
I love working with him. He really pushes my buttons on how far I will go but in the end he is always rite. I love my performance, the way I look and how he plays it out in the scenes. He really goes for the jugular and sees what he can get me to do, and with his sweet talk and BS usually gets it.
Your last film with Phil Herman (and also your first lead) was Into the Woods. How does Sickened and your role in it differ from the earlier film, and how do you think you have evolved as an actress?
In Into the Woods I was so scared. I was like what happens if I suck. What happens if people only like me in small doses and not carry the whole movie. I threw up when we finished and said what have I done. That movie was pretty heavy to do. The rape scene which was done last cause of my objections was really making me ill. I told Phil he was pushing the envelope with me and was asking too much. That such a scene was against my agreement with him. But after looking over the scene and being present with Mr. Kahler during editing I was assured it would be tastefully done and not too much visuals. I did not want it to be exploitive but shocking and scary. I wanted it dim and show skin but nothing too graphic. After it was edited I was really left breathless. Between the music and the editing and color correction it was really a dramatic piece that really left people shocked and disgusted. I really was crying during the shoot and it took almost 3 hours to get all the angles he was looking for. Nothing between us was left secret and we really got to know each other. There was nothing to hide between us and we grew closer after that shoot. I also saw that he was not being exploitive but needed that movie to add shock value and realism to the scene.
It worked cause reviewers were really effected by that and it is a standout in the movie. It showed low budget movies can shock the audience and make you feel for characters and not just slice and dice them like usual b-movies do.
With Phil Herman, you have recently also shot a segment for the movie Sleepwalker Strangler. A few words about that film and your part in it?
Once in a while we get a call from WAVE Productions if we would be interested in shooting a segment for their movies [interview with WAVE Productions' Gary Whitson - click here]. The last one Sleepwalker Strangler which is out now. Sleepwalker Strangler was about young women being viciously strangled and the police are baffled and unable to learn the identity of the killer!
I loved it because I got to open the movie and my segment plays out for almost 20 minutes. I never had such a big role for them and was honored shooting it. I am being stalked in my home without my knowledge and eventually attacked and strangled.
It was fun and shot all in one day in one setting. That is what I liked the best and the payday was great for a one day shoot!
Having talked quite so much about all the parts Phil Herman has given you - which is a part you would love to be playing (no matter how improbable), and would you ever want to break the scream queen mold and cross over into genres other than horror?
I would love to play like a female mercenary. Where I would go out hunting men and killing them for all their wrongdoings. Like a female for hire. I want guns and cool sexy outfits. I want to wreck cars and blow up things.
How's that!

Feeling lucky ?
Want to
search
any of my partnershops yourself
for more, better results ?

The links below
will take you
just there!!!

Find Nancy Feliciano
at the amazons ...

amazon.com

amazon.co.uk

amazon.de
Looking for imports ?
Find Nancy Feliciano here ...
Something naughty ?
(Must be over 18 to go there !)

Any future projects you'd like to talk about?
I have another from WAVE that I shot recently called Pumpkin Eyes: Blind Justice. It is supposed to be out in May. Other than that promotion for Sickened and then vacation. Nothing has come my way from Phil but you never know what that demented young man will think of next.
Your website, MySpace, Facebook, Twitter, whatever else?
People make fun of me for this but will say it again: I am a very private person and do not self promote. I work for Falcon Video and if you need any info feel free to contact them for whatever requests or updates on me.
Anything else you'd like to talk about I have just forgotten to mention?
Chris Kahler
I want to thank Chris Kahler. People always thank the actors, actresses, writers and directors. Yes they do play a major part but without the magic of a good editor your movie is nothing. It is a amazing when I see raw footage and when it is all put together - the difference. He takes his time and looks over every scene, every frame and makes sure everything works. If not you're going back out there and getting what he needs.
He always amazes me on how good he makes me and how he picks the best shots to enhance my character. When we start filming I always ask who is editing. When I find out it is Chris I am relieved and know whatever happens he will make it work. Chris and Phil make a good team and hope to be working with them again soon.
Thanks guys and thanks to all my fans!
Thanks for the interview!