Hi Debbie, and welcome back. First off, would you like to talk about your latest films for a bit?
I travel the country doing independent films so my life is very hectic but a wonderful ride!!
One of your upcoming films has the beautiful title Rotkšppchen: The Blood of Red Riding Hood. Because of the beauty of this title alone, you just have to say a few words about this film.
Rotkšppchen: The Blood of Red Riding Hood is a different take off the original story. I just love those!!
I had a small part as one of the victims. It is very well done.
Any other future projects you want to mention?
I don't have any independents booked for this year yet but it is only February. I will be doing a calendar and magazine layout in Hollywood in April.
Let's leave the present behind for the time being and head forward into the past now: Your first movie was Burglar from Hell from 1993. What can you tell us about that film, and your personal experiences during filming?
Burglar from Hell with Falcon Video was my first B Horror movie - my introduction to all of this. It's how it all started for me.
The guys needed a new location to shoot at so they piled up the car and headed down to my home in Philly and it's the first time I went topless.
They were all fantastic to work with!!
Three months later they hooked me up and sat me with the distributor of the movie at the Chiller Theatre convention to sign autographs - and the rest is history!!
Burglar from Hell was produced by Falcon Video, which put you into more films after this one. A few words about the company and your films with them?
I am still friends with Philip Herman [Phil Herman interview - click here], producer of Falcon Video,and I just did something for his company called Sickened in the fall and it is being edited now. Keep an eye out for it!!
This is the first time I worked for his company Falcon Video since he started the ball rolling for me!
Soon, you have also become a WAVE Productions-regular, and the company cast you in an amazing number of films. How did you hook up with that company, and some of your favourite films with WAVE?
WAVE found me at the Chiller Theatre and when they knew I lived in Philly, only an hour from their studio in South Jersey, I became a regular.
Everyone has their own way of shooting! I learned a lot since working for WAVE and still work with them from time to time but now with all of my acting experience it can only mean better productions!!
Lawyer Lau was one of the ones that people just loved!!
Apart from that you were also in several of controversial director Bill Zebub's films. A few words about that man and the movies you did with him?
Bill Zebub also has his own way of shooting. He knows what he wants and he finds the actors that are willing to do it his way. He is good at casting. If someone writes it, no matter what the content, it is up to me as the actor to make it real.
In Ryan Cavalline's Dead Body Man Chronicles you have a cameo as God ... in the nude. How do you approach such a role?
Ryan Cavalline [Ryan Cavalline interview - click here] is simply a great guy!!
Dead Body Man Chronicles was fun and again the content is acting so whatever the role calls for is up to me to make it come to life. The lead character of the movie was seeing me as God, someone who would scold him but also forgive him. It's a fun movie loaded with a lot of laughs!!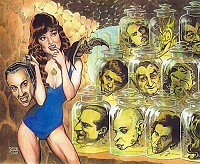 Destiny by Brian Buniak
You have also come to fame as Scary Monsters' Destiny, the Vampire Mermaid. Can you tell us how that project first came into being, and also about Destiny's jump from comicstrips and photos to film?
In 1994 Ronn Foss, the creator of Destiny The Vampire Mermaid, asked me to be spokesperson for his comic character to have her come to life. I signed a contract and have made several come-to-life videos as well as a ton of photos on her.
The issues of Scary Monsters-magazine where Destiny lurks can be found at Barnes and Nobles, Borders, and comicbook stores worldwide.
You can read more about her on my web site as well at: www.DebbieD.com
I will be working on a bigger production with Destiny this summer!
Apart from that, you have launched your own production company, New Faces. What kinds of film are you producing and starring in at that company?

Bill Arthur
New Faces Productions belonged to my partner, the Late Great Bill Arthur, I have taken over his company. The web site is: www.DebbieDNewFaces.com
You are also one of the few actresses who offers custom-made videos to her fans. What are the most usual requests you are getting for these, and what are some of the craziest ones?
I offer custom videos and custom photos to any one who wants to see their ideas come to life. I work alone or with other actors.
If you have an idea and some extra cash,simply send me an idea-outline or script and we can take it from there: Ultimatescreamqn@aol.com
Nothing to odd or weird for me!!
I have done pie-in-the-face to all types of death scenes to fantasy. It's all good!! The most important thing is not to be shy. That is why they are called custom!!
Are there any films you would love to talk about we have not already mentioned?
There are so many films - ask and I will answer!!
You are mostly starring in horror films. Do you have a special fondness for the genre?
I have worked in horror, comedy to serious roles. I was born to act!! No preferences!
Some of your movies, especially the New Faces-films, are quite daring in terms of sexuality. How far do you go in the erotic field, and is there a line you refuse to cross?
I have been nude but nothing really X-rated. I have used simulated things to make something look real and I am fine with that - as long as it makes the story better I am game. I am not X-rated so any spread shots or penetration is really not my thing. I will take a scene and make it look real with camera angles since I do aim to please.
Before taking on acting, you have started out as a model. Plus, what not too many people might know, you are also a singer ...
First I was a singer, always thought I would stay a singer - write songs and have a record contract ... and then acting called louder and louder - I still sing here and there at a function and I still model, but acting is what I love!!
Actresses (or indeed actors) who have inspired you?
I am inspired by anyone who can take me away from knowing I am watching a movie by portraying or conveying it so well that I forget where I am. That's inspiring!!
Your favourite films?

Feeling lucky ?
Want to
search
any of my partnershops yourself
for more, better results ?

The links below
will take you
just there!!!


I loved the original Willie Wonka and the Chocolate Factory - still haven't seen the remake.
The original Logan's Run effected me when I was a little girl!
Then there is the Wizard of Oz ...
And of course some films you really deplored?
I am O.K. with everything I have done so far. There will always be disapprovement from someone.
My beginning films will come back to haunt how green I was then but that's fine since I am so seasoned now.
As far as what I have watched - they are all movies, let's not get too serious ...
Anything else you are just dying to mention and I've simply forgotten to ask?
I'm still waiting for that real big role that will effect us for life!!!
Not afraid to get ugly or dirty. A challenge is what I am after!!
Thanks for the interview!
Hope to chat again soon!
Debbie D