Your upcoming movie The Perfect Letter - in a few words, what is it about?
Itís about Jason Chauncey, a down on his luck mystery writer who's suddenly offered not only representation by a well-known literary agent, but a whole story. All he has to do is flesh it out and write it using his agentís outline and several strange letters as his guide. But after receiving an unexpected package in the mail, he starts to suspect the work of fiction may be closer to a very scary reality.
How did the project come into being in the first place?
I was working on a project with JR2 Films and we were actually in Memphis when a snowstorm hit. We had a 24 hour delay and all roads were closed until morning. In our downtime we shot a short John Rogers had been cooking up. It was finished, but never released save for the old trailer we uploaded months ago. Later we met someone who wanted to do it as a feature length and said they could get funding. John wrote a full length version and I added in few details then we went into preproduction, but as happens many times in this industry the funding simply didnít pan out.
What can you tell us about your (original) screenwriter J.H. Rogers III, and your collaboration with him on this project as well as on past projects - and how did you meet up in the first place?
John is a very talented writer and director who, along with his partner Jon Ross, produced the award winning documentary Mound Bayou. After the original The Perfect Letter project fell through, John really wanted to move on to new things because he wanted to start fresh with new projects, even shooting his own stuff. John and I met in high school and both went to Columbia here in Chicago. He has been a producer or co-producer on most of my projects, so I asked him could I do The Perfect Letter. He gave me the go ahead, but it would be my own version of the film because JR2 Films still wanted to keep the project in itís quiver.
Now there were other short films John had shot with producing partner Jon Ross who, aside from a producer also happens to be a trained actor. My original idea was to make it an editing exercise to try to merge these films into one creepy horror movie by adding new footage since both had a creepy vibe and Jon Rossí character was nameless in both, heíd be the glue that held it all together. But John said no to that one because of issues with the movies themselves and he didnít want to go digging up old projects. So I used his script as the jump-off point to work from.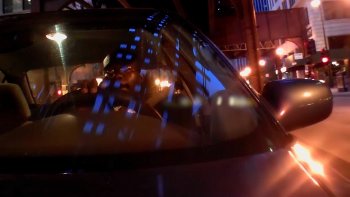 A few months ago I shot some driving footage with my Flip Camcorder (just because I could). I had one of those small suction cups for pocket cameras and popped it on to the hood of my car and did some night driving. I watched it on my computer and loved it. I cleaned it up and put the scene together and right then decided it needed to be the opening scene for The Perfect Letter. You can actually see that on the movieís fan page and on the Indiegogo. So shooting had officially began.
What can you tell us about the intended look and feel of your movie?
Modern, experimental and dark, with an escape horror video game feel toward the middle. In fact the town Jason ends up going to was supposed to take place in Raccoon Hill, Illinois, a nod to both Resident Evil and Silent Hill, but I changed it to New Springwood, IL, because I thought Kelsey Zukowski [Kelsey Zukowski interview - click here] and other Nightmare on Elm Street fans would get a kick out of it. Not to mention it sounds much better.
With The Perfect Letter being a horror movie, how would you describe your approach to the genre (as in atmosphere vs all-out gore, sudden shocks vs subtle suspense)? And is horror a genre at all dear to you, and why (not)?
The Perfect Letter is more of a creepy mystery thriller, so itís definitely subtle with a few sudden shocks. Thereís little gore, maybe some blood, but like my character in the movie, thatís not what I go for. And I do like horror, but Iím a writer at heart, everything I do involves writing so itís about the story.
I do enjoy horror films like the original Evil Dead and Nightmare on Elm Street. Was never a Jason or Michael fan really, the concept didnít do it for me. I also like campy teen horror too, loved Stay Alive, which had the silliest premise ever, but was a lot of fun and it introduced me to Lady Bathory, who is now a villain in my comic book universe (Kaylee Williams portrayed her in Epitaph: Bread and Salt, but you have to watch all the way to the credits to find her [Kaylee Williams interview - click here]). I also enjoyed both old and new Fright Night-movies, Frighteners, 13 Ghost, Dead Silence and the Scream-series, but Iím mainly a fan of mixed genre movies, so most of the films I really like are action films with horror characters or concepts like Underworld or Constantine.
You play the lead in The Perfect Letter - so what will you draw upon to bring your character to life, and how much of Nathyn Masters can we find in your character?
Well I definitely know about being broke and consuming caffeine so I got that down. The character is a guy who feels increasingly squeezed out of modern day society in a way. Heís no prude, but still believes in and respects morality, and though he understands gray areas he believes in a definitive good and evil. One thing new for me is this character is an ex-junkie. All my other main heroes have been generally clean-cut and if there was drug use it was done by the bad guys. But in both the short film and the full length script the main characters had issues with drugs, either doing them or trying to stay clean so I kept that in there.
Do talk about the rest of your key cast and crew for a bit, and why exactly these people?
Oh wow, okay...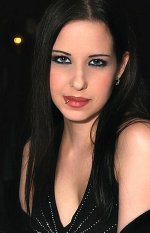 Kaylee Williams
I met Kaylee Williams [Kaylee Williams interview - click here] a few years ago when I was doing preproduction on the original Divinity film, which I later rewrote, then stopped working on to shoot Epitaph. Aside from rabid cuteness she knew martial arts and was good at it, so I was hooked right there. And she would go from sweet to this kind of tough chick attitude and I liked that. Since I didnít do Divinity, I promised her Iíd put her in something so sheís the aforementioned Bathory Easter Egg in Epitaph and she plays my characterís ex-girlfriend in The Perfect Letter. But I cast her in this because of one of her gothy/punkish photos on Facebook. When I read the description of the character I immediately thought of her.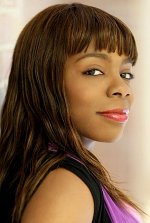 Anita Nicole Brown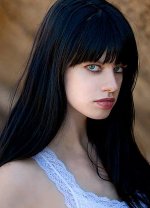 Kelsey Zukowski
Anita Nicole Brown [Anita Nicole Brown interview - click here] is a favorite of mine. Sheís an award winning actress and model who auditioned for my Nightevil character for the Epitaph movie. She brought that character to life and itís an amazing feeling seeing one of your comic book characters standing right in front of you. She understood the character without a lot of explaining and she took direction well. Sheís simply an amazing and beautiful actress. Very few times does a person act for me and I go, ďYep, sheís the one!Ē right off the bat. And sheís on time and ready to go on every occasion. And if sheís not busy and you call her up and say, ďHey you wanna act in something?Ē itís good chance sheíll be there. I cast her because she wanted to play a good girl and the role of Gabriela was perfect for her.
Kelsey Zukowski [Kelsey Zukowski interview - click here] was introduced to me by Heather Dorff of Filming ĎRound Midtown-fame [Filming 'Round Midtown interview - click here]. I chose Kelsey for this because, aside from her love of horror, our mutual love of bacon and caffeinated drinks, her talent and beauty, I knew sheíd be crazy enough to participate in this insanity with me. I gave her some really loose directions on what to do for this film. She shot and acted in her own footage, which is how we got that cool new teaser. Kelsey is also a writer as well, and what I like about Kels is she doesnít just wait for someone to give her a role, sheíll act in her own project. Thatís how I got started and I relate to that.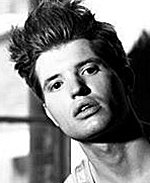 Andrew Jacob DeHart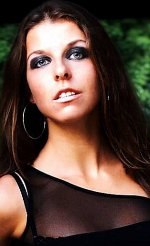 Elena Chernyakova
Andrew Jacob DeHart. Heís new. He can do the dark brooding thing. He looks like a guy girls would like and when I put his photo up on the fan page the ladies approved, so you gotta have a good looking guy for the ladies. So that worked out. His character bridges the gap between my character and another which helps solve the mystery.
Michael Schmid is an awesome dude I met at a Heather Dorff Rock Band party, (because Heather Dorff rules the acting world and controls time but no one knows it) [Heather Dorff interview - click here]. He has his own production company, 4Lizard Productions, loves to make movies and can sing ďWhite WeddingĒ better than anyone aside from Billy Idol. So heís in. But I sing ďSupersonicĒ better.
Rebecca VanSickle is a newcomer. She's fun, vivacious, was my convention model at Wizard World 2012 and is literally just too cute not to put in a film.
Elena Chernyakova is an actress, professional model and ex-professional tennis player who I met on the set of Dhoom 3, when it was shooting here in Chicago. We talked for a long time during our downtime. I liked her accent and personality and she listened to the directors. I liked that attentiveness. She mentioned she wanted acting to be her main focus now. I told her weíd probably work together in the future. The future is now.
Tiffany Christine is just a lot of fun to work with. We met on Andy Schatnerís film Happenstance [Andy Schatner interview - click here]. I liked her and told her Iíd put in a movie, so I did. She played Igora in Epitaph: Bread and Salt and now sheís in this one.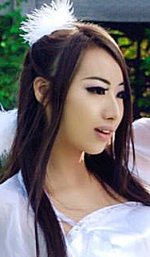 Meiling Jin
Meiling Jin is a gorgeous young actress and model. I loved her look and wanted her to be in the Silvergun Samurai remake as the Taki-character, but since I didnít know when that would be done and I needed another wraith for this film I chose Meiling because of her size and long hair. Was I thinking The Ring when I made this choice? Yes.
Karla Monay Shaw is an actress I met at an acting function here in Chicago. She had that business woman vibe, looked and moved like a model and I liked her voice too. She said she was looking for more acting roles so I told her if something came up I would get in touch with her. I had a scene in an old Church and I kept thinking about her in the role so I contacted her and she immediately said yes.
Dragan Nikolic was a martial artist from the final fight in Eptiaph: Bread and Salt, but we didnít really get to have much of a fight because of time constraints. So heís back and we get to go mano-a-mano. Dragan can deliver a great roundhouse.
Yvonne Nieves is a lovely actress that was suggested to me by scream queen Claire "Fluff" Llewellyn to play one of the Estrie vampires in Epitaph. Yvonne is skilled in Wing Chun and Kung Fu. Her character is human in this one, but weíll still get to battle it out. Probably wonít be a hardcore martial arts fight, but definitely some kicks and punches.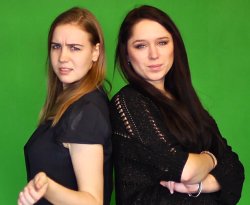 Deann Baker and Heather Dorff
in Filming 'Round Midtown
Deann Baker is simply Deann Baker [Deann Baker interview - click here], sheís highly energetic and one half of the dynamic duo of the show Filming ĎRound Midtown with the other half being Heather Dorff (see I told you about Heather) [Filming 'Round Midtown interview - click here]. She was in Epitaph: Bread and Salt as the Frank Stein Industries spokes woman Amanda and I brought her to this because I needed a blonde. All the girls are dark haired and I wanted to vary it up. Seriously, I had a lot of fun working with her on Epitaph so I grabbed her for this role too. I actually did need a blonde though.
As we speak, your film is still in its fundraising stages - so what can you tell us about your fundraising efforts?
Basically I stick to Facebook and my social media. We started with IndieGoGo and now weíve added a Kickstarter campaign. Iím really pushing the IndieGoGo, because you get to keep the money you do raise on IndieGoGo. Iím going after $3000 on IndieGoGo and $1000 on Kickstarter. But whatever we get weíll use it!
The Perfect Letter IndieGoGo: http://igg.me/at/theperfectletter/x/9172
The Perfect Letter Kickstarter: http://kck.st/1fRYsx8
This is the first film Iím shooting the bulk of. Meaning Iím acting, directing and shooting. (Thatís part of the experiment.) So thatís why the budget is so low. In fact, as I mentioned before, Kelsey also shot her own scenes and I shot the driving scenes and just finished shooting the first exploration scene in a basement location that will act as the basement of one of the characterís home.
Once the funds are raised, how do you plan to proceed, and any idea when and where the film might be released yet (and I realize it might be waaaay too early to ask)?
Weíre already shooting so weíll just keep doing that. There is a hotel scene I want to shoot and weíll need to rent that and a nice house for the Eleanor and Ashelyís characters because they come from money.
As for distribution, Iím a YouTube partner so I release my films to YouTube and do my own DVD distribution. Unless someone is going to offer money upfront, we probably wonít do outside distribution. I am looking into Netflix and iTunes, but I do like the web distribution model. I want to get enough stuff out that I can make a living at it. But I also want to hit some festivals with this one, with it being experimental.
Any future projects beyond The Perfect Letter?
Definitely. I hope to do Victor Locke: Demon Hunter, a follow up to Epitaph: Bread and Salt, in which I hope to see Anita, Kelsey, Deann, Heather and Kaylee again for that one, a Facebook friend is pushing me to go back to an old project called Silvergun Samurai, but I need to rewrite that one for cost if I do it (ninjas ainít cheap) and I still want to do a sequel to Wages of Sin.
What got you into acting and filmmaking in the first place, and did you receive any formal training on either subject?
I wanted to be American Ninja. I was big into martial arts movies and comic books. What Marvel and DC are doing today, I had in mind in high school back in the day, but in a very different manner. I wanted to create comicbooks and movies that werenít adaptations of the books, but actually part of the storyline. Like Epitaph: Bread and Salt isnít an adaption, itís the beginning of the Epitaph comicbook series. The Victor Locke-movie will be just another story in the series, but not a book. And I always wanted to be in martial arts action films so I just started making martial arts action films.
I got into filmmaking because I saw Spike Leeís School Daze. It wasnít really his films as much seeing a black filmmaker going out and doing it himself. Back then my dream was to attend the Joe Kubert School of Cartoon and Graphic Art after high school, but one day colleges came to Hales Franciscan. Columbia College and The Art Institute both caught my eye. So I knew then I was going to one of them. The choice was an art school that was just starting itís film program (Art Institute of Chicago) or go to a school with a dedicated, well known Film and TV program that also had art classes (Columbia College Chicago). I decided to go to the film school.
I started as a film major then went undeclared. I took Film Tech 1 and 2 (back before you edited movies on computers), acting in the Theater Department, Screenwriting 1 and 2, Video Production, TV Production, fiction writing and storytelling. Shouldíve added radio, but did computers instead.
I didnít do great in Film Tech 2 when it came to testing. My teacher told me it was obvious I knew the fundamentals, I had to stop worrying about the test and go make a movie, so a eventually, I did.
DV cameras and computer editing were all the rage by the time I started doing this, but my mix of both video and film production along with my knowledge of computers all came into play, like God had set the whole thing up because I certainly didnít see it coming. Itís been a crazy trip for me and now days shooting with DSLRs is much more like shooting with the old Bolex cameras because you have to know your lens, how to operate them and youíre doing sync sound, but digitally.
What can you tell us about your filmwork prior to The Perfect Letter?
Iíve done three films, The 4th Beast: Mask of the Antichrist, it was my first and was shot on an $800 budget. It was one of the first features shot on the DVX100 and was distributed by Tanya York and her crew at York Distribution. My second film was Wages of Sin (not the horror film attributed to me, but the action film), which was the first I starred in and directed and my third was Epitaph: Bread and Salt, which came out this year. My last two are both on YouTube. I think Epitaph: Bread and Salt is the best one, but people seem to gravitate more toward Wages of Sin. Also there is an audio commentary for Epitaph: Bread and Salt on YouTube.
How would you describe yourself as an actor, and how as a director?
As an actor, Iím a B-grade genre actor that specializes in martial arts action films. Keep the dialogue short and I can remember it, Iíll emote, say something cool, then punch, kick and shoot the bad guy as many times as needed. So donít be a bad guy.
As a director, I donít know, I donít want to compare myself to anyone because I donít think Iím on the level of anyone of the people I like. Maybe Iím like Ed Wood [Ed Wood bio - click here] meets Robert Rodriguez with some Sam Raimi thrown in. If I ever get to blow up something and do a slo-mo 360 dolly shot around someone I can add Michael Bay in there.
Actors, filmmakers, whatever else who inspire you?
Oh wow, whole bunch, Spike Lee, John Woo, Michael Bay, Michael Mann, (the night shots in Collateral were off the hook and inspires a lot of my night scenes. Again, check out the opening scene for The Perfect Letter). Then thereís Sam Raimi, Quentin Tarantino and definitely Robert Rodriguez, whose movies really got me to get up off my butt and go do it.
As for actors, it guess all the martial art guys, Bruce, Jackie, Jet, Yen, Snipes, Michelle Yeoh, JCVD, Seagal, Statham, Scott Adkins, even the old B-movie cats like Dudikoff (the American Ninja himself), Billy Blanks and Cynthia Rothrock who, in another reality, is my wife.
As for others Iíd be remiss not to add Will Smith, and of course Arnold. And you know what, Iím going to go ahead and add Tom Cruise. Mission Impossible just does it for me and I love his willingness to do your his own stunts.
As for my general inspirations: Religion, mythology, daily events, politics, conspiracy theories, comic books and classical literature are all heavy influences. All my work is crafted in one way or another around these things, especially the Epitaph franchise.
Your favourite movies?
El Mariachi, Pulp Fiction, Batman (the Keaton version), The Dark Knight, American Ninja 1 and 2, Blade 1 and 2, Evil Dead (the original), Fright Night (old and new), Dracula 2000, Sin City, The Matrix Trilogy, Rules of the Game, Basic Instinct, Fatal Attraction, The Stunt Peopleís straight to video movie Contour, Transporter 1 - 2, Mission Impossible 1 - 4, Ip Man and Ghostbusters. Iím sure thereís more, but those are the ones that come to mind right now.
... and of course, films you really deplore?

Feeling lucky ?
Want to
search
any of my partnershops yourself
for more, better results ?

The links below
will take you
just there!!!

Find Nathyn Masters
at the amazons ...

amazon.com

amazon.co.uk

amazon.de
Looking for imports ?
Find Nathyn Masters here ...
Something naughty ?
(Must be over 18 to go there !)

Blade 3. Seriously. So not pleased with what they did there. They couldíve done much better, but seems like they didnít want to. The Batman films under Schumacherís direction go without say. And there's Daredevil, which just needed to be redone, poorly directed and choreographed for a big budget superhero film. I did like the way they played to the fans, but it wasn't enough.
Your/your movie's website, Facebook, IndieGoGo, whatever else?
Company Website: http://www.TimeCodeMechanics.com
The Perfect Letter Indigogo: http://igg.me/at/theperfectletter/x/9172
The Perfect Letter Kickstarter: http://kck.st/1fRYsx8
The Perfect Letter Fan Page: https://www.facebook.com/ThePerfectLetterExperiment
Epitaph: Bread and Salt DVD on ebay: http://www.ebay.com/itm/161088329000
Anything else you are dying to mention and I have merely forgotten to ask?
I just saved money on my car insuranceÖ No, heard that one before?
Thanks for the interview!
And thank you, God bless. And take care. Itís been fun.