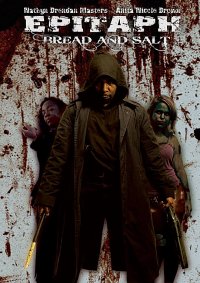 Above everything else, Victor (Nathyn Masters) is a good man, by day he refuses to help his boss (Valerie Meachum) in outright fraud, even risking being fired, by night he wanders the street trying to get prostitutes back on the right path, not only with the words of Jesus, but also with food and money, he is strong in his belief, yet not of the missionary kind ... and yet, he suddenly finds himself attacked by beings who are not quite human. So thank God he's a good fighter and carries a gun loaded with silver bullets, but even that doesn't help much once he finds himself grossly outnumbered - so thank God three mysterious siblings (Marissa Joy, Leena Kurishingal, Vahan Artin) calling themselves the Defenders of Eden are there to help out and bring him to a safe place. They explain to him that he was attacked by the Sisterhood of Lilith, a clan of vampiric beings, because they think he is the Avatar, a being strong enough to destroy them, so they want to destroy him before he has developed his full potential, or win him over to their side.
Victor doesn't believe any of this and refuses to help the Defenders of Eden, as this has nothing to do with him ... but then why would the Sisterhood kill one of the prostitutes he takes care of, Cassie (Jenna Ambien Halvorson), why is her body taken in by the Frank Stein Corporation, and why does she come back to life? Oh, and what is the Frank Stein Corporation all about, why do they want to implant microchips into everybody? And what about that company's boss Natas Talbane's (Walter Sloan) obsession with the occult? Oh, and why is the Sisterhood of Lilith so interested in winning Talbane's daughter Loren (Heather Dorff) - an air-brained party girl with a cocaine habit and more DUI-charges than Lindsay Lohan - over to their side? And why do the attacks on Victor intensify? ...
Already epic in scale (and there are probably a million of things I had to leave out in my synopsis), Epitaph: Bread and Salt is nothing but the prologue for something big - but despite it being over-convoluted and full of narrative threads that seem to not tie into the main story yet ... and despite all that, Epitaph: Bread and Salt is a pretty good movie as it carefully balances well-handled action sequences with dialogue pieces that usually come across very poignant, and if features strong characters embodied by a very decent ensemble cast.
Very well worth a look, and let's hope there's a sequel soon!
... and if that sounds at all interesting to you, you can buy Epitaph: Bread and Salt here for cheap: http://www.ebay.com/itm/Epitaph-Bread-and-Salt-2013-Indy-Action-Horror-Movie-w-
Nathyn-Brendan-Masters-/161088329000 or see it here for free: https://www.youtube.com/watch?v=MmloeZt9Wuw (legit link, uploaded by the director himself).