Your show Filming 'Round Midtown - in a few words, what is it about?
Deann Baker: It's about two chicks, in front of the camera, giving you independent film news quickies.
https://www.youtube.com/user/
FRMseries?feature=watch
Heather Dorff: Ha. D said 'quickies'.
What inspired you to start Filming 'Round Midtown?
D: It began as a simple idea to generate a spotlight on independent filmmakers who were/are struggling to raise funds on Kickstarter and IndieGoGo. Then Heather got involved and all hell broke loose.
H: In a galaxy far far away... Actually I just happened to see D do an episode of her concept of this and thought "WHAT A GOOD IDEA!" A few things fell into place at the perfect time and caused me to reach out to D to see if she might want to expand on the idea/take it to the next level. She was down and the rest, my friends, is meticulously documented YouTube-history.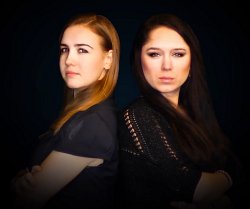 Deann Baker, Heather Dorff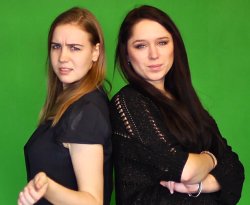 What can you tell us about your ties to the Midwest indie filmscene, and about that filmscene as such?
D: That catchy song It's a Small World After All I think encapsulates everything you need to know about the Midwest film world. I got tied to the indie scene through acting, editing, and composing original scores. I met one independent artist which led to another project where I'd meet another indie filmmaker which led to another project and so fourth.
H: I wanted to kill people. I figured a better and less jail-inducing way to express myself was killing people for fake in indie horror films. It's working well thus far. I have been in touch with Dexter to see if he might teach me the 'code'. WE SHALL SEE.
How did you two first hook up, what's your collaboration usually like, and how would you describe one another as co-host?
D: The first time we hooked up it was a lovely summer night under the stars, we were together for 24 hours straight, and in the end decided to stay in contact. All I have to do to relive that night is to watch Event Invitation.
When Heather, Drew, and I develop an episode it's a very technical, difficult process. I write the script, Heather makes it good, then Drew makes Heather and I look good.
A good word for Heather the co-host is BEAST. Take that any way you'd like to.
H: I love that D and I both took "How did you two first hook up" in the same light. WAY TO MAKE IT SOUND SEXUAL MICHAEL! Making my job easier with one sexual innuendo at a time :) [I only aim to please! - the editor]
Besides hosting, you both also work behind the scenes on your show - care to elaborate?
D: The division of labor is pretty well balanced so that each of us are doing jobs we know best. Heather knows how to talk to the internet to get it to do her bidding. She keeps the website up and running, does a huge majority of the social networking, and managing the show's formula.
I drink a few beers and put words onto a blank text project. If you read the credits it also says I edit the show. That mostly entails picking out the best takes, putting them on the timeline, then praying the rest will finish itself. Some people say I also composed the theme song but I don't want to take credit for that. No, I really don't.
H: PSHHH. PSHHHH. I just post stuffs. D and Drew are the superheroes here. There would not even remotely be a show without them. I'd be filming this on a shitty webcam in my neighbors' dark and creepy basement - ie: how 90 percent of indie films are made :D - without them. 'Nough said.
What can you tell us about the rest of the team behind Filming 'Round Midtown?
D: With both Heather and I in front of the camera we needed someone behind the camera that knows how to use it and understands the importance of making actors look good. Drew Pientka is that man. He's our director and Director of Photography (lighting and pressing record). He also does ALL of our graphics which IS the show. He's also our bitch.
H: Bitch Ours He is.
No seriously - Drew is fantastic. He is creative, talented, and professional and brings a hella lot to the table. I call them the DOUBLE D's - the dream team! We all know how BIG and IMPORTANT double d's are! :D
Yes. I am a smartass, but I do mean it!
What is a Filming 'Round Midtown-shoot usually like?
D: It's like being at an episode of Whose Line is it Anyway? surrounded by giggling tribbles.
H: LOL! That is really all there is to say about that.
I still think we should, alongside every episode, post all our damn bloopers. We basically seem like crazy people in a, hopefully, non-threatening very funny way. We say time and time again that we really have no clue how we ever got through live broadcasts - and really I don't know how we ever did it!
Best, worst, funniest, most heartwarming, silliest, cleverest, scariest, whatever elsest moments when shooting Filming 'Round Midtown?
D: Worst: Heather on a teleprompter. Outtakes will be full of these moments.
Heartwarming: When I have heart burn.
Silliest: The Jurassic Park skit in the beginning of Ep. 5
Cleverest: This implies that we have the ability to be clever.
Scariest: Talking about any piece of information we talk about. I get scared that we'll relay a message incorrectly or give out wrong pieces of information.
Best: Each time Heather and I schedule an Filming 'Round Midtown-shoot. It gives me something to always look forward to. I know that's corny, wanna fight about it?
H: In my defense: I NEVER WEAR CONTACTS SO I CAN'T SEE THE DAMN PROMPTER. Now darn it! But yes, it is pretty bad. LOL
Scariest: When D made me do a joke about people missing arms and stuff. Luckily we meant it in the lightest, best possible way and it went over without any hateful emails or death threats. So yay!
Silliest: Every episode taping. EVERY SINGLE ONE.
Best: I agree with D! Shooting Filming 'Round Midtown is good times. It's fun and rewarding and awesome to be trying to do something that helps promote other people!
To be featured on your show, what would one have to do?
D: Don't ask me, I just work here.
H: YOU MUST LOVE FILM LONG TIME.
Or go here and follow the instructions and stuff: http://www.filmingroundmidtown.com/submit-us
Any big future plans for Filming 'Round Midtown?
D: We each have ideas on how to approach the third season that will be adapted when we get there next year. The ideas are all quite exciting. We want to start incorporating indie artists across the board. For example, invite composers and song writers to create a new Filming 'Round Midtown-theme song. The plan is to continue doing Filming 'Round Midtown for years. That could lead to YouTube subchannels focusing on independent artists outside of the film world, the audience becoming more a part of the show rather than just submissions, and even a spin-off webseries that involves Heather and I having the most useless powers in the world.
H: At the end of the day, Filming 'Round Midtown is always changing and growing. The fact of the matter is we have no plans to ever stop. We want to make this work - to reach indie fans across the board and promote real, hard working and talented artists and projects to people who actually want to know about them and learn more. We want to give our artists the resources they need to help them with their careers or projects from general resources like casting calls, classes, and dos and don'ts of the industry to overall promotion. We are here to help support the indie world in every way possible!
And since we're talking, any future projects besides the show?

Feeling lucky ?
Want to
search
any of my partnershops yourself
for more, better results ?

The links below
will take you
just there!!!


D: There are a few projects I'm a part of that's in the works but I have no idea how much information I'm able to divulge. They are always watching me. With that in mind, I do have a personal goal that within the next two years I will start production on a superhero webseries I've been writing. That's no relation to the Filming 'Round Midtown spin-off though.
H: I'm actually outside of D's window now making sur she doesn't divulge anything she isn't suppose to. We take this indie stuff seriously 'round here.
I'm doing a bunch of stuff. Cool stuff. Awesome stuff. The kinda stuff you want more stuff of. Find info on this stuff here: www.facebook.com/actressheatherdorff or here: www.heatherdorff.com!
Your/your show's website, Facebook, YouTube, whatever else?
https://www.facebook.com/filmingroundmidtown
https://www.youtube.com/user/FRMseries?feature=watch
Thanks for the interview!