Your new movie Crisis Function - in a few words, what is it about, and what can you tell us about your character in it?
WOW! Well, I would say lost yet strong! Yeah, I think that sums her up well.
What did you draw upon to bring your character to life, and to what extent can you identify with Andrea?
I would say the main thing I can identify with is the fact that she is a T1D (type one diabetic). This is because I, myself, am a T1D and have been for almost 16 years now! Everything else was just a matter of how I saw myself if I was in her shoes.
As far as I know, Crisis Function involved quite a bit of improvisation, especially on your part. So do talk about that aspect of your movie for a bit!
OMG! That was the fun part! Especially if the other actors had lines to deliver! No matter what I said, they had to follow up with their scripted lines! So SOMETIMES I might go COMPLETELY out of character! The fun was when they stayed in character no matter WHAT I would say or do!!!
You are in quite a few fight scenes in Crisis Function - what can you tell us about those, and how were they achieved?
Now that was difficult! My fight background is boxing! And Andrea's character was not a "fighter" exactly! So it was really a matter of curbing what I was trained to do and deliver it the way Andrea would! THAT was a challenge for me! And sometime resulted is MANY takes (so sorry Nathyn, Dragan, Valerie and Chris)!!!!
How did you get involved with the project in the first place?
LOL! Nathyn presented me with this idea of shooting a feature length film in 3 - 5 days! I almost laughed but I know Nathyn. If he has an idea, it WILL get done! How? Well that is usually the only that to be solved! So he asked me if I would be interested and I said SURE! I mean I do have to admit, I LOVE a challenge and this seemed like a great challenge!
What can you tell us about your director Nathyn Masters [Nathyn Masters interview - click here], and how did you two first hook up? And please also talk about your other projects with Nathyn for a bit!
Now you are trying to show my age! LOL! I auditioned for Nathyn I believe it was back in 2009? I think for Nightevil. She was one of the principles in his film Epitaph: Bread and Salt. I remember being nervous because I had not been cast in ANY lead roles at that point and I felt like I might be wasting my time by going in to audition. I bet you can imagine my surprise when Nathyn told me he would like me to play Nightevil! I am not sure if he knew it at the time but he had cast me in my FIRST lead role EVER!!! Since then, Nathyn has kinda just cast me in things! Other than Crisis Function, I had just finished my scenes for the feature The Perfect Letter, and then Nathyn asked me if I would be interested in playing opposite him in a sequel to Wages of Sin! Now THAT will be a HUGE honor for me!!! WOW!!! I have to admit, I am extremely excited about that role!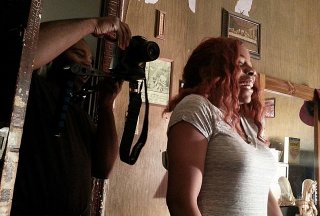 Nathyn Masters shooting Anita Nicole Brown
As far as I know, the film was shot in a mere three days - so how stressful was that, and what can you tell us about the shoot and the on-set atmosphere as such?
You mean besides it feeling like a party? Kidding! It was a lot of fun! One of the sets used was my place as well as a few locations from The Perfect Letter. Using my place and my neighborhood made it easier to shoot because the owner of the store down the street from my place knows me because I have been in my place for about 10 years. So when we walked in, they just looked, smiled and carried on! After we finished they asked me later what did the film look like! But everyone just had fun really! I wanna say it was kinda like a reunion of family because we all joked and laughed and just enjoyed being on set and helping make this film a reality! And there was a LOT of laughing! Maybe from being deprived sleep on my part but there was so much laughter!!! 13 - 16 hour days can do that!
Any future projects you'd like to share?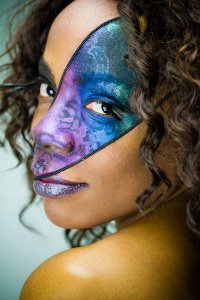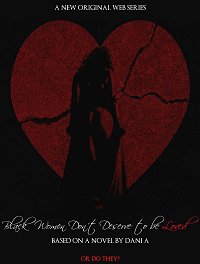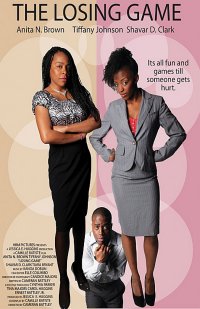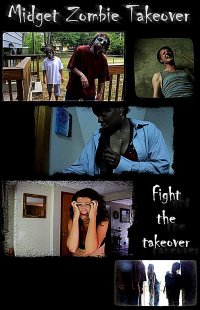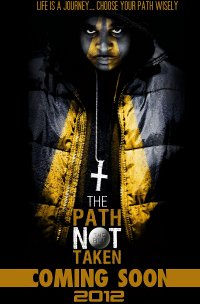 There are three definite projects on board! Leaf Blower Massacre 2 (directed by Anthony Cooney) is currently filming and I am sure everyone is dying to know what and how my character fits into the sequel! But I am not telling!
I have also been cast as a lead in the stage play SuperNatural written by Victor Gulley! And rehearsals are going to begin soon because we will be in Kansas City in August for the play! And I am so excited about that! And, of course, there is the sequel to Wages of Sin, in which I get to kick some butt and get mine kicked as well alongside Nathyn Masters!
There may be 2 more projects as well but final confirmations have not been completed yet so once they are, I will be ready to brag about them!
What got you into acting in the first place, and did you receive any formal training on the subject?
To be honest, I don't know! I mean I was always a character at home. And growing up in my household, we did it ALL!!! We danced, sang (not always good - lol) and just had fun! My family never tried to put out the desire to be whatever we wanted! As long as we maintained good grades! So after I graduated college and began working. I made the decision that if acting wasn't for me it would be because I worked my ass off and yet it didn't happen. NOT because I never tried! And almost five years later, here I am being interviewed by you!
As far as training, I tested into a few advanced classes at Act One Studios. But I would say Molli Benson is who I would give credit to! She is my coach and she is based in LA. She would come to Chicago to teach three-day workshops and I was blessed to have been able to work with her! She is one TOUGH cookie but she can and WILL bring the best out of you IF you are willing to listen and work hard!
Can you still remember your first time in front of a movie or TV camera, and what was that feeling like?
As a kid, nope. I don't really recall! But as an adult, it kinda felt like I was where I was meant to be! It felt.....normal! Like I was made for this!!!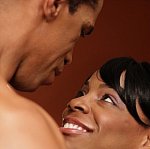 Black Women Don't Deserve to be Loved
Do talk about your filmwork prior to Crisis Function for a bit!
That is a LOT to talk about! So let me keep it to principal roles! I can honestly say I loved every role I have ever been cast in! The web series I filmed in Miami called Black Women Don't Deserve to be Loved (http://youtu.be/P-sOoWFRTRI) was a very difficult character to play because of the title alone! But as I read the script and began to understand the purpose, I was very excited to work on the series! And Danie A (writer of the book) and Stephen Spikes (director of the web series) as well as Raw Leiba (co-star) made my experience worth every minute!
Next I would HAVE to speak about a comedy I got to work on called The Losing Game (https://vimeo.com/52364835)! This was a funny one about two rivals after the same guy! And the funny situations that come about will make you laugh! I was blessed to work alongside Tiffany Renee Johnson and Shavar D. Clark in this short film (written and directed by Cameran Battley) but the experience was so much fun!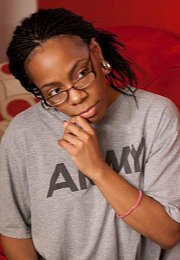 The Path Not Taken
Then I believe I have to also speak about Midget Zombie Takeover!!!! This was too interesting to be cast in only because I do not usually watch this kind of films! So to be cast in one was ironic to say the least! But Glenn Berggoetz (writer and director) was amazing to work with and his writing and the way he works with each actor to bring out their individual strength was cool! Not to mention this was another out-of-state project for me because it filmed in Indiana!
And there is the inspiration film The Path Not Taken by Preston Heights! That was a film that really pulls on your heart! It is all about choices we make and the consequences. So I was honored to have been able to play a part in such a film!.
I feel like I am leaving out so much more! But if I commented on ALL the films I have ever been cast in, you would have a book instead of an interview! So I am sorry in advance for the projects I have not mentioned but know that ALL the films I have been cast in is what have gotten me to where I am at today!
Besides being an actress, you are also a model and dancer, right? So what can you tell us about these aspects of your career, and how do they compare to acting/help you as an actress?
Well, I guess you can say that! I began in the industry as a model. I competed in a few LA competitions (and yes, I got to go to LA 3 times for those competitions) but then I realized the modeling world is NOT ready for someone as crazy as me! Plus the rules and regs as to what a model is supposed to look like was not me. So I branched into acting and realized this was where my people were!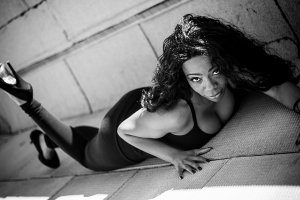 Dancing... well that has a history to it. After I was diagnosed a T1D, I was also hit with diabetic nerve damage in my legs and feet and lost the ability to walk for about a year! This was during my first year at college when I was regaining the ability to walk, and by the spring semester, I noticed a swing dancing class offered! I had ALWAYS wanted to take swing dancing but since the whole diabetic complications, I was scared. But I took the class anyway. Nicolle Wood was my teacher and BOY was she amazing! I ended up going out to a lot of the swing dancing spots and met SOOOO many amazing dancers! By a miracle, the nerve damage disappeared! Although I know dancing was not the reason, I say it was and that is why dancing has been important to me!
I believe BOTH has helped me so much! Dancing more so because social dancing requires one to be a bit brave! You take a risk in asking someone to dance and having to be rejected! OR you are made a fool on the dance floor because you might dance with someone more experienced than you! But being able to just take the chance and dance gave me the ability to not have that fear in my acting!
How would you describe yourself as an actress, and some of your techniques to bring your characters to life?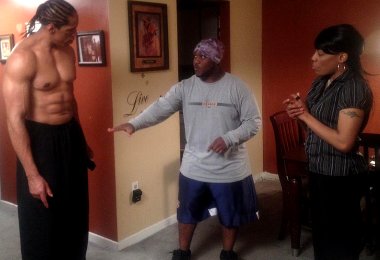 Black Women Don't Deserve to be Loved
Well, because I have actually been through SO much in my life, I have found that unless I am playing a demon, I can usually relate something in the characters with my actual life! And yes, I found that odd as well but it is true. I think acting allows us to embrace a side of ourselves we may feel we can NOT express! So when I get to act, maybe there is that side of me that needed to come out even if just for one film!
So how would I describe myself as an actress? Well, I am just enjoying this amazing ride! I embrace every opportunity I am given to be on set or on stage! And I just love what I do and I am blessed that I have people you enjoy what I do as well and support and believe in me!
Actresses (or indeed actors) who inspire you?
At this point, I would have to say Queen Latifah and Jennifer Hudson! My reasons? Well very personal and simple. They both lost people in their life that were very important to them and yet they managed to move forward and keep going! In 2009 I lost my mother and in 2012 I lost my twin brother. And I have to admit, I almost stopped acting. I was ready to just give it up! They were my inspiration! My mother was a model and my twin was the aspiring actor! So it was hard for me to want to continue! But knowing that Queen Latifah and Jennifer Hudson managed to push on helped me as well! Not to mention both my mother and twin brother told me if I ever gave up they would come back for me!!!!
Your favourite movies?
Almost anything action film and I do love those damn psychological films as well! If I HAVE to name a few...
The Puppet Masters, Outbreak, The Negotiator, any of the Die Hard-films, OH, and I am obsessed with Hackers!
... and of course, films you really deplore?

Feeling lucky ?
Want to
search
any of my partnershops yourself
for more, better results ?

The links below
will take you
just there!!!

Find Anita Nicole Brown
at the amazons ...

amazon.com

amazon.co.uk

amazon.de
Looking for imports ?
Find Anita Nicole Brown here ...
Something naughty ?
(Must be over 18 to go there !)

I don't "deplore" any film, but those mushy love stories and such are not really my cup of tea!!!!
Your website, Facebook, whatever else?
IMDb: http://www.imdb.me/anitanicolebrown
Website: http://anitanicolebrown.nowcasting.com/
Facebook: https://www.facebook.com/AnitaNicoleBrown
Twitter: https://twitter.com/AnitaNBrown
Anything else you are dying to mention and I have merely forgotten to ask?
I HAVE to say this but my goal is to change how T1D's or anyone with a "disability" is treated in the film world! I was honored that Nathyn decided to make the character of Andrea a Type 1 Diabetic who wears an insulin pump because I was recently placed on an insulin pump! I was concerned about the fight and the pump being visible in the film because almost all productions I have worked on usually have me hide the pump somewhere on my body! But not Nathyn! He put it out there for the world to see and to me, that was a small victory! So expect MORE!!!! Diabetes is my superpower! My driving force and my inspiration as well!
Thanks for the interview!
No!!! Thank you for extending the invitation!!! It was amazing!