To kick this off, why don't you introduce yourself to those of us who don't already know you?
Hi there and thanks so much for this interview! Well, I started modeling and acting for a little more than 10 years now (time flies!!!) and got the chance to start this acting adventure on a Steve Sessions film, with whom I worked with several times after that. And one film after another, I am still here enjoying every aspect of it!
Let's talk about some of your current and future projects, and your characters in them:
Half Moon Bay?
Half Moon Bay is a film directed by Jeff Schneider. We are good friends, and he offered me a small part in this film. I actually have a cool scene as a newscaster, announcing a quite important message to everyone. I am looking forward to see the result!! I know about my scene, but nothing else, so I am very curious to see what's happening in the story! :)
Blood Reunion 3: Hunters?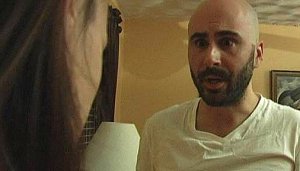 Blood Reunion 3: Hunters
Blood Reunion 3: Hunters is the last chapter of Jim Devault's trilogy about vampires! Jim is a talented and nice person. He knows exactly what he wants and that's great. I had the chance to have the part of Cal in that film, and the whole thing was a lot of fun to shoot. Part one and two are available on DVD on Amazon already, and part 3 should be available really soon! Loved working with Jim and he had a great cast and crew, including Nicole Holt, Carly Capra and my wonderful talented friend Donna Hamblin [Donna Hamblin interview - click here], just to name a few! Great memories on set! https://www.facebook.com/BloodReunion3
Silent Night, Bloody Night 2: Revival?
Few months ago, director Dustin Ferguson sent me a script for the film and asked me if I was interested in playing the part of James, who is the brother of the lead actress, Julia Ferrell. I loved the script and the character and was totally excited in being part of this. Not only I am a fan of the first one, I always wanted to work with Dustin. We had a lot of fun on the set and everyone was so friendly! Loved being around everyone on set. Just amazingly talented and lovely (Dorothy, Mark, Julia, Jeanne, Jeremy, etc...) and the iconic Jennifer Runyon who is one of the sweetest person I ever met! Love them all! They are close to my heart and it was probably one of my favorite experiences to date yet! https://www.facebook.com/pages/Silent-Night-Bloody-Night-2-Revival/1512970562312359?fref=ts
Paranormal Extremes: Text Messages from the Dead - and what was it like to work with low budget legend Ted V. Mikels, whom you have worked with before on Astro Zombies: M3 - Cloned?
Ted V Mikels is a legend, a icon in horror cinema and a veteran in films! I just have cameos in two of his films, the first one being Astro Zombies: M3 - Cloned, and I appreciate the opportunity to be part of his work!
Anything you can tell us about In Full Cry yet?
In Full Cry is filming late next month and it will be a wonderful, intense thriller/horror film in which I have the chance to play one of the leads! Jerome wrote a cool script that will be exciting to do. Very looking forward to work with him! He is really good! You can check the Facebook page for the film https://www.facebook.com/infullcry
You've recently also been in Blood Mercury by Len Kabasinski [Len Kabasinski interview - click here], with whom you have worked time and again over the years. So do talk about the movie and your other collaborations with the man for a bit, and what's it like working with him?
Len is a good friend of mine and it's always a blast to be part of his films! He is very talented, focused and great guy! Blood Mercury is actually my third film with him, and I get to be in the opening scene of the film, along with my beautiful and talented friends Donna Hamblin [Donna Hamblin interview - click here] and Deborah Dutch [Deborah Dutch interview - click here]. We filmed that opening in one afternoon/night and it was tons of fun, and...let's say with a lot of non stop action! Donna and Debbie did a wonderful job in their respective roles. The film itself should be released sometimes this year!
Years ago, I did another opening scene for Len, for his film Warriors of the Apocalypse. I played the leader of a gang who are bad guys, really! It was very much fun, and made friends with the lovely Pamela Sutch who I had the chance to work with again on Len's film Skull Forest, another non stop action film. Loved the cast and crew again on Skull Forest, and playing with all these people, including the precious and sweet Lisa Neeld.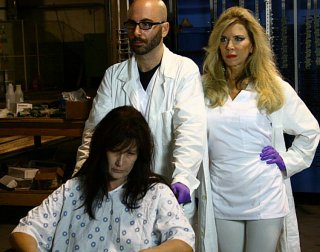 Donna Hamblin, Luc, Deborah Dutch in Blood Mercury
This summer, I will have to chance to be in his film Angel of Reckoning and see everyone!! Incredible script and my part is badass! :) www.facebook.com/angelofreckoning
Any other current or future projects you'd like to share?
Apart from In Full Cry filming next month, and this summer Angel of Reckoning, I will be working on Bad Illusions, directed by Amira Lyn at some point. It's a cool psychological horror/drama in which I will play the brother of the lead character Joan, played my Amira herself. The film has a talented cast and that is really exciting! Check Amira's production company: www.facebook.com/BellyUpProductions
I have a couple more offers, but let's wait and see when these projects happen.
What got you into acting to begin with, and did you receive any formal education on the subject?
I always knew I wanted to do some acting, whatever it was going to be. I never knew I would do horror films at 8 years old, but, as I grew older, I felt it was that kind of films I really wanted to do, and had the chance to step into. Passion, and not acting lessons, pushed me to pursue that dream of mine.
Can you still remember your first time in front of a camera, and what was that experience like?
First time on camera was for short short amateur home videos, but it was about doing what you love, and that was fun to actually do it.
Let me randomly pick some movies from your past and ask you to say a few words about them:
Southern Gothic - and your other movies with Steve Sessions?
Steve Sessions is the first director I worked with, and I was a fan of his work since his first movie Cremains. Steve does it all, music, directing, writing, editing. Very intelligent, well spoken, very funny, he always has a vision of what he wants for the final product. And it is really inspiring. I am very thankful for all the movies we did together, such as Torment, Sinister, At the House of Madness, ... He really is incredible.
Countess Bathoria's Graveyard Picture Show?
It's anthology and I'm in the segment Nightmarish Orgasm. It was a lot of fun to do, and I never got to see the film yet, but hope I will be able to sometimes in the future! The film looks like a lot of fun, and they got wonderful people involved in it!
Dys-?
My good friend Maude Michaud is a very talented girl who does beautiful, strong, well done films. Dys- is solid, unique, intense, well acted piece of art. I have a very small cameo in the film, and a cool one! I watched the film last summer for the premiere, and I was very impressed with the result. Shannon Lark [Shannon Lark interview - click here] was an incredible lead. Wonderful acting. Looking forward to see what Maude will do next!
Two years ago, I was asked to join the cast of Joe Hollow's film A Blood Story [Joe Hollow interview - click here]. I really didn't expect it, and was very happy to be able to make it!! I loved my part of Istvan (thanks JOE!) and the film itself will be very beautiful and professional, I think. Really looking forward to see it! Incredible cast, from the incredibly talented Debra Lamb [Debra Lamb interview - click here] to Robert Z'Dar, Camden Toy, the one and only Linnea Quigley, Melanie Robel [Melanie Robel interview - click here], Mindy Robinson [Mindy Robinson interview - click here], Mark Hanson... All amazingly talented actors. https://www.facebook.com/ABloodStory
How would you describe yourself as an actor, and some of your techniques to bring your characters to life?
It's tough. Acting is a passion of mine and I do take it very seriously, but saying how I see myself as an actor is quite impossible for me to say. Let's say I try to bring what I think the part is. Or do exactly what the director is trying to get from me. I love characters that are very much different from me, just because you have all that freedom to be something you are not.
Actors (and indeed actresses) who inspire you?
Well, let's say I've always loved actors and actresses that are captivating you, are strong, yet vulnerable... you can feel them. I always was a big fan of Kim Basinger, who I think is able to convince me all the time. Chris Sarandon, Angela Lansbury, Jessica Lange, Brigitte Bardot, Isabelle Adjani, Nicole Kidman, Charlotte Gainsbourg, Rosanna Arquette, James Spader, Farley Granger, Kiefer Sutherland, Michael Caine, just to name a few...
Your favourite movies?
Too many of them, so just dropping a few here from any genre... The Fog, Suspiria, Tales from the Crypt, Dressed to Kill, Cube, Halloween 3, Wait Until Dark, Charade, Clue, Murder by Death, Black Swan, Burnt Offerings, Possession, ...
... and of course, films you really deplore?

Feeling lucky ?
Want to
search
any of my partnershops yourself
for more, better results ?

The links below
will take you
just there!!!

Find Luc Bernier
at the amazons ...

amazon.com

amazon.co.uk

amazon.de
Looking for imports ?
Find Luc Bernier here ...
Something naughty ?
(Must be over 18 to go there !)

...again tough... I love comedies, but they are tricky. The purpose is to laugh. If you don't find the actors funny, you can't laugh... and if you don't laugh, it's not a good comedy.
Your website, Facebook, whatever else?
http://www.imdb.com/name/nm1778060/
Anything else you are dying to mention and I have merely forgotten to ask?
Well, there are many indie filmmakers out there that I enjoy and admire. I want to congratulate them all for their amazing work and to keep the industry very much alive, fun, and fascinating and exciting! And all those talented actors, people like you inspire me and keep going! So I will just list a couple names that I think are wonderful and will keep supporting... Shane Cole, Kelsey Zukowski [Kelsey Zukowski interview - click here], Brinke Stevens, Joe Zaso, Bart Mastronardi [Bart Mastronardi and Alan Rowe Kelly interview - click here], Demona Bast, Cheyenne King, Deanna Meske, Dawna Lee Heising [Dawna Lee Heising interview - click here], Travis Miller, Anthony Spadaccini, John Orrichio, ... You guys are wonderful!
Thanks for the interview!
Thanks to YOU!!! :) Very much appreciated!!