You have recently starred in quite a few movies directed by Jared Masters [Jared Masters interview - click here] - so how did those collaborations come about, and how did you two first meet to begin with?
We first met when he cast me as Joan in Slink. I must have applied online because I remember getting a call from him telling me that I had the role and that they were building the set. The day that we shot must have been over 100 degrees, but luckily Jared and cinematographer Tim McCombe work fast. The sets were awesome. We shot in Julia Faye Westís house at the time, which looked like a magnificent gothic mansion. Jared told me that Joan was originally an overweight monster type of character, but that when he saw me, he thought that Julia Faye West, the star and executive producer of Slink, could really be my younger sister. That was really a compliment, as Julia is gorgeous!
What's your collaboration with Jared Masters usually like, and what kind of a director is he? And what are your shoots with him usually like?
Jaredís films are always well-organized and fun to work on. Jared does all of the budgeting and pre-production himself, and he also writes, directs and edits his films. That is how he can make his movies on a lower budget than most filmmakers. He also shoots fast, with very few takes. He knows exactly what he wants the scene to look like and sound like, and a lot of us have worked with Jared before so he knows that we can deliver what he needs. I am also Jaredís publicist, and he makes the job easy because of the quality of the work he produces. All of Jaredís films since Slink have won awards. I handle the awards and film festivals, but actually, Jared is really his own best publicist since he shoots so many quality films every year. Thereís a new article, story and/or press release almost every week.
Let's talk about each of the films in question and your characters in them in a little more detail: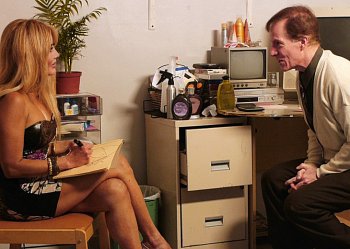 Dawna with Art Roberts in Slink
I played the evil purse designer Joan in Slink. Slink had a wonderful, very twisted plot, and I think that Joan is one of the best characters that Iíve played for Jared. Jared is very much a perfectionist, which is one reason why his movies are so great. He took pictures from when I was Ms. World and framed them for the walls of my designer purse store called Virgin Leathers. He also took his grandmotherís purses and hung them on the walls of my shop. Iím hoping that there is a sequel to Slink and that my character somehow comes back to life. I also had a great connection with Art Roberts, who plays my husband Dale, even though he ends up killing me! Jared won an award for Best Horror Film for Slink at the 2013 EOTM Awards at the Pacific Design Center.
Teacher's Day/After School Massacre?
Teacher's Day had its World Premiere at the 2014 Mockfest Film Festival and was nominated for the Best Picture Award. I played a mother named Naomi Perkins, and I was honored to win a 2014 Mockfest Film Festival Best Actress Award for the role. The film was beautifully shot and colorized by Tim McCombe and the hairdresser on the set did a great job on my hair. It was a really fun role to play. Jared asked me to find someone to play my date so I brought in a great actor I had worked with before, Lejon Stewart. Lejon and I had so much chemistry that Jared wrote a scene at the end of the film for us! Jared just called me to say that Teacher's Day is going to be on Netflix, as well as on Redbox and Amazon.
Jared cast me as a record producer named Gladys Kang in Deadly Punkettes. It was a small role, but a great character. The set by Adam Trash was awesome. The film was shot at Hollywood Casting and Adam hung gold records on the wall since I was playing a big-time record company executive. Andy Dick had a hilarious scene at the beginning of Deadly Punkettes. Deadly Punkettes just had its World Premiere at the Galactic Film Festival on August 9, 2014, and won the Festival Favorite Award. I won the Miss Galactic Film Festival Contest, and am very honored and happy.
The trailer for Club Lingerie is hilarious, and it looks like it will be a really funny film. I was sick during the shoot so I could only work on the last day of the film, but that day was awesome. I played a pageant winner named Shelby Gator, whose partner is a transvestite, played by the incredibly talented Richie Lillard. He was so funny that he had me cracking up the whole day.
All of these beautiful young girls were running around in lingerie on the set, and my friends Domiziano Arcangeli [Domiziano Arcangeli interview - click here], Maria Olsen [Maria Olsen interview - click here] and Lejon Stewart were also cast in the film. Billy Hendrickson designed a puppet especially for the shoot, and the star of the film is cult favorite Bouvier [Bouvier interview - click here]. Club Lingerie is an Official Nominee of the FANtastic Horror Film Festival in October in the horror comedy category.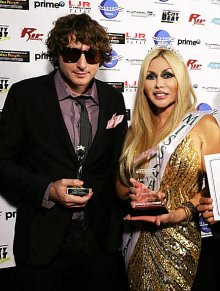 Dawna with Jared Masters at the
Galactic Film Festival
As far as I know, you'll also be in Masters' upcoming Carny Girls and Ballerina Massacre. Anything you can tell us about those yet?
Jared is still looking for financing for Carny Girls and Ballerina Massacre. I will be playing Cassandra, the fortune teller, in Carny Girls, and C.J., the head mistress of the ballet school in Ballerina Massacre. Both of them have great scripts and will be incredible movies!
Any other future projects you'd like to share?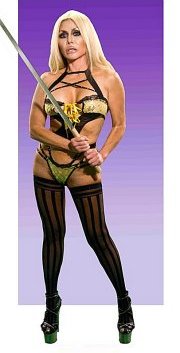 Happy Ending
In the future, Iíll be playing Michelle Willoughby in Past Due, which will be directed by Robert Conrad, and The Snake Woman in Circus of Dread from Mark Savage. Iím currently filming Natural Born Filmmakers from Grunder-Oakley Productions. Book of Choices is also currently filming Ė I play Honora Turner in the third story called Salvation of One Ė and then the film will enter the film festival circuit. I expect it to win many awards. I will also be playing Alice in Phil Condit and Maria Olsenís Happy Ending [Happy Ending interview - click here], which will be a wonderful horror comedy. I also just got a part in a film written by Luc Bernier called Bad Illusion. Next year, Iíll be playing the Outlaw Crego in Texas in Jezebeth 3: Guns of El DiabloĒand I am playing Stella in Mouthpiece from Longshot Productions. Creep Creepersin [Creep Creepersin interview - click here] has an interesting television project that is in the process of being greenlighted and Iím crossing my fingers. Iím also going to play a wonderful part in a spectacular series of fantasy/adventure films that I canít talk about yet!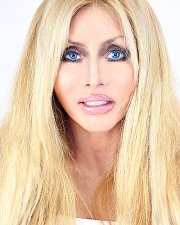 What got you into acting in the first place, and what can you tell us about your education on the subject?
Iíve always enjoyed performing, and have taken ballet all my life and was a cheerleader all through school. I have an A.A. in Drama from Fullerton College and took acting and chemistry classes at U.C. Berkeley. Iíve studied with Sal Romeo of the Friends and Artists Theatre, Mark Majarian, Dean Stockwell, June Barfield and have taken acting workshops with Tim Russ and Richard Hatch. I also took a summer workshop at South Coast Repertory, where my husband and I now have season tickets. Sal Romeo is the acting teacher who Iíve worked with most and who made me believe that I could make it in the film industry.
Can you still remember your first time in front of a movie or TV camera, and what was that experience like?
I played Cleo the Snake Dancer in the last episode of Magnum P.I. and it was an incredible experience. I had a boa constrictor around my neck and the trainer was just off-camera, in case the snake decided to choke me!
Besides making movies, you have also done quite a bit of theatre - so how does performing on stage compare to acting in front of a camera, and which do you prefer, actually?
I was with Sal Romeoís Friends and Artists Theatre Group for many years and I played Liat in a dinner theatre production of South Pacific. I am a dancer so playing Liat was wonderful, but I was also cast as Mei Li in a production of Flower Drum Song. I really wanted to play Linda Low, but the girl that was cast could sing and dance better than me. Mei Li has two really difficult solos so I took singing lessons to prepare for the role. I did my best Ė no one can ever accuse me of not giving my all on a project! Ė but I got killed on my singing in the reviews. It was sad because I thought my acting performance was really good.
I think working in theatre helped me a lot because it taught me to speak from my diaphragm and to make everything bigger. Itís easier to tone down for the camera than to have to make everything bigger. I learned tons doing theatre work, but I really love the film industry.
One can't help but notice that especially of late you're drawn more and more towards the horror genre - a mere coincidence, or is horror a genre you're really fond of, and why (not)?
Iíve been very lucky to make friends with the people I work with and many of those talented people are in horror. Creep Creepersin [Creep Creepersin interview - click here] gave me my first role when I returned to acting three years ago as his wife Lady Goldfist in Fingerbang and gave me my first lead as Pamela Forker in Fork You opposite Domiziano Arcangeli [Domiziano Arcangeli interview - click here]. I started working with Jared Masters [Jared Masters interview - click here] in Slink and have done four films with him. I did Pond Scum with Mark Savage and hope to work on his Circus of Dread soon. When I started doing More Horror in Hollywood for Seth Metoyer and covered Shockfest, Mockfest, Shriekfest and the R.I.P Horror film festivals, I got to know even more people in horror. The horror community is a very supportive and tight-knit group and Iím proud to be part of it. Iím presenting an award at the FANtastic Horror Film Festival in San Diego in October and I just won Miss Galactic Film Festival on August 10, 2014.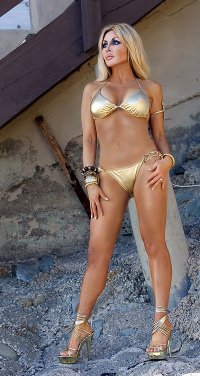 Besides acting, you have also done quite a bit of modelling, right? So what can you tell us about that career of yours, and how does modelling compare to acting?
Iím actually a swimsuit model and Iíve worked for Ujena Swimwear, Venus Swimwear and Catalina. Iím now doing photo shoots and covers for Bikini Magazine and I love shooting on the beach. Itís incentive to stay in shape. Iím also a pole dancer now and love those outfits too.
You of course also have to talk about your involvement in Eye on Entertainment for a bit!
John Cox and I have done our television show Eye on Entertainment for the last nine years. I was a marketing director in technology and I missed show business so much that we would go to Hollywood after work (12 hour days!) and on weekends and do interviews with actors, directors and producers. I met many of the horror stars through my manager at the time, Matt Chassin, and I will always be grateful to him for that.
How would you describe yourself as an actress, and what are some of your techniques to bring your characters to life?
I would describe myself as very well-trained as I have an A.A. degree from Fullerton College in Theatre Arts and took acting at U.C. Berkeley and South Coast Repertory. I was also with a theatre group for many years and have taken recent acting workshops at Irvine Valley College with Tim Russ and Richard Hatch. I can tell when my performance is real when I feel it inside. I have certain triggers I use when I have to feel different emotions. Itís easy for me to cry and I use my Dadís death as a trigger for sadness. Chandra Gerson worked with me for a year on my performance as Honora Turner in Salvation of One, the third story in Book of Choices and I feel like it was a real turning point. The character was so complex that I worked with Chandra and acting teacher June Barfield on every line and every emotion. I also used a devastating experience that I went through involving divorce and the well-being of my children as a trigger Ė thatís all Iíll say for print. I was drained after we filmed Salvation of One, but it was such a fulfilling experience. I feel like I can play any role now and I canít wait to see Book of Choices in film festivals!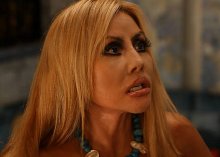 Book of Choices
Actresses (and indeed actors) who inspire you?
I very much admire Angelina Jolie, Bryan Cranston, Robert Downey Jr., Kevin Spacey, Robin Wright and Billy Bob Thornton. And I loved Brigitte Bardot, Sophia Loren, Sybil Danning [Sybil Danning bio - click here], Ursula Andress and Raquel Welch, just because they are so beautiful! Theyíre all actors who command your attention Ė you canít take your eyes off them when they are onscreen. The camera loves them, as they say.
Your favourite movies?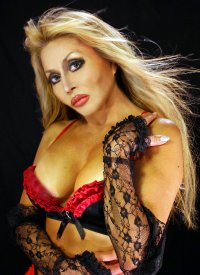 Feeling lucky ?
Want to
search
any of my partnershops yourself
for more, better results ?

The links below
will take you
just there!!!

Find Dawna Lee Heising
at the amazons ...

amazon.com

amazon.co.uk

amazon.de
Looking for imports ?
Find Dawna Lee Heising here ...
Something naughty ?
(Must be over 18 to go there !)

Silence of the Lambs, Philadelphia and Sixth Sense are my favorites and I am very proud that my uncle Tak Fujimoto was the DP on them. I also love Shawshank Redemption and The Hunger Games movies. I also just got hooked on the series Twin Peaks. The character of Bob is so scary!
... and of course, films you really deplore?
If my husband and I donít like a film, we just turn it off after the first few minutes. This shows me how important the beginning of a movie is, and Jaredís movies all have great intros. Iím so used to working on films with very small budgets that I believe that thereís no excuse for making a bad movie with a huge budget.
What are your future goals?
My primary goal in acting is to do larger parts and more leads in the next few years. I want to do demanding roles in quality films that will make me grow as an actress. But itís still fun to play sexy roles and prostitutes while I still can!
Your website, Facebook, whatever else?
http://www.eyeonentertainment.tv
http://www.imdb.me/dawnaleeheising
http://www.youtube.com/eyeonentertainment
http://www.twitter.com/msuniverse2009
http://www.facebook.com/dawnaleeheising
http://www.linkedin.com/dawnaleeheising
Thanks for the interview!