You have very recently produced Debbie Rochon's directorial debut Model Hunger [Debbie Rochon interview - click here] - in a few words, what is it about?
Model Hunger is about a former model who was cast out of the modeling industry in the 1950's because her body type becoming "out of style". After years of psychological torment, she snaps and drags her neighbors and small town down with her in a violent frenzy.
Your personal take on the model-scene, and to what extent do you see it reflected in the movie?
I've seen major improvements in the modeling industry, and that's because consumers are demanding more diversity. I think many times society forgets that we vote with our dollar and we choose to support images and ideas. However, high fashion continues to sport anorexic images of women that resemble little boys. It's much easier to hang couture off a shapeless body than one that has curves.
Model Hunger is a vicious, disturbing, and sadistic take on the effects of popular culture's views and how it affects both men and women. Not only that, it's fucking brutal and will throw any horror fan for a loop.
The $64-question of course: When and where will the film be released, tentatively?
Model Hunger is diving into post right now, so we are aiming for a 2013 release.
Let's go back to the beginnings of your career: What got you into the filmworld to begin with, and did you receive any formal education on the subject?
I started with theatre and dance when I was a child and moved into directing and acting in film at 16. At 19 I went into an audition on a whim in San Francisco and the producer ran after me, stopping me in the lobby in front of the other women waiting to audition for the role (who then got up and left). It was at that moment I knew I found my path and had to follow it.
I took intensive classes at the Film Arts Foundation and continued making my own films while acting in shorts and features on the side. It's a constant process and I always make mistakes, but I learn from them and move on and make each film I do better than the last.
From early on in your career, you haven't reduced yourself to being an actress but have also had your hands in writing, producing and directing. Why, and which do you enjoy the most?
Hands down, acting is my number one, however I love other aspects of production for different reasons. I consciously went behind the camera after noticing the severe lack of good roles for female characters in the low budget horror genre (or films in general) on top of a general disrespect for what talent means. I would go into "legit" auditions, nail it to a wall, and then *suddenly* be expected to disrobe or have some disgusting director/producer make disrespectful comments about my body. Even though I was still practically a child, I knew this wasn't right.
I made a decision to liberate myself from that vicious cycle that so many actresses find themselves subjected to, and dived into creating my own films: learning producing, writing, and directing. I picked up books, took classes, studied movies by getting a job at one of the largest video stores in the nation, followed the crew around when I got cast in films and would ask questions/help move equipment. I also traded services for one-on-one sessions with filmmakers.
At least IMDb states that your first movie as actress, writer, producer and director was the horror short Marburg. a) Is this true, actually, and b) lessons learned from it?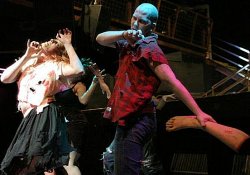 Whatever Happened to Zombie Killers?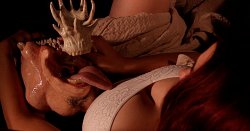 Mama's Baby
No. IMDb is a bit of a scam and contains a fraction of the films I've worked on. Marburg was my 3rd film and it featured a lot of vomit, screaming, and blood shooting out of every orifice. I learned so much from that film, since it was the first formal set I ever ran and had a cast/crew of 18. I had to work with the Oakland Film Commission, secure insurance, and move locations several times. I learned that a monitor is your best friend so you can actually see your shots and that actors, editing, and sound is key.
After Marburg I went onto make my next film, Whatever Happened to the Zombie Killers?, which was shot at the DNA Lounge in San Francisco, with a cast/crew of over 50 and 2 camera/FX units working at the same time as well as a choreographed dance sequence. Marburg helped immensely with the mistakes I made prior to Whatever Happened to the Zombie Killers?.
Some other past films of yours (in whatever function) you'd like to talk about?
I directed/starred in a film called Lip Stick which was my response to Teeth, featuring a woman suffering from vagina dentata. It's an incredibly disturbing film and certainly has an effect on each audience I watch it with. I really started to flesh out my style and vision for my own filmwork and stories, playing with light, theme, and editing.
In the past year I starred in Joe Hollow's Disciples [Joe Hollow interview - click here] and Paul Bright's Goliad Uprising. I'm anxiously awaiting Drew Daywalt's Mama's Baby, where I played a sexually derived character whose "baby" is not what you would expect.
Any future projects you'd like to share?
I'm thrilled to be starring in Maude Michaud's Dys in Montreal as well as The Philosophy of Milk, a film I wrote recently. I have several projects in various stages of development that I can't talk about yet until the green light yells GO!
Talking about Shannon Lark, one of course also has to mention your non-profit organisation Viscera. So please do!
I founded Viscera in 2007 when I noticed (again) a severe lack of female presence behind the camera in genre films, therefore leaving horror to a one-sided perspective. I had been running film festivals for a couple years by then and decided to do a horror film festival for women, hence Viscera was born.
Now Viscera is a non-profit organization with a staff of over 20 who are dedicated at expanding our services and assisting filmmakers. We throw a carpet ceremony for female horror filmmakers in Los Angeles each year and work with partner festivals, organizers, universities, and art galleries to throw festivals/screenings all over the world. This year we are opening up a fantasy/sci-fi festival in Boston, called Etheria and will soon open our new action film festival as well. It's astounding at how many women are picking up cameras - the submissions we get are amazing.
Likewise, a few words about the ChainSaw Mafia?
I started The ChainSaw Mafia when I was just getting into film. The internet was in its infancy at that time and there wasn't a solid site to get film jobs specifically for horror productions. The ChainSaw Mafia gave people the opportunity to connect with writers, directors, actors, composers, etc. We expanded the site and it became a full blown shop and news site. I passed The ChainSaw Mafia off to editor Jamie Jenkins when I decided to focus more on Viscera and my film career.
The ChainSaw Mafia helped me connect with alot of the professionals I know today. I'll never forget that.
Once can't help but notice that quite a few of your films are of the horror variety - a genre at all dear to you, and why (not)?
I love genre films in general. I started out in low budget horror, but I'm now crossing over to more Sci-Fi, Fantasy, and stylized work as well as dramas and comedies. I just love playing characters that aren't normal or boring. There's nothing worse than being given the cardboard "hot-chick" role. Give me substance. Mess me up. Apply layers. Film is like a painting, and so are characters.
I will always love horror though. I grew up obsessed with the genre and utilizing it as a way to cope with the disturbing aspects of my youth. It's a perfect cocktail for those who want to exploit pain and fear and share it with an audience who is completely aware of that same feeling.
How would you describe yourself as an actress, and how do you usually approach your characters?
If I don't love it, I have a difficult time emulating. I need passion or it just isn't gonna work for me. It's like sex.;)

Feeling lucky ?
Want to
search
any of my partnershops yourself
for more, better results ?

The links below
will take you
just there!!!

Find Shannon Lark
at the amazons ...

amazon.com

amazon.co.uk

amazon.de
Looking for imports ?
Find Shannon Lark here ...
Something naughty ?
(Must be over 18 to go there !)

Actresses (and indeed actors) who inspire you?
Kate Winslet, Frances Bay, and Juliette Lewis.
Filmmakers who have influenced you in whatever way?
Peter Jackson, David Lynch, Gaspar Noe, Alejandro Jodorowsky.
Your favourite movies?
Santa Sangre, Irreversible, and Inside.
... and of course, films you really deplore?
Hatchet, Dude, Where's my Car?, Matrix Reloaded.
Your/your film's website, Facebook, whatever else?
Anything else you are dying to mention and I have merely forgotten to ask?
Totally in depth interview! Thanks so much!
Thanks for the interview!