Your new movie The Days God Slept - in a few words, what is it about?
Jeremiah Kipp: It's a boy meets girl story that seems to be set in an otherworldly strip club. The boy wants to get to know her better, and she tells him her story. As he presses her to tell him "how it really was" we start to get the feeling he's opening a Pandora's box. The more we learn about someone, the more mysterious they become.
Joe Fiorillo: I think ultimately it's a very specific story about love in all its contradictions, joys and pain. But in this case, love pushes on the outer edges of extremity and tests in limits and its frailty.
How did the project come together in the first place? And related to that, how did you two first hook up?
Jeremiah: Joe and I are part of a workshop for writers called Present Tense Productions, run by a teacher named Mick Casale. Joe and I were both doing an "advanced workshop" where we were working on scripts and turning in rewrites at an incredibly rapid pace over the course of three months. It was a kind of boot camp for the playwright/screenwriter. Since we were both on the same regiment, it was a way for us to connect as artists and, eventually, as friends. It must have been a few years later that I first heard a reading of The Days God Slept, before I was attached as a director. It was material I responded to, and I'd meet with Joe to talk about it without knowing it was all leading to this collaboration.
Joe: For a long time there, the script was kind of an experiment in using non-literal storytelling style. I wasn't thinking about it ever being shot. Jeremiah and I talked about the script many times from a writing perspective. And at some point there it seemed like a good idea to actually film it. Once I was serious about shooting it, I asked Jeremiah if he'd want to direct it. I remember thinking that he has the appropriate amount of angst needed to direct this script. I think that was a sound judgment.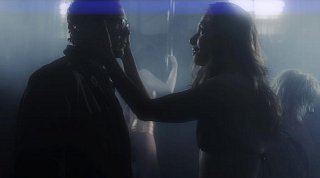 "You look like a dentist in those glasses."
Joe, what were your inspirations when writing The Days God Slept?
Joe: I was in Miami and I met someone hours before I had to leave. She told me a lot of things about herself. I think part of the allure of the situation was that it was by its nature very ephemeral. When I went to say goodbye to her, she said to me "You look like a dentist in those glasses." For some reason, that particular line stuck with me and wouldn't let go.
What was your collaboration like prior to and during the shoot, and Joe, what was it like to see your vision realized by someone else?
Joe: I feel like I was very fortunate to work with Jeremiah on this. It was a collaboration in the best sense of the word. We were talking about this exact thing just the other day. And I quoted Pete Townsend. Townsend said that he was very lucky to have Roger Daltrey, because his lyrics were kind of dreary but Daltrey has a voice like a razor blade. I think that there was a similar counterbalance. The script has this strange sexuality juxtaposed a lot of religious voiceover and ideation. Because Jeremiah and our director of photography Dominick Sivilli make the film so visually striking, the audience absorbs these difficult contrasting images.
Jeremiah, how would you describe your directorial approach to the story at hand?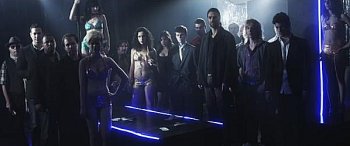 Jeremiah: The world is a very aggressive place, so our storytelling is aggressive too. Within the strip club, we wanted to create a kind of weird haven where these two lost souls could try to connect. The safety of the movie starts to erode. We created an intensely charged atmosphere for the actors, who were tenacious and willing to go there. I'm grateful to have a cinematographer like Dominick who is responsive to actors and environment, who also throws himself into the world of the movie. I'd also like to add that empathy for all the characters, and all the people involved, is key. There were some wonderful actresses playing strippers, and it was important that they not feel ashamed or exploited by the experience—but instead to feel like beautiful creatures. One of them, my friend Kelly Rae LeGault [Kelly Rae LeGault interview - click here], arrived on set and saw the stripper pole and thought to herself, "What the hell have I gotten myself into?" But by the end of the day, if you asked her what she became involved in, she responded, "Something wonderful…" That means a lot to me, and translates into the work.
The Days God Slept is quite labyrinthine in structure and plays with different layers of reality. So did you ever run the danger of simply, well, losing the plot, both during writing and filming?
Joe: In a way, the plot and structure are actually very simple. It's more the style that is problematic. I was pretty immersed in the world of the script when I was writing it, so I never got lost really. But I was very concerned about whether an audience would follow along with us. That was the concern at every step of the way from the writing through the editing process.
Jeremiah: I created a map for myself, with the various levels of reality. The strip club was one level, let's call it a beautiful fantasia. Then in the park scene you take a level down to earth, in what we might describe as naturalistic reality. Beyond that were distorted memories and flashbacks, which were diseased half-remembered reality. Dominick and I even talked about using long lenses for the flashbacks, mid-range lenses for the park and a mix of very wide and very long lenses for the club, just so each felt a little different. It was like planning the architecture of a house. I feel like the best experimental films are, at their core, very straightforward. Samuel Beckett's avant-garde plays were very specific to him, which is why they resonate today. I'm not trying to compare us with the master, but merely by way of example.
What can you tell us about your key cast, and why exactly these people?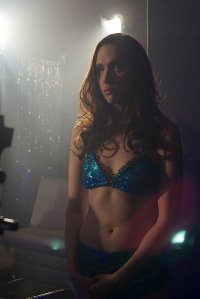 Lauren Fox
Jeremiah: Talk about diseased memories... I seem to recall Lauren Fox being already attached to the project before I came on! It was a little like the scene in Mulholland Drive where the producers put the headshot on the table and say, unquestioningly, "This is the girl!" Joe remembers it a little differently. We joke about it now.
Joe: Yeah, actually; Lauren wasn't quite attached yet. Jeremiah and I had actually started to ask the question about who might we cast. He didn't know Lauren at all. I said I had someone in mind. I wasn't really sure if Lauren would want to do it. It's a really demanding role and it asks an enormous amount of the actress. But I had asked her to do a reading of it in a workshop -- at the time, the material was getting mixed responses and I wasn't even sure she'd want to read for it. But I had an intuition that she might respond to the material. And then she read for it and wanted to do it. It was very clear immediately that she was the right person for the part.
Jeremiah: After hearing Lauren read, and shooting a crowd-funding promo together, I was absolutely convinced she was the only person who could play Kristy. You feel a sense of history in her performance; a kind of strength that comes from being deeply wounded. It felt so honest, so damned committed and unflinching. We had a wonderful time collaborating on this role; she's a great and fierce talent.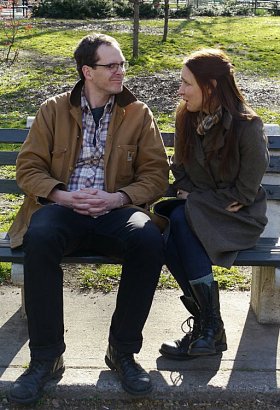 Malcolm Madera, Lauren Fox
Joe: Lauren is utterly fearless in the role. As I said, the character is very demanding and it takes not only a strong actress, but a strong person to play it. I can't imagine anyone else in the role. Lauren is terrific.
Jeremiah: The role of John was tricky to cast because he could so easily slip into passivity. We saw different actors for the role and landed upon Malcolm Madera, who I'd seen in a play and who had worked with Lauren Fox. Once his name came up, it had to be him. Malcolm is no pushover. He was going to get in there and fight for his right for this character to exist. Interestingly, one of the keys for him to find the character was wearing Joe's glasses. It hooked him into the part. While I don't think this script is autobiographical, it's certainly personal.
Joe: The trap of the script and the film is if John comes off as weak. We had to find someone strong enough to portray unconditional love as a point of character. Malcolm portrays that sort of natural inner strength. He plays John in a precise understated way that balances the character.
Jeremiah: We could go on and on about the cast; they were a terrific group to work with. I can't leave off without mentioning the remarkable Lukas Hassel, an old friend and familiar, who plays Carl. On the page, the role seems quite small, but he's a powerful force that the other characters are up against. I hadn't initially thought about Lukas, since he usually plays handsome and dashing romantic leads. But Lukas is in touch with the darker sides of himself; he's also a writer and his script Le Mecano has been making the rounds and winning top prizes at places like Cinestory. That script is full of bleak anguish and terrifying nights of the soul. Lukas understands that place. I told him my great fear that he was too beautiful for the role; so he tapped into the ugly and subterranean parts of himself that he comprehends so well. I loved what he built, and he's one of those people I want to work with again as soon as possible.
Joe: We thought of Lukas late in the process because of the darkness of the character. I've known Lukas for a long time and he was also really helpful to me while the script was in the developmental process. He had given me a lot of notes and encouragement. And he brought that depth of understanding to the character. He does some things that aren't in the script that are really instrumental in conveying the story to the audience. He was enormously prepared and committed to the performance. His performance is seamless.
Do talk about your main location, the gentleman's club, for a bit if you may!
Jeremiah: Amazingly, this film was shot in a raw space and the gentleman's club was built entirely from scratch! I can only credit this to our superb production designer Kimberly Matela, who made this location out of thin air on a very meager budget. But I think your question is driving more to the symbolism of the club...
Joe: The club represents a kind of idealized sexuality where everything is 'blue lights and pretty costumes' as Kristy says in the film. The club represents the state of mind of the characters and as that idealized sexuality starts to break down, so does the metaphysics of the club.
What can you tell us about the shoot as such, and the on-set atmosphere?
Jeremiah: It was a very fast and furious two day shoot, with the constant feeling of being on the move. We had an excellent crew that I'd worked with many times before, and that enabled us to be a brisk and resilient gang of thieves. And as I recall, we shot the movie on Easter weekend, which may have informed our work somehow.
Joe: Seeing the script become three dimensions was a very strange experience for me. The script takes place in a really strange world and there's a certain degree of uncertainty of how it will ultimately translate. One of the really great things about the shoot was that people really had fun—especially the extras. It had the feel of a real party but when it got down to the shooting, everybody responded to their parts. It was kind of amazing. I knew a lot of the extras and they had never been on set before, but were really into it. Jeremiah ran the set wonderfully in keeping that balance between having fun and taking their roles seriously.
Jeremiah: The longer process was post-production, which lasted for a year. We had Anthony Moran and Patrick McGowan in the editing room, Roman Chimienti and Jay Pellizzi on sound design and mixing, Dominick Sivilli color correcting the images and Harry Manfredini composing the score. Again, it's that feeling of having a Mission: Impossible team working with you, only post feels closer to the experience of writing. You are, in a sense, re-writing the narrative and the feelings you want to create, and it was wonderful having Joe there during every step of that process. The writer isn't usually as involved in post, and he was very willing to move and shape the material, make cuts, changes—he wasn't precious about the script. When I told Dominick that, the response was, "Of course not. Joe's a real writer." He understood that, in fact, we're writing up to the very end.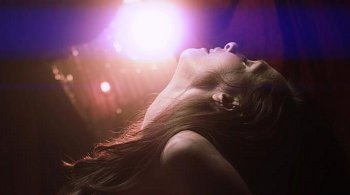 As far as I know, The Days God Slept has so far been seen by only a handful of critics - so what can you tell us about critical reception so far?
Jeremiah: People come back with different interpretations. One of my favorites was someone saying it was a metaphor for heaven, hell and purgatory, with Carl as the devil, John as man, and Kristy as a fallen angel. When you finish a film, it no longer belongs to you. It belongs to the audience. When they respond to it, you hear the movie told back to you in a new way, and you get to hear the movie they saw.
So when and where will the film be released onto the general public?
Jeremiah: We're doing a NYC screening for cast, crew and friends on May 20 at Anthology Film Archives, to be followed by the film festival circuit. Ultimately, we hope everyone has the chance to see it.
Joe, you are mainly known as a playwright - so how does writing for the screen compare to writing for the stage, and will you ever be tempted to write another screenplay?
Joe: There's a lot you can do on film that you can't really do in a play. You can jump locations or time instantly. You can juxtapose voiceover against a contrasting visual image which creates a new meaning for it. And you can induce a feeling by the images you use. It's about communicating in a different way. The stage plays I've written are all comedies. For me, film seems a better medium for darker storytelling. I've already written another film short. And I definitely plan on writing a feature for my next large project. The process of filmmaking was so much fun that I want to do it again.
Jeremiah, since I've covered In Fear of - Season 2 to quite some extent, you just have to talk about your contribution to that one for a bit?
Jeremiah: I only did one episode for season two, which has been shot and ready to go into post-production. It's about the fear of blindness, and Susan Adriensen [Susan Adriensen interview - click here] (from Alan Rowe Kelly's The Blood Shed [Alan Rowe Kelly interview - click here]) plays our main character, who is confronting her illness head-on. It's not a soft story. It's about drugs, shrieking mayhem, psychological assaults, exorcisms, confrontations. In some ways it felt like a recap of other work I've done. Susan was just wonderful, and we'll see how it all turns out.
Any future projects you'd like to share?
Jeremiah: Working with Joe and our producer Lauren Rayner was a deeply satisfying experience. We're currently developing a new project together which promises to be an unnerving psychological horror film. It's more of a straightforward genre film than The Days God Slept. Joe and I were interested in making something—not more mainstream, but certainly more narrative-driven.
Joe: I wrote a short film called The Minions. It came from a suggestion from Jeremiah. Someone was looking to produce a short and Jeremiah called me and asked if I could write something quick. He suggested I adapt a particular part of a short story I had written. At the time, I wasn't sure about it but I found a way to change the material substantially to make it work as a short film. It was a lot of fun because I got the basic story down pretty good in about three days. From there, it still had to be fine-tuned. Lukas Hassel was again a part of that developmental process. As I said, it's a good collaboration with Jeremiah directing my scripts so we're looking to move on to a feature after that.
Your/your movie's website, Facebook, whatever else?
Web site for The Days God Slept: http://www.laurenrayner.com/thedaysgodslept/trailer.html
Facebook: https://www.facebook.com/thedaysgodslept?fref=ts
Jeremiah's Web site: http://kippfilms.com/main.html
Anything else you are dying to mention and I have merely forgotten to ask?

Feeling lucky ?
Want to
search
any of my partnershops yourself
for more, better results ?

The links below
will take you
just there!!!

Find The Days God Slept
at the amazons ...

amazon.com

amazon.co.uk

amazon.de
Looking for imports ?
Find The Days God Slept here ...
Something naughty ?
(Must be over 18 to go there !)

Jeremiah: Films like these cannot be funded or organized without the support and strength of a producer. One of the first people who came on board after Joe and myself was Lauren Rayner, who guided us through two successful crowd-funding campaigns and was there every step of the way from development to crew hiring to principal photography, giving feedback all through post. She kept pushing the film, knowing full well it is not for all tastes, the very definition of a cult movie. It's important to have people like that by your side, fighting the battle with you, because movies like this are a battle. You struggle to make them, you struggle to finish them, you fight to get it out there to an audience, festivals, critics, and throughout the process Lauren has been there. We truly could not have made The Days God Slept without her behind-the-scenes guidance and supervision.
Joe: Lauren Rayner is terrific. There's so much that goes into this process and it's so important thing to have a trust and confidence in the producer. Lauren was really ideal for this project too because she has a slightly different sensibility and perspective. So, her creative input at every step in the process has been essential part of the collaboration. With her and Jeremiah, the long process of putting together the film was really rewarding. I think the difficult shooting schedule and subject matter pushed everyone in different ways. Lauren provided the leadership and stability that brought everything together.
Thanks for the interview!