Your upcoming movie Adam K - in a few words, what is it about, and what can you tell us about your character?
I play Mrs. Kraul, the mother of fallen soldier Adam Kraul. At first, I believe that my son is dead, until I start to receive mysterious phone calls and greeting cards from him. I then work with two Detectives and his commanding officer to try to track him down.
What did you draw upon to bring your character to life, and how much of Brinke Stevens can we find in Mrs Kraul?
Iíve played a few concerned mothers in the past, so it was easy to slip into that persona. I really enjoyed doing such a serious, dramatic role.
How did you get involved with the project in the first place? And what can you tell us about your director Joston Theney [Joston Theney interview - click here], and what was your collaboration like? And how did you first meet even? And also do talk about your previous collaborations with Joston!
I adore working with Joston, because he always casts me in the best roles! Our first project together was Bleed 4 Me, a gritty horror drama where I play a tough huntress named Lady Jasmine. A couple years later, he hired me for Axeman to play a ballsy small-town Sheriff who fearlessly confronts a serial killer. And then he thought of me for the courageous mother in Adam K. Heís so supportive of strong female roles. And just an all-around great guy to work with, too. On-set, Joston is very skilled, creative, and efficient. Yet his shoots are always such fun ó for example, when we filmed Axemanat a remote cabin in the mountains, it felt like a wonderful vacation for the cast and crew.
Any future projects beyond Adam K you want to share?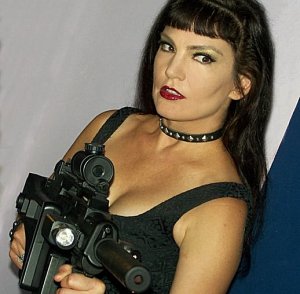 Bleed 4 Me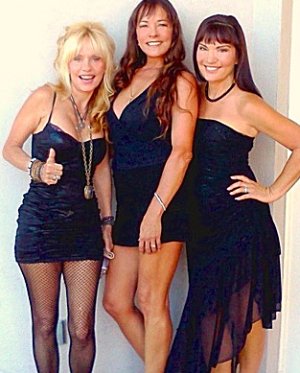 with Linnea Quigley and Michelle Bauer in Cougar Cult (2012)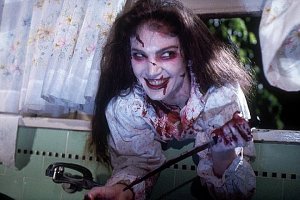 in Fred Olen Ray's Haunting Fear (1990)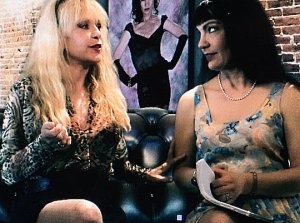 with Linnea Quigley in Terror Toons 4

Caesar & Otto's Deadly Xmas (2012)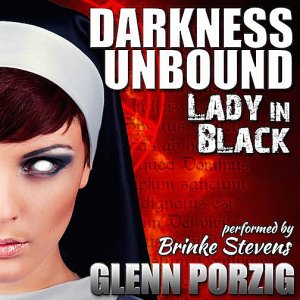 A few months ago, I was thrilled to be included in the big-budget movie Death House, which features a stellar cast of horror icons. Some of my soon to be released films include: Safe Inside (by Jason Paul Collum), The Haunting of Mia Moss (Jake Zelch), Machine Gun Baby! (Rickey Bird jr), An Evil Curiosity (Wayne Sorrell) and Night of Something Strange (Jonathan Straiton).
As far as I know, you received a masters degree in marine biology prior to your film career - so what made you ultimately choose an acting career, and did you receive any formal training on the subject?
Yes, I got a Masters degree in marine biology from Scripps Institution of Oceanography in San Diego CA. I thought Iíd remain in science all my life, but fate had other plans. Iíd never aspired to be an actor, and never expected to become a cult icon of horror movies. I thought Iíd have a nice little lab in Hawaii where Iíd figure out how to communicate with dolphins. Life can certainly be full of surprises!
Your career hit its first high at the height of the "scream queen era", and you quickly became one of the woman pretty much synonymous with the label - so what can you tell us about the era, and your thoughts the label as such?
Me, Linnea Quigley and Michelle Bauer were considered the "original" Scream Queens of the 1980s. In the early days, we constantly ran into each other on auditions and became close friends. Together, we did movies like Nightmare Sisters, Sorority Babes in the Slimeball Bowl-O-Rama, and The Man Who Wasnít There. For a brief time, I was involved in Linnea's all-girl rock band The Skirts. Over the years, Linnea and I worked on more projects together, such as Corpses Are Forever and It Came From Trafalgar. Recently, our trio has been reunited for films such as Cougar Cult, Three Scream Queens, The Trouble with Barry, and Trophy Heads. We always look forward to working together and are thankful to still be in-demand as leading ladies.
Over the years, you have worked with cult genre directors David DeCoteau, Fred Olen Ray and Jim Wynorski [Jim Wynorski interview - click here] quite frequently - so what's it like working with them?
They were always a total joy to work with... and we still often see one another at conventions, book signings, and so on.
Of late, you've also worked time and again with Joe Castro [Joe Castro interview - click here] - a few words about the man and your movies with him?
Joe and I first met when he was about 12 years old, while he was still living in Texas with his family. He won a contest in Monsterland magazine to come to Hollywood and meet ďEvilaĒ (me), the magís vampy mascot. We did a photo shoot together at that time. Years later, Joe moved to LA to pursue his dream of being an SFX artist, and we worked on several movies together, including Teenage Exorcist (I starred in it and also wrote the script). Later, he began producing films and hired me as an actor for Terror Toons 2 and Summer of Massacre.
When he decided to do Terror Toons 3 & 4, Joe first invited me to submit a spec script (Personal Demons)Ö to which he responded enthusiastically. And then he actually asked me to direct it myself. I also played the lead role. I am eternally grateful to Joe for giving me my first opportunity to direct a feature film. Hopefully, there will many more to come!
You've also become a fixture in Dave Campfield's [Dave Campfield interview - click here] Caesar and Otto movies - so do talk about those for a bit!
Iíve appeared in three Caesar and Otto-movies so far. When I read the first script (Caesar & Otto's Summer Camp Massacre) I was charmed by writer-director Dave Campfieldís off-kilter sense of humor. It was a weird, funny, entertaining horror-comedy. Itís a rare script that borders on slapstick, yet also nods to many slasher films. The most recent film (Paranormal Halloween) again pays homage to horror classics ó and continues to turn low-budget constraints into advantages. It includes many wonderful B-movie veterans. The whole trilogy features Debbie Rochon [Debbie Rochon interview - click here], Linnea Quigley, Felissa Rose [Felissa Rose interview - click here], Beverly Randolph, Joe Estevez, Vernon Wells, and Deron Miller.
Any other movies of yours/career highlights you want to talk about?
I recently began recording audio books, after a long career as a voice-over performer (Iíve dubbed movies, done radio ads, narrated documentaries, and been cartoon characters). My favorite horror author is Glenn Porzig, whose Darkness Unbound trilogy was an absolute dream to work on. (Itís also any actorís dream, of course, to do all the voices and play all the roles myself!) Currently, in my home-studio, Iím recording the final book of this trilogy, Darkness Unbound: Shadow of Death.
Hereís the links to the first two audio books:
Darkness Unbound: Lady in Black: http://www.audible.com/pd/Mysteries-Thrillers/Darkness-Unbound-Audiobook/B019S7GGWG
Darkness Unbound: Terror of Night: http://www.audible.com/pd/Mysteries-Thrillers/Darkness-Unbound-Audiobook/B01J2GMMY4
Your website, Facebook, whatever else?
My official website is www.brinke.com, where I list my convention appearances and talk about whatís new in my career. Come visit me there!
Thanks for the interview!

Feeling lucky ?
Want to
search
any of my partnershops yourself
for more, better results ?

The links below
will take you
just there!!!

Find Brinke Stevens
at the amazons ...

amazon.com

amazon.co.uk

amazon.de
Looking for imports ?
Find Brinke Stevens here ...
Something naughty ?
(Must be over 18 to go there !)