Your new movie The Summer of Massacre - in a few words, what is it about?
The Summer of Massacre for me ... if you want me to give you a synopsis, you know, that can be found on any review of the film - but for me, The Summer of Massacre is about finally gratifying the childhood dream of making a motion picture or watching a motion picture that has everything in it I like to see.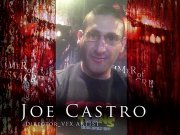 Growing up, at the age of 11 my best friend was a 33 year old man, he was my third cousin, Eddie Perez, I met him at a family reunion, and he had a twin, Ernest Perez, and they had the most astronomical collection of horror films. This was in 1981, and VHS and Beta were out, and they introduced me to horror films and in one summer I must have seen almost every horror film made. So I was educated by Eddie and Ernest Perez. And we would always try to find films or look for films that had the most unique and original ideas and had the most graphic and intense special effect sequences - even if they weren't horror, just bizarre stuff ... so The Summer of Massacre was finally being able to take what I liked from all that summer of watching all those films and just selecting what I liked about them and putting it into this one motion picture.
Unfortunately, Eddie died last year and never got a chance to see this film - and that's why The Summer of Massacre is dedicated to Eddie Perez.
The Summer of Massacre is a Guiness-certified recordholder for containing the highest bodycount (155) ever achieved in a slasher film - was this something you at all aimed for, and why does your movie contain quite so many killings?
It was one of the aspects of preproduction that I heavily considered at the beginning. I wasn't sure what I was going to do with it. At first we were considering using the most blood ever used in a motion picture, and I thought "how can we possibly do that and what angle would we approach that as a marketing pitch and presenting it to the Guiness record staff?" And then it kind of fell to the wayside, it wasn't important during production. But once production ended and it became time for post production, my mind started clicking again and I realized I had something here that could be looked at and could be merited.
You were also responsible for your movie's gore/special effects. Would you like to talk about those for a bit?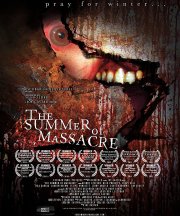 I really don't have much to say about them, I have spent most of my life doing gore and special effects and, you know, working on a film of this caliber - and by caliber I mean very low budget - it's very difficult to wear as many hats as I did on set and in post production and being able to focus on making sure that every aspect of the film is of the highest quality to your standards and your ability in a short amount of time. That's my biggest problem, I'm always racing against time, and when creating special effects, they take time, especially physical effects, effects that are executed on set - that is my greatest joy and my greatest love, above all, creating physical effects on set, always has been and always will be, but ultimately, I'm racing against time, especially when I'm on somebody else's set. And when I'm on my own set, wearing so many hats as a director, as a writer, as a casting agent, as a caterer sometimes, I have to delegate authority to which hat I should wear at what time and basically schedule my effects so they fit into just the timeslot that they need to be serviceable.
I'm hoping that with my new skills as a digital effects artist, I will be able to compliment what little time I have on set in order to augment them and bring them to a new level in post production. So I must say just in general that the gore effects that I have that are in The Summer of Massacre as a whole, I think because they all have a very stylized look, I think it works well. I think it will not reach as broad of an audience if I had done them all physically.
Why?
Because, to be honest with you, there are so many people that would have been turned off by so much gore if it was a physical effect. Because I've done it very stylized, à la these graphic novel films that are coming out. They are done with a lot of CGI.
For me, the violence in The Summer of Massacre is rather cartoonish, with a sprinkle of Herschell Gordon Lewis [Herschell Gordon Lewis bio - click here]. Do you at all agree, and would you like to elaborate on that?
I agree it is in many instances rather cartoonish. Cartoonish in its look and in its dynamics in physics, and I explain why they are: Originally they weren't meant to be, but during the making of The Summer of Massacre I was going to college to learn CGI, to learn computer generated effects. At the school where I went to college, I took a course in motion graphics, that was the main course that I was taking. Motion graphics is compositing moving texts and moving objects and using effects in Adobe's After FX. So it was a four-year program in 11 months. Additionally I had to classes in MIA, which is a modelling program.
When I came out of that school, the tools I had were tools that were commonly used in opening title sequences and commercial looks and anything but horror-related computer-generated effects, they were very glossy, very pretty, very commercial, and corporate effects ... so those were the tools I had coming out of that course, and it was very difficult for me to go to school and make The Summer of Massacre at the same time. But I did it, and as I look back on the summer after I got out of school and completed, posted The Summer of Massacre and realized that my teachers in school, their morals, their values and their look of the class, and what the class considered to be effective and commercially viable were then implemented into my film just by osmosis. I hope that makes sense.
But I do agree that there are slightly cartoony and ... er ... you also have to realize that, if you are a horror buff, it looks this way, but if you're not a horror buff, it looks rather twisted and concerning that someone would make a film that looks rather cartoonish with so much pain and grotesque imagery.
The Summer of Massacre is an anthology film. What made this format so appealing to you?
Slasher films are by nature a person, a human being stalking innocent - or not innocent - victims one-by-one and killing them ... or one-by-two, whatever ... anyhow, stalking people and killing them. Normally, some twisted maniacal, mongoloid, whatever. I personally have countless ideas for slasher films and I wanted to make a slasher film - but I couldn't decide which idea. And then there's also the YouTube-generation whose attention span is that of a mosquito ... and I realized, why would you want to go see a 2 hour motion picture with 13 deaths - that's the remake of Friday the 13th - when you can see a 90 minute motion picture with 155 deaths. So I tried to make the film appealing to today's younger generation and also got to tell a selection of stories I was ready to tell at that time, that interested me - hope that makes sense.
What were your sources of inspiration when writing The Summer of Massacre?
My sources of inspiration were pulled from many of my life experiences:
Lump was pulled from an actual cousin of mine, and how my family and others interacted with him. Not particularly the exact same way but in many ways I saw my cousin Glen Garcia being viewed and treated the way that Lorie is in the film, and the body casing that Lorie wears in the film is specifically designed after the way Glen had to wear one. And ... Glen was also a medical miracle, he had spina bifida, and he lived a very long life for someone with spina bifida. In fact doctors from all over the world were coming when he was in a hospital and study him. I think most children with spina bifida don't live past the age of 10, and Glen lived many many many years, well into his ... double that ...
Burn: All I have to say is, Burn is a ... it's also from my family, I have a brother who's a firefighter, and ... it's very personal, it's very difficult to explain, but I'm sure that there is hazing, and there is corruption, and many many bad things happen in many different ways in a fire department, it's such an elite and select group of people. I think most firefighters consider themselves superheroes, they consider themselves police officers, they consider themselves authorative figures, and I'm sure many firefighters can become abusive, can become secretive - and I'm not saying that my brother is, but I'm just saying that my experiences with what I know are an accumulation of what would happen in a situation where two gay firefighters would have to live in secrecy ... horrible things could happen.
The Summer of Massacre features genre veteran Brinke Stevens [Brinke Stevens interview - click here] in an extended supporting role - how did you get her and what was it like working with her?
Brinke and I became friends when I first met her back in 1986. I had won an international makeup effects contest that was sponsored by Monsterland Magazine, and that was produced by Forrest J.Ackerman - the Forrest J.Ackerman. And I had my picture taken with Brinke, it was to be in the magazine, and when we were at the photo session, there were many people there who I'm still in contact with today here in Los Angeles and that I'm very good friends with, Steven Ray, Ken Hall, Jim Keegan, Brinke, and James Van Heis. We were there, and ... I am an openly gay man, and everybody at the photosession knew that I, at the age of 16, was gay, except that I didn't know that - and they were so loving and so warm and so kind to me that I knew that the first chance that I got to come back out to Los Angeles, it was the place I needed to be. In fact, my mother was there with me on the trip and it was very incomfortable there with my mother because everyone around me wanted me to be myself and I was being secretive and holding back who I really was - it was because of my mum was there -, but I've never experienced people who were so loving and kind to me, and I knew that there was something here and now I have an extended family here in Los Angeles, the likes that I can't describe, and that's Brinke's extended family to me.
And that's how I got her, I called her, I emailed my sister and said "Brinke, would you please please be in my film?" and she said yes. And as a matter of fact, I have something in the works with Brinke right now - it's pretty wild and very hush hush, but I will say that Brinke is going to do something amazing this year, and she's allowing me to produce it.
What's it like working with Brinke? It's like working with royalty, it's like working with Julia Roberts, it's like working with Merryl Streep. You don't have to tell her or explain to her, or say anything, she just comes in on set and she impresses you, and she wows you, and she does what she does best.
A few words about the rest of your cast and crew?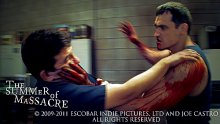 The film didn't get into the Guiness Book of World Records because I made the film, because it was 155 people involved in the film. I could point out a couple of people that I can think of at the top of my head but that would really be short-changing everyone that was involved. I know that everybody who was involved was really willing to do the work of anybody that was involved. And that's the way it appeared on set, that's the way it appeared all the time when it came to completing the film and getting it to the consumer. I'm just very humble and very grateful that everybody that's in the film is in the film, and it was an experience that I will never forget. Of all my films this was the most harmonious and brotherly, and there was such amazing talent. There were actors that doubled as producers, there were actors that doubled as boom operators and as gaffers and as assistant directors and there were actors that doubled as directors at times, there were actors that doubled as on-set storywriters when we needed some dialogue, you name it, they were hands on and really involved.
I can't help it, I just have to give a shout-out to the group of young men that were in burn that laid on the ground for an hour in the cold in my backyard while I poured paint and blood and gelatine and crinkled, burnt-looking aluminium foil all over their bodies while we did those shots of Lauren Boehm walking through the burnt woods. Thank you so much, guys, for coming out and making that scene happen.
What can you tell us about critical and audience reception so far?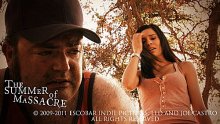 I can tell you that all the awards that it has won so far, the likes of which I never expected - if you go to thesummerofmassacre.com, I think it's on the first page you can see that it has received very many awards, I think it's over twenty by now - I never expected that in my wildest dreams, and the height of the merits are something I never expected either. And the merits in the film come from the post-production management and supervision and PR representation of my partner Steven Escobar. Without Steven Escobar I doubt that we would even be conducting this interview, even if I had made the film on my own. Steven took initiative to make sure that festivals had the film and had a chance to look at it, and he took initiative to make sure that Guiness had the film and had the submission and had the chance to consider it. Steven has done an amazing job as an executive producer - I don't think I could ever ask for a better one. Steven never questions my creative ability or my creative decisions concerning my stories and on set, no matter how outrageous. So The Summer of Massacre thanks to Steve is truly 100% Joe Castro - and that's why I like to call it "A Joe Castro Experience".
Let's go back to the beginnings of your career for a bit: What got you into filmmaking in the first place, and did you receive any formal education on the subject?
What got me making into films? My father Martin Castro jr. One weekend, when I was 7 years old, my father was taking care of me, my mother and my brother were away for the weekend, and he was splitting wood, basically making firewood outside, which can be dangerous, so instead of having me outside, he sat me in front of the television on a Saturday afternoon and said "Watch this, you're gonna like it!" And by that time, I was really fascinated with dinosaurs, everything for me was dinosaurs. And so he sat me down to watch a creature feature on Saturday afternoon - and the movie was Godzilla vs the Smog Monster. And for that duration of themotion picture - and it was the first time I ever watched a movie by myself, let alone a motion picture that was sci-fi/horror related at the age of 7. I lived on a goat ranch out in Halodus, Texas, and by the time, for the duration of the picture, from the time it started to the time it ended, I was lost in a world that I had never experienced. And when that movie ended, I did not want it to end, ever, and knew that I had found my calling. I knew at that moment that I wanted to be a special effects artist and a motion picture director. And my dad knew that I would like Godzilla, he knew that I would like it simply because of the reptile dinosaur aspect, and he knew that I had a love for art, and I have to consider my dad the reason for me to direct and produce motion pictures and special effects.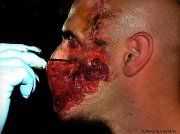 Besides writing and directing movies, you have also made a name for yourself as a versatile makeup and special effects artist. Would you like to talk about that aspect of your career for a bit?
When I was 12, my parents - my father was a goatfarmer, my mother was a schoolteacher -, between both their incomes, and I also had an older brother who they took care of, they bought me the first retail videocamera that came out on the market in 1982. It was a JVC camcorder. The videotape didn't fit in the camera, you wore the actual deck on your side and the deck was split into two decks, one of them connected the deck to the television, and the second deck would hold the tape, and that deck went with you and the camera, wherever you film, and then you would have to take that deck off the camera and put it back onto the deck that actually fed the information into the television.
So when they bought me the videocamera, the first thing I wanted to do was create something visually that I could photograph, à la special effects. So fromt he beginning I was always producing motion pictures based on special effects, and I think it's probably always going to be that way.
Your first feature was called I believe Ceremony. What can you tell us about that one, and lessons learned from it?


Hmmm ... it's a deeply respected film by many of my peers, which is really all I ask, that my peers look at my work, not so much respect it but consider it, and that first feature I think has never gotten a bad review. At least I haven't read one. And I'm soon going to re-release Ceremony with a brand new digital makeover - kind of like the way the Star Wars-episodes were re-released. There are lots of special effects in the story, in my original vision of Ceremony that never made it to the final part. And I'd like to give everyone an opportunity to look at that film and look at it the way it was originally intended to be. I'm all for remakes and all for updates, but this film would truly be polished in a way that it was originally intended so I won't be destroying something that was perfect the way it was - it still needs a lot of work, and I think it's worth it and it's necessary, it's part of the process - and I can't wait until we really start, hopefully in the next year or two.
Lessons learned from it? Making a motion picture by yourself, or completing a motion picture by yourself as the director and producer without the help of anybody else involved - it took me about 2 1/2 years to complete that film, and in the process I lost myself, I lost a lot of self-assurance, and it was very difficult, it's a very painful process. And that's why I don't make movies alone anymore.
Any other films of yours you'd like to talk about?
Hmmm ... I could pay myself on the back and go on about several of my films, but I think that as a whole, I would just like to say that when making a motion picture - these are great words of wisdom that came from a fellow peer of mine, special effects artist and director Mark Villalobos: "You don't want to look back on your career to realize you made the same motion picture over and over again!" So if you take a look at my films, they may all have a similar look, but I try to not tell the same story over and over again. I try not to do anything that isn't truly original. And in doing so, it's very difficult to get the world to accept something that is truly original and truly different. Most do not understand what it is, because it doesn't look like the cookie cutter Hollywood films, and most would consider it trash. But one thing about my films, the people that watch them either like them and respect them very very much - or they want to burn them.
I was told once 80% of the people who watch your film have an opinion. 40% right off the bat hate it, 40% right off the bat are entertained by it as a whole, and 10% really don't consider it - so I already know that about half the people who are going to watch The Summer of Massacre are not going to like it or understand it, and those that do ... I'm glad!
Any future projects?
I've already realized, now at the age of 42, there's just not going to be enough time in one lifetime to create all the motion pictures that I want to, that I have in my head, the ideas. So I have to be really selective about which projects come next and what I'm spending my time on. And to be honest with you, it's a daily decision about what to focus on and what to put all my efforts into. Right now I'm producing a short format film, and it is a remake of something I produced in 1994. It's actually a music video, a musical interpretation of a science fiction movie produced in the early 1970's and it's set to music. I will be scoring the music myself, and I'm producing and directing and posting the entire piece with Steven my partner.
It's definitely something truly original, something I don't think anybody has ever seen ...
I'm also in pre-production to begin filming Terror Toons 3, and portions of it will be in 3D. I'm not sure what format of 3D it will be in, but it will definitely be three-dimensional.
Special effects artists who have influenced you?
Lon Chaney sr - I don't think he's forgotten, I think many people know who he is and what he did. But I don't think many modern special effects artists, young people coming into the business, understand what Lon Chaney sr did. The man was not only a special effects artist, he was a visionary, an illusionist, he made special effects special. I think that's one thing that Hollywood is missing in most of htese epic motion pictures where countless and countless millions of Dollars are being dumped into. There's nothing special about those special effects, they're old hat and they are obvious. And when you go see a motion picture, I think the one thing that's the most disappointing to me as a viewer is the obvious. If I'm paying money to see a motion picture, especially a horror film, a special effect comes up and it's obviously coming up, where't the excitement, where's the escape, if I'm in my head recognizing what it already is, being able to pick it apart. Lon Chaney sr I would say is my true one influence.
I mean there are people like Tom Savini. Tom, who actually took the time to explaining me over the phone as a young man how he produceed things in the motion pictures he was currently working on when he lived in Pittsburgh. I would call him on the phone back in 1983. You could actually call information and say "Pittsburgh please - I'm looking for Tom Savini" and they would give you his home number. And Tom took the initiative to explain to me many many special effects. Tom was a big influence, and he still is to day, and I hope I will work with him personally one day.
Dick Smith, Rick Baker, Rob Bottin, all the greats, they were there, and they impressed me as a child and still impress me today.
John Caglione - some of the things he did in Amityville II: The Possession blew my mind, that's exactly what I wanted to do, and I wish I had more time to focus strictly on physical effects, but when you're writing and producing and directing and creating physical effects on such a small budget that I work with, it's easy for others to point and judge, like they do with most of my films, but ultimately, what I try to do is make a motion picture that at the end of the day I can sit back and watch by myself and be entertained. So in truth, and that may sound a little arrogant, I'm not making the movies for anybodey but myself.
Movies that inspire you?
I kind of pride myself on this because I do have a top five, an actual top five.
The number one motion picture that inspires me to this very day is the film Rabid, a film produced and directed by David Cronenberg. It is so ahead of its time and so extremely disturbing and dehumanizing and interesting, truly original, the special effects are ghastly even to this day, and it stars one of my favourite actresses, wish I had had a chance to work with her, but she passed away last year - Marilyn Chambers. Rabid was the kind of film for me as a child that stood out because - for one my parents didn't want me to record it because it was rated R and had some really bizarre things in it, but also it explored ideas that I hadn't even begun to encounter as a producer/director/special effects artist, even as a person, whe I first saw it. It's a bizarre movie, and done highly realistically, something I always try to achieve but I never quite seem to get there.
Then of course there's Poltergeist, the original, big influence.
The Gates of Hell, Lucio Fulci's masterpiece [Lucio Fulci bio - click here].
And this one might take you by surprise, it's a movie that's not a horror film, it's called Return to Paradise, it's drama. I can't explain it if you haven't seen it, but it's a film that emotionally is special, as a special effect in horror, it's an emotional special effects horror experience. I don't know how they did it, the gift of that director, that screenwriter and those actors to produce an experience of watching a motion picture that pulls you into the feeling of utter captivity and fear of death is Oscar-worthy and totally incredible.

Feeling lucky ?
Want to
search
any of my partnershops yourself
for more, better results ?

The links below
will take you
just there!!!

Find Joe Castro
at the amazons ...

amazon.com

amazon.co.uk

amazon.de
Looking for imports ?
Find Joe Castro here ...
Something naughty ?
(Must be over 18 to go there !)

Number five is always the one that slips from me, could be several things, so I'm going to have to say Blood Feast, Herschell Gordon Lewis's motion picture and the beginning of all gore effects [Herschell Gordon Lewis bio - click here]. My hat off to Herschell Gordon Lewis for paving the road for all of us who've come after him, including the Friday the 13th-franchise and the Halloween-franchise and the Freddy Krueger-franchise and the Texas Chainsaw Massacre-franchise. Every one of these franchises should pay some kind of tribute or hommage of money to Herschell Gordon Lewis for showing us how to produce a slasher film, and to kill your victims one by one and then have your killer's death be the most gruesome demise at the end. That is what Herschell Gordon Lewis did for us, and I think most people never realize that that's what Herschell has done. So everybody, Herschell did it first, he will always be the first, and that's why he will always be the Godfather of Gore.
Anything else you are dying to mention and I have merely forgotten to ask?
Just want to say if anybody out there wants to hire me to create special effects or any sort of visual effects, the great internet allows me to do that anywhere in the world, so even if you're not in Los Angeles and you'd like me to create some visual effects for your motion picture, or makeup effects for that matter, I can produce them here in LA and intertwine them with your film footage via the internet now with computer technology.
You can reach me at facebook.com/joe.castro
You can see most of my makeup effects at myspace.com/joemcastro
Thank you for the interview! Peace.
Thanks for the interview!