Your new movie Adam K - in a few words, what is it about?
There's a Chinese proverb that says "To love and be loved is to feel warmth on both sides." This film follows a lonely, tormented soul through this cold world as he discovers he may not have love to keep him warm - but being covered in the blood of his "friends" might be the next best thing!
What were your sources of inspiration when writing Adam K?
I've long been a fan of horror movies that focus on the depravity of the "common" man. So I drew from films like Psycho, American Psycho, Scream and Silence of the Lambs when coming up with this film. I wanted to create a character that almost feels like an anti-hero for a bit before he goes full ape-shit.
Might sound like a stupid question, but to what extent could you identify with your central character, the friendship-obsessed serialkiller Adam, actually?
A great extent actually, lol. I was a copier salesman for a while and it's truly a thankless job where you make enemies quickly. No one wants to see us, we were like used car salesman that came to your office in the middle of a busy workday so when people saw us coming, it could get negative quickly. So I had to try very hard, and at times a little too hard, to disarm people with kindness and friendship. And that part of you that tries so hard to make people like you will transfer over to your personal life. So I found myself going way overboard to gain people's friendship and loyalty. Then one day I'm walking into a meeting and thinking, how far would I go to make this decision-maker like me and trust me. If they asked me to do "this morally objectionable thing," would I? And then I thought, what if this were a horror flick and the main character was a salesman like me but was really desperate to be liked as just a person? How far would HE go? Would he kill someone for his new "friend" if they asked? Better yet, would he kill someone without his new "friend" even asking? Just to make their life a little easier? And they never had to know? Like some sort of vengeful guardian angel. Not saying I'd go there, but the character is a lot like me in many ways.
Do talk about your movie's approach to horror for a bit!
I wanted to create a protagonist with a broken moral compass. A guy who is warm and compassionate but also vicious and capable of unflinching brutality; someone you root for, but are constantly asking yourself if you should. I felt I'd seen enough of the unstoppable killing machines of late - bad guys for the sake of being bad guys. I wanted to put someone on the screen where you think to yourself, "Yeah, I get it but he's going a little too far." Lol. Where his story is still relateable even though his actions aren't. And the scary thing is, he could be anyone, literally.
What can you tell us about your overall directorial approach to your story at hand?
I let the story and the characters guide me. It led to a bit of a bloated movie at first - the rough edit was about 3 hours long, which we cut down to a quickly-paced 90 minutes. But it gave the actors a lot of room to play and develop these strong characters and believable actions. I truly let the right elements drive the experience.
I'm sure that some of my more gossip-obsessed readers would just die to know what it was like to work with former Teen Mum Farrah Abraham [Farrah Abraham interview - click here], with whom Adam K wasn't your first movie, either - so for the sake of these readers, do talk about working with Farrah for a bit?
No problem. Farrah's a blast to work with. I don't give "Hollywood" answers. If she was an asshole, I'd say so but she's not. This is the second time I've worked with her and hopefully I'll work with her many times again. She's professional, always ready rock and really malleable. She has this great way of disarming people who are expecting the Teen Mom persona by being the genuinely awesome person that she is. Much like me, she does an incredible amount of homework upfront, learning the character, the story and her place in it - and by the time she steps on set, she's found the truth in what we're making.
What can you tell us about the rest of your rather star-studded cast, and why exactly these people?
I've learned that making movies is hard work and you'd better make them with people you really like, lol. So with the exception of just one person on the entire shoot, I've worked with and will work with everyone on this film many times over. I'm pretty sure I've worked with Arielle Brachfeld [Arielle Brachfeld interview - click here], Edward Gusts, Brinke Stevens [Brinke Stevens interview - click here] and Nihilist Gelo on three different features. I've worked with Kristin Wall, Farrah Abraham, Emii, Michael Foster, Jason Bonell and Carlos Javier Castillo on two different features. The only people that were truly new to me on this project were probably Sarah Nicklin [Sarah Nicklin interview - click here], Mindy Robinson [Mindy Robinson interview - click here] and Jessica Cameron (who unfortunately had to be edited out of the movie for continuity reasons) [Jessica Cameron interview - click here], but I'd met them before and known them each for a while before we shot. And then there's the SFX and key makeup artist Eli G aka Elisa Gattoni, who has been with me for about 4 features now who is super talented and created some truly grotesque stuff on a limited budget. I chose them because if I had to go to war on a picture with very few resources, they are the dream team to help me get it done. They are all awesome people, truly fun to be around and know how to make shit happen. I had the great fortune of working with awesome people who gave their all for my little passion project and they are all superstars in my book.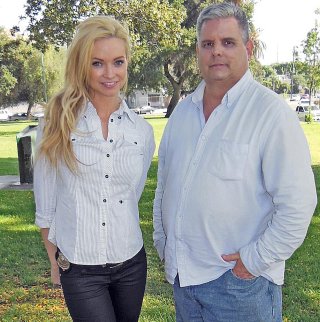 Mindy Robinson, Greg Lewolt
Do talk about the shoot as such, and the on-set atmosphere!
I try to keep things loose on set. So even though it might feel intense on-screen, on set we keep it pretty light. The big moments in the film, and the overall arcs, we hash out long before we hit the set so that we know what we're in for. Lots of prep during preproduction. And that enables us to find the small moments when we hit the set and start working through the scenes. Many of the small moments that reverberate through the film were thought of on the day as we played in the space and I think doing all the homework upfront helps you improvise better when you get on set. And it's so relaxed. No one's worried about what their next line is, what happens next - because it was worked out before we got there. Now all there is is the moment. And staying true. And we play in those moments with lots of what-ifs. I will say though that we had one very intense moment on set during the climax of the film. As Sarah Nicklin's character "Amanda" is running away from Adam, who is covered head to toe in blood and carrying a weapon, LAPD shows up for a domestic disturbance call. Luckily they didn't approach from the rear, where they wouldn't have seen the camera or crew. That was pretty hairy.
The $64 question of course, when and where will Adam K be released onto the general puclic?
Adam K is available now to pre-order on DVD/Blu-ray through the official Facebook page at www.Facebook.com/AdamKTheMovie. If it's ordered now through October 23rd, it'll be in your mailbox by Halloween. Pre-orders include autographed poster and "special gift" from the cast and crew. VOD hits November 22 on most platforms. Official DVD/Blu-ray release is Halloween.
Anything you can tell us yet about audience and critical reception of Adam K?
The response has been great! Well, from those who didn't get completely offended by one of the more brutal deaths in the film. Or the castration scene which happens fairly early in the film, lol. Other than the people who said those scenes went a little too far, we've gotten a great reception. It's been called "Utterly Creepy", "The Right Balance Between Shocks, Suspense and Atmosphere", "Sadistic, Vile and Will Get Your Attention" and "A Pretty Good Movie." And all of those quotes came from two reviewers I respect the hell out of - yourself and James DePaolo.
Any future projects you'd like to share?
Yeah, we are deep into pre-production on the follow up to Axeman - it's titled Axeman 2.5: Eve of Destruction. Fans have been reaching out quite a bit to get info on what happened to Axeman II: Overkill seeing as we shot the thing about two years ago and nothing's come out. Well, just so that everyone is on the same page - Axeman 2: Overkill is dead. This would be a whole separate interview but I'll just say that licensing is tied up in a sad series of bad business dealings from the executive producer so the film can't be released. I'm finishing the script for Axeman 2.5: Eve of Destruction, which should be done in the next couple weeks, the cast and crew are being assembled and we're heading back to Cutter's Creek, where all our dreams and nightmares come true, lol. The only thing I can say right now about this version of the sequel is... get ready to root for the bad guy ;)
Your/your movie's website, Facebook, whatever else?

Feeling lucky ?
Want to
search
any of my partnershops yourself
for more, better results ?

The links below
will take you
just there!!!

Find Joston Theney
at the amazons ...

amazon.com

amazon.co.uk

amazon.de
Looking for imports ?
Find Joston Theney here ...
Something naughty ?
(Must be over 18 to go there !)

Drop by Adam K's official Facebook page at Facebook.com/AdamKTheMovie and give it a like. Do the same with the Axeman franchise at Facebook.com/AxemanAtCuttersCreek.
Anything else you're dying to mention and I have merely forgotten to ask?
I am completely insane but it's okay, I live in my own world;)
Thanks for the interview!
Thank you very much for taking the time to speak with me. And I look forward to doing this again soon!