First of all, why don't you introduce yourself to those of us who don't already know you?
Ok - Hi, I'm Sarah (and now you all say, "Hi Sarah..." :) ) and I'm an actress. I've done most of my work on the east coast, mainly around New England where I worked on over 70 films before moving to Los Angeles around a year ago. There are some people who consider me to be a "scream queen", as the films that I'm most known for are all horror films, such as The Disco Exorcist and Nun of That - even though that one is actually a grindhouse action comedy, but somehow has gotten lumped into "horror" :)
Your most recently released film is I believe The Disco Exorcist - so what can you tell us about that one and your character in it?
That is a fun one haha :) It's certainly not for everyone, but if you like boobs, blow, and disco music, then you'll love it! It's a grindhouse style demonic possession/curse film directed by the extremely talented Richard Griffin [Richard Griffin interview - click here]. The basic synopsis is: a disco playboy/womanizer Rex Romanski (played by Michael Reed) sleeps with and then dumps the wrong woman - Rita Marie (played by Ruth Sullivan). Rita puts a curse on Rex's new girlfriend Amoreena Jones, a local porn star (played by myself) and Rex has to try to find a way to lift the curse.
There is a lot of comedy in this one as none of it takes itself too seriously ... and there is probably just as much nudity as there is comedy! If you took a shot every time you saw a pair of boobs, you'd be passed out by the end of the movie. Not only that, but there are plenty of male full frontals to go around too. Some of the nudity highlights are probably the scene that takes place on a porn set and then also the orgy towards the end of the film.
With your character in The Disco Exorcist being a porn star - how do you prepare for such a role, what do you draw upon to bring it to life (and I hope this doesn't come across as a dirty old man-kind of question)?
Haha! Well, you watch a lot of porn! KIDDING ... mostly - I did watch some, but more so, I watch interviews with porn stars where they talk about their lives to get an idea of what they were like off screen versus their on-screen personas and how they interact with the different people in their lives, be it other industry people or family members. Since the vast majority of the time you're seeing the "off-screen" Amoreena rather than "porn star" Amoreena, it was less about being a porn star than it was about being a woman who more than anything wants to find true love. Marilyn Chambers was the person that I did most of my research on as she was big during that time period.
The film has a definite 1970's flair to it - something you can at all relate to?
I wish I could relate to it more! That era was a bit before my time, so I never really got to enjoy it, but through the director, Richard Griffin, who is a big fan of 70s films, I've gained a healthy education and appreciation of films from that time period, all of which I never would have been exposed to if not for him.
What can you tell us about the actual shoot and the on-set atmosphere?
It was an absolute blast! This was the 5th feature I had done with Richard, so by this point, we've really become more of a family than a film crew. Everyone gets along great and we all help out in various aspects of the project, from building sets to costuming to crewing ect. I don't think there was ever a bad day on set. We're always laughing and cracking jokes. With a script like The Disco Exorcist, it's hard not to laugh at the fun and ridiculous things that are happening all around you. The only times when things could have potentially gotten sensitive were the days with nudity, however Richard does such a great job of making you feel so comfortable on the set there were absolutely on problems.
What drew you to the project to begin with, and what can you tell us about The Disco Exorcist's director Richard Griffin [Richard Griffin interview - click here], and your other collaborations with him?
Well, I think I've been singing his praises a lot already haha! :) I've honestly learned to just trust him. Sometimes he'll have ideas that I'm not too sure about when he explains them, but once they actually are put into action they're hilarious and often times end up being people's favorite parts of the film. I'd pretty much work on anything with him just because I love working with him and also because I basically owe him everything. If you look at most of the films that I'm "known" for - they're all his, so whatever he wants to do next, I'm happy to be part of it.
I'd like you to say a few words about some of your new/upcoming films of yours and your respective characters in them:
Cost of the Living: A Zom Rom Com?
As the title says, this is a Zombie Romantic Comedy directed by Daniel Lee White. It's a really sweet film where citizens have learned how to "lobotomize" zombies so that they can work in menial jobs in society. It's a sort of Romeo and Juliet-love story where Andrew (played by Kevin Killavey) and Emily (my character) fall in love, yet Andrew comes from a family that believes all zombies should be killed and Emily wants to fight to keep them "alive", which is the main source of conflict between the two. It just won Best Comedy at the Detroit International Film Festival! And ironically enough, the same actor - Geo Castellano - plays my ex-boyfriend in both this film and The Disco Exorcist.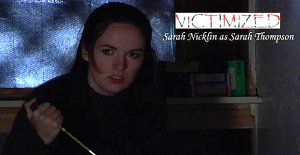 Victimized is more of a dark thriller than a gory horror film. It's focused on two brothers, Matt (played by writer/director Michael Kenneth Fahr [Michael Kenneth Fahr interview - click here]) who has always been overshadowed by his brother Josh (played by Cuyle Carvin [Cuyle Carvin interview - click here]), who is constantly bullying and picking on Matt, until one night when Matt decides to get back at him. In this one I played Josh's girlfriend Sarah, who somewhat tries to act as a peacekeeper between the two as things start to get ugly. The film just finished doing some re-shoots and is currently in post-production, but will hopefully be out soon!
The Black Dahlia Haunting?
I think you can guess most of the plot from the title haha :) This is the latest film from Brandon Slage [Brandon Slagle interview - click here] and Devanny Pinn [Devanny Pinn interview - click here]. I just have a quick scene in this one as Detective Hoffman who comes in towards the end of the film once "the shit has hit the fan", but I was super excited to get to work on this. This was one of the first things I worked on after moving to LA. It was really hard to go from an area where everyone knew me to a completely different market where I was just another unknown actress. Brandon and Devanny are well known in the horror community, especially here in LA, and based on a recommendation from the lovely and talented Jessica Sonneborn, they offered me a part in this film, and I'm really grateful for it. It really helped to slow the sting of the transition to LA.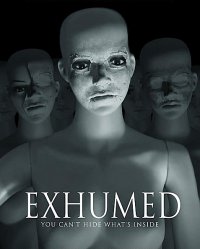 This is probably one of the pieces that I am most proud of to date. It was the next feature that I shot with Richard Griffin after The Disco Exorcist. Not only do I think it's one of the best scripts I've worked with, but also the cinematography (by Ken Willinger) and lighting (by Jill Poisson) in this film are just breathtaking. It's very different from a typical "Richard Griffin"-film as it's very dark and there is very little comedy in it. There are also some really stellar performances from legend Debbie Rochan, Michael Thurber, Rich Tretheway, Michael Reed, and Evalena Marie. The film premiered last November and just showed in a festival in Oregon. I'm convinced that once it has its "official release" it's going to do extremely well.
The Witching Hour?
This one is sort of an anthology - it's five short horror films as they are told by a midnight radio show host (played by William Forsythe). In between each short a girl calls into the show and then it goes into another tale. I play one of these girls, however there is a little surprise twist at the end for my character as well. There are some great actors in this one such as Michael Madsen and Tony Todd along with local talent such as Gianna Simone and Ally Tully. The film is being shot in pieces so my scenes where shot about a year ago and I think Kevin and Shanna MacDonald (writer, director, producer) are gearing up to do some more very shortly.
Any other films you yours you'd like to talk about? Any future projects?
I have a few things coming up that I'm pretty excited about.
The first is a web series called A Case of PMS which is a Scooby-Doo-esque comedy about ghost hunters. Even from the first draft of the script it had some really great funny bits, so I think the whole series is going to go over really well.
The next is going to be a feature called Chupacabra Territory which is about a group of friends who go off in search of the Chupacabra. Needless to say, they get in a bit of trouble in their search. I play a really fun eccentric character in this one. It's being directed by Matt McWilliams and produced by Chris Maltauro, and I definitely owe another big thank you to Jessica Sonneborn again for introducing me to them.
Then in December I'm going to be working on the next Richard Griffin film which is called Normal [Richard Griffin interview - click here]. This one is more of a psychological thriller, more similar to Exhumed than his other films. It's a really terrific and dark script about a serial killer and the days leading up to his next kill. I really can't wait to work with this group again.
Let's go back to the beginnings of your career: What got you into acting in the first place, and did you receive any formal training on the subject?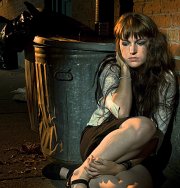 I've always loved movies. Even when I was little I would refuse to sleep and would watch the movies on the plane without even having a headset to listen to the sound. But, there really is only one honest answer to the first part of that question. When I was like 8 or so I found out about the child star Jonathan Taylor Thomas (from Home Improvement) and developed a ridiculous fascination with him - I just knew that if we would ever meet that we would immediately fall madly in love. But, how do I meet him? I just decided that I'd become a big famous actress and then eventually we'd have to meet at some point. So in 6th grade I got my first chance to try out acting in a school play and even though I was terribly shy and it was terrifying, I still did it and played "the shy girl" in the musical Bye Bye Birdie - and I haven't looked back since. Eventually I came to love acting more than I did Jonathan Taylor Thomas, and now I just do it because I love it.
I have had formal training - I graduated from Emerson College with a degree in acting, although I feel like most of my "training" came outside of class during that same time period since that was when I started really seeking out and finding indie films in and around Boston. I've also taken a bunch of workshops and private coaching along the way including taking several classes at Margie Haber Studio out here in LA, which I thought was super helpful and one of the best places I've studied.
Can you still remember your first time in front of a movie camera, and what was that experience like?
Terrifying haha :) My first time in front of a camera was a short film called La Bolsa right after high school and I was actually the female lead! I just remember being so nervous and wanting so bad to be good and to do well and be "perfect", which ended up looking really stiff and unnatural.
Besides movies, you have also done quite a bit of theatre. How does acting on stage compare to acting in front of a camera, and which do you prefer, actually?
I prefer film over stage. There are pros and cons to both. With theater the adrenaline you get going in front of a live audience is unmatched in film, plus there is the instant gratification of getting laughs or claps from the audience. But I really like the realism of film - if the scene takes place in a library, you will go to a library rather than building one. I also find it less stressful, and I like the collaboration of it where so much of the final product is not up to you - you do multiple takes of a scene, getting a chance to do something a little different each time, and then it's the editor and director that choose which one will work best in the end. I also really like that you get a chance to go to places you've never been or do things you've never done before, like riding horses or going to different cities or countries. One thing that I like better about theater though is the flow of it - once you start, there is no "cut", you just keep going and everything goes in order, which I especially like when doing more emotional pieces. With film, you could be in the middle of a scene, and "cut", take 10, we need to change the battery (not usually, but you get the idea), and it just halts the momentum you had during that scene and then you have to start all over again.
Going through your filmography, one can't help but notice that quite a few of your movies are of the horror variety - a genre at all dear to you, and why (not)?
I've actually done more non-horror films than horror films if you look at everything, but it's the horror films that have been the more successful ones that have gotten out there :) But it is a genre that I love, probably my favorite, especially to watch. I'm a sucker for cliffhangers - I just can't stand being left wondering what's going to happen next, and horror films are pretty much full of cliffhangers - who is going to get killed next? Are they going to get away? Who is the killer? etc. They're just so gripping and thrilling to watch, which is why I love being part of them.
On the movie-making side, they're not a whole lot different to make than any other film, technically speaking at least. Although I do feel like horror films attract a certain type of person, especially people who have done a lot of them - people who aren't fazed by knives or blood or gore or extreme subject matter or crazy killer psychos - and I just like that type of person better than most I guess - most that I've met are all really awesome. It's the people behind the films that really make me like them so much.
How would you describe yourself as an actress, and how do you usually approach your characters?
I generally start off by thinking about how they fit into the film - are they a good guy, a bad guy - what is their purpose in the film? Most acting teachers will tell you not to do that since then you are "judging" your character, but I think it's important to really understand how you fit into the whole of the story. I then go through the standard "breakdown" of the character - figuring out their needs/wants, where they came from, what type of person they are, who each of the other characters are in relation to them, how they feel about those other characters etc. During this process I also sort of intrinsically feel out how I relate to the character - the things in my life that are similar to the things in their life - what parts of me can I bring to this role? And I think that's a really important and difficult thing that I'm learning to do more and more, which is to just let the character "be you" (or vice versa) - allow the audience to see into you through that character - to see your real life fears and doubts and vulnerabilities, but through the framework of the character in the film. Then, I'll try to do some research on either real life people who I think are similar to the character to see how they talked or acted or what their lives were like, or if there are any other films that have similar characters in them and I'll watch those films and see how that actor approached the characters.
And then again, there are other times where I don't feel like I really do any of that and it all just sort of clicks automatically and just happens without even thinking about it.
Actresses (or indeed actors) who inspire you?
There are far too many to name. Almost every movie I watch I end up going and researching some of the actors in it because there was something about what they did that I thought was interesting or inspiring... and then I try to remember their names for instances such as this, but never can! I was really on a Brent Sexton kick after watching The Killing. His performance in that was so heart-wrenching and authentic and touching, I absolutely loved it. And of course there are those who are always good such as Gary Oldman or Daniel Day Lewis, where when I watch them I'm just left in utter awe of "how did they do that?" How did they come up with that idea or that choice because it's something I never would have thought of and yet it was just so brilliant and perfect.
Your favourite movies?

Feeling lucky ?
Want to
search
any of my partnershops yourself
for more, better results ?

The links below
will take you
just there!!!

Find Sarah Nicklin
at the amazons ...

amazon.com

amazon.co.uk

amazon.de
Looking for imports ?
Find Sarah Nicklin here ...
Something naughty ?
(Must be over 18 to go there !)

Again, there are just so many of them and it changes so often too. I really do love The Crow - I know it's not exactly a "cinematic masterpiece", but that film has a ton of sentimental value to me, so it will always and forever be a favorite. I tend to like darker or fantasy films, so The Lord of The Rings-films or The Skeleton Key or 8mm - again I feel like those last two aren't exactly "great films" as most people would think of them, but there is just something about them that has stuck with me, so whenever I try to think of what my favorite movies are, they're some of the first to pop in my head.
... and of course, films you really deplore?
Napoleon Dynamite and anything with Will Ferrel. I just don't get him. I don't find his humor funny at all - I find it moronic and really don't understand why people think he's funny. And it's not that he's a bad actor - I liked him in Stranger Than Fiction - it's just that particular type of humor that I don't understand.
Your website, Facebook, whatever else?
My website: sarahnicklin.com
Facebook: Facebook.com/SarahLNicklin
Twitter: Twitter.com/Sarah_Nicklin
Anything else you are dying to mention and I have merely forgotten to ask?
No, you did a great job and covered lots of bases!
Thanks for the interview!
Thanks very much for having me! I really appreciate it!!