Your new movie Ghost - in a few words, what is it about?
It's set in contemporary London and follows a middle-aged ex-con on the first day of freedom. He served a decade behind bars, has a history of violence and an estranged family. The film is mostly about the complicated relationship between father and son, effects of toxic masculinity, and importance of taking responsibility.
What were your inspirations when writing Ghost? And is any of this, however remotely, based on personal experiences?
I was fascinated by how a father figure can be both the hero and the villain of their family history. There's an inherent paradox in living your life one way and wishing your kids to go completely the opposite direction, while still somehow looking up to you. In Ghost, the main character attempts to practice what he preaches, but the world always proves tough on his good intentions. My dad loved crime dramas, so I decided to tell this father-son story through a lens of this genre.
With Ghost being a gangster movie (in the broader meaning of the term), is that a genre at all dear to you, and some of your genre favourites? And what can you tell us about your approach to the genre?
I believe that genre is like a spice rather than the key ingredient - the main meal always is a good story, while comedy, horror or crime is just an added flavour. We were focusing on the relationships between the characters, while the gangster movie aspect came out from the somewhat saturated dramatic situation, with real life or death stakes, translating best in cinema. Knowing that the 'return from prison' set-up has become a genre convention, our approach was making the narrative and performances as natural and believable as possible, avoiding dialogue clichés or unmotivated plot turns. Situations like that do happen in real life - people who come back from prison often struggle to assimilate in the lives they left behind without getting back into trouble. Such scenario provides a strong dramatic opportunity, and is, therefore, often utilised by filmmakers. We took a shot at offering a fresh angle, and hope audiences get something new out of it.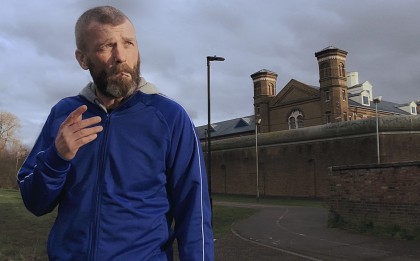 You've shot Ghost entirely on smart phone - so what was the idea behind this, and what are the advantages and also limitations filming that way?
As we were working under micro-budget conditions, the iPhone offered unprecedented flexibility - it doesn't require a big camera crew or time to set up. It's also very small and doesn't draw attention to itself, which is important for a guerilla-style run-and-gun kind of filmmaking. Key disadvantage is extreme limitation on shot sizes: it's always wide and with deep focus, which results in many conventional visual storytelling techniques flying out the window.
What can you tell us about your overall directorial approach to your story at hand?
My directorial approach was to maintain focus on the essentials of the story while accommodating creative input from the cast.
Do talk about Ghost's key cast, and why exactly these people?
I was fortunate to discover our two leads some years ago and got to develop a good working relationship with them through a number of shorts we've done together. Anthony Mark Streeter, who plays the father, previously portrayed a completely opposite kind of character in my dark comedy Roof Story. His ability to embody ex-con Tony in our original short Day One, which became the base for Ghost, spoke of Tony's talent and unquestionable suitability for the role. His character's son Conor is played by a gifted young thespian Nathan Hamilton, who also played major parts in two of my earlier shorts: an urban morality tale Let There Be Animal and a little horror experiment, The Invitation. Russell Barnett, who played our villain Dominic, was also a key collaborator on Day One. Casting process consisted of patient scouting as well as meeting various talented people. We're grateful and lucky to have worked with everyone involved - a truly great bunch of talented individuals.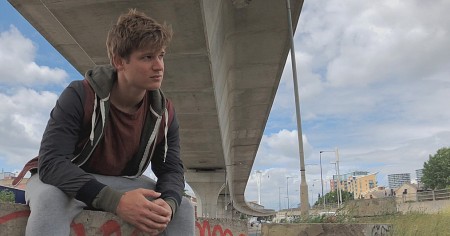 A few words about the shoot as such, and the on-set atmosphere?
Our whole approach was quite unorthodox - as we had no real budget, it was very much an experimental, run-and-gun, collaborative affair. Naturally, it provided a bunch of practical challenges, but everyone was on the same page about the limitations that come with this type of micro-budget endeavour, and embraced the passion project spirit. It is this attitude that allowed us to handle all the challenges with gusto and maintain an enjoyable working environment.
Anything you can tell us about audience and critical reception of Ghost?
Fortunately, the critical reception was very positive - we received a bunch of encouraging reviews, including Rotten Tomatoes approved publications. Amazon Prime allowed us to reach a pretty wide audience - it was streamed by over 120,000 viewers in the first couple of months. Naturally, such a broad range of viewers have varying tastes and requirements, which can be quite polarising. Some of it comes from being in the same pool with the Hollywood productions as well as the work of established filmmakers. Also, there are certain expectations coming from the British crime drama tradition, that do not necessarily align with our slow-burning character study. It can be quite a challenge to find the right audience for a film that doesn't easily fit in one defined genre, but as people who genuinely click with Ghost seem to respond to it very strongly, we hope that with time Ghost will reach more viewers with appetite for exactly this kind of movie.
Any future projects you'd like to share?
There are always new ideas floating in one's mind and a couple of exciting projects are shaping up to be our next endeavour. Also, the experience making this film only encouraged me to further explore different techniques and genres. However, at this particular point I'm entirely focusing on giving the best possible release for Ghost.
What got you into filmmaking in the first place, and did you receive any formal education on the subject?
I went to an art school and started experimenting with the camera during one of the plein-air camping trips. We've done some fun little shorts with my classmates and one of them got screened at a local cinema to a regular audience. Witnessing a crowd of random people genuinely enjoying the film gave me the bug and I went to study BA Film at the University of Westminster. After graduating I got into storyboarding for more established directors, which was a great way to continue my education in film language.
What can you tell us about your filmwork prior to Ghost?
Since the age of about fifteen, I've done probably about a dozen shorts ranging from spoof action flicks and experimental animation to documentaries. Also, there were a few commercials and music videos.
How would you describe yourself as a director?
I mostly enjoy the collective aspect of filmmaking and working with actors, particularly experiments with improvisation. I believe the director's job is stewarding the team towards a singular vision and I love finding ways to hopefully accomplish this by also creating opportunities for the collaborators' artistic expression.
Filmmakers who inspire you?
Guess I'm mostly inspired by the filmmakers who try different genres and techniques, like Kubrick, Boyle and Aronofsky. Also, Tarkovsky's genuine poetry, Nolan's epic originality, Fincher's insightful precision and the DIY spirit of Cassavetes or the Duplass brothers.
Your favourite movies?
It really changes with time and depends on the mood, but from the most recent releases I was really impressed by Shoplifters, Parasite, The Two Popes, Marriage Story and The Painted Bird. Talking about long-time favourites, there are pop-gems like Fight Club, Lord of the Rings, Shawshank Redemption, Leon, and all of 80s-90s Spielberg. Also visually stunning and heartbreaking The Fountain, sweeping post-apocalyptic odyssey in Children of Men, delicious machinations in Closer, and efficient perfection of Ida. My rarest favourite finding is a micro-budget wonder In Search For A Midnight Kiss, which I believe to be one of the best romantic movies ever.
... and of course, films you really deplore?

Feeling lucky ?
Want to
search
any of my partnershops yourself
for more, better results ?

The links below
will take you
just there!!!


It's so difficult to bring any film project to life, I take my hat to all of them. Just perhaps it can be a pity when filmmakers miss a chance to explore any genuine originality - the basic story could be seen before, but it's really disheartening when every line, frame or musical cue is a cliché.
Your/your movie's website, Facebook, whatever else?
Anything else you're dying to mention and I have merely forgotten to ask?
Ghost is now available to watch on Amazon Prime and Vimeo On Demand.
Thanks for the interview!