Your upcoming movie Killing Joan - in a few words, what is it about?
Killing Joan is the story of a woman, an enforcer for the mob, who enacts her revenge on those that wronged her.
Killing Joan's synopsis reads like a pretty wild genre mix - so what were your inspirations for dreaming up the movie?
Growing up going to Catholic school, I was told many stories of redemption and confession. So I thought of the idea of someone who was a bad person that committed horrible acts being given the chance to go back and atone for their sins, even if it meant taking down the organization that you spent so long trying to build up.
How would you describe your film's approach to horror (as in suspense vs sudden shocks, atmosphere vs all-out gore and the like)?
I tend to prefer horror films that inspire dread and are filled with creepy atmosphere. This isnít a film with tons of blood and gore or a bunch of jump out and shock you scares. This is a film that will hopefully cause a sense of wonder and dread. In horror, itís all about lack of knowledge. You are discovering things as the characters discover them. Itís about the fear of what might happen. Thatís what stays with you.
For me, Killing Joan also sounds as if it would feature quite a bit of action work - am I at all right in that assumption, and what can you tell us about the action scenes of your movie?
There were a lot of great action scenes in this film. Our stunt coordinator, Erik Aude, who also plays the part of Miles, did a great job of realizing the fight sequences and death scenes. We even had a second unit go out and film stunt sequences for us. All of these stunt guys came in and we got some great footage for the film. We also had a full day of rigging and green screen work. It was very exciting as a filmmaker to have all of these great tools at my disposal.
Do talk about your overall directorial approach to your story at hand for a bit?
My belief is that a good director listens. If you go around barking orders, no one will listen to you. I tend to approach directing as a benevolent dictatorship. Itís a real collaborative effort. This film is the result of a lot of really talented people coming together. I certainly came in with my own ideas of how to stage a scene but if it wasnít working or someone else had a better idea, I would change it up. As a writer/director, at a certain point you have to step aside as a screenwriter and be willing to sacrifice the script for the good of the film. You canít be precious about your writing as a director. If something isnít working, you cut it or you fix it.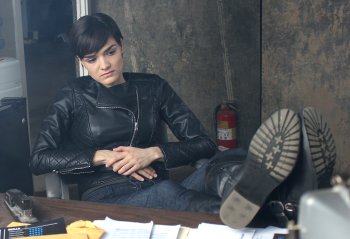 Jamie Bernadette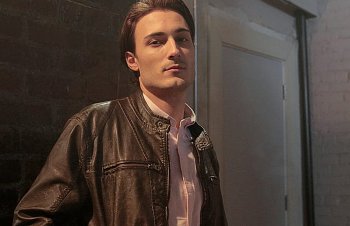 Teo Celigo
What can you tell us about your key cast, and why exactly these people?
We spent about three months auditioning actors for this film. We started back in November of 2014 and had our final callbacks in January of 2015. We had thousands of submissions for the film and we called in hundreds of actors. I wanted to be sure about each and every part in this film. When it comes to the actual casting, I decided to cast for talent whenever possible. I could have gone for more stereotypical types, but I always went for the interesting choice. I think I ultimately assembled a great cast for the film.
Jamie Bernadette [Jamie Bernadette interview - click here] was a front runner from the start for the part of Joan. Each time she came in, she really brought it. She has this certain quality of tough but sexy with an air of vulnerability that is hard for a lot of people to pull off.
Teo Celigo, who plays the male lead and Joanís ex-boyfriend, was one of the first actors we saw for the part. He really brought a gentle and open aspect to the character.
Also, Katarina Leigh Waters blew me away in the audition. I really wanted to use her but didnít have a part for her. So I wound up taking a small, three line character and rewrote the script to flesh out her character and really let her shine. She plays a great villainess in the film.
A few words about the shoot as such, and the on-set atmosphere?
I had a really great cast and crew on this film. When any issues arose, I tried to take care of it quickly and efficiently to make sure that everyone was there because they wanted it. We were incredibly efficient and hard working as you have to be on an independent film set. I had a great team with my DP, Jon Schweigart, and my gaffer, Wilson Holts. They really busted ass to make sure everything looked great. Everyone, from my AD to the PAs, all worked tirelessly to make sure the film got made.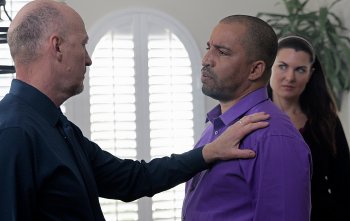 David Carey Foster, Danny Gardner, Katarina Leigh Waters
The $64-question of course, when and where will the film be released onto the general public?
Iíve had some preliminary discussions with a couple of different distributors. But the advice Iíve gotten from many experienced producers and filmmakers was to make the film and wait until itís completed. Itís a risk, but if the film turns out well, it can pay off. We just completed production and are just beginning the long process of post-production and VFX. Iím aiming for a release sometime either late 2015 or early 2016. It all depends on how long the post-production process takes. We will likely go the film festival route before releasing the film online.
Any future projects beyond Killing Joan you'd like to share?
I have a handful of scripts Iím currently working on. Iíve also been approached by a couple of different producers about possibly directing films for them. But at this point, Iím still focused on finishing this film first.
What got you into filmmaking to begin with, and did you receive any kind of formal training on the subject?
I was the kid that was always in the school plays and constantly writing. In high school, my friends and I would make short films and record music with our band. Iíve always been involved in various artistic endeavors. I have a BA from UCSB, double majoring in Film Studies and Dramatic Arts. Iím also a graduate of the Professional Program in Screenwriting at UCLA and studied in the Directing Workshop there as well. Iíve gotten a lot of support from UCLA, from the staff and other students and alumni. All of our PAs came from UCLA. I actually met my producer Joe Cervelin [Joe Cervelin interview - click here] through the UCLA program.
What can you tell us about your filmwork prior to Killing Joan?
Recently, I produced the independent sci-fi thriller, Pink Zone, which is currently on the film festival circuit. But this is my first feature film as a director. Iíve been making short films for over 20 years. About ten years ago, my short film, Coffee, went out on the festival circuit and wound up playing in the short film corner at the Cannes Film Festival. It even wound up getting distribution on DVD in the US and Germany. After that, I tried and failed to find a good script to film. So I spent a long time studying screenwriting and developing my scripts to a point where I felt like they were ready to be filmed. Iím also working with Joe on his animated webseries, Coyote Munch Mini Mart, where I play an evil spatula.
How would you describe yourself as a director?
As a writer/director, I tend to focus on interesting stories first. For me, the story is the most important part of a film. Iím not a heavy handed director. I like to gently guide things and work with the actors to develop a convincing performance. I love the voyage of discovery where the characters take on a life of their own. Fancy camera tricks are nice, but if the performance isnít there the audience wonít care.
Filmmakers who inspire you?
I tend to like different directors for different reasons. For me, Hitchcock is a huge influence in terms of style. Heís a master at manipulating audiences and their expectations. But I also love filmmakers like Stanley Kubrik, Ridley Scott, Wim Wenders, Akira Kurosawa, and Wong Kar Wai. Currently in horror, I tend to appreciate guys like James Wan, Takashi Miike, and Neil Marshall. I also really love what Edgar Wright has done with the Cornetto Trilogy.
Your favourite movies?
Itís always tough to pick a favorite movie. I have a very wide taste in films. Some of my favorites include Blade Runner, Wings Of Desire, Rashomon, and Chungking Express, but I also love Harold and Maude for its dark sense of humor. I guess you could say that I like films that explore what it means to be human. Why are we here? What does it mean to be human? What draws people to each other?
... and of course, films you really deplore?
I wonít call out any specific films. But I think thereís a tendency among certain filmmakers to try and show off with fancy camera angles and quick cuts. But they donít spend enough time developing their characters or the backstory. So the film looks cool but you really donít care about the characters or what happens to them. They also have a tendency to start the story way too late. I get so impatient with films. If nothing happens in the first 20 minutes, Iím moving on. The marketplace is so crowded with films that you need to grab the audienceís attention and hold them there to the final frame. You have to surprise and amaze them.
Your/your movie's website, Facebook, whatever else?

Feeling lucky ?
Want to
search
any of my partnershops yourself
for more, better results ?

The links below
will take you
just there!!!

Find Todd Bartoo
at the amazons ...

amazon.com

amazon.co.uk

amazon.de
Looking for imports ?
Find Todd Bartoo here ...
Something naughty ?
(Must be over 18 to go there !)

We are still developing the website for the film. But until then, you can keep up with the film on our Facebook page - www.facebook.com/killingjoan
Anything else you are dying to mention and I have merely forgotten to ask?
The special effects for the film are so important for an independent horror film. I was originally going to try and do everything practical. Iím a huge fan of old horror films from the 50s-70s, where you didnít rely on computer graphics. But I really lucked out and met Paul Lada from Coco Visual. He has worked on many big budget films such as Harry Potter, Clash Of The Titans, and Prometheus. Itís amazing what you can achieve now with todayís technology. The stuff he has shown me so far looks amazing. We still tried to get as much in camera as possible. But we will be using VFX to amplify and create things you wouldnít be able to create practically without spending a ton of time and money.
Thanks for the interview!