Hot Picks

Killing Joan


USA 2018
produced by
Todd Bartoo, Joseph Cervelin for Todfilm
directed by Todd Bartoo
starring Jamie Bernadette, Teo Celigo, Erik Aude, David Carey Foster, Daniel Gardner, Dion Basco, Pavle Mara, Casper Andreas, Katarina Leigh Waters, Erin O'Brien, Alexandra Lemus, Danny Mika, Joseph Cervelin, Ken Ashton, Olivia Bellafontaine, Allen Benatar, Brianna Grace Reagh, Jimmy DellaValle, Rod James, Kristen Stanisz, Nick Theurer, Joe Sobalo jr, Hymnson Chan, Eugene Park, Ashley Negrillo, Heather Gafa, Scott Einstein, Kristen Stanisz-Bedno, Anjelia Pelay, Megan T., Michael J. Divita, Markj Anthony Vasquez, Dustin Noble, George Uko, Anthony Hoang
written by Todd Bartoo, music by Michael 'Pugita' Kobayashi, visual effects by Paul Lada, stunt coordinator: Erik Aude

review by
Mike Haberfelner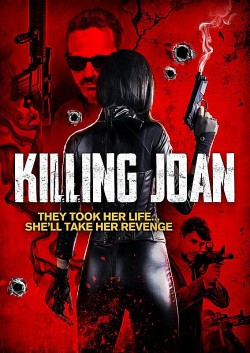 Joan (Jamie Bernadette) is the main hitwoman of mobster bigshot Frank (David Carey Foster), mainly because she takes shit from nobody, which goes as far as killing "co-workers" when they step out of line. But beneath her tough surface, she also has a heart of gold, which includes preventing her men from raping their victims and the like. And she's especially fond of social worker Anthony (Teo Celigo), who she was in a relationship once and never got over their break-up - but now his work and homeless shelter stand in the way of Frank's plans, so he orders Joan to execute Anthony ... which she simply can't, even if that makes her a liability, and her second-in-command Miles (Erik Aude) is more than happy to kill her. And while usually she's up to everything thrown at her, her own crew attacking her from out of nowhere catches her by surprise - a surprise she doesn't survive ...
But there is a other-worldly force that brings her back from the dead, and now she's (pretty much literally) hell-bent on taking out those who have wronged and killed her, and at first she's really good at it, too. Thing is, Frank isn't only quick to find her Achilles' heel, Anthony, but he also knows what's going on with her - coming back from the dead and all - better than she does herself ...
A nice revenge thriller indeed, which effortlessly manages to blend horror and modern gangster movie mainstays to create something quite unique, a film heavy on both action and atmosphere that comes up with plenty of surprises throughout, all neatly embedded in a plot that might demand some suspension of disbelief but works like a clockwork within its ramificacions. And Jamie Bernadette in the lead delivers a great central performance, giving the character all the toughness but also vulnerability her character demands to come across as believable and relatable, and she's supported by a solid ensemble cast.
Totally worth a watch!